Check out these cool DIY sunglasses case ideas! Not only do these sunglass cases keep your glasses safe, but they themselves look marvelous.
1. No Sew DIY Sunglasses Case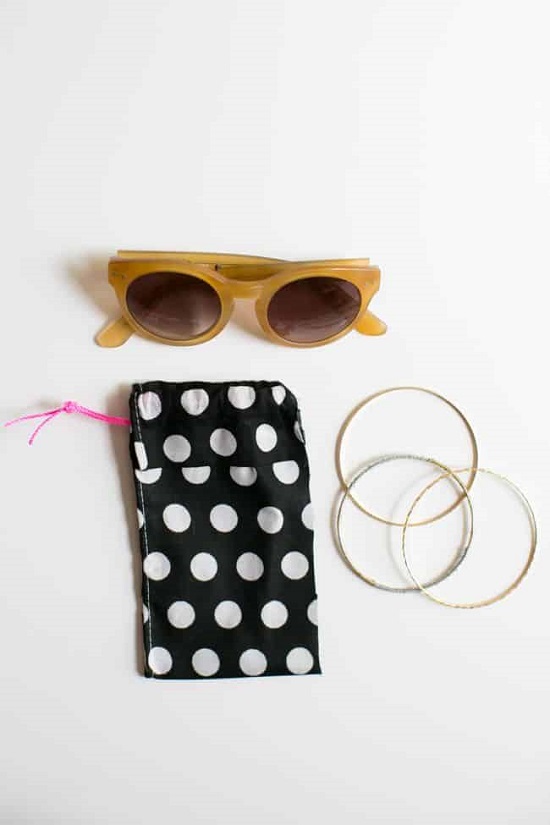 These no-sew sunglass covers are apt for the lazy DIYer who owns a big pair of sunglasses. Visit helloglow for the DIY.
2. Chevron Sunglasses Case Knitting Pattern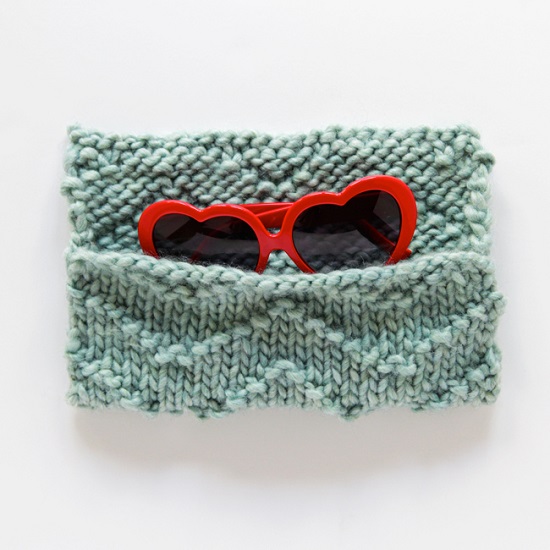 This snug case is a great way to put leftover yarn from winter to good use. Follow this post for details.
3. Vintage Inspired Rainbow Sunglasses Case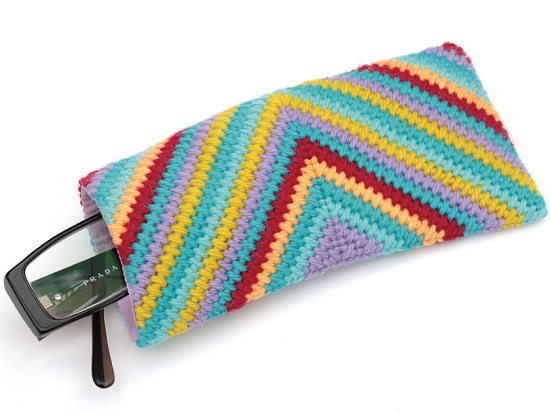 This handmade rainbow-style sunglass case is a cool nod to the seventies. We found the idea here.
4. Ruffled Edge Glasses Case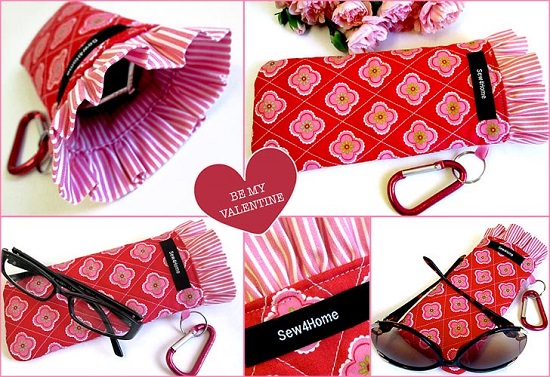 This cute quilted cover with cheery ruffles is a lovely home for your sunglasses. Get more info here.
5. Glasses Printed Case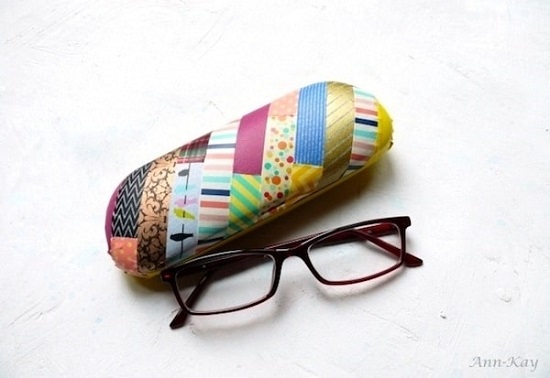 If you like having a combination of attractive prints in one case, this Washi tape DIY is for you.
6. DIY Leather sunglasses case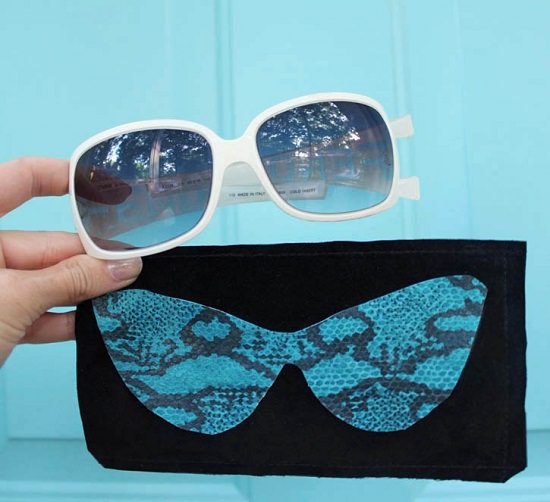 Here is an easy way to add a colorful touch to a regular leather case.
7. Retro Sunnies DIY Sunglasses Case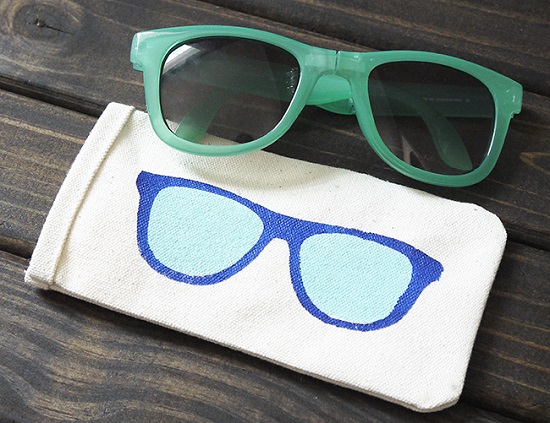 Retro-themed sunglass covers never fail to impress with their minimalist appeal. Check out the DIY here.
8. Liberty Sunglasses Cases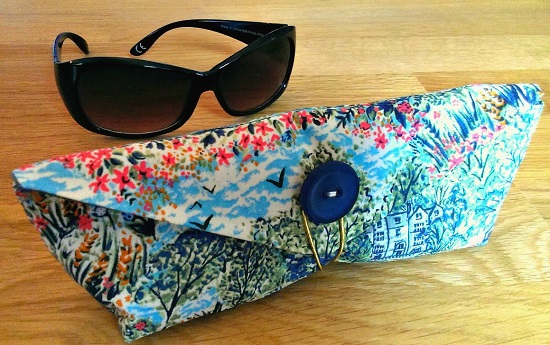 This beautiful Liberty store mimic is a cool way to ensure your glasses are safe from the ravages of summer travels. Get more details here.
9. Toilet Roll Hard Glasses Case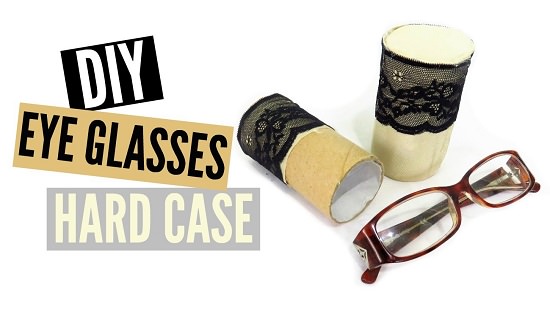 Empty toilet paper rolls are perfect as sturdy covers for your eyeglasses that tend to fall and snap out of their frames now and then. Here is the video tutorial.
10. Felt Baby Animals Case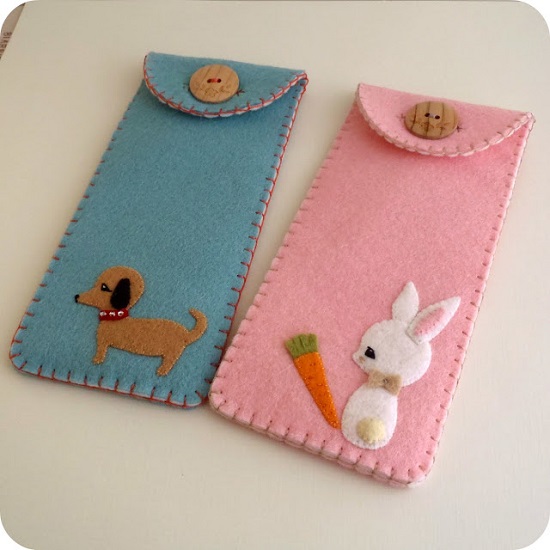 The softer pastel shades and cute animal motifs make this case idea a refreshing change from the more somber versions on the list. Follow this link for the tutorial.
11. Upcycled Jeans DIY Glasses Case With Killer Pocket Feature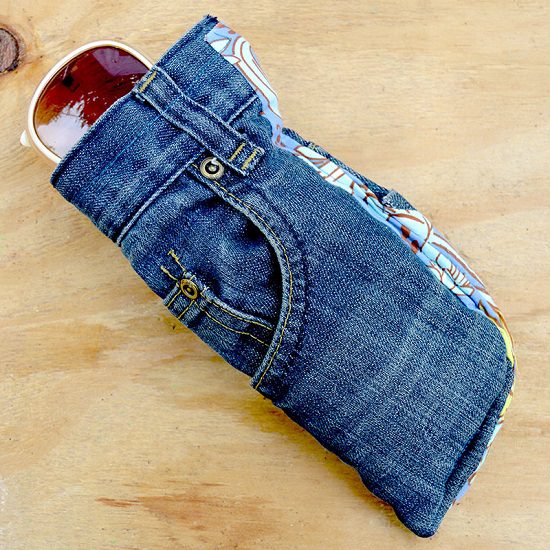 Recycling jeans into sunglass covers ensure you make full use of the front pocket to keep your change and cards handy. See the DIY here!
12. Folding Punched Leather Case
This DIY tan leather case with Cricut straps and tassels looks no less than its similar-looking branded counterparts.
13. Neck Tie Glasses Case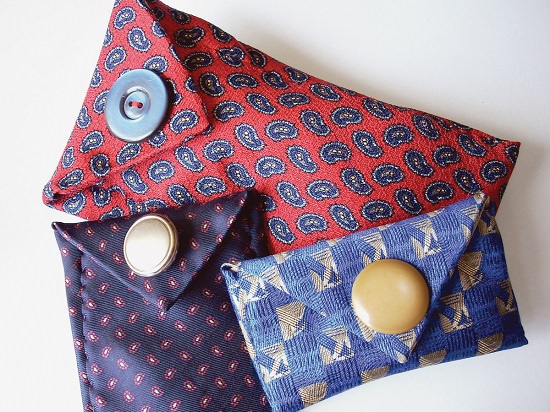 If you think about it, your soft satin neckties are actually pretty nice cases for keeping your sunglasses safe. Take the help of this tutorial.
14. DIY Vintage Print Eyewear Case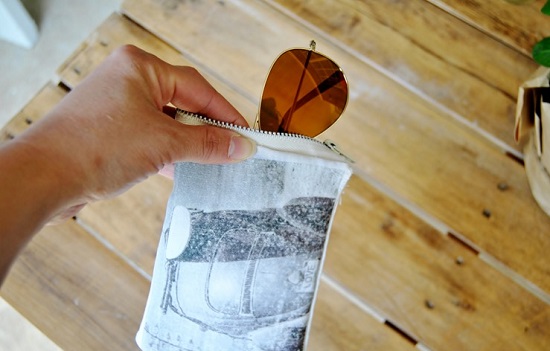 The vintage-style look is just as fancy as leather and easy to recreate for beginner DIYers. The detailed tutorial is here.
15. DIY Fabric Sunglasses Case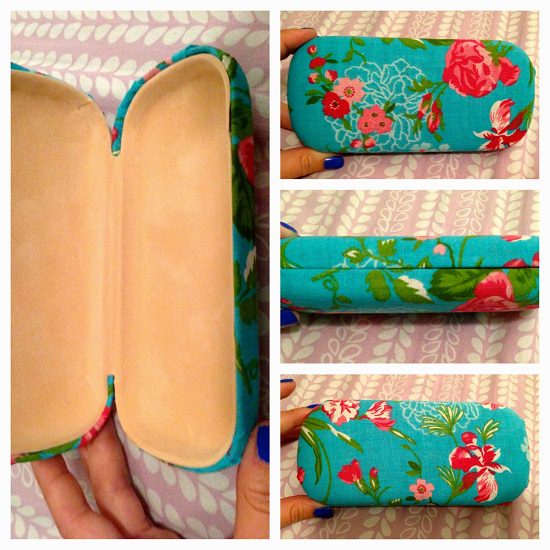 Decorative fabric is the key game-changer of this captivating sunglass case that had humble beginnings to start with. The DIY is available here.
16. Drink Mix Container Drink Sunglasses Case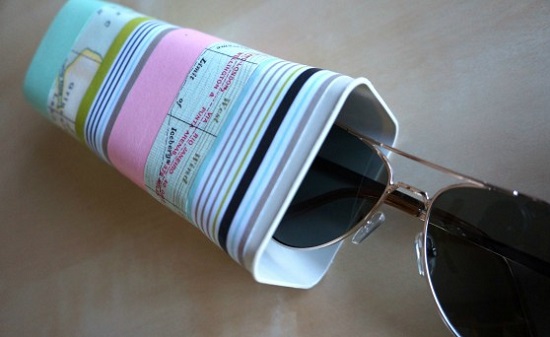 This interesting drink container use is sure to make your coffee-loving friend chuckle.  Diyinspired provides more details.
17. DIY Abstract Art Sunglasses Case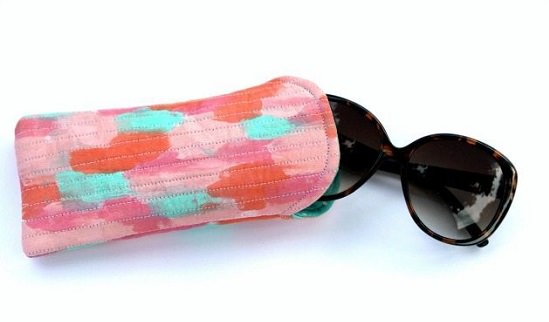 Here's a nice idea to keep your sunglasses safe and even showcase your abstract art skills in the process.
18. Washi Tape Sunglasses Case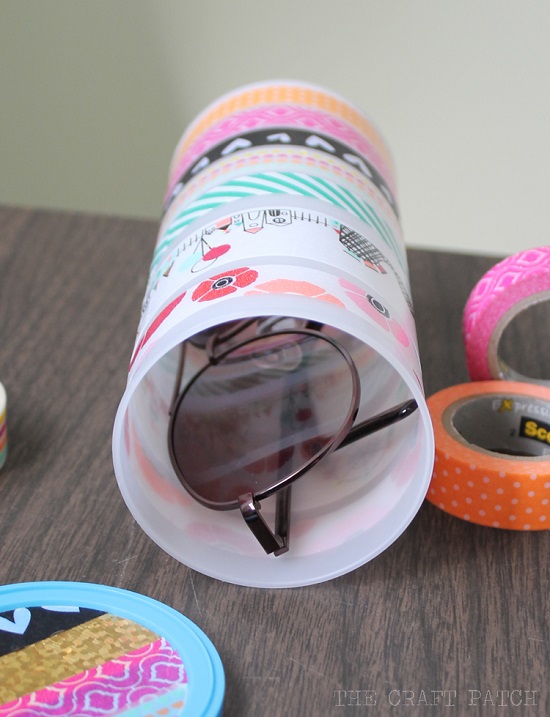 For the shortcut-lovers, this Pringle can-turned sunglass holder is a boon. We found the idea here.
19. DIY Sunglasses and Accessories Bag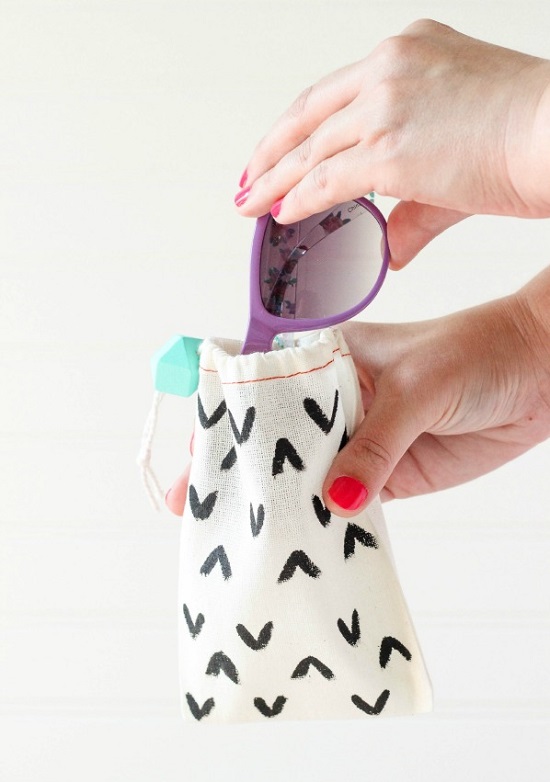 Paint a muslin bag with different colors and doodles to create a stylish sunglass case in no time. Access the DIY here!
20. Suede Glasses Shaped Sunglasses Case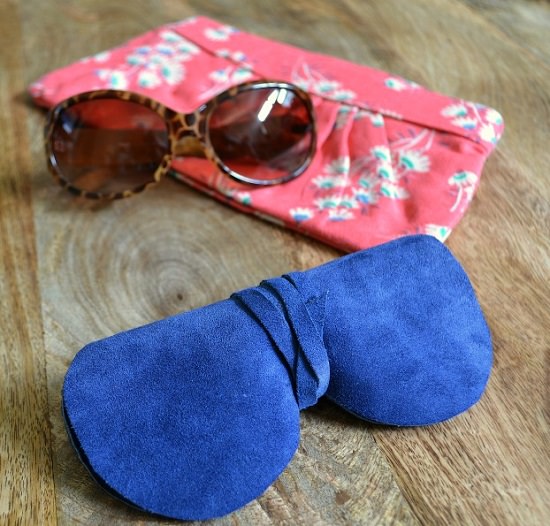 Being sturdy yet soft, suede is a worthy choice of fabric for your sunglass case. Get the DIY at hellolittlehome.
21. Duct Tape Sunglasses Case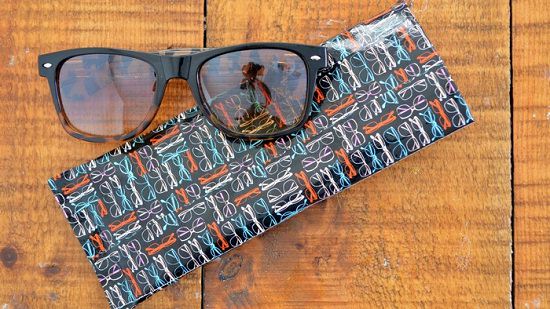 Using duct tape and felt together means you can't get a sturdier case for your sunglasses. We got the inspiration from here.
22. DIY Stenciled Eye Glasses Case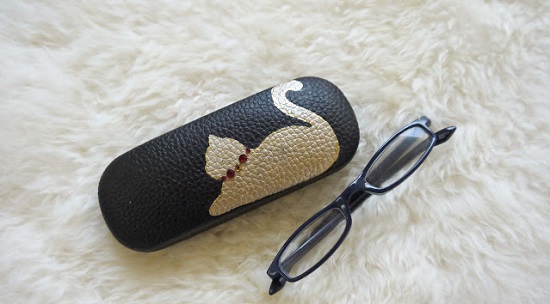 Easy to make and inexpensive, this cute sunglass clutch is a lovely gift for a friend who likes cats. The instructions in detail are here.
23. Pretty Printed Sunglasses Case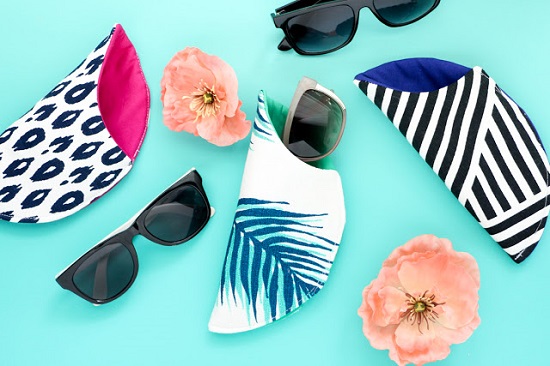 These cute cases with ample padding and exotic prints are excellent gift options for Mother's day. Click here to know the procedure.
24. DIY Watermelon Sunglass Case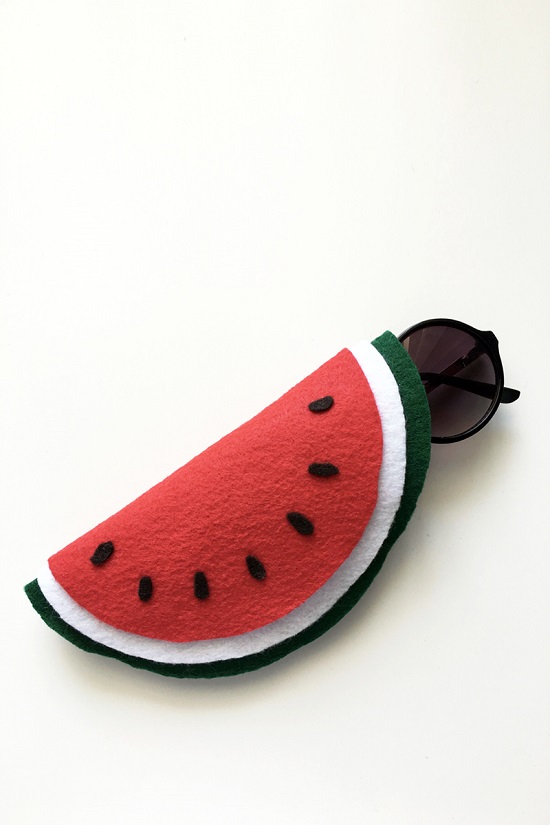 Nothing better than the refreshing summer motif to carry around your shades to the beach. Read this post for instructions.
25. Floral drawstring glasses case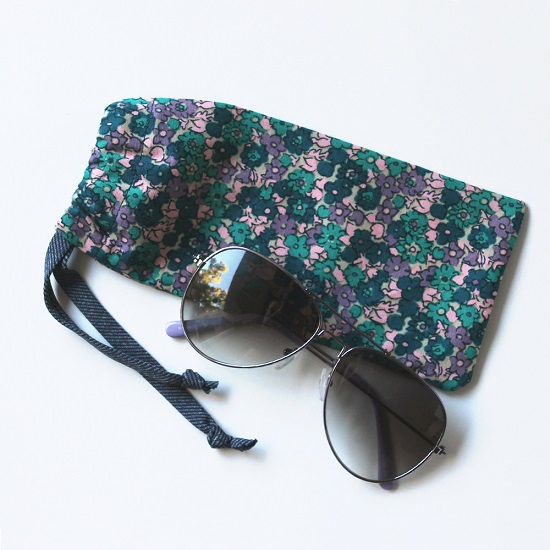 With floral accents and a drawstring, the old world charm of this DIY sunglasses case is hard to miss. Know more about it here.
26. Zippered Polka Dot Glasses Case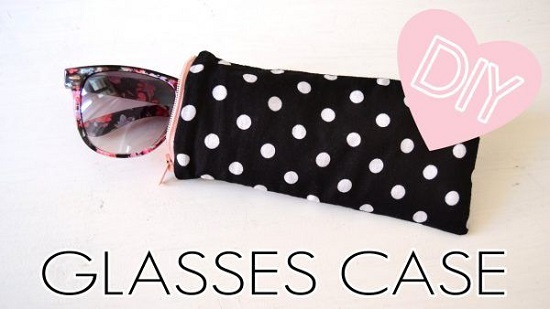 This zippered glass cover has a timeless style and a soft fleece lining that keeps your shades protected. The video tutorial with instructions is here.
27. Free Crochet Glasses Case Pattern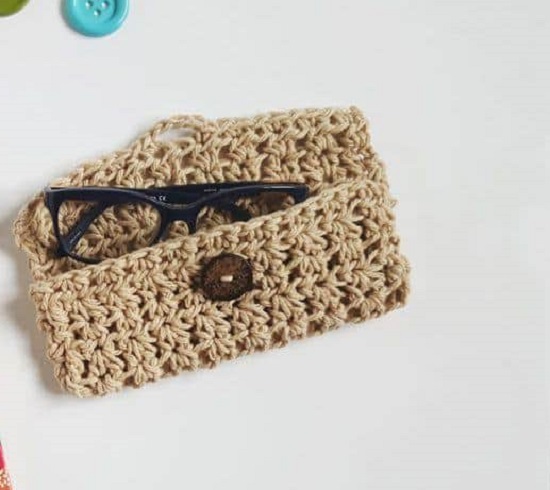 A crochet pattern offers a snug feel to your shades, keeping them safe and scratch-free no matter how much you travel. The pattern is here.
28. Felt Cactus Sunglasses Case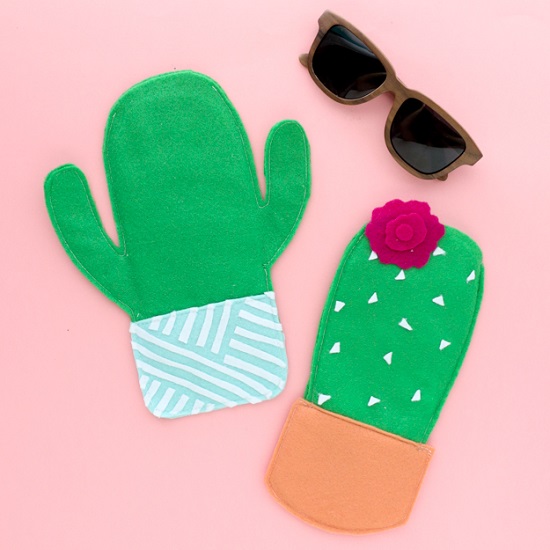 A cool ode to all things summer, this whimsically shaped case is sure to get those compliments rolling. Check out the tutorial here.
29. Comic Book Glasses Case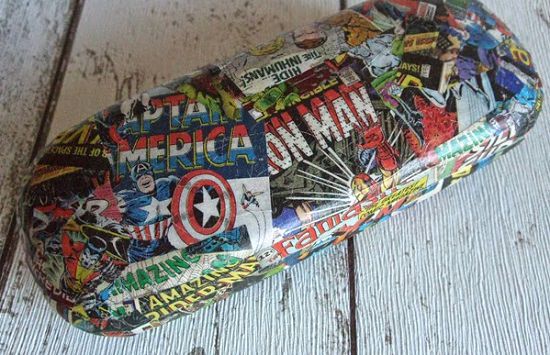 If Marvel comics are your go-to pleasures, this chic shades cover is sure to appeal to you. Follow the tutorial here.
30. Faux DIY Sunglasses Case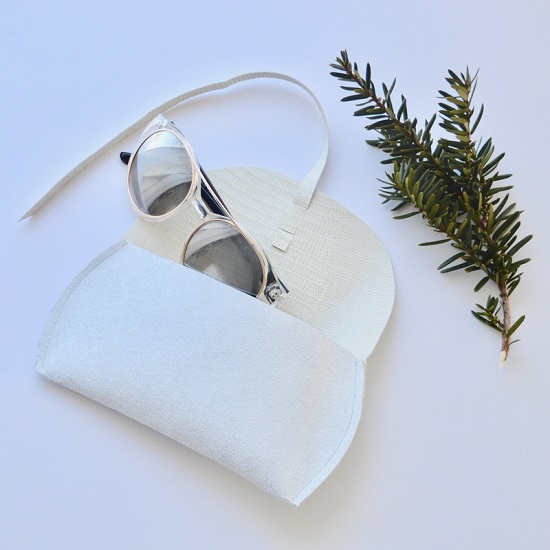 Faux sunglass cases have a sophisticated air about them that makes them apt for formal occasions. See the details here.
31. Confetti Covered Sunglasses Case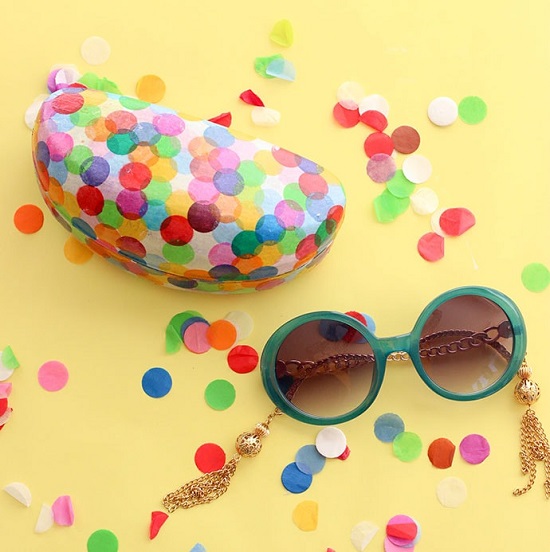 Give a festive twist to old sunglass cases with some glue and confetti by following this post.
32. DIY Sunglass Case Out Of Paper Towel Tube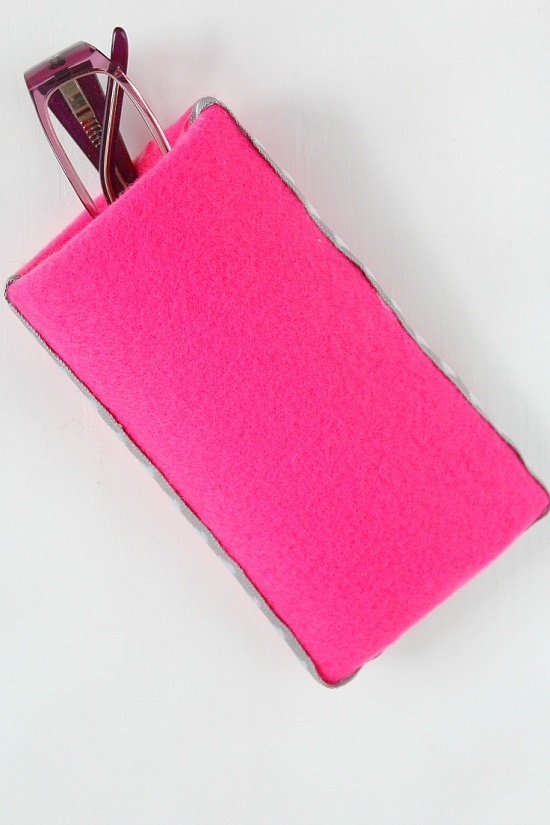 Using a basic paper towel tube as the template, this DIYer stuck on a bright piece of fabric to create a naturally durable case for her shades. Do this by following the DIY.
33. DIY Sunglass Case With Spoonflower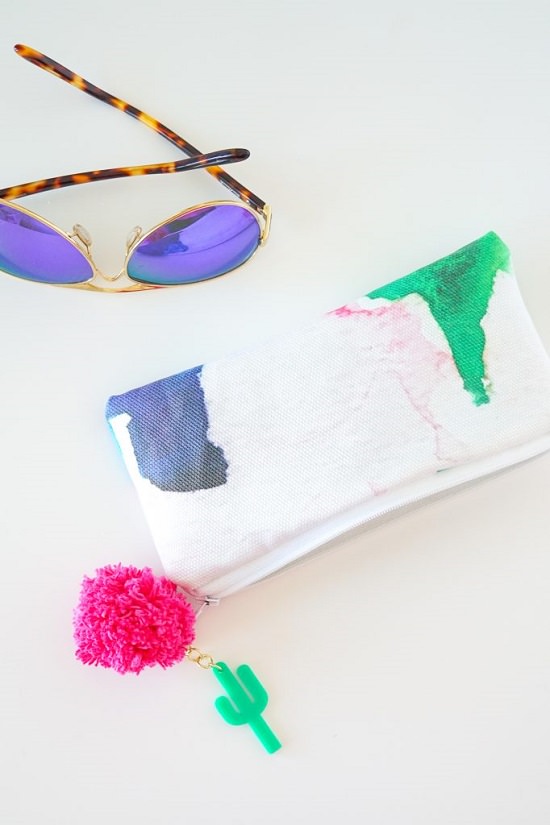 This DIY sunglass cover is an excellent example of how simple things can turn extraordinary with the right kind of embellishments.
34. Stylish Sunglass Case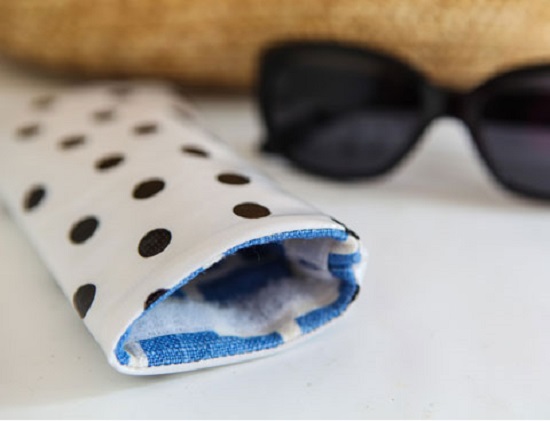 Put together a pretty piece of fabric and velcro strap, and you've got a trendy sunglass case that lasts a couple of summers. Step by step tutorial is here.
35. Embroidered Men's Eyeglass Case Sewing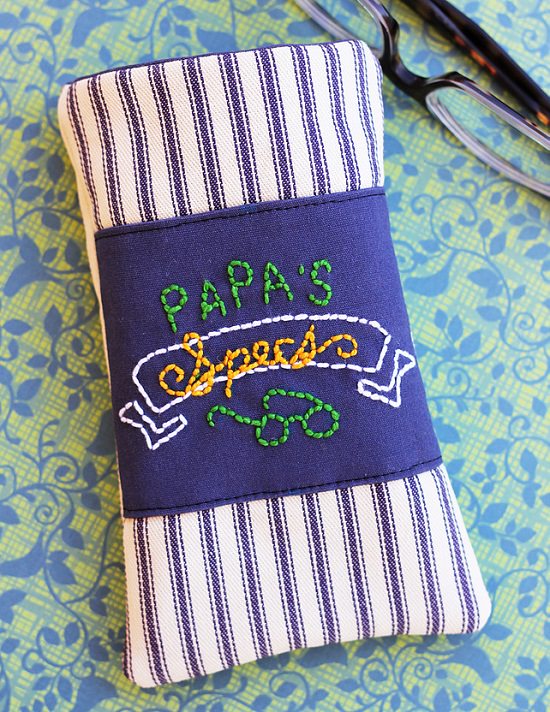 This fleece case with embroidered patterns is a great gift for the special person in your life. For more instructions, click here.
36. Scalloped Sunglasses Case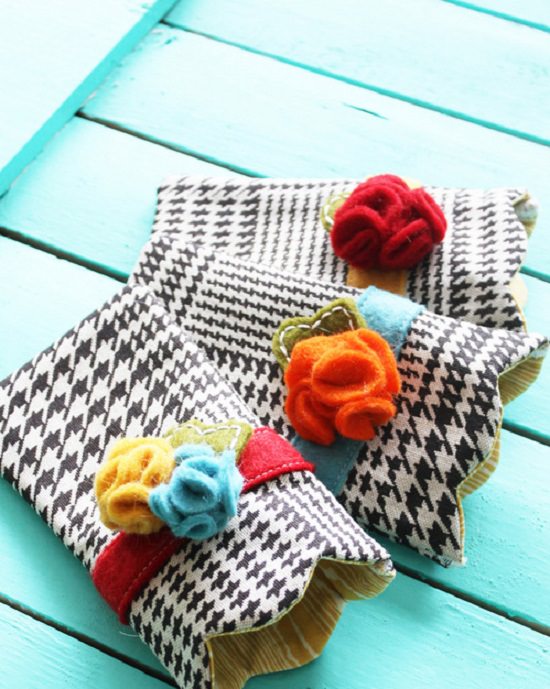 This case comes with scalloped edges and extra padding to keep your shades scratch-free this summer. We got the inspiration from here.
37. Trendy DIY Sunglasses Case with Heat Transfer Vinyl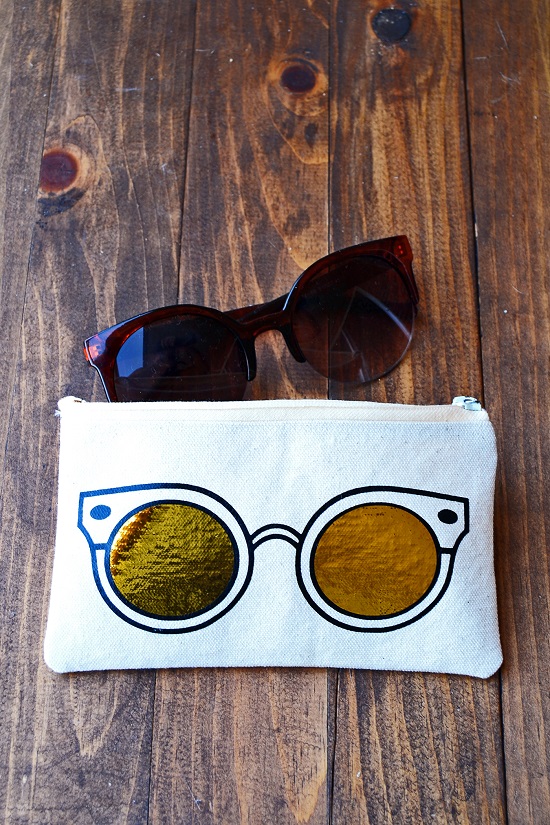 This stylish sunglass case was made using vinyl, die-cutter and a free template available at diycandy!
38. Easy Quilted Sunglass Case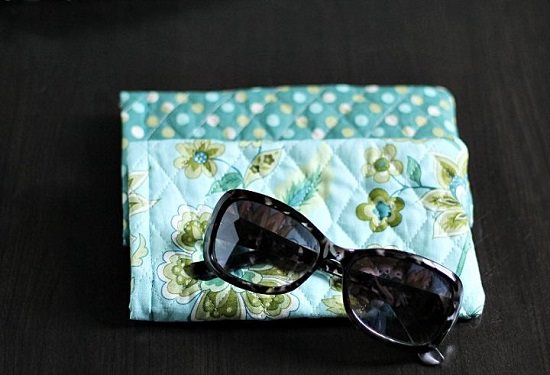 Easy to sew, this plush casing has a vintage look that is a delight to flaunt around. The simple steps are here.
39. Vinyl DIY Sunglasses Case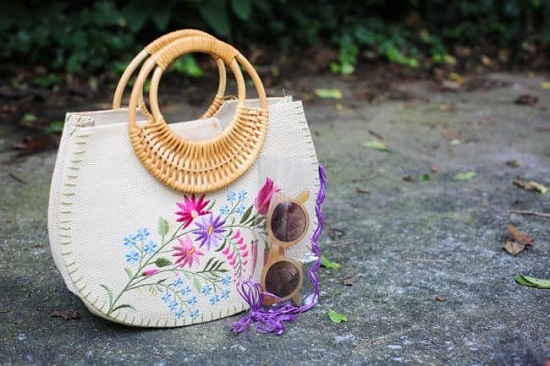 For a durable cover that can stand the test of time, try this DIY vinyl case we provide here.