These super easy DIY to do at home are way too simple to execute. The list has a wide range of ideas, which you can choose to shoot up your 2019 DIY zeal!
1. Scrabble Ornaments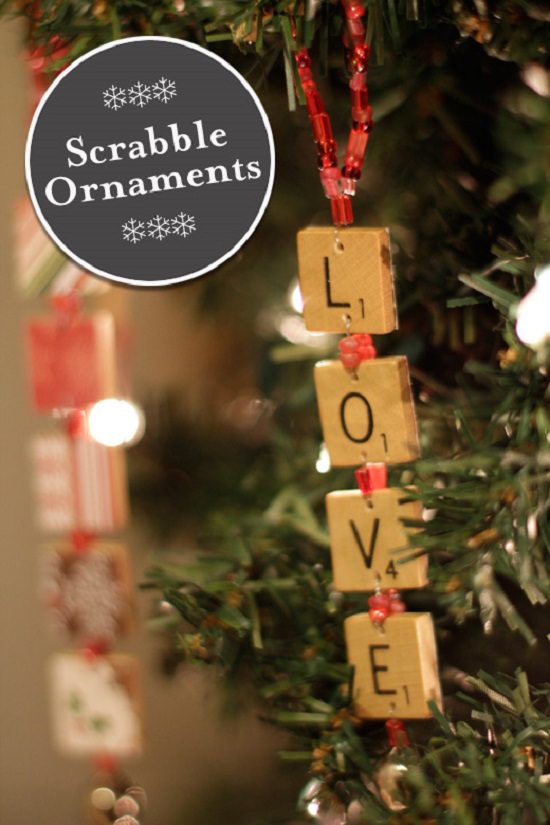 String scrabble tiles and jingle bells into a thin jewelry twine to recreate this ornamental Christmas craft. Find this pretty to-do DIY here.
2. PomPom Dangle Earrings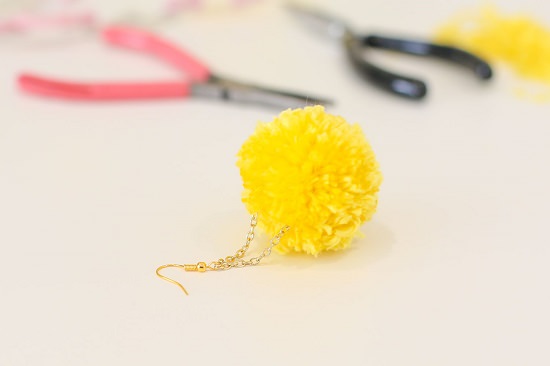 Have fun creating this fun earring set to add some pop and color to your wardrobe. DIY some pompoms and attach jewelry chain and dangle earring backs, that's it! Get it here.
3. Jar Lid Coasters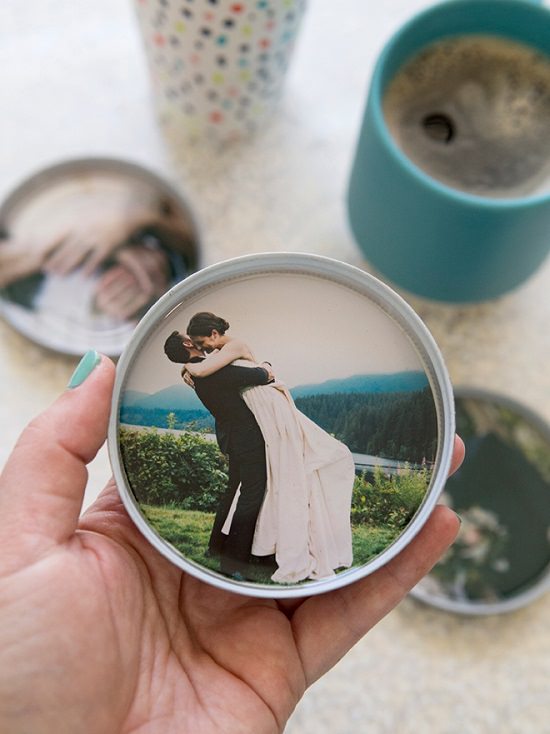 How about creating these coasters out of mason jar lids, photos, adhesive, and resin. These coasters can be a great way to surprise your beloved with something as great as you two! Click here.
4. Arm Knitted Chunky Blanket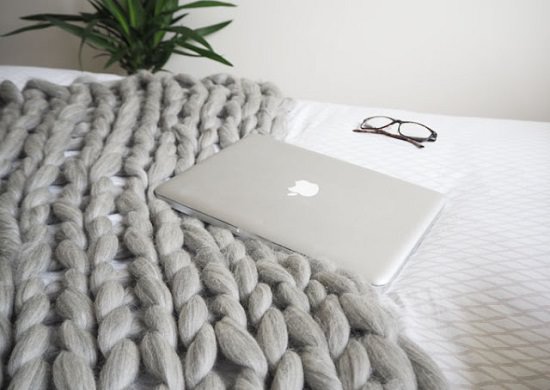 Understand the step by step pattern here to DIY a cozy knitted blanket for you this winter. Consider this blanket to be a holiday present for your friends and relatives.
5. Holiday Candy Wreath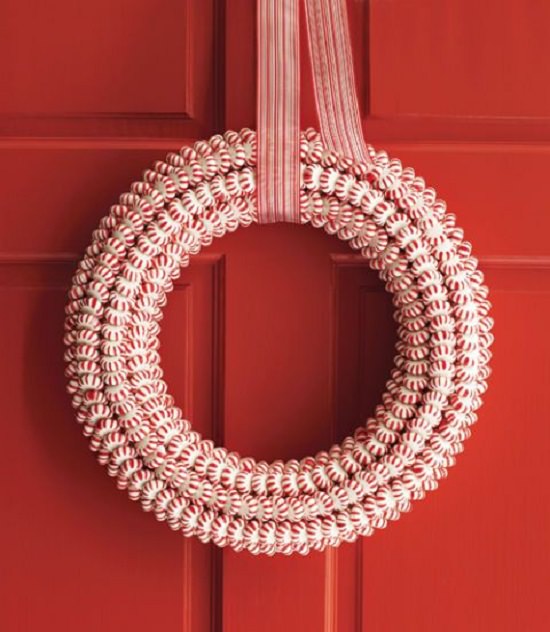 Display this sturdy and tasty candy wreath indoors to exaggerate your holiday enthusiasm to the next level! All of the supplies listed here might already be in your kitchen or otherwise, are readily available in nearby stores.
6. Patterned Champagne Flutes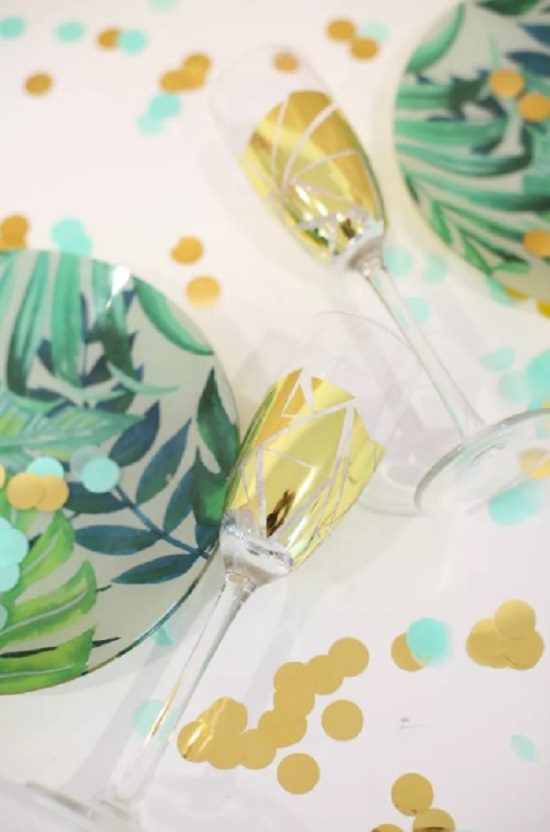 Add patterns and designs to champagne flutes to celebrate your happiness with some extra fun and exhilaration. You just need to cut adhesive vinyl in a definite pattern and fasten them on the flutes, easy-peasy! Visit here.
7. Anti-Frizz Hair Spray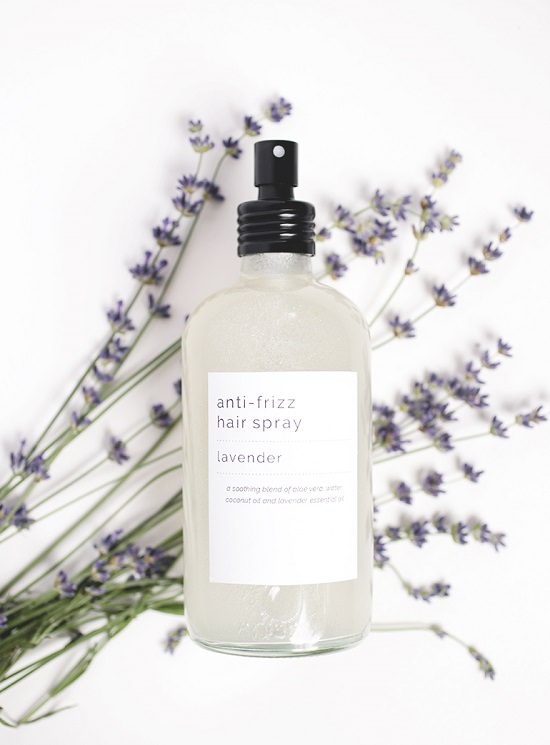 Keep your hair frizz-free with this all-natural hairspray that you can find here. For this, you need aloe-vera gel, coconut oil, lavender essential oil, water, and a spray bottle.
8. Mason Jar Votive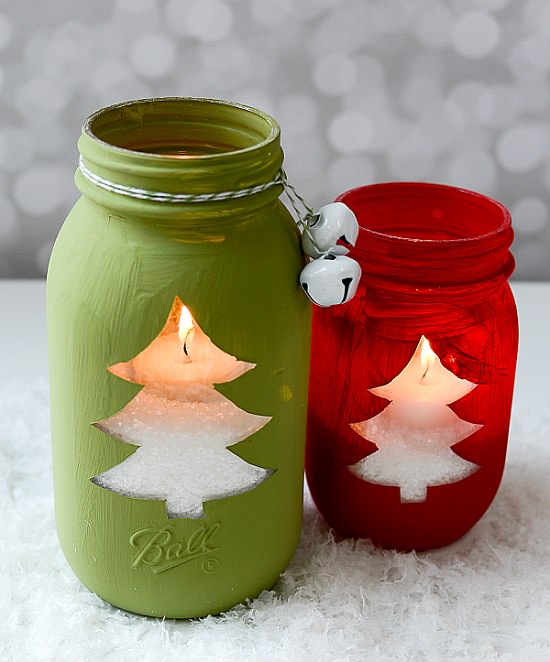 How fun are these Christmas tree mason jar votives, which you can easily create with some craft supplies? Check out the tutorial at Mason Jar Crafts Love.
9. Macrame Mason Jar Plant Hanger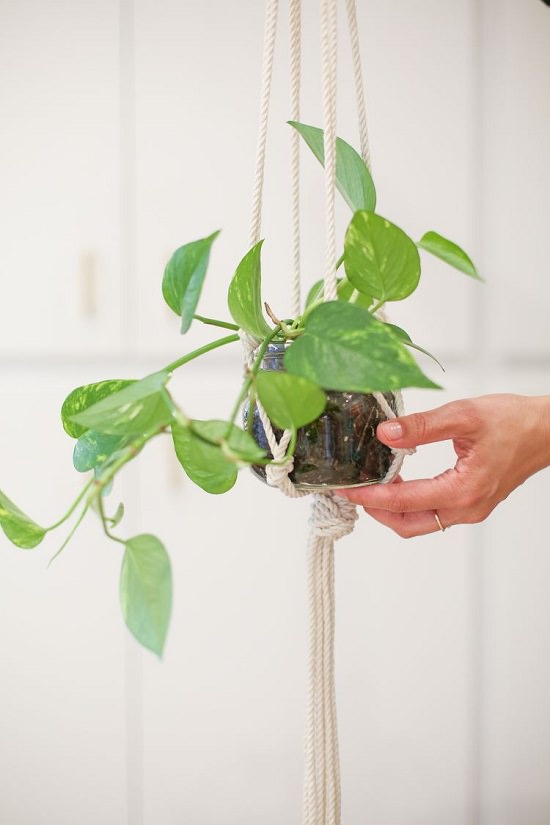 Add a touch of green to your indoor by imitating this macrame cord mason jar plant hanger. The patterns and other details are here.
10. Vintage Christmas Lights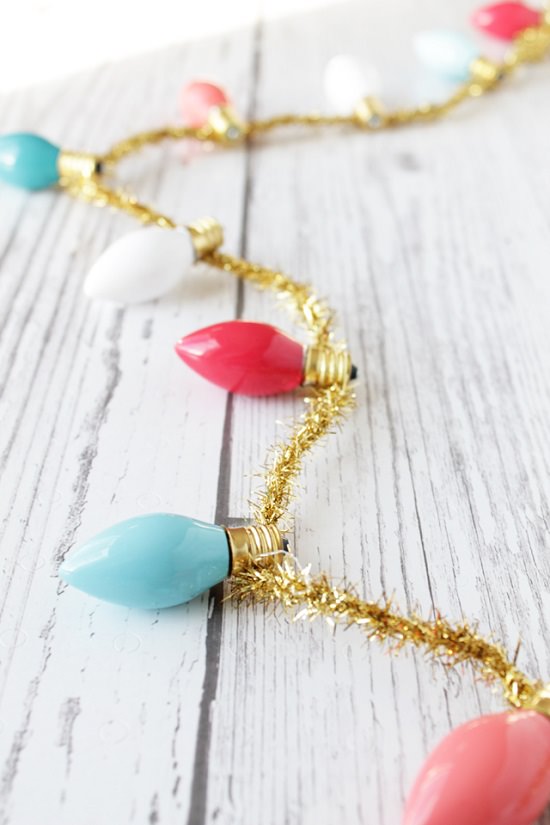 Color some clear light bulbs into different colors and glue them to gold tinsel wire trim. Your customize vintage Christmas lights are all ready to add glitter to your decor! The idea is here.
11. Essential Oil Perfume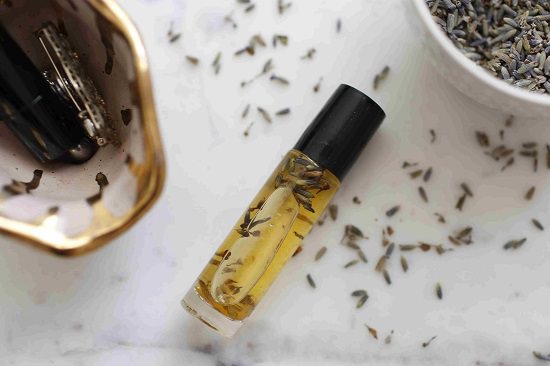 Stop investing in those expensive and toxic perfumes rather DIY a homemade natural perfume with the smell of your choice. You can get the details at The Spruce Crafts.
12. Peppermint Mason Jar Candles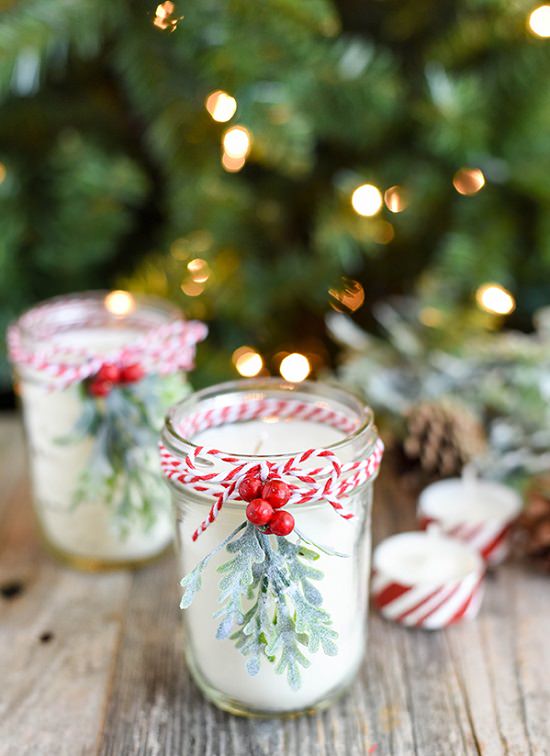 Melt soy wax candle and pour it into the desired container with some added peppermint essential oil drops and candle wick, that's all! Get it in detail here.
13. Candy Button Earrings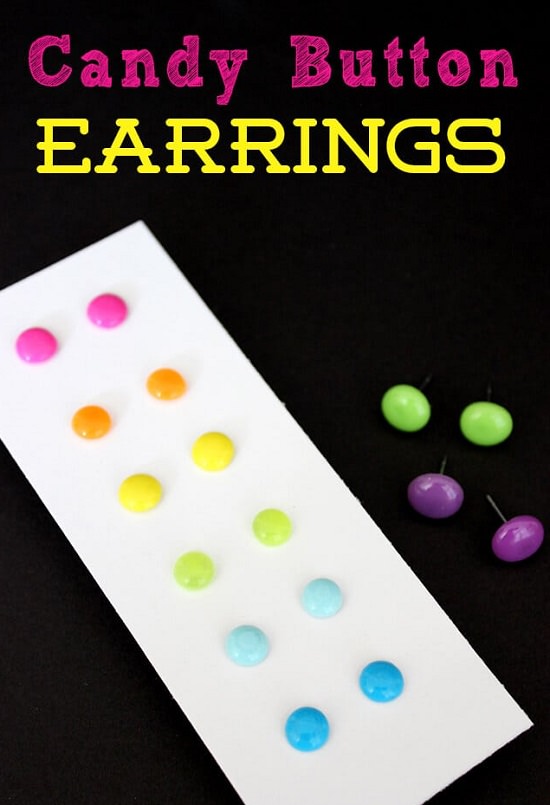 Melt off Perler beads or pony beads and allow them to cool on a parchment paper. After they dry in room temperature, remove them from the parchment paper and attach earring posts to the back. The credit is on Happiness Homemade.
14. Horseshoe Necklace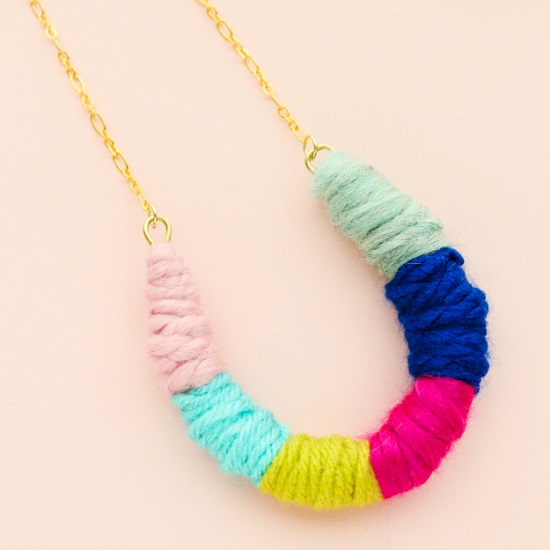 Fold and shape a jewelry wire to give the visual of a horseshoe and adorn it with different colored yarns. Attach the necklace to a chain using a jump ring and lobster clasp. The in-depth tutorial is here.
15. Button Heart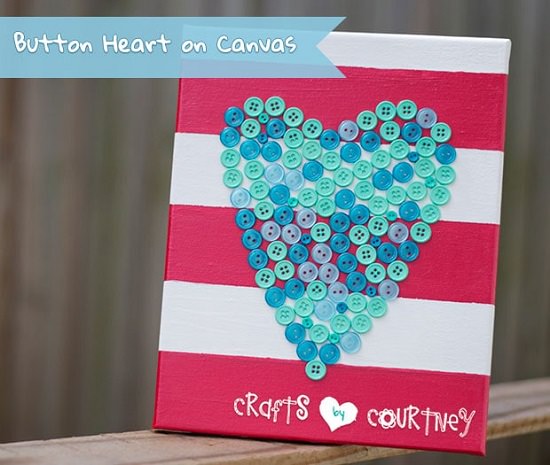 Create an ombre effect centerpiece for a valentine decor using a canvas, paint, and numerous buttons. Find this cute and easy DIY at Crafts By Courtney.
16. Forget-Me-Knot Pendant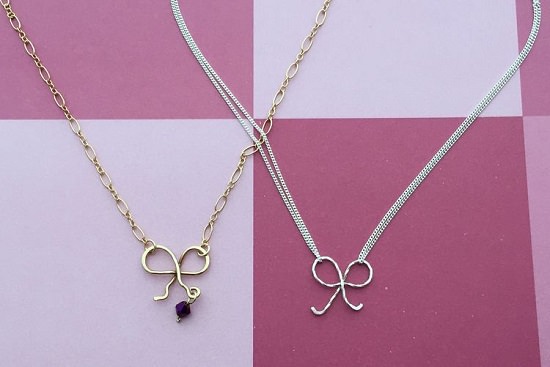 Create little bow shapes out of jewelry wires and lastly, attach them to jewelry chains to finish the project. Seek more details at The Spruce Crafts.
17. Embroidery Headphones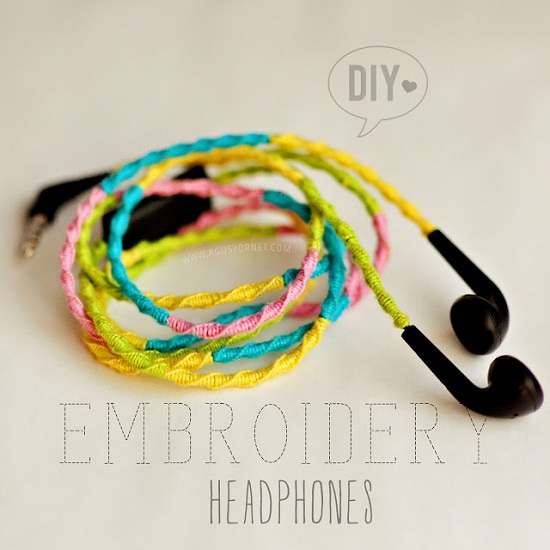 Prevent your headphones from tangling with this simple thread embroidery headphone DIY. Wrap colorful thread around the headphone wire to make this interesting hack. The idea was found here.
18. String Art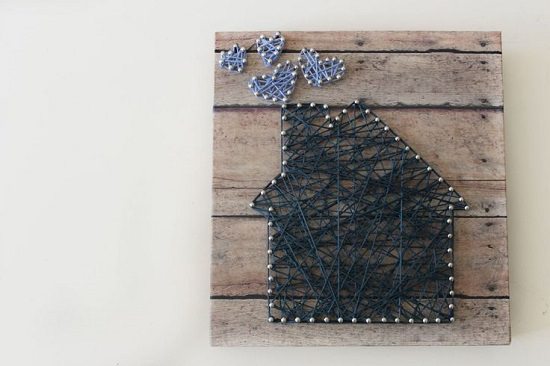 The Spruce Craft has shared yet another super easy DIY to do at home with some nails and embroidery floss. You can create any shape or even initials if you want.
19. Engraved Copper Mug

Carve your favorite quote or your initials on a copper mug using an engraving pen and this tutorial. The catch is that the designs are visible better when the cup is filled with some ice cold beverage.
20. Basic Candle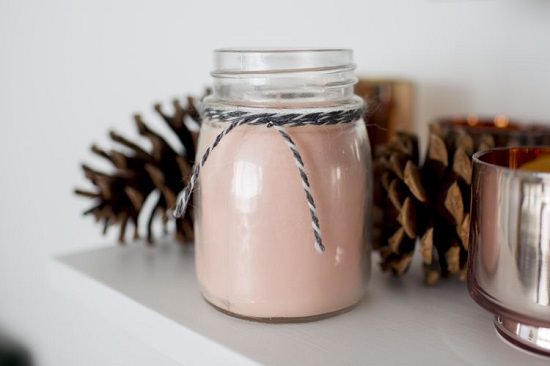 This tutorial is nothing but just a basic How-to on a homemade candle DIY. Melt some plain wax, add fragrance and color and pour the hot wax into a jar, that's all.
21. DIY Scented Donut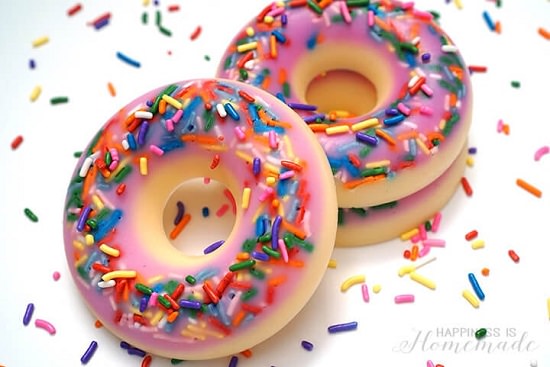 How about bathing with a deliciously scented donut? Throw away your regular soap and instead replace it with this DIY donut soap! Donut mold, soap base, soap colorant, fragrance oil, rainbow sprinkles, and this tutorial are all you need.
22. Origami Earrings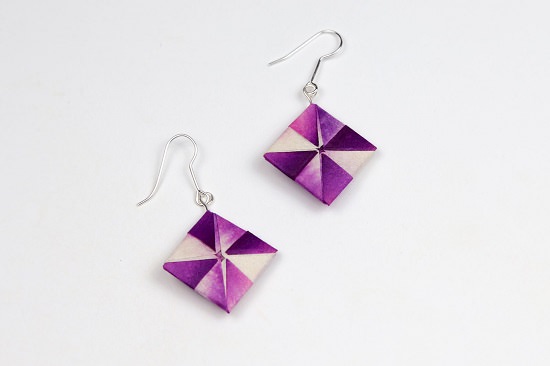 Use the technique of origami to model this customized paper earring set for your next big day. Fold and crease the origami paper with the instructions here and attach the piece to eye pins and earring hanger!
23. Rock Candy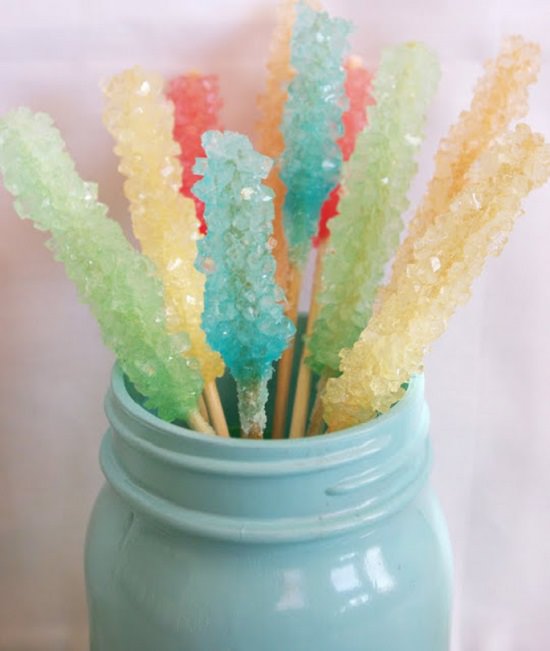 Process a batch of a sugary treat for your kids this summer with lots of sugar and some simple tools. All it takes is minutes of mixing sugar in water and lots of patience to let the crystals form. Click here.
24. DIY Ipad Holder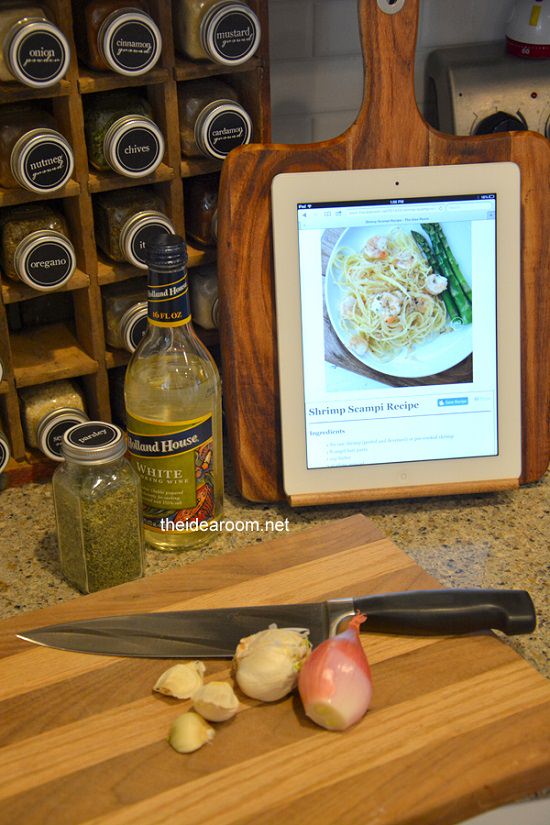 No more cooking prints on your iPad while you take your smart friend in the kitchen. Follow the instructions here to make an iPad stand.
25. DIY Handprint Chain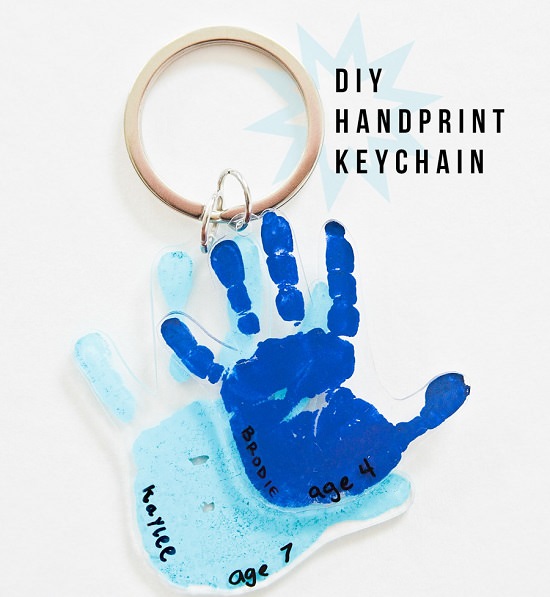 Get your kid's handprints on a shrinking plastic, bake it and it's ready to get attached to a keychain ring! For added fun, involve your kids in the making of this easy and impressive DIY.
26. Beeswax Candles
Cut and fold natural beeswax sheets into a tube-like formation with a wick in between. With a personalized tag and a ribbon, this project is a perfect item for gifting.
27. Rocher Ananas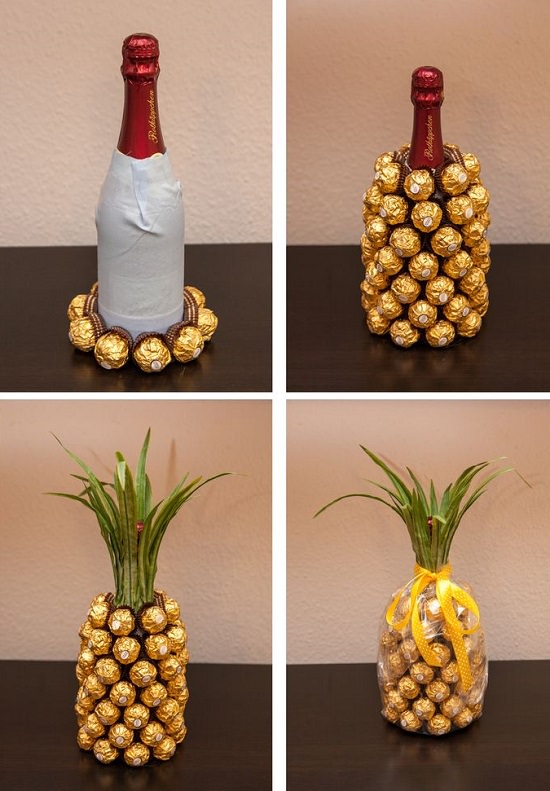 Wrap a layer of fabric around a champagne bottle and paste Ferrero rocher's above it to duplicate this pineapple gift idea. The post is available here.
28. Tissue Holder

One among the genius mason jar hacks; craft this tissue holder using jars, scrapbook paper, knife, and scissors. Visit here to understand the How-to.
29. Painted Rope Votives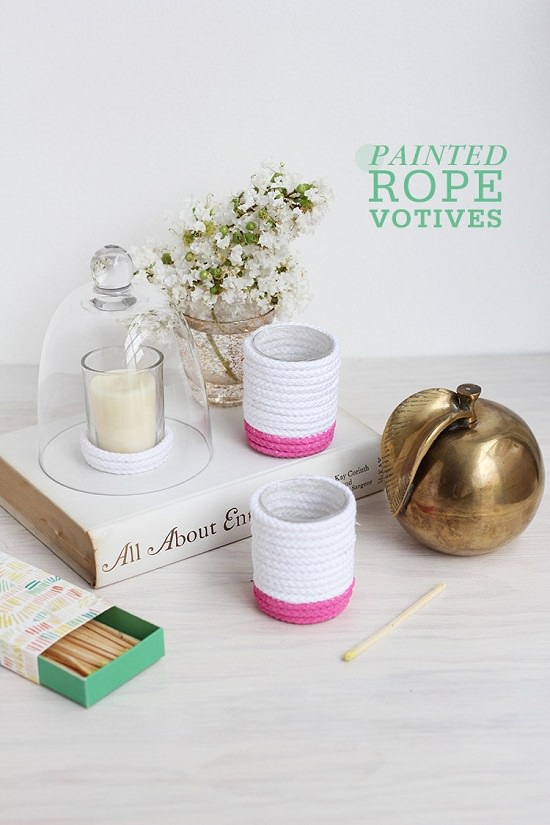 Glue rope all around a glass votive and finish the project by coloring a band of some bright color to the bottom. We found the craft at Freut Cake.
30. Boxwood Wreath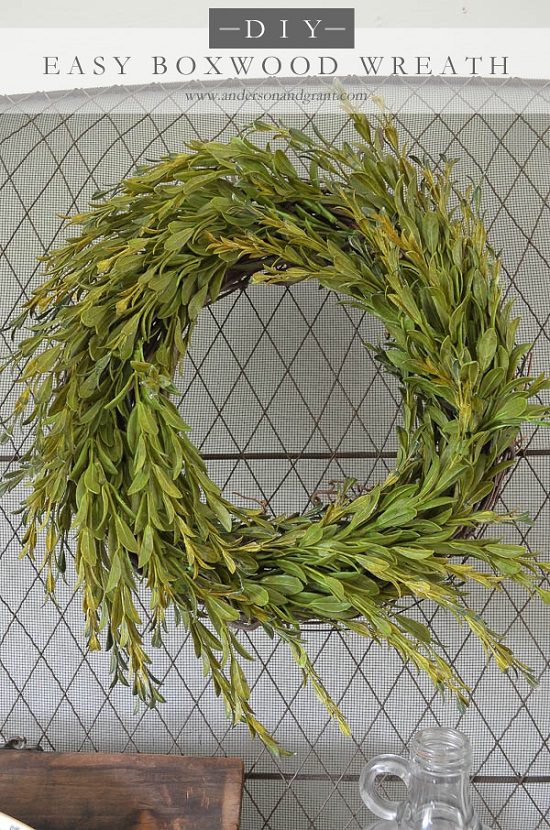 A wreath that's evergreen in every season is a must to try DIY to keep your home ready for any festival. You can add or remove some ornaments as per the season to personalize it even more.
31. Print Towel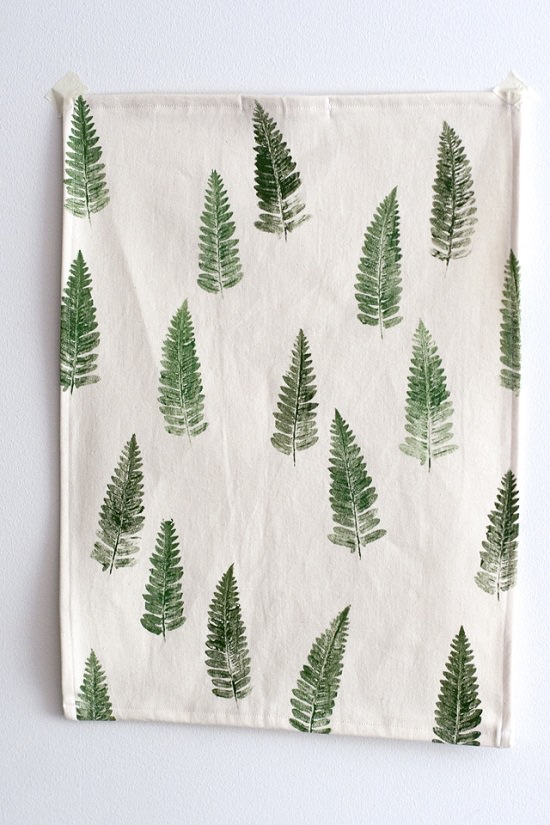 Get a fern leave to print such patterns on a piece of thick cotton fabric. Take inspiration here to start making one such towel.
32. Coffee Cup Holder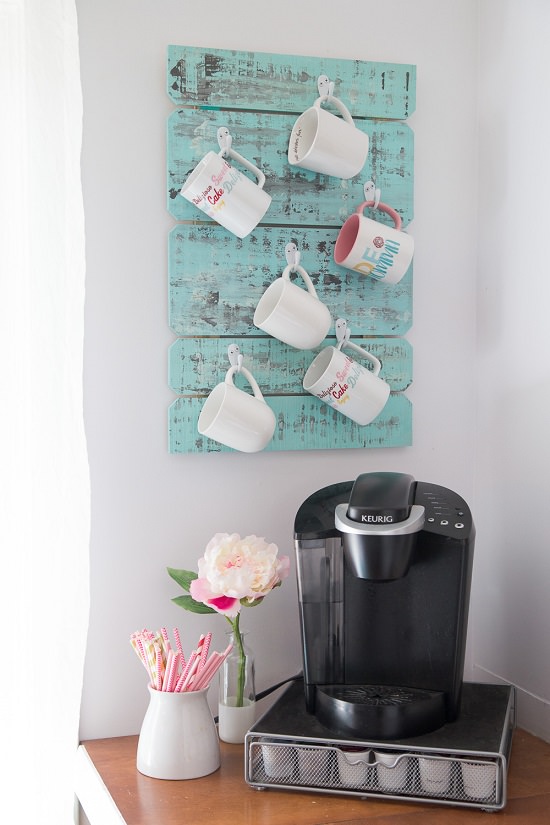 Paint and distress a wooden mug holder to feature this rustic and vintage mug holder on your favorite wall spot. Look how it's made at Made To Be A Momma.
33. Key Catch All Plate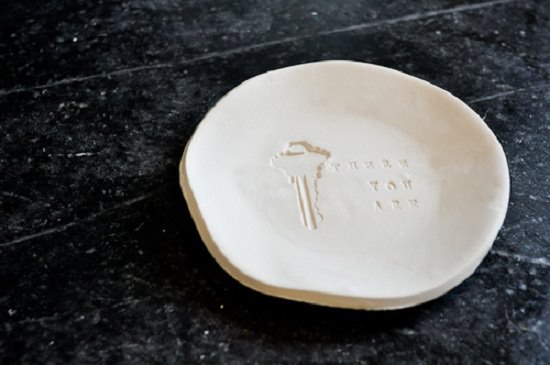 You'll need a sculptey clay, rolling pin, glass bowl, key, butter knife, and an oven for baking the clay. Find the usage of these materials here.
34. Wall Hanging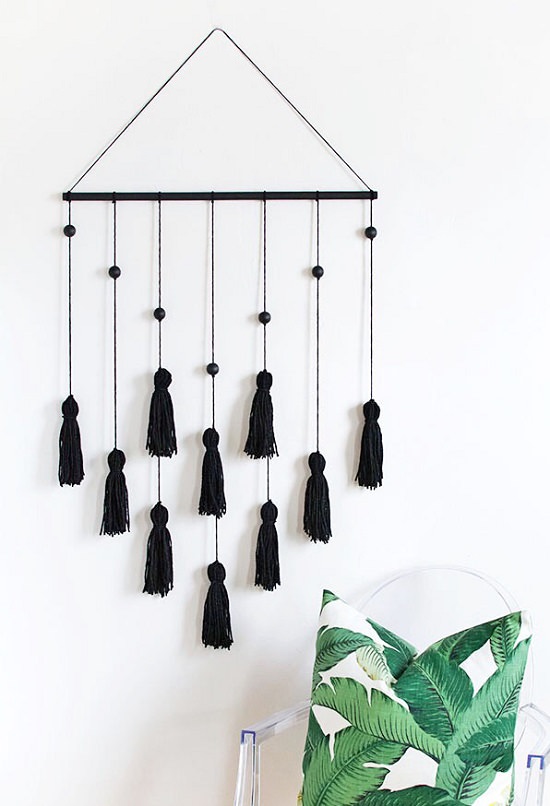 Embellish a boring wall in your home with this minimal tassel wall hanging. Home Yohmyhas the step by step tutorial.
35. Braid Bracelets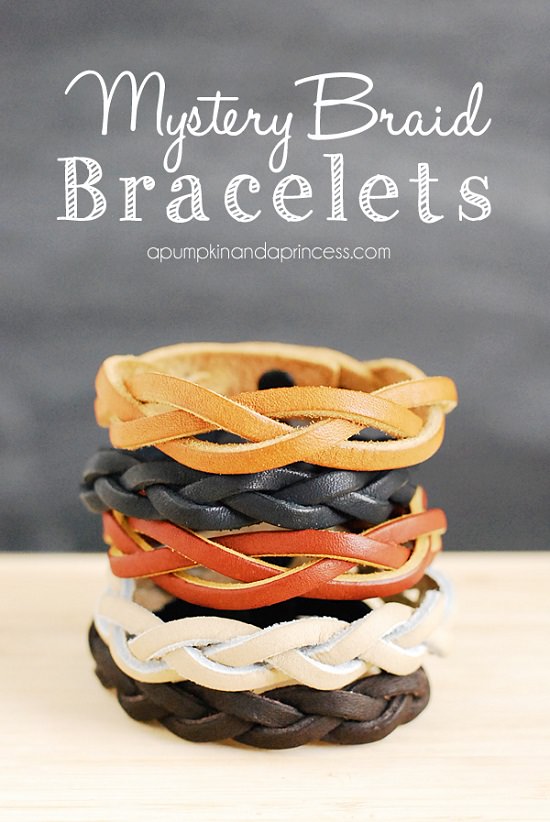 Read the braiding instructions here to recreate this bracelet for you or your kids. If you are a jewelry fanatic, try these DIYs to make homemade jewelry.
36. DIY Wood Shakers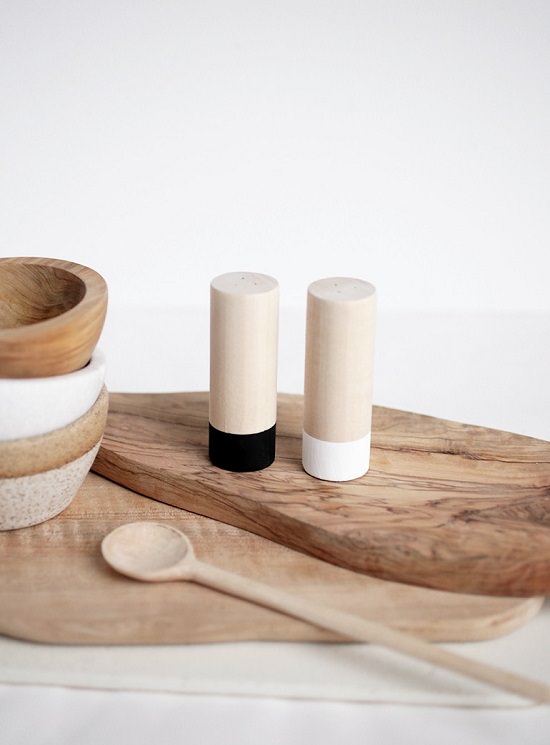 Just a bit of drilling into a wooden dowel will get you these simple yet attractive salt and pepper shakers. The instructions are here.
37. Send Hug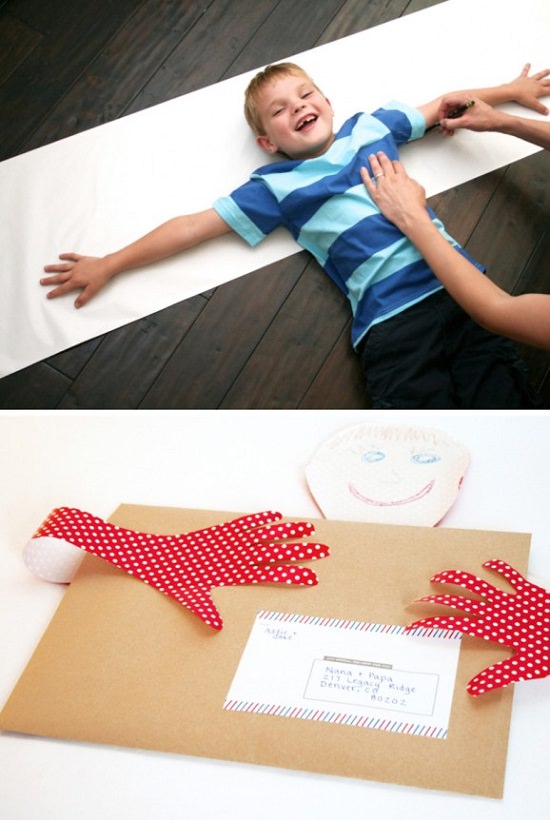 With a letter or a courier, send a virtual hug as a complimentary surprise. Trace your kid's outstretched arms on a decorative sheet and roll it up in the mail. Visit Paging Supermom.
38. DIY Room Decor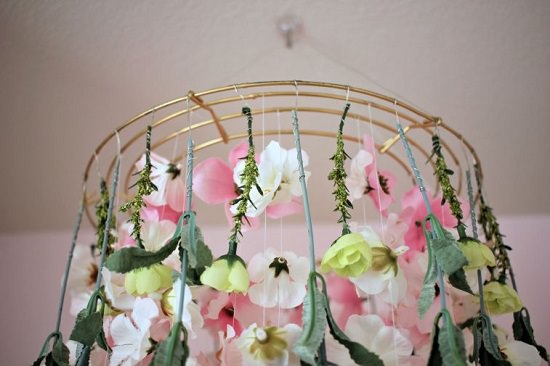 Hang this flower chandelier from your ceiling to design a focal point in your room. This chandelier is a result of attaching faux flowers and leaves to a metal wreath form.
39. DIY Sea Glass Lanterns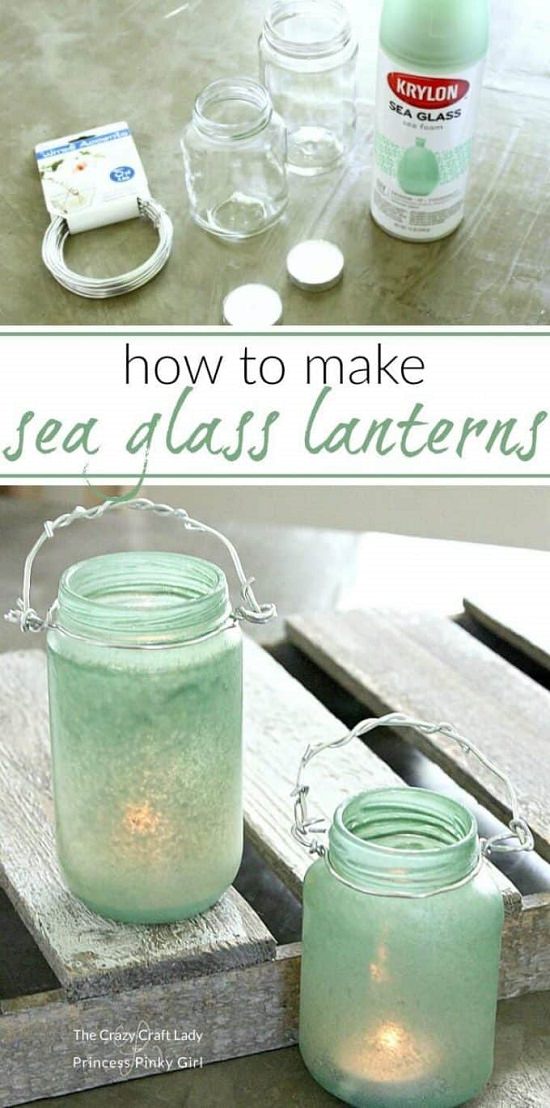 These lanterns are nothing but glass jars painted with a thin coat of sea glass spray paint. You can get the project at Princess Pinky Girl.
40. DIY Leather Pouch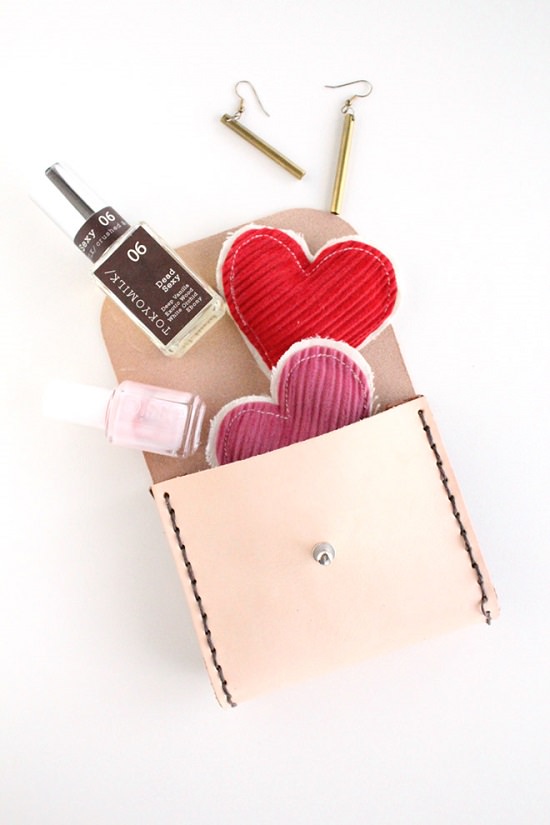 If you have a leather belt bag kit lying spare in your craft drawer, consider following this tutorial. It's good to store your broaches, nail paints, earrings, and other small stuff.
41. Wooden Rustic Clock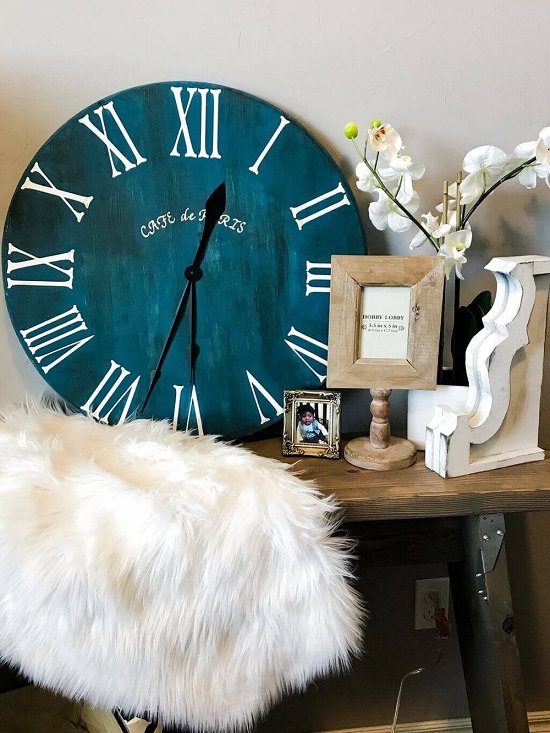 Primarily you must have a round piece of wood by your side, the rest materials you might probably have already. Check this post by Handmade Heaven.
42. Belt Camera Strap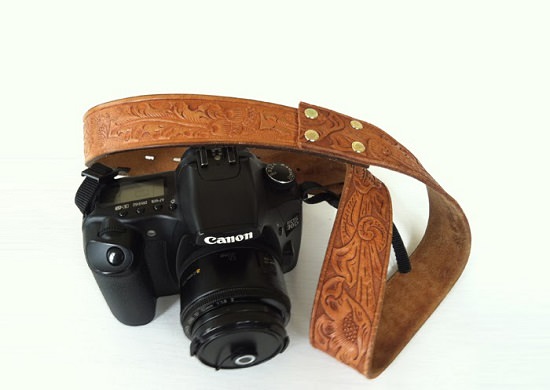 Attach leather belts to your camera to act as a camera strap for when you go on a trip next time. Read the tutorial at Poppy Talk.
43. 3D Origami Apple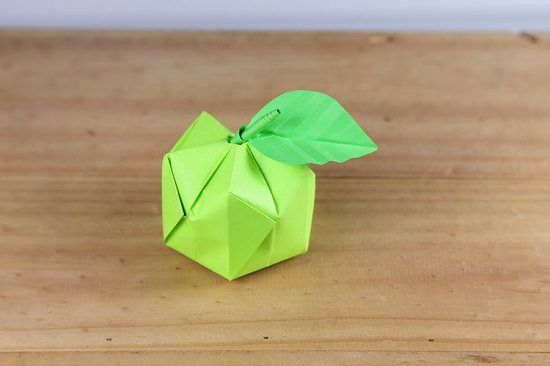 This origami project can be a fun way to indulge your kids in an instructive craft. The only thing you require is origami papers, visit The Spruce Crafts.
44. Homemade Soup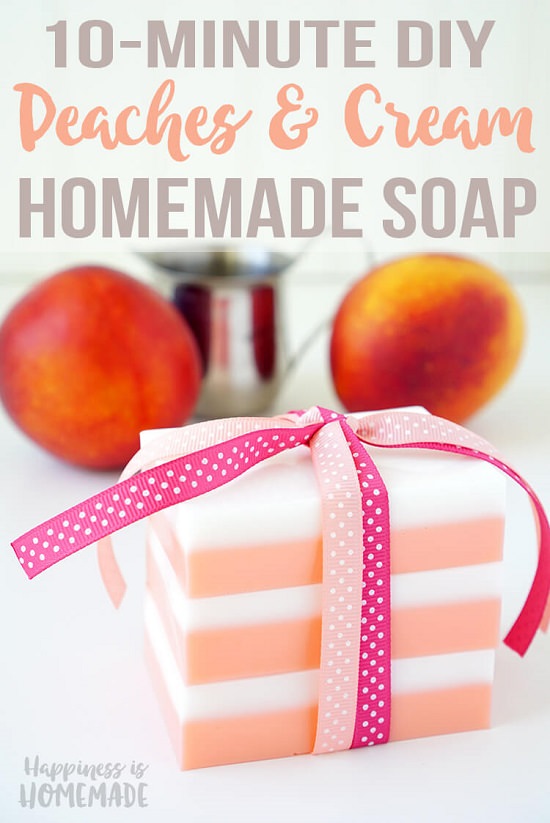 Stop using those chemical cubes to clean your body, instead use a bar of natural homemade soap. Employ peach soap colorant and fragrance oil, soap base, mold, and a measuring cup in the making of this body cleanser.
45. Stress Balls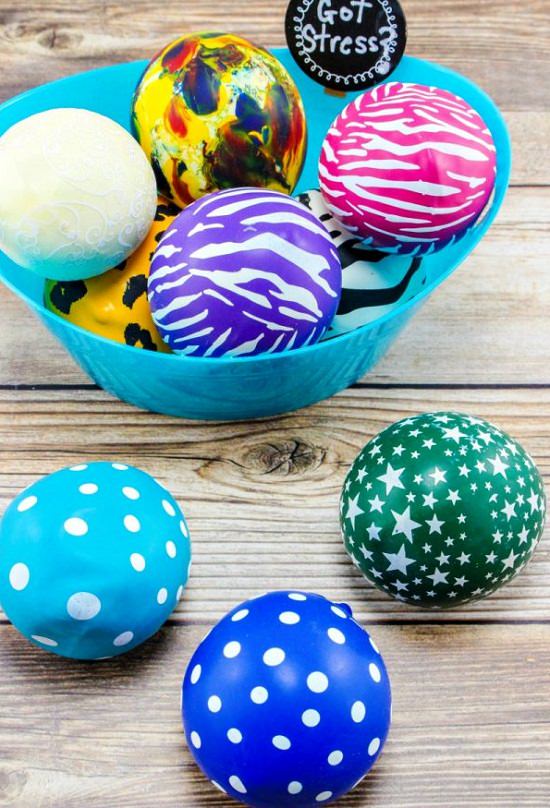 Make these balls to relive your family from stress by just squeezing and stretching it as you like. Fill some printed balloons with enough flour and close the opening to recreate these stress busters.
46. DIY Dragon Eggs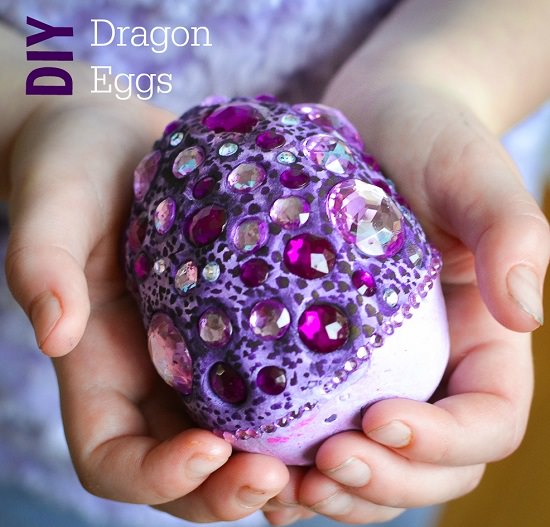 Finish making these dragon eggs using aluminum foil, clay, watercolors, and jewelry to embellish the egg. Seek the instructions at Adventure In A Box.
47. Popcorn Sampler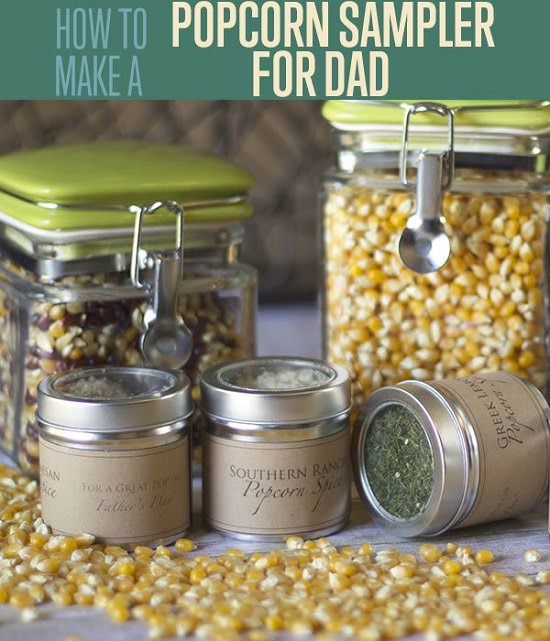 Popcorn samplers are an impressive way to astonish your father deliciously flavored popcorns. Learn to make this rustic popcorn sampler by following the directions here.
48. Metallic Duct Tape Candles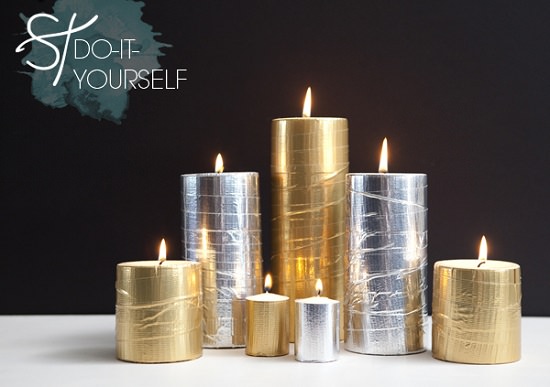 49. Fringed Flannel Throw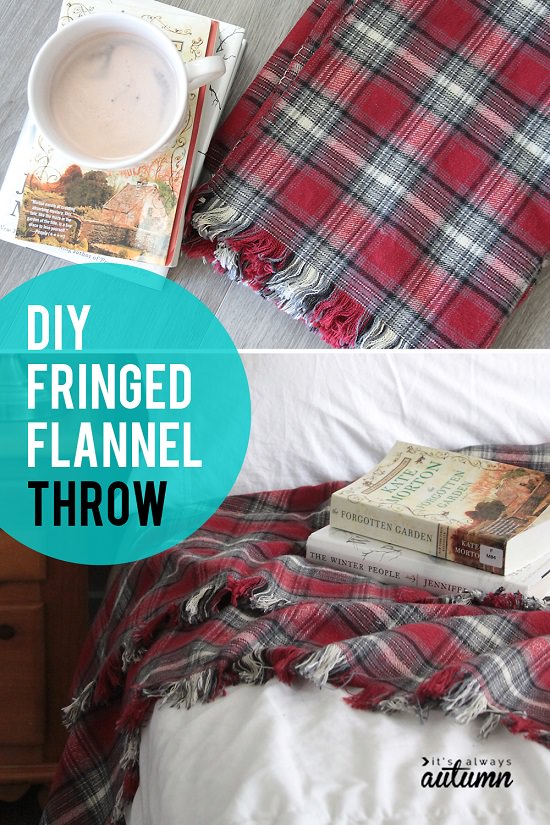 This fringed flannel throw makes a lovely gift and completes in merely an hour using some thick flannel. You can visit It's Always Autumn for the steps.
50. Gold Magnetic Letters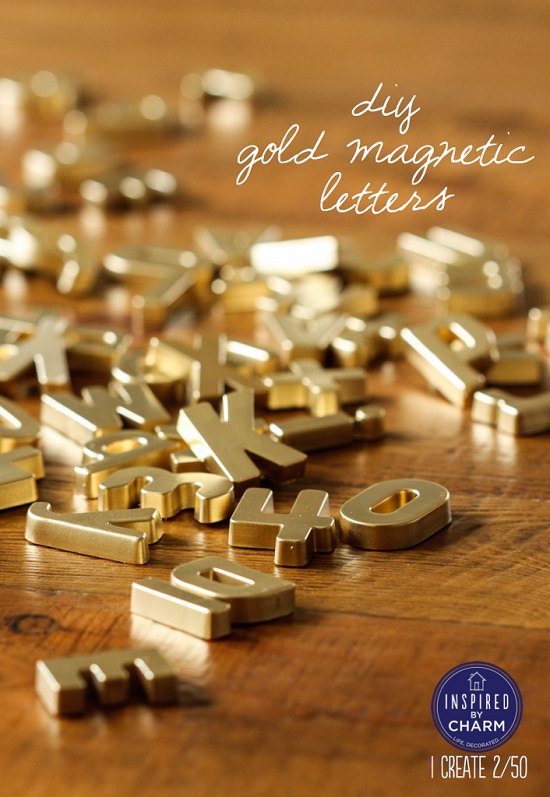 Metallic alphabets from stores can a bit expensive for everyone to buy, try this homemade technique instead. You can stick them on the fridge using magnets, here.
51. Graphic Painted Tablecloth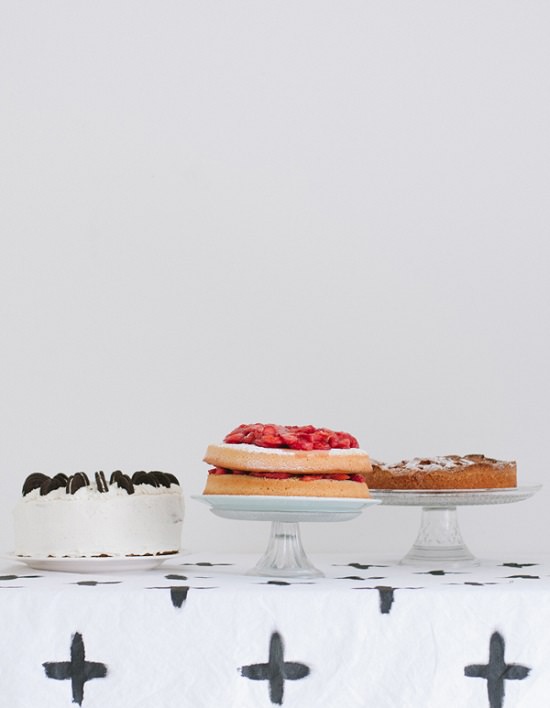 Transform a boring and plain tablecloth into a personalized artwork with just a bit of fabric paint and brush. Here's the DIY.
52. DIY Wire Headband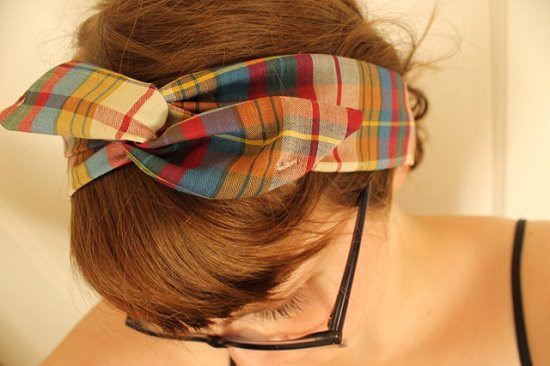 If you have some basic sewing skills you can easily DIY this cute wire headband. Check the tutorial here.
53. Painted Wood Coasters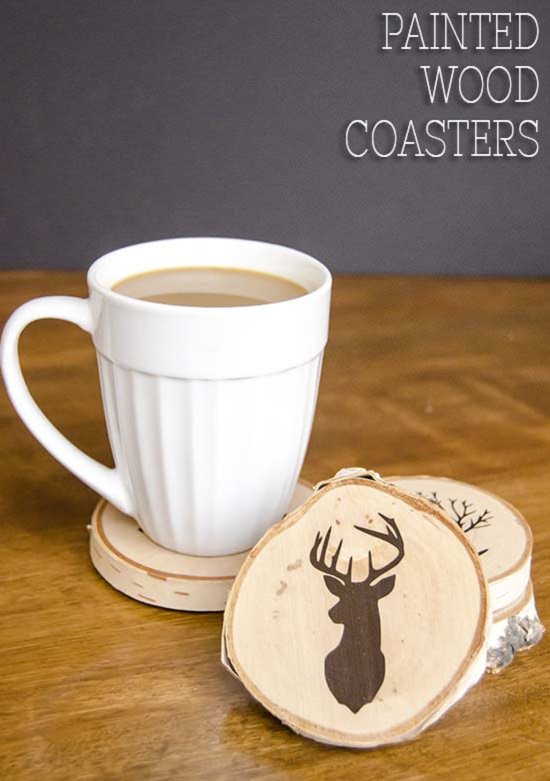 If you love rustic stuff, you are going to love this easy DIY. Buy some wood slices online or from the local craft store and stencil designs on them. It also makes a great personalized gift.
Hope you liked our list of super easy DIYs to do at home. If you found something missing, be sure to drop us a comment!