Want to make something your kids will love? These different type of easy to make slime recipes are absolutely fun to make and take only a few minutes!
1. Liquid Starch Slime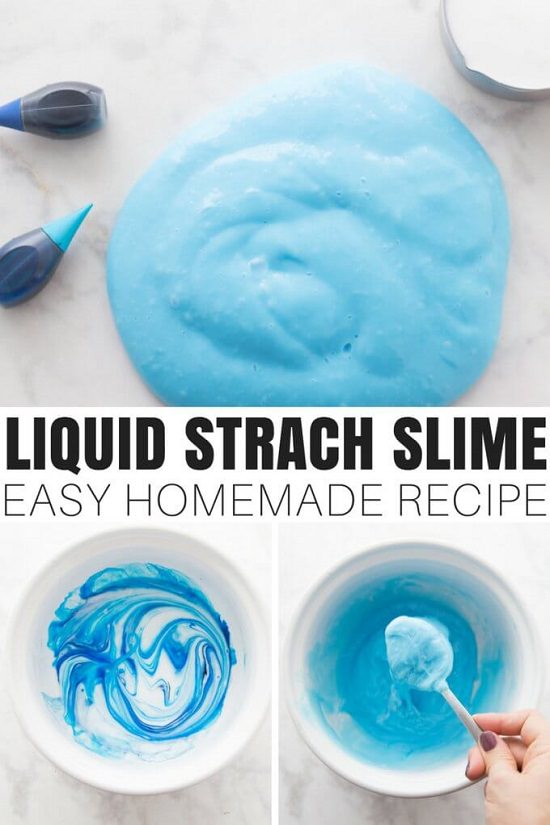 Easy to mold and buttery smooth, liquid starch slime gets done in 5 minutes flat. Click here for the details.
2. Fluffy Slime Recipe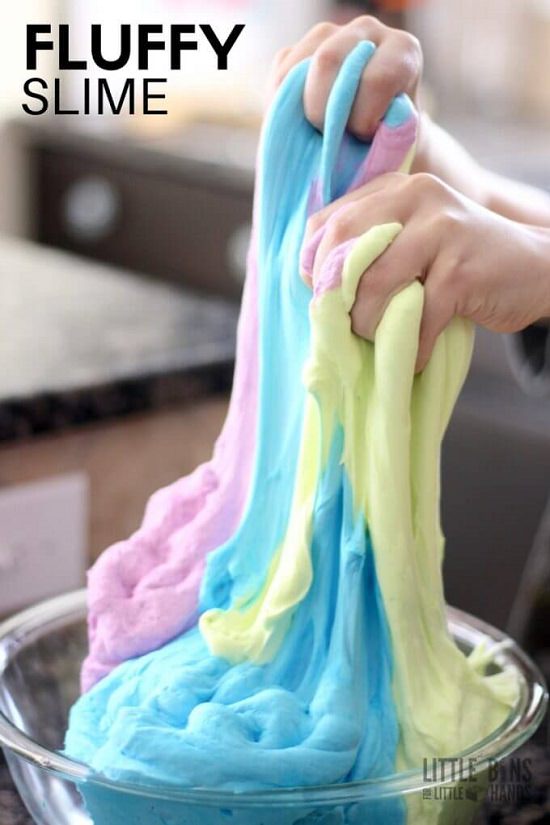 Kids will love whipping up this soft and fuzzy slime during the weekend. Adding colors and sequins makes it all the more attractive. The recipe is here.
3. Saline Solution Slime Recipe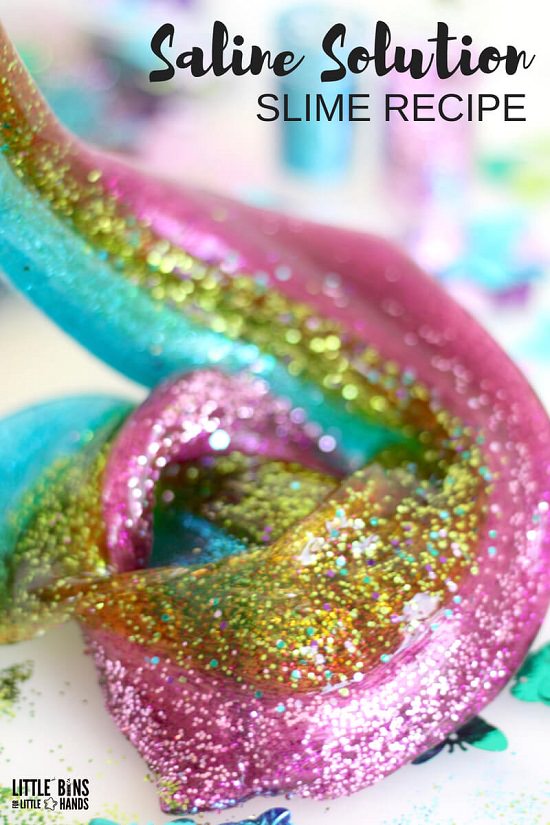 Using saline as the activator, this slime recipe shows you how to create fluffy and ultra-stretchy slime with lots of glitters.
4. Easy to Make Slime Recipes – Gooey Green Slime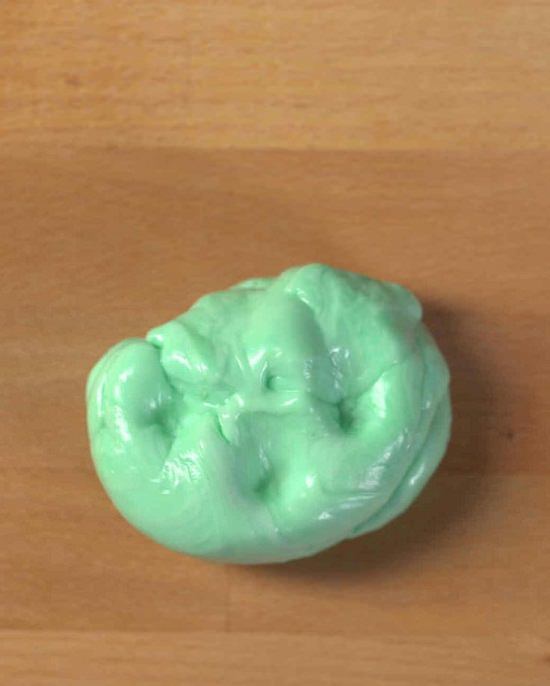 Gooey green slime is the stuff that creepy Halloween pranks are made of. Don't forget to make some this season with the help of this post!
5. Star Wars Space Slime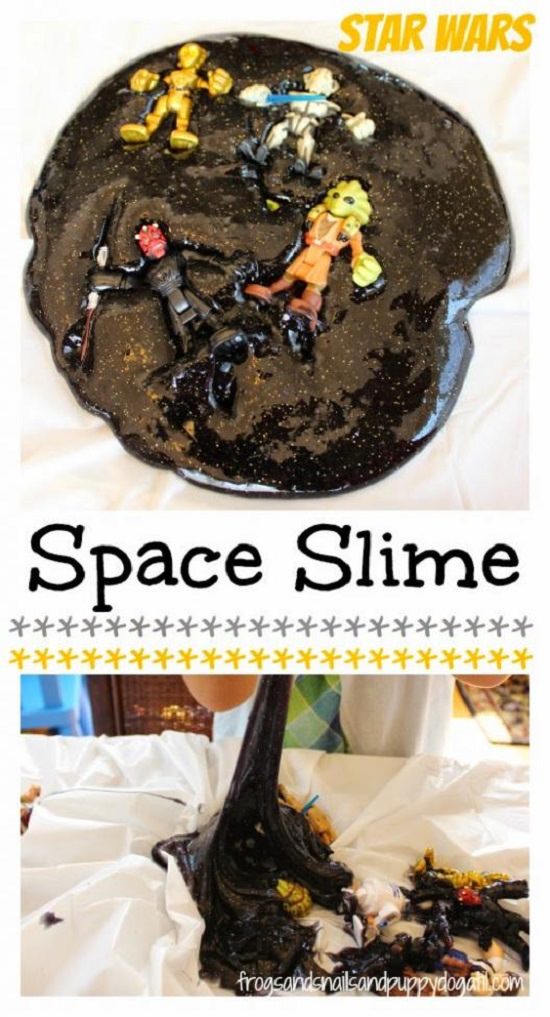 This isn't your ordinary mass of slime that sits around, rather it creates an intriguing story with its colors and caricatures. Get the tutorial here.
6. Watermelon Slime Recipe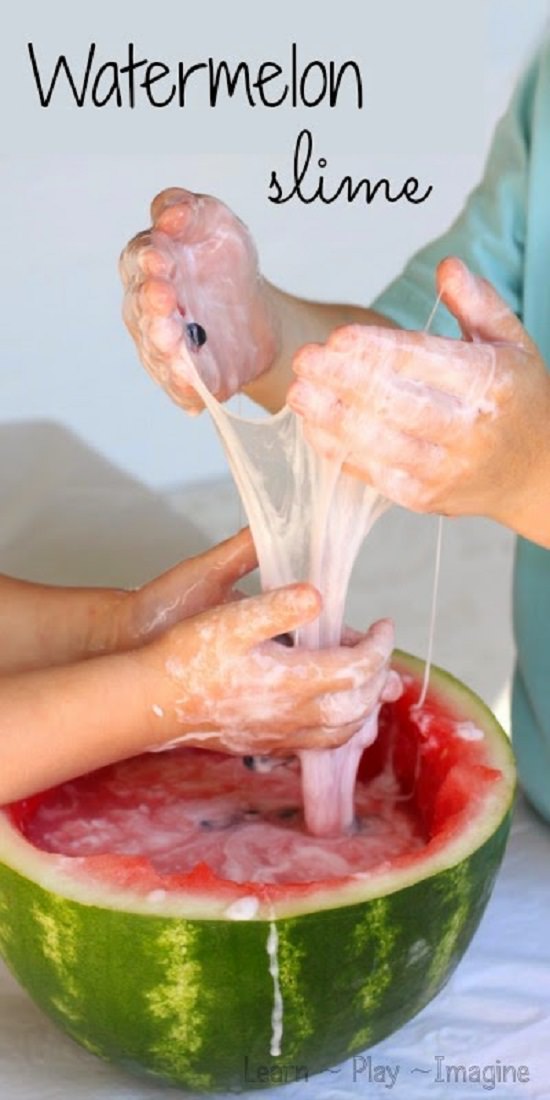 Running cool, slippery watermelon-smelling slime through your fingers seems to be like a fun summer activity. Make one with these instructions.
7. Bug Slime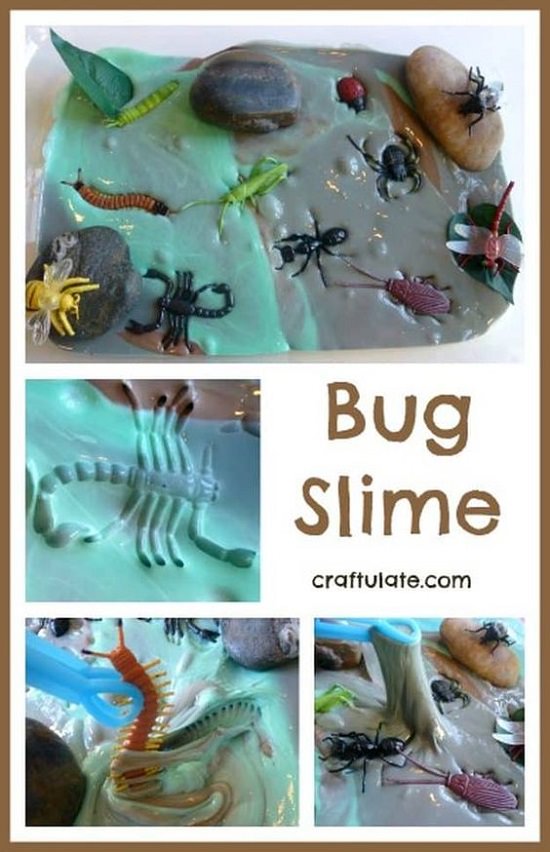 These reptilian slimy creatures are sure to evoke jump scares in your arachnophobic friend. Visit craftulate for the DIY!
8. Borax Slime Recipe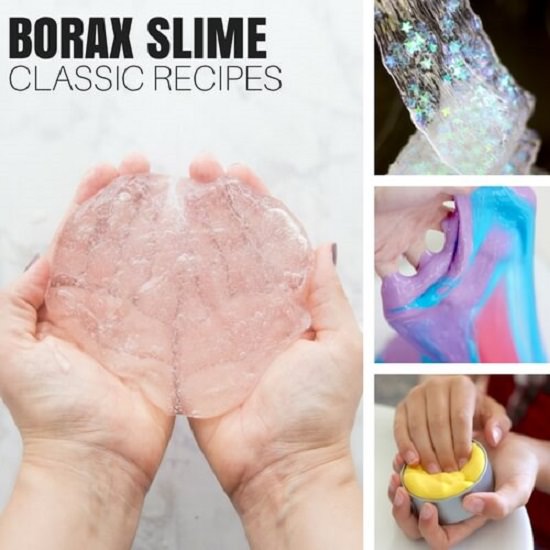 For a neat gooey mass that holds shape and requires no prior experience whatsoever, check out this borax slime recipe.
9. Chalkboard Slime Recipe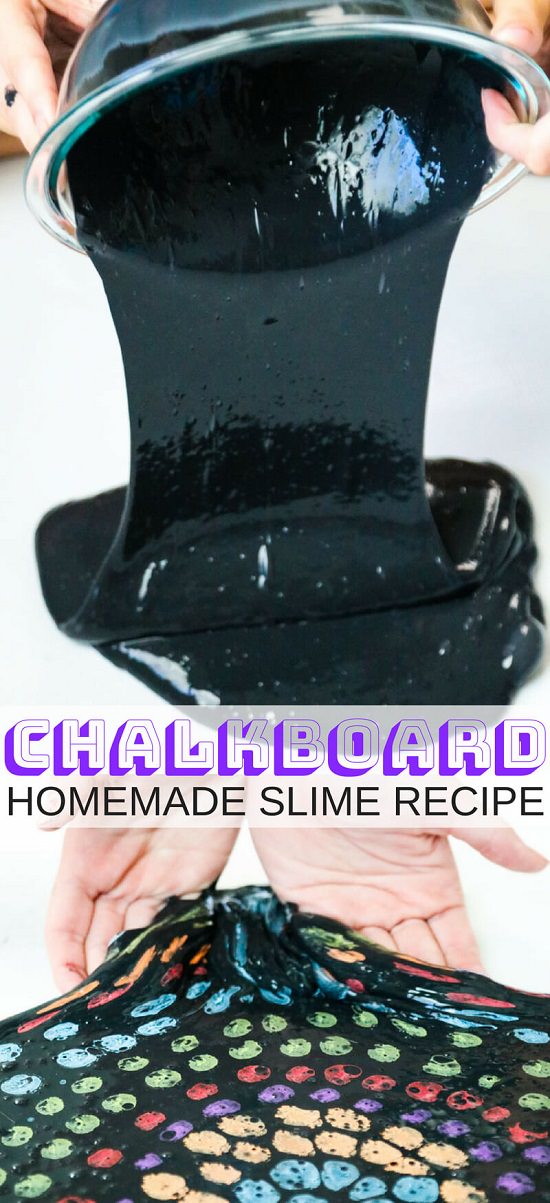 Making chalkboard slime with the kids is a truly effective way of teaching them the basics of Chemistry but without drawing yawns of course. Here's the tutorial!
10. Gold Leaf Slime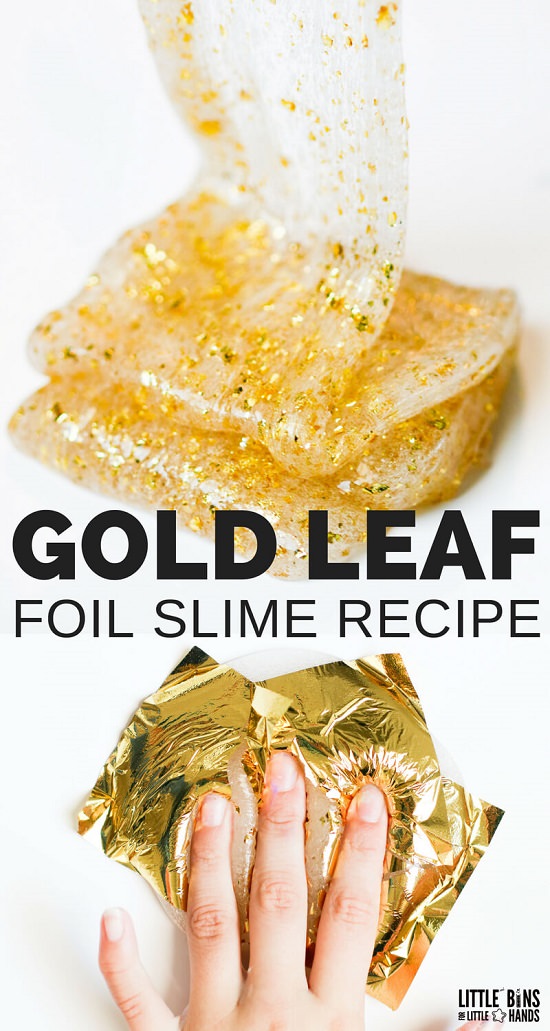 For a blingy touch to your sensory playthings, consider trying out this golden slime.
11. Oobleck: Liquid or Solid?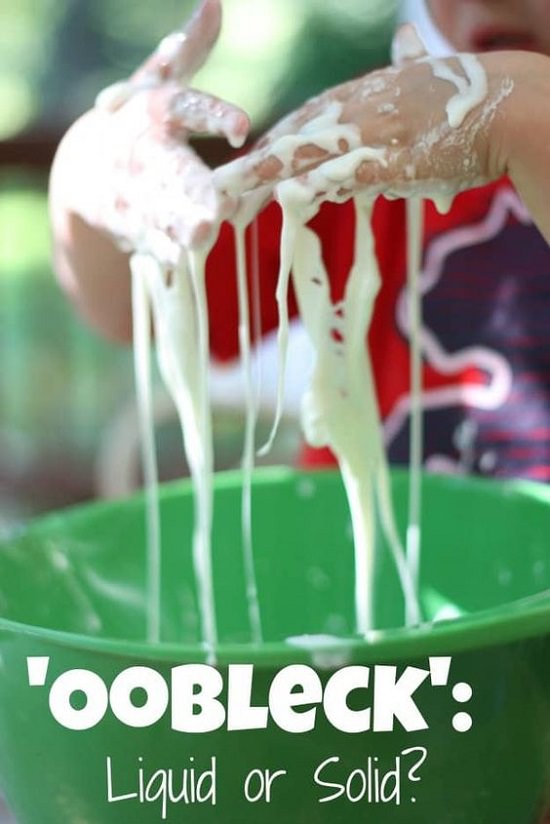 The thing with cornstarch solution is that it moves like a liquid and feels like a solid.  Have fun teaching this unique concept to your kids with this interesting oobleck recipe!
12. DIY Slime Made From Glue!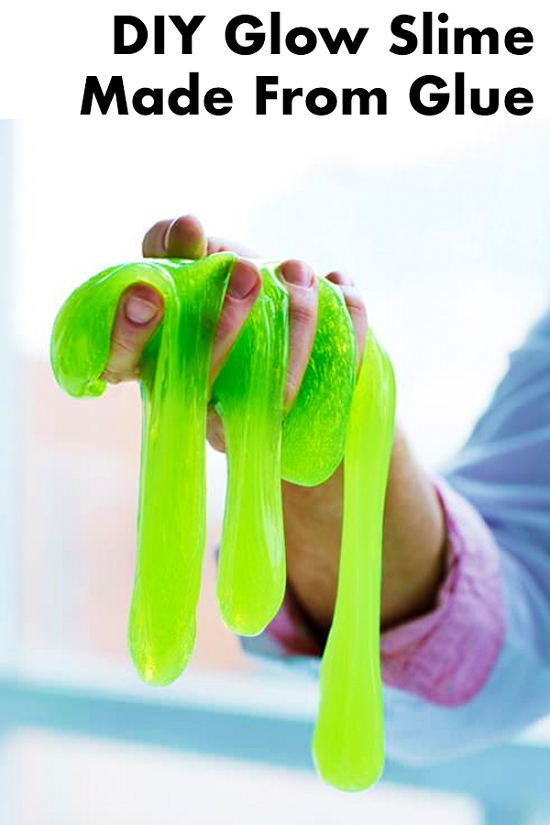 This dazzling green goo will teleport you to the land of the Wizard Oz. Check out this DIY to learn more.
13. Google Eye Monster Slime Recipe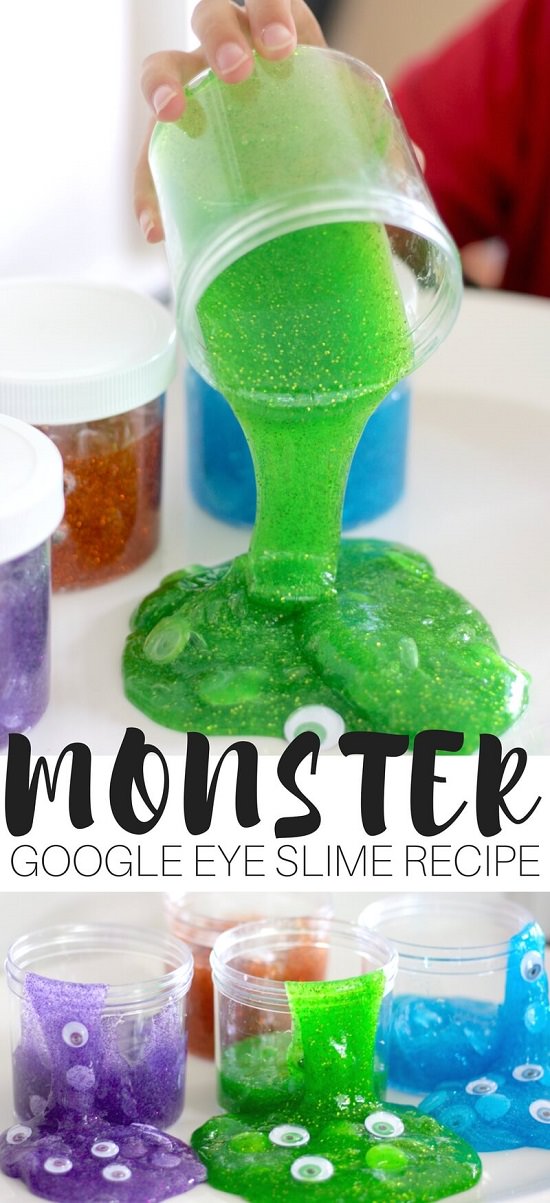 Eyeballs streaming in thick jelly may have looked gross in the Ghostbusters, but this time it's totally cool because it's slime! Know more here.
14. No Glue Slime Recipe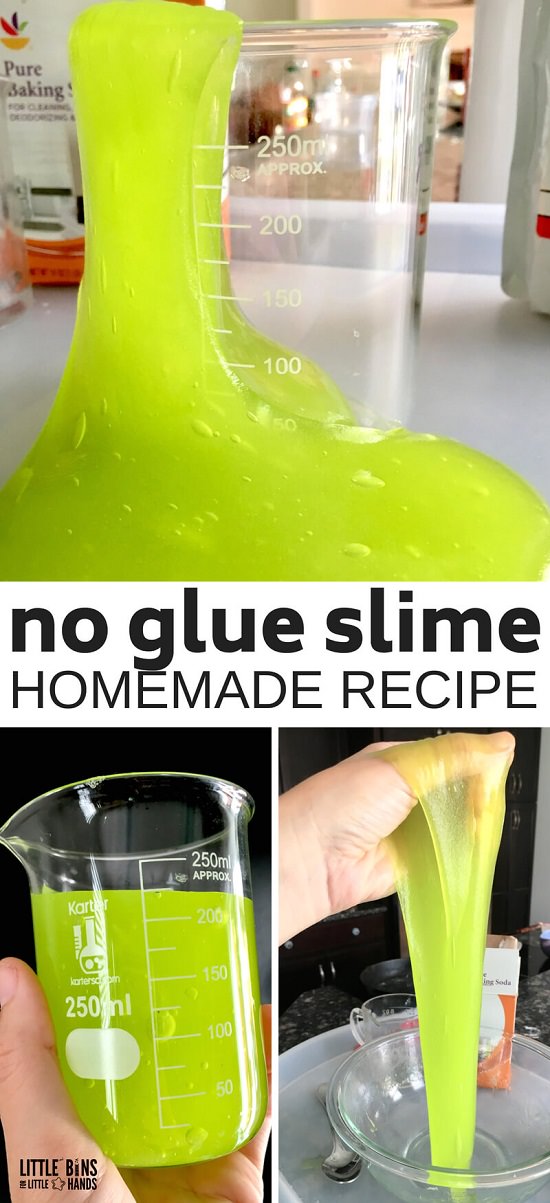 This super jiggle slime recipe may not involve glue, but it's just as stretchy and cool as the others on this list. Learn how to make it here.
15. Glow In The Dark Slime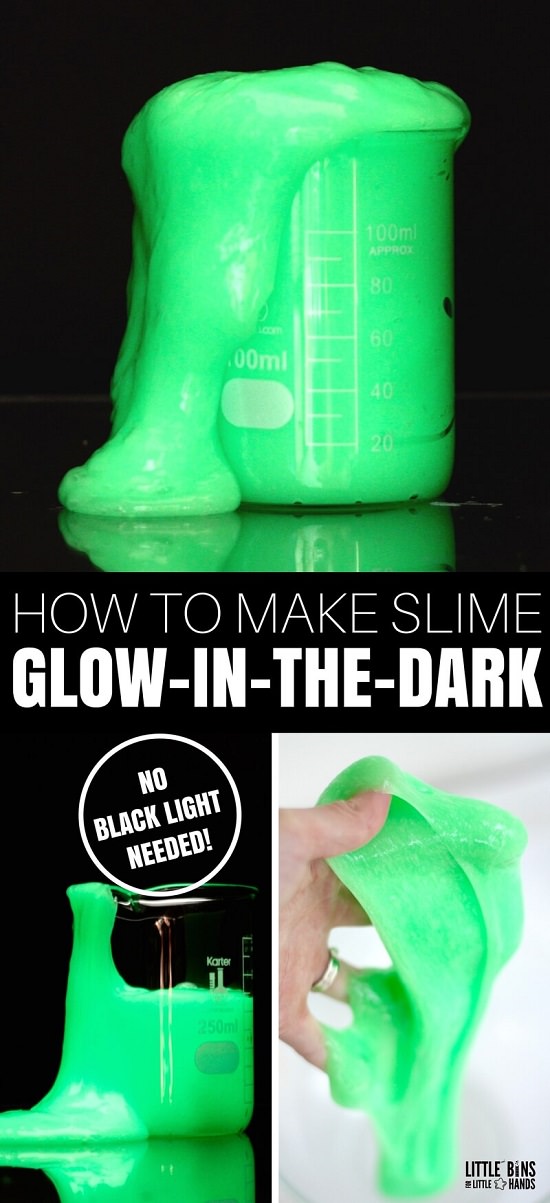 Are you in for spells, chants, and spirits of the night? Well, then this glow slime might be just what you want to add to the spooky mood.
16. Smooth Butter Slime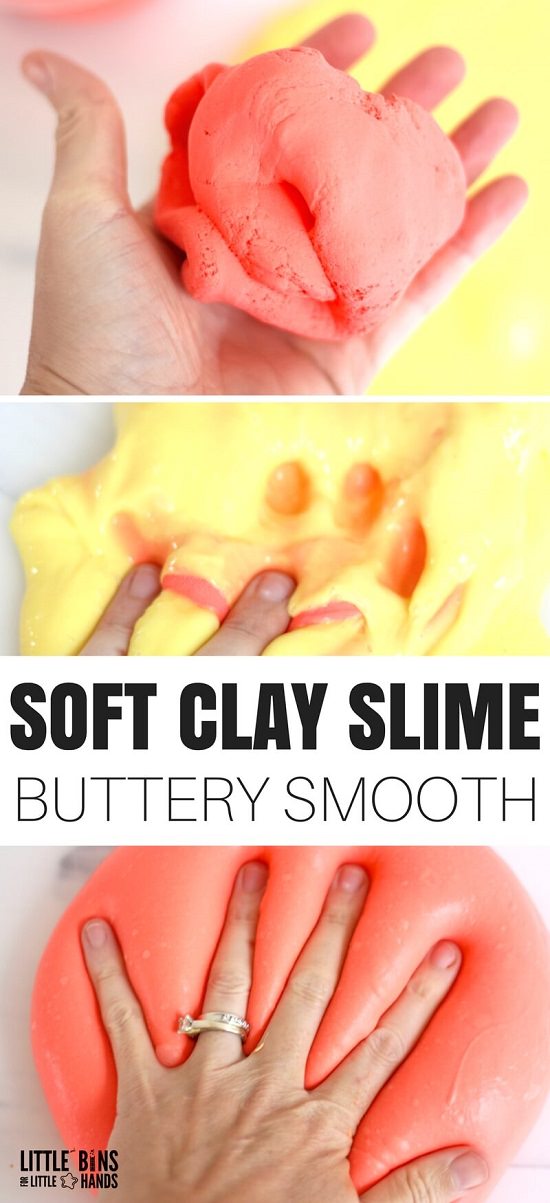 What do you get when you mix slime and clay? A silky smooth mess that kids can't get enough of! We got inspiration from here.
17. Simple Lego Slime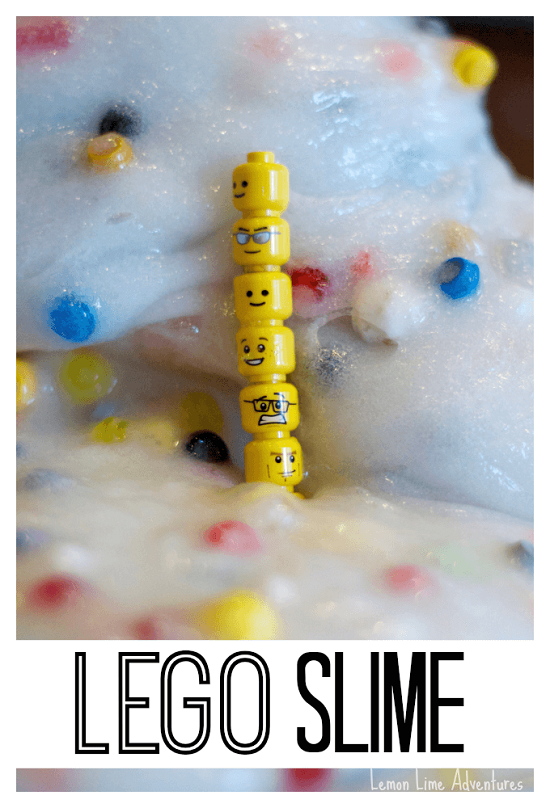 Believe it or not, Lego blocks actually increase the stretchiness of slime and make for a more cognitive and calming experience. To learn more, click here.
18. Easy to Make Slime Recipes – Rainbow Slime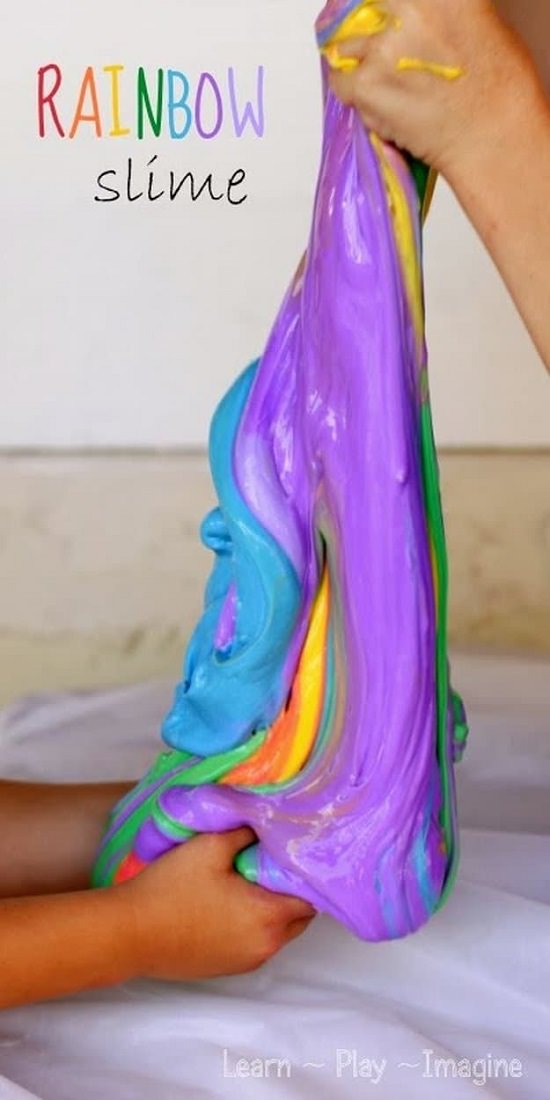 If ghoulish green monster-themed slime recipes are not quite your thing, we're sure you'd like the rainbow version here.
19. Snow Day Sparkle Slime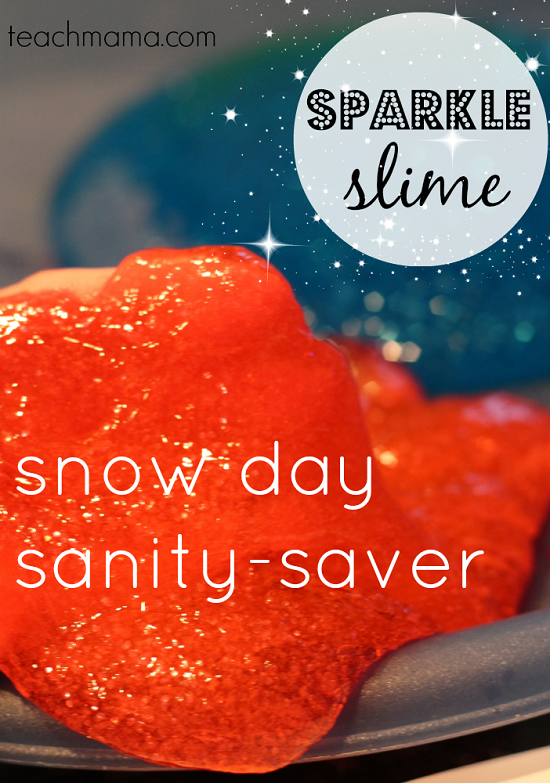 Making sparkly slime can lift your spirits when you're stuck at home due to bad weather. The step by step instructions is here.
20. Crystal Clear Clear Slime Recipe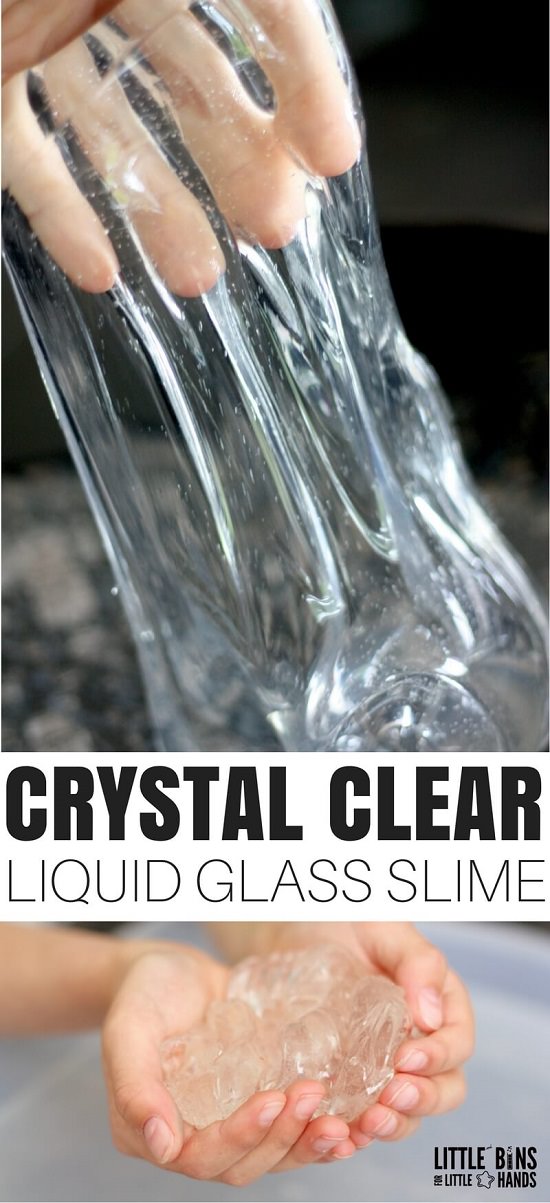 Think of it as silky, stretchy glass that doesn't hurt your fingers. Sounds cool, doesn't it? This tutorial is even cooler.
21. Glitter Slime Recipe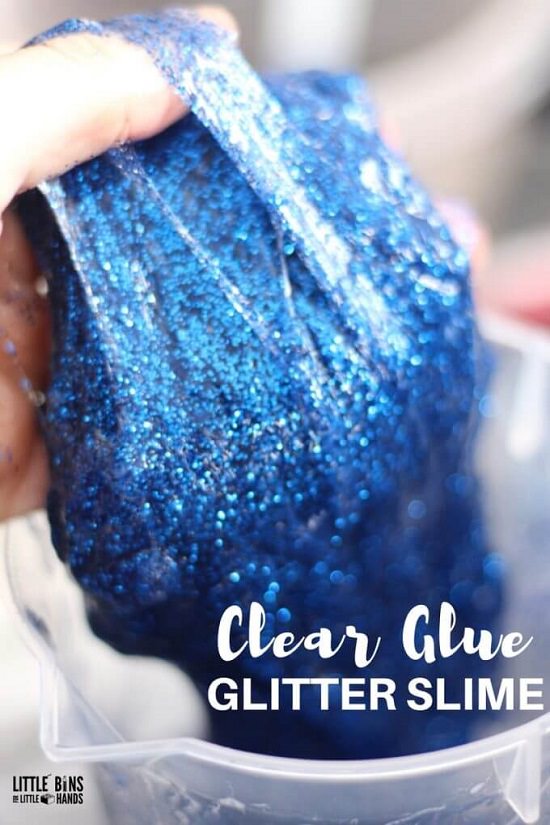 This glittery blue slime is easily one of the coolest Chemistry experiments ever! We found this idea here.
22. Floam Slime Recipe

Foam beads filled with slime come together to make popping sounds while stretching. Have fun making this crunchy foam slime recipe!
23. Golden Glitter Slime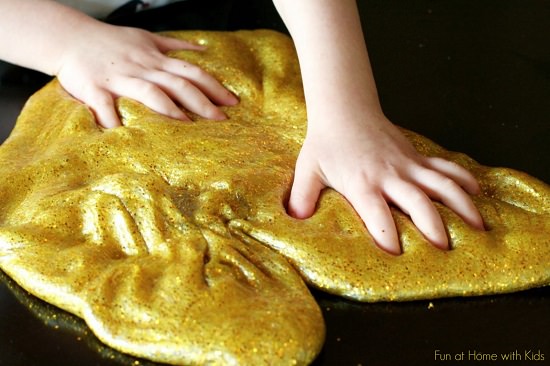 This is probably what the world's biggest glitter investment looks like! See the tutorial here.
24. Chocolate Stretchy Slime Recipe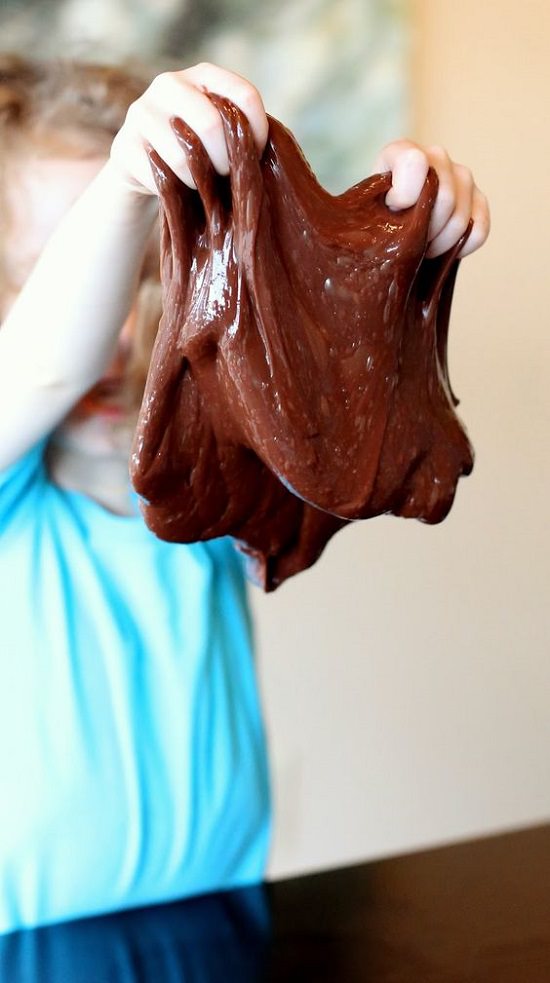 This chocolate slime here has the texture of melted chocolate and looks just like chocolate batter. No wonder it does such a great job at teasing the taste buds.
25. Star Spangled Slime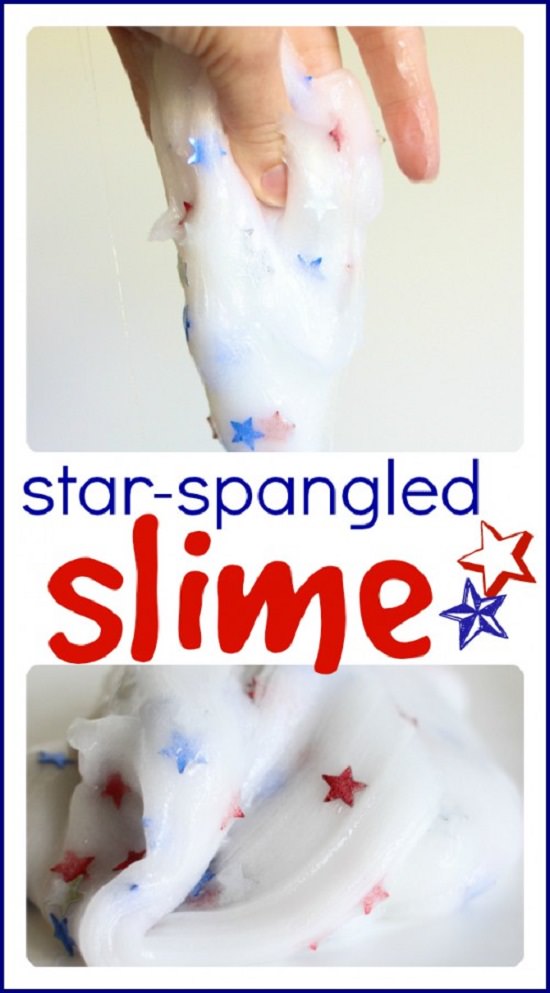 This galaxy-themed slime is a nice way to use up stray star confetti. The east steps are here.
26. Magnetic Slime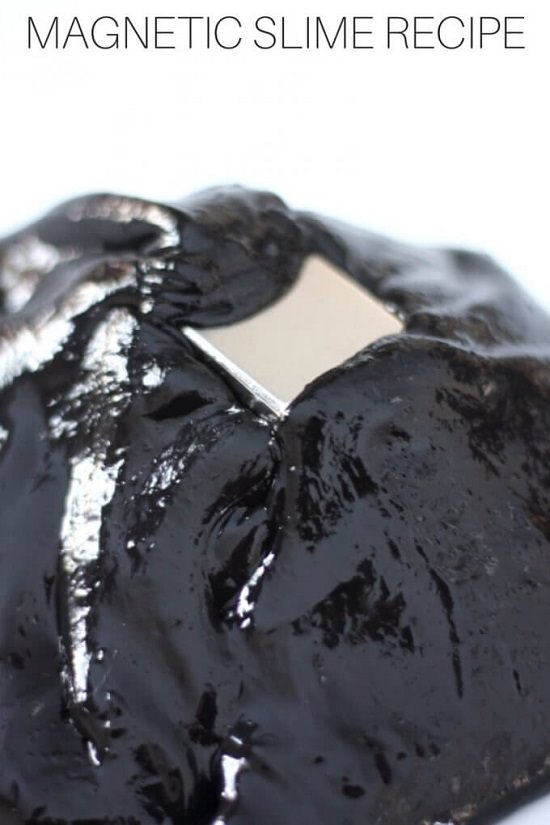 Watching the magnetic slime crawl and gobble up approaching iron bars is sure to give you hours of endless fun. Replicate it by following this post.
27. Glistening Gold And Silver Slime Recipes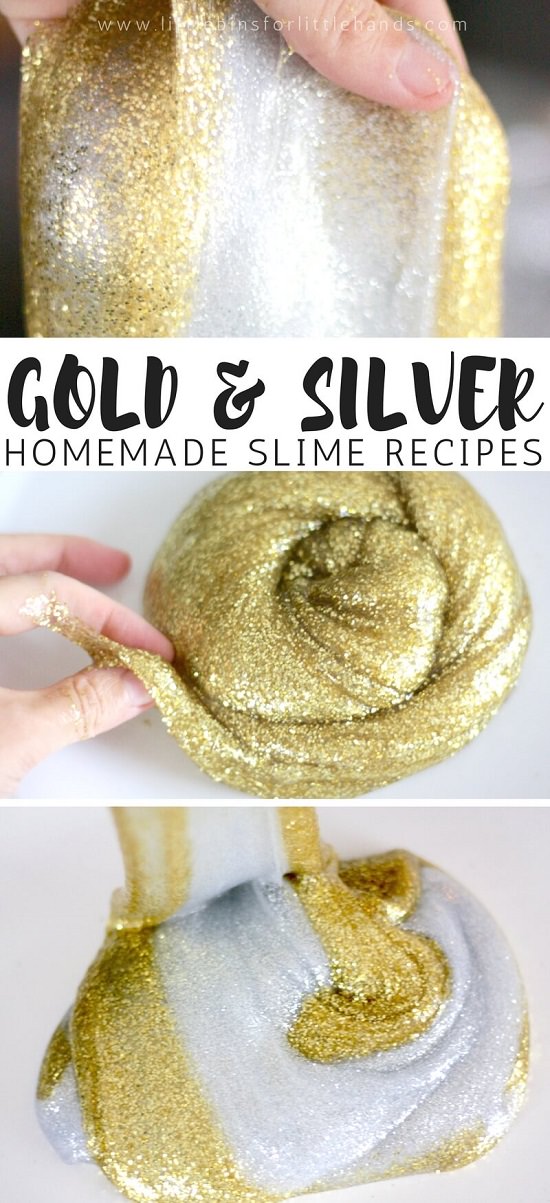 Create a never-ending sea of glitter with this easy, five-minute recipe.
28. Easy Fruit Scented Slime Recipe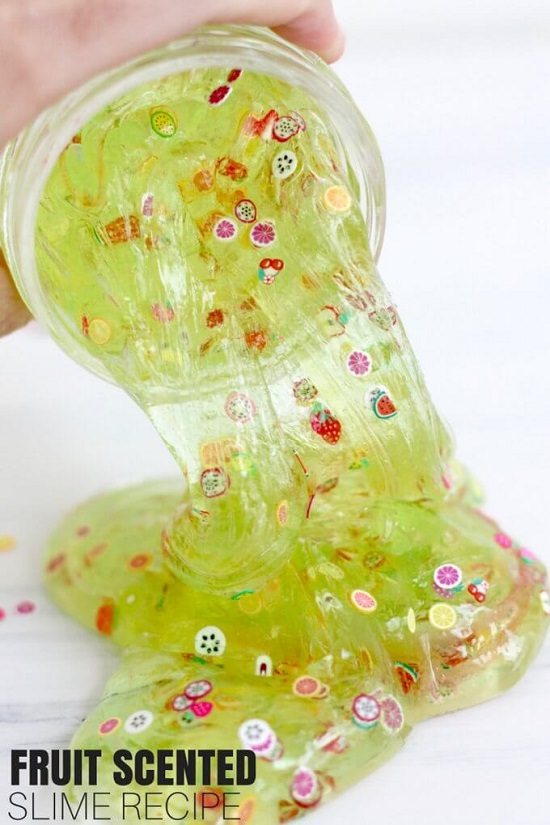 If you like scented slime but hate spending on essential oils, this DIY is a boon for you.
29. Polka Dot Slime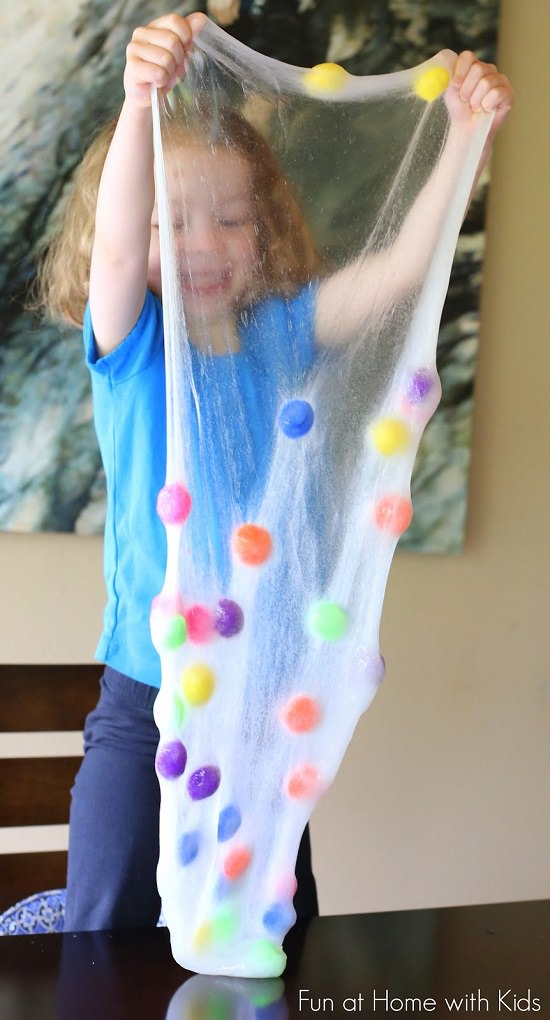 Picking out polka dots from the slimy mess is going to take all your might. Try it out for yourself by reading this article.
30. Alphabet Slime Recipe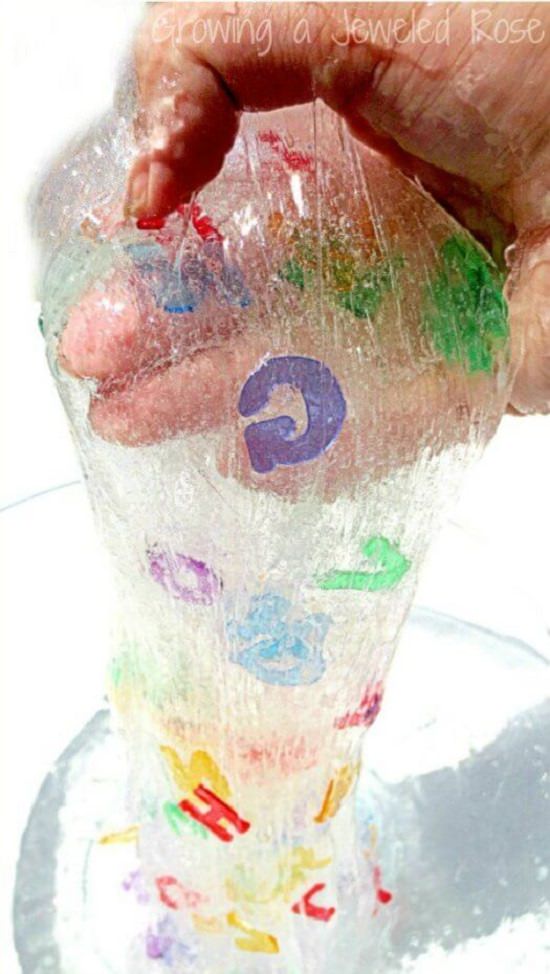 Anticipating and hunting out letters from slime may well build the cognitive abilities of your child. Here is a detailed post on it.
31. DIY Soap Slime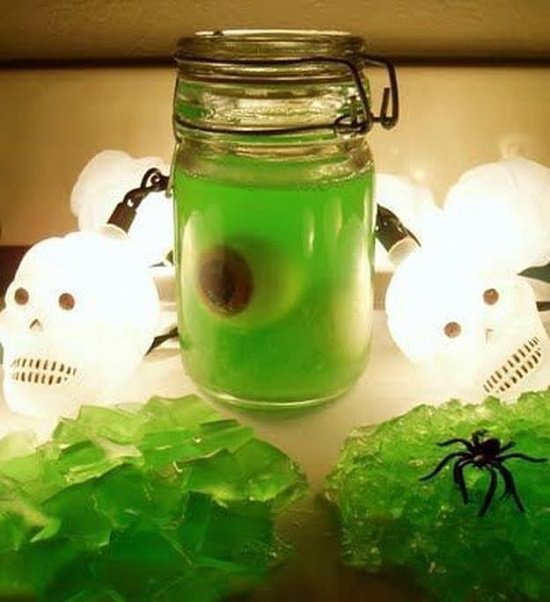 Here's a beautifully weird Halloween decor to get you geared up for the holidays.
32. Homemade Sand Slime Recipe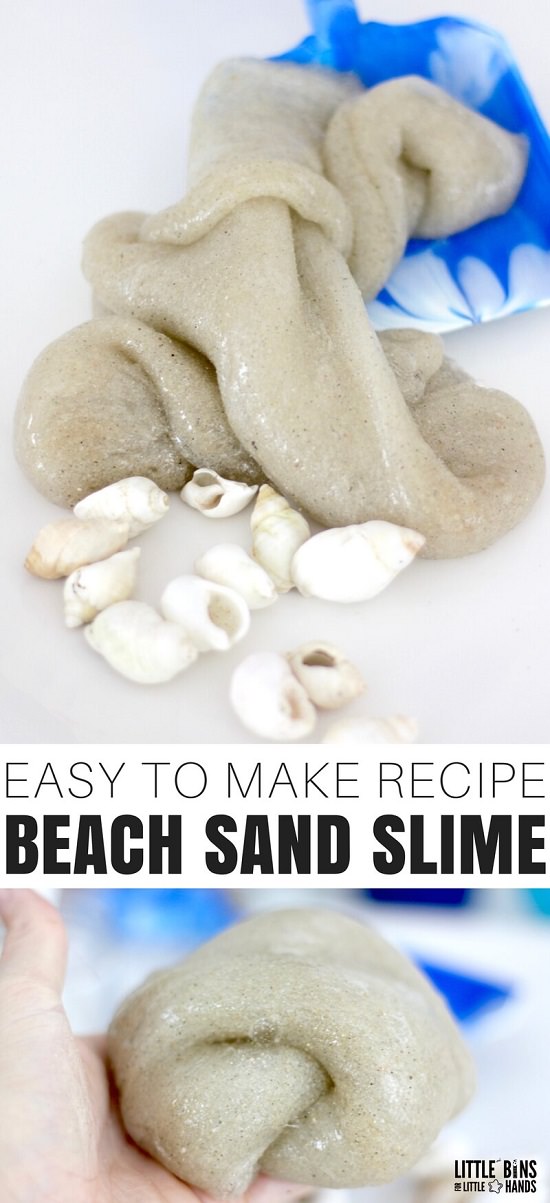 If you like to take home a little 'beach' with you after every vacation, we suggest creating this sea-and-sand slime here.
33. Color Changing Slime Recipe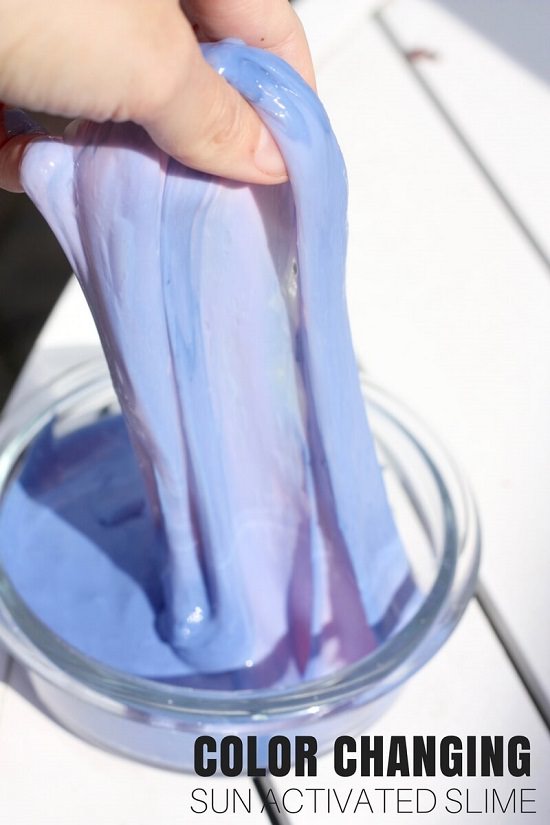 This recipe tells you that one secret ingredient that makes this slime change colors.
34. Easy to Make Slime Recipes – DIY Rubber Slime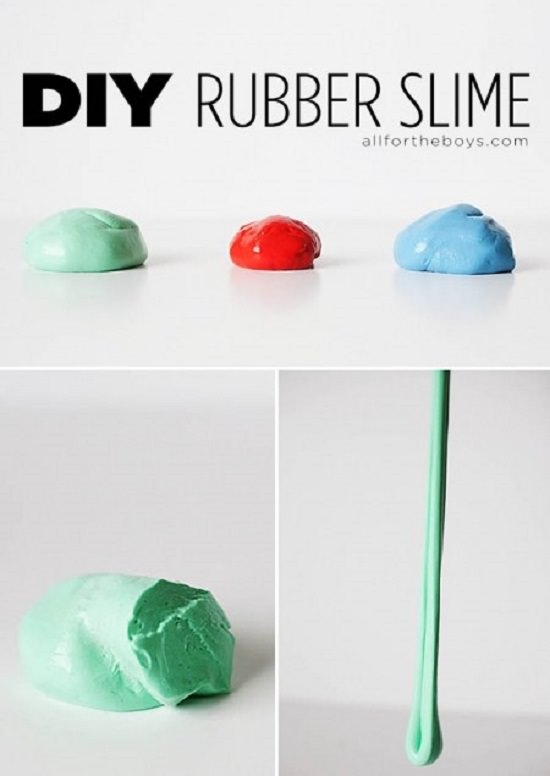 Rubber slime has a texture similar to silly putty, only it's sturdier, so you can stretch, mold and bounce it all you want. Visit craftgossip for the DIY.
35. Spaghetti Slime

These colorful, scented, no-stain noodles are an instant hit with the kids. Get the instructions on this post.
36. Frozen Slime Recipe

Manipulating the temperature and texture of slime can give you amazing results, like this sparkly, icy-cold slime here.
37. Santa Slime Recipe

Christmas slime, fairy poop, reindeer flesh- it's all the same, right? The whole recipe is here.