DIY a cardboard box rocket ship to entertain your kids and give way to their space dream in a fun way! Find inspiration in the below rocket ship ideas.
1. Rocketship Treat Boxes
This tutorial shows how you can use light cardboard paper for making boxes to keep treats or gifts for a party. Using the technique of origami, these boxes are very easy to make. You can download the original design from the blog or make it at home itself if you want to challenge your creativity.
2. Cardboard Spaceship for Kids
Recycle some discarded cardboard boxes to make a cute little playhouse in the form of a spaceship for your kids. Using just a glue gun and little effort, this DIY is sure going to make your kids happy. Add a few windows for light or you can install LED lights too.
3. Cardboard Rocket Ship Using Recycled Box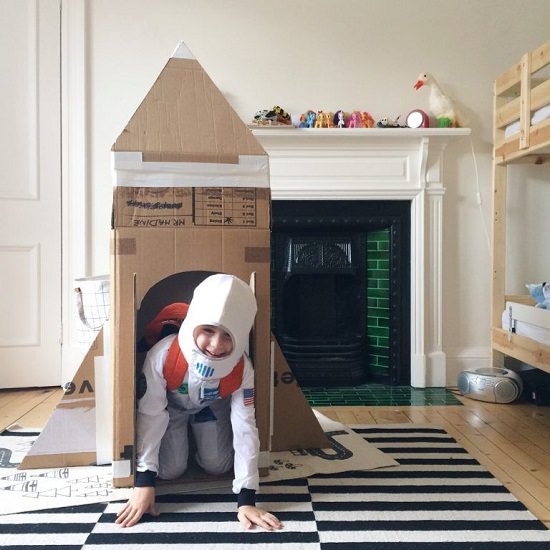 Looking at a tall cardboard box and wondering what to do with it? Use it to create a spaceship for your kids, and let them showcase their skills for decorating the spaceship. Follow this tutorial for a more detailed process.
4. Rocketship Tutorial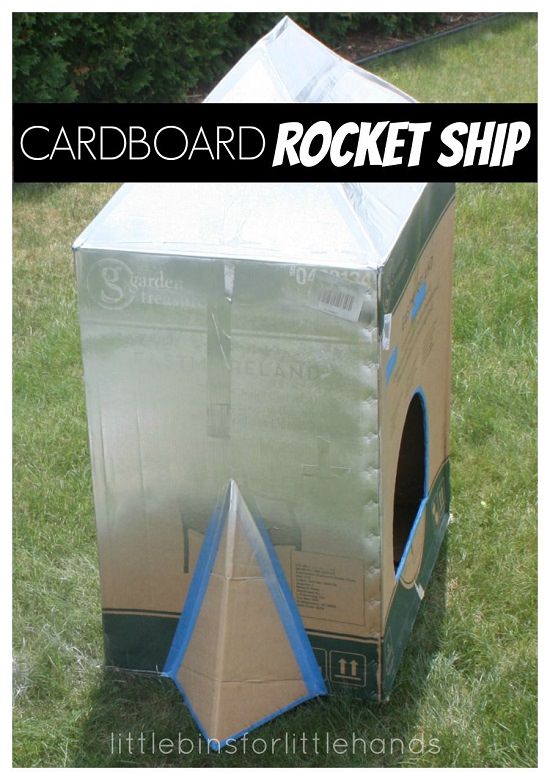 Another DIY for making a rocket ship using the basic materials and without going into the hassles of working with more craft papers. It makes use of a wider cardboard box which creates more space for playing.
5. Cardboard Box Rocketship with Accessories
A quick and easy craft project to work along with your kids, this tutorial shows a step-by-step procedure of making a playful spaceship for the kids. The aluminum foil adds a little bit of authentic touch and you can make some space props too for playing.
6. Cardboard Tube Rocket Ship
Whether you use it for a school project or just an accessory for decorating the room, this little cardboard tube rocket ship is definitely a fun craft project. All you need is a cardboard tube, paint, and tissue paper for the project.
7.Skateboard Spaceship
A detailed step-by-step process for making this really cool spaceship that you can get in and move around with. It looks like a movable cardboard fort but little props such as wings, a cool control can make it look more like a spaceship.
8. Mini Spaceshuttle Model Using Cardboard
If you want to build a space shuttle model, then this tutorial is for you. By using just cardboard boxes, you can make this model with some intricate designs and features.
9. Cardboard Space Ship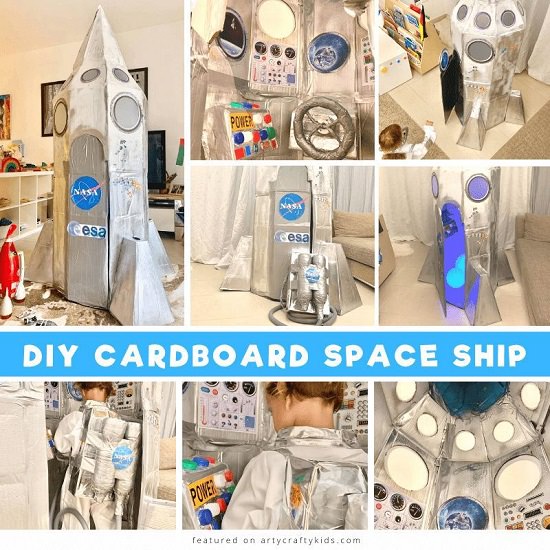 This tutorial has a detailed process for making an extraordinary spaceship with some really cool patterns and designs directly inspired by real spaceships.
10. Rocketship Pencil Holder
A multipurpose cardboard rocket ship that works as a pencil holder too. You can use it to store colors, pencils, and other stationery and at the same time use it as a decorative prop for the kids' table.
11. Cardboard Rocket
Let the kids show their creativity and work with you alongside in this fun cardboard spaceship project. Let them paint it in the way they like and be a part of this fun craft project.
12. Full Size Cardboard Box Spaceship
This multifunctional cardboard box spaceship works as a playhouse for the kids. Place it in the kid's room and let them enjoy the whole experience.