Know what to put in a wine gift basket for the perfect DIY gift. We bring you the ideal list of wine gift basket ideas to ease your task!
A bottle of wine is often an ideal gift for dinner parties and house warmings, but what if the occasion demands something extra? Know what to put in a wine gift basket to make it more valuable and relevant. Read all about the ingredients that complement the notes of the wine.
The perfect wine
A wine basket would be incomplete without the perfect bottle of wine. Make sure you add a bottle of wine you have tested before, or you like, as experimentation at the last minute can result in messing up the most crucial part of the basket.
Corkscrew
An essential accessory your guests might appreciate. Add an elegant or straightforward yet functional corkscrew to your wine basket as an ideal add-on for a wine basket. There are multiple options available in the market, from electric ones to engraved timeless designs of corkscrews. Pick one that would please the person you are making the basket for.
Fresh fruits
If you are not shipping your wine basket to a friend or family member, complementing fruits like grapes, figs, plums, and apricots could add a fancy and fresh touch to your gift basket. It is essential to know what to put in a wine basket that is being made for immediate use or being shipped to a distant loved one. Avoid the use of fresh fruits and perishable items for a basket that would take time to reach.
Selection of cheese
A cheese and cracker platter completes a wine selection as nothing else can. You can easily add a variety of packed cheese and crackers in your wine basket.
Chocolates
Amongst other foods that work well with wine, chocolate is a lovely & sweet touch to complete your wine basket. From milk to dark, choose your chocolates to compliment the wine you have picked for your basket.
Wine glasses
Another elegant touch to your wine gift basket, wine glasses, and other wine accessories are both useful and appreciated in addition to the gift.
Wine Gift Basket Ideas
Now that we have the basket essentials in place let's explore the types of wine gift basket ideas that can be made to impress your loved ones and what to put in a themed wine gift basket.
1. The Movie Night Basket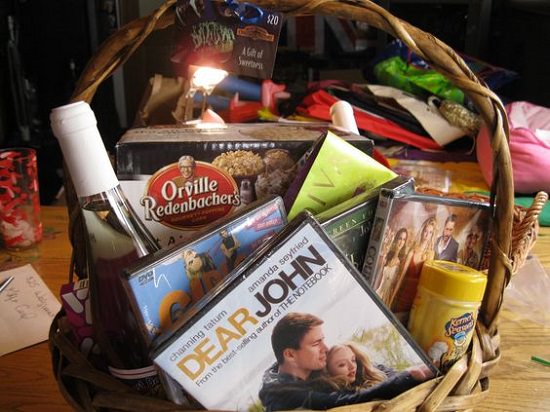 Bring together the perfect gift basket for a grown-up sleepover party. Add a selection of latest movies, along with a choice of wine, popcorn, chocolates, crisps, and a sweet note. You can also add accessories like face masks, nail paints, and other self-pampering cosmetic products for the perfect gift.
2. Wine Dinner Basket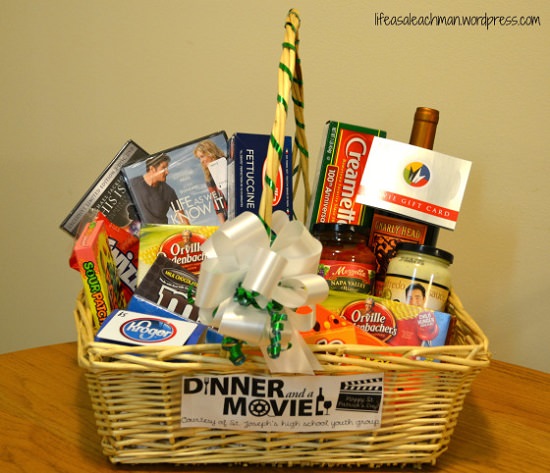 A collected and composed gift for adults, you can make a beautiful DIY noodles dinner gift basket with complimenting wine and all the required ingredients. A jar of marinara sauce, choice of noodles or pasta, a selection of cheese, movie DVDs, and a wine bottle.
You can check the full tutorial here.
3. A Self-care Spa Basket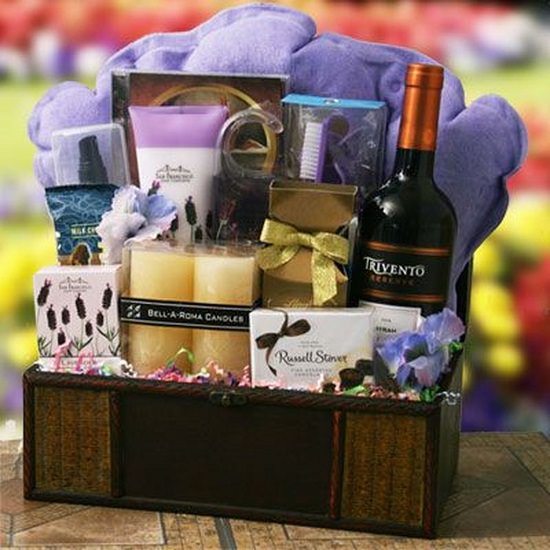 Perfect for a friend that needs a break, bring together a spa session in a basket, complete with their favorite bottle of wine. Add bath bombs, essential oils, and scented candles in a unique wine basket that comprises of wine glasses as well.
4. Holiday Wine Basket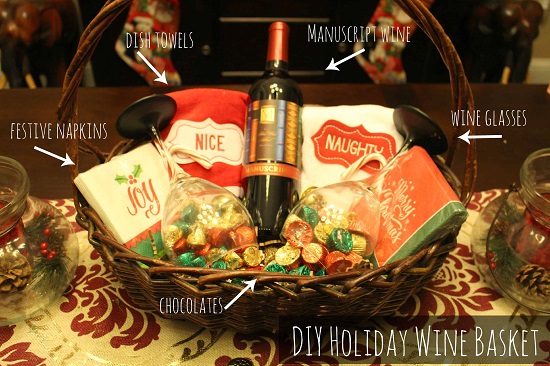 Make a unique holiday-themed wine basket with gourmet additions and sweets. Wine, chocolates, napkins, and themed glasses can be a part of this exceptional wine gift basket.
Feel free to add other things to decorate it, like green, ornaments, movie tickets, or gift cards. Check out the complete tutorial here.
5. Housewarming Wine Basket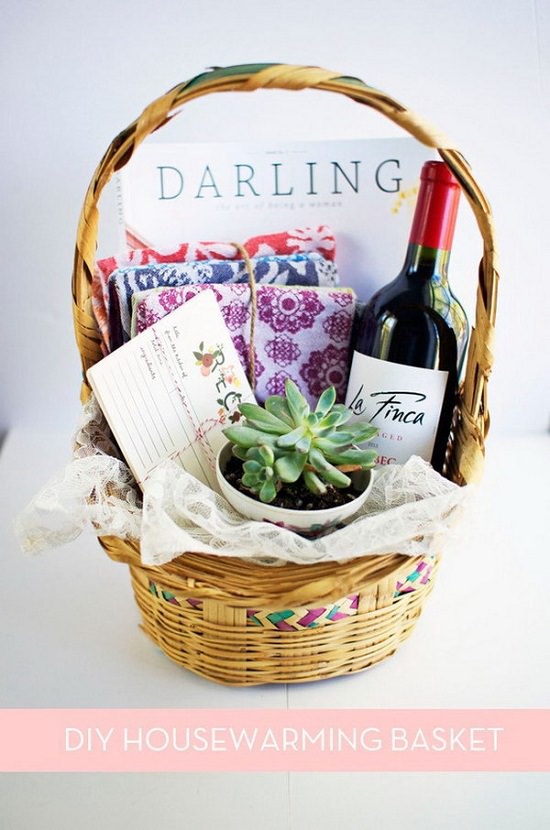 We bet you can't find any better housewarming gift idea then this basket. It has a cute succulent, magazine, a bottle of wine, recipe cards, and a bunch of colorful kitchen towels to add colors to it.
You can check the step by step tutorial on Curbly.
---
Which basket idea did you like best? Let us know what you would add to a wine gift basket for your friends, family, and loved ones.