In this age of too much information, it's hard to differentiate between accurate facts and widely believed rumors. Let us help you with that. Read this article to know why should you wash your face with coconut oil.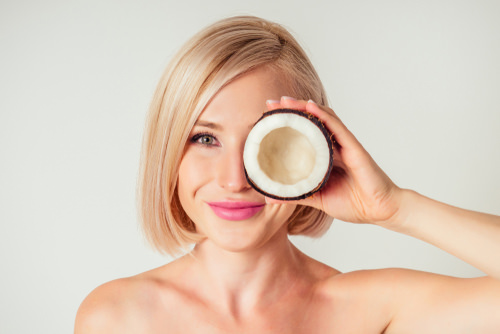 Lately, natural products that help with skin problems have all the rage over the heavy chemical-based products available on the market. Even though these chemical products solve skin issues, they are harmful in the long run for your skin. One of the most highly recommended natural skincare products is coconut oil, extensively based on anecdotal evidence. It is an ancient remedy used to cater to skin and hair problems. However, coconut oil is still used mainly for cooking. Keep reading this article to know why should you wash your face with coconut oil and what good can come of it!
Overview of Coconut Oil
You can quickly extract Coconut oil by pressing the coconuts' inner part, either through cold-pressing or a heat process. There are two kinds of coconut oil available, depending on the manufacturing process.
One comes from the fresh inner part, known as virgin coconut oil. The other is more commonly available that is extracted using the dried coconut, known as copra. This type of coconut oil is known as refined oil since it involves further heating and filtering to remove the odor and kill bacteria. As for skincare use, it is essential to use virgin coconut oil, which is much more nutritious and not chemically treated.
Even though coconut oil is a popular skincare ingredient, there are a lot of apprehensions related to its use on the face, especially for people with oily or acne-prone skin. Here we will talk about how you can use coconut oil as a facial cleanser and other information related to its use. Keep reading further to find out all you need to know about why should you wash your face with coconut oil.
Why Should You Wash Your Face With Coconut Oil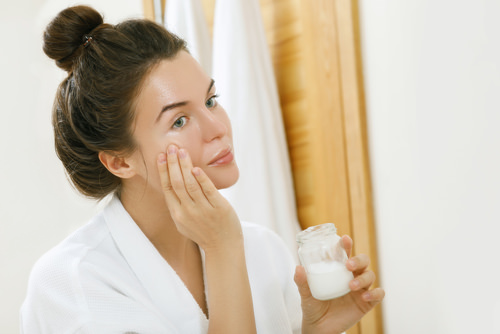 Coconut oil is generally applied to the skin for hours to reap its moisturizing and hydrating effects. It is not harsh on the skin which makes it suitable for sensitive skin, and it can leave your skin soft and supple. While this could be potentially clogging the skin, using it as a face wash is different and can be pretty handy in getting rid of dirt and impurities. Furthermore, there are some other benefits of coconut oil and why you should wash your face with it.
Benefits Of Coconut Oil
1. Moisturizes the Skin
Rich in antioxidants and vitamin E, the fatty acids in coconut oil hydrate the skin and can do wonders for treating dry skin. It locks in the moisture in the skin, thereby preventing it from dryness.
2. Anti-Aging
The antioxidants in coconut oil can help relieve early signs of aging and reduce the appearance of wrinkles. Regular use of coconut oil can restore collagen levels in the skin and improve elasticity.
3. Acne Treatment
Coconut oil is highly effective in treating acne. Moreover, it is the primary remedy for dry skin because of its anti-bacterial, anti-fungal, and anti-inflammatory properties.
4. Useful As A Makeup Remover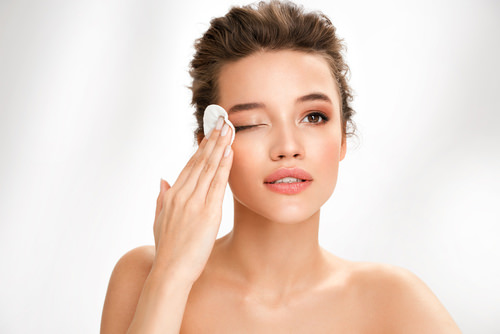 Coconut oil helps remove makeup without clogging the pores. It prevents striping of the oil from the skin and can easily dissolve makeup products from the face.
5. Soothes Irritated Skin
If you are having issues with inflammation or redness, coconut oil helps in soothing irritated skin. In addition, it reduces the redness around acne. Although, a patch test is helpful as it can clog pores as well.
How To Use Coconut Oil On The Face
Cleansing with coconut oil can help dissolve the hardened oil on the skin pores and get rid of it, thereby preventing breakouts. Once you apply coconut oil to the face, it dissolves with the existing oil on the face, which has bacteria and impurities. Once you wash it off, it cleanses the skin and gives it a clean and hydrated skin texture. Follow the steps listed below for the best results!
Take a few drops of pure coconut oil (virgin) on your palm.
Gently massage the oil on the face while using light strokes and let it thoroughly blend on the front.
After a few minutes, take a clean washcloth and run it off under hot water.
Remove the excess water and place it over the face.
Leave it for 30 seconds as it opens the pores and removes the impurities.
Now, gently wipe your face with the washcloth without scrubbing.
Do this every night before sleeping. This method is suitable for removing makeup, and you can use cotton to gently wipe it off with coconut oil, followed by washing the face with it.
Is Coconut Oil Good For Oily Skin?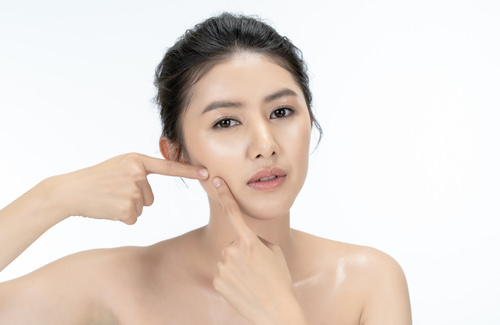 The primary way for checking if a product is suitable for oily skin or not is through its comedogenic rating. Based on a scale of 1-5, with five being the highest, it helps identify if it can clog pores or not. Coconut oil has a comedogenic rating of 4, making it highly probable to clog pores. While this makes it not a good recommendation for oily skin as a moisturizer for an extended period, it is still useful as a face wash.
Using it as a face cleanser helps remove the excess oil from acne-prone skin without leaving it dry and flaky. However, experts always recommend doing a patch test before adding it to your skincare routine.
Oil Suggestions for Oily Skin
1. Jojoba Oil
Jojoba oil is an excellent choice for keeping the skin clean, moisturized, and free from infections. This non-comedogenic oil is moisturizing, rich in antioxidants, and has anti-inflammatory properties. It helps treat acne or skin conditions such as eczema.
2. Grapeseed Oil
This oil is high in linoleic acid, which helps in moisturizing the skin and acts as a natural anti-inflammatory agent. It can help treat acne and treat oily skin simultaneously.
3. Avocado Oil
Rich in Vitamins A, D, and E, avocado oil helps nourish the skin and reduce acne inflammations. It is excellent for treating scars and blemishes and has a comedogenic rating of 3 that is not much of a risk for oily skin.
4. Hazelnut Oil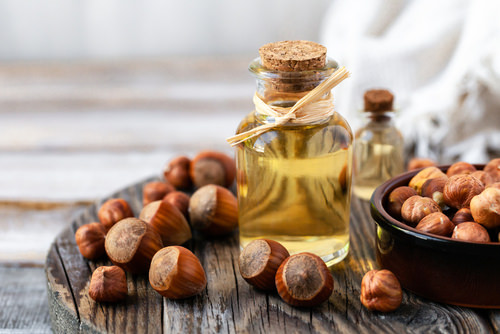 This oil acts as an astringent that helps remove bacteria and dead cells and makes skin soft and supple. Since it has moisturizing properties, it helps treat dry skin.
5. Castor Oil
Applying castor oil can promote collagen production and reduce the wrinkles on the skin. It has anti-bacterial properties suitable for treating dry and acne-prone skin.
Takeaway
Excessive usage of Coconut oil as a moisturizer is hazardous since too much moisture can clog skin pores, resulting in blackheads, whiteheads, and acne. Therefore, do not use it carelessly, even as a face wash and cleanser.
Finally, after listing all the pros and cons of Coconut oil, we hope you have a general idea of whether or not it will be an excellent addition to your skincare routine. Let us know your thoughts, experience, and insights in the comments below!