Decorating our home can be a big deal for most of us. Since constant brainstorming invites confusion and chaos, let us pitch you some incredible pastel wall color ideas that won't just please your eyes but make your home look perfect!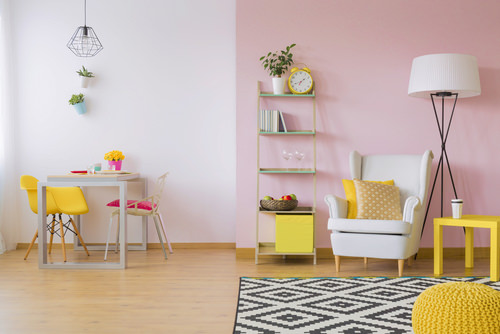 Home is a source of positivity and happiness and is our safe space where we feel most comfortable. The way you design your home with varied colors, unique designs, and refined interiors resonate a lot with your personal and professional life. While bright colors or their counterpart neutral shades have dominated the modern home décor, pastel wall colors can make a perfect choice for redecorating your house. Although pastel wall colors were generally associated with children's room decorations, they are quite versatile now. In addition to suiting most of the rooms in the house, they are an excellent choice for the kitchen and living room.
Why Use Pastel Colors For Home?
Since you must be wondering why choose pastel color walls, here are a few reasons why:
1. Makes The Room Spacious
The muted and light pastel colors help give the illusion of bigger and brighter rooms without being boring. It helps open up the space, maximizing the effect of natural light with its reflective properties.
2. Creates A Calming And Soothing Ambiance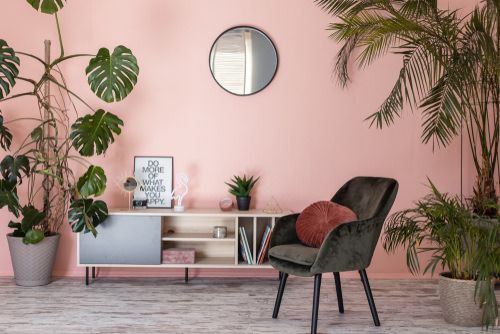 The precise and delicate look of the pastel colors can help lighten up the mood. Moreover, it helps bring the spring colors in a subtle form and freshen up the room with a personal touch.
3. Keeps The Room Simple
Modern design is usually associated with keeping things quiet and simple and not going overboard with decorations. Having pastel colors on the wall will brighten the room without being distracting.
4. Goes Well With Most Of The Decoration Styles
Pastel colors look great with most different shades and styles of decoration. Pastel colors work well no matter the color of your furniture or your accent decorations. Further, it is difficult to go wrong with pastel shades as long as you do not cover everything in these shades.
Pastel Wall Color Ideas
1. Baby Blue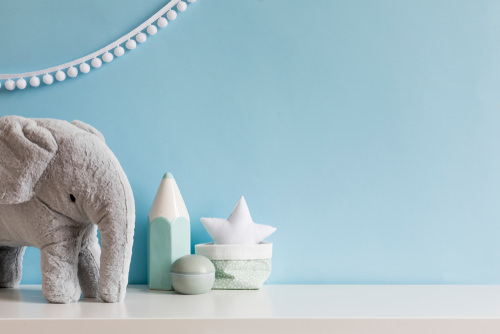 The classic baby blue color is suitable for all rooms, making it look sleek and stylish. It creates soothing, soft, and gentle energy in the room, which resonates with a traditional style of peaceful and simpler times. Decorate the room with other shades of blue to accentuate the wall and keep it minimal with muted furniture.
2. Pastel Green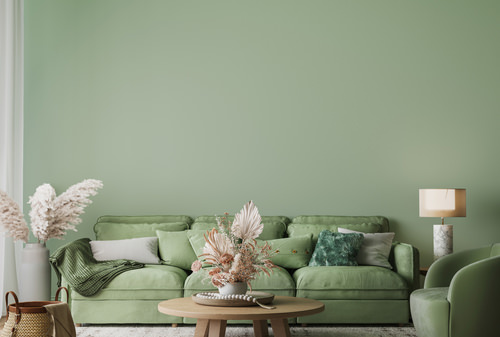 Pastel green adds freshness to the room and helps brighten the room. With its aura of luck, optimism, renewal, and freshness, it is a perfect addition to the house, especially for the kitchen. You can highlight it with natural plants or flowers, bringing in the sweetness and refreshment of nature. Moreover, you can similarly use mint green with house plants for positive energy in the house.
3. Pastel Pink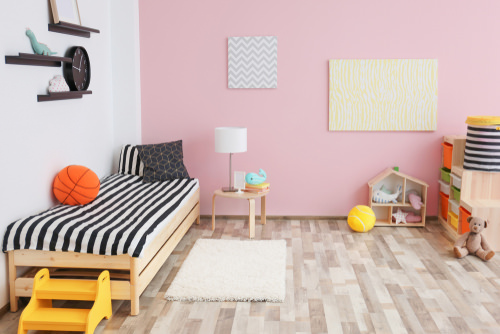 As a popular pastel color, it features a bold look with a grand and fabulous spirit in the house. If you are using it on the walls, combine it with other pastel shades and bright furniture for the best look. Moreover, pastel pink is a neutral shade that blends well with anything similar to shades of white and beige without being dull or simplistic.
4. Lavender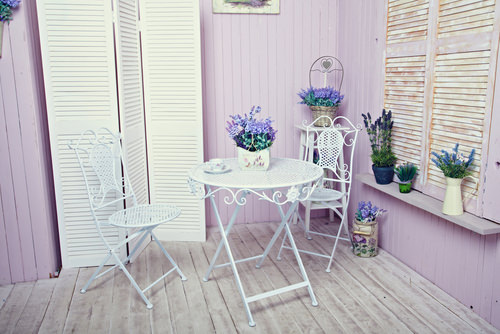 This pure and graceful shade is an objective shade for the house. It has an elegant and refined look which reminds us of the vintage times embodied with beautiful and sophisticated lifestyle habits. You can mix it up with a pop of color and varied textural elements to add finesse.
5. Pastel Yellow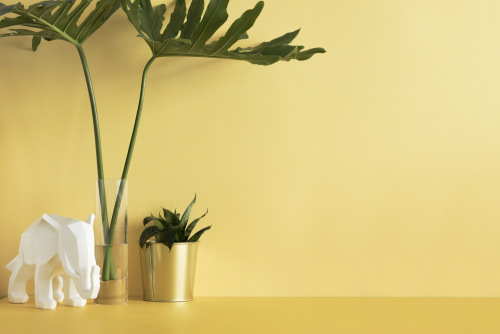 It may look like a bold choice for the room, but pastel yellow can symbolize sun, light, and happiness in the house. However, try not to go overboard with it. Sectioning some areas of the house in happy pastel yellow could be enough to charm up the ambiance of your home.
6. Orange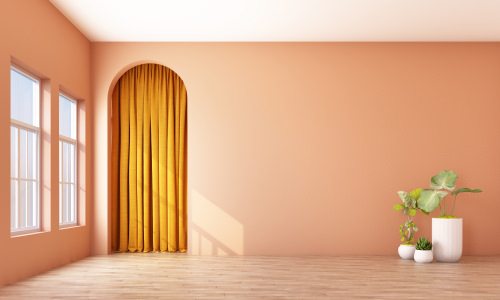 Another lively yet calming color for the house, low saturated pastel orange can look beautiful in the home if used in the right balance with other furniture. It has a contemporary style with a brightening effect achieved through muted furniture in the house. Therefore, try to keep the rest of the things simplistic and in neutral shades to avoid conflict in the colors.
How To Use Pastel Colors In Different Rooms?
1. Combine Pastels
Instead of sticking to a single pastel color, show some creativity by combining different pastel shades together. Try the combination of walls in one shade and furniture in another, or various shades for different furniture sections. Some pastel colors go well together, like, pastel blue with pastel orange for a bold look and pastel grey with pastel blue or pink for a lively look. Keep other items minimalistic to white and neutral shades.
2. Pastels As Accent
One of the easier ways to bring the charm of pastel shades to any room is through accent decorations and furniture. It is an excellent way to re-decorate and brings joy to the room without going through the hassle of painting and expensive redecorations. Hence, add some pastel covers or throws, cushions, or even a vase for balancing the chic modern white décor with a light and calming splash of color.
3. Partial Pastel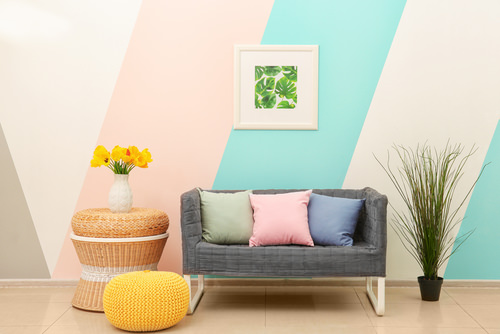 Pastel colors work beautifully even when you add them minimally. If you do not want to paint the whole wall or are initially unsure of its appearance, you can just paint a section of the wall in pastel colors. In addition to merging well with simple white wall paint, it helps separate the room into two sections. Moreover, it works exceptionally well in making small rooms look more spacious.
4. Dark-Colored Furniture
If you have dark-colored furniture, try pastel colors instead of going for the traditional white backgrounds. It helps calm down the bold look of the furniture and allows further enhancement.
5. Pastel Decorations
Painting walls and re-decorating might not be easy. However, if you do not want to miss out on this beautiful trend of pastel colors in the house, then add it through decoration items. For example, add vases in pastel colors in the living room, tableware in the kitchen, dining chairs in the dining room, or pillows and throws in the bedroom.
6. Wallpaper
An easy workaround to painting the walls, choose a pastel-colored wallpaper for the room. They are more durable, and you can combine the effect of textures and patterns with pastel shades easily using wallpaper.
Takeaway
Renovating or decorating your home can be hectic and stressful, especially when you have many options. We hope the list of pastel wall color ideas we have compiled for you helps alleviate some confusion and makes you more informed about what's trending and what goes best with what you want. Although all of these ideas are great, in the end, it's all about what suits you best and appeals to you the most. Thank you for reading. Happy decorating!