These license plate DIY ideas are effective to create rustic and practical items out of absolute junk! Read the article to know the extensive list.
1. DIY License Plates Stairs Craft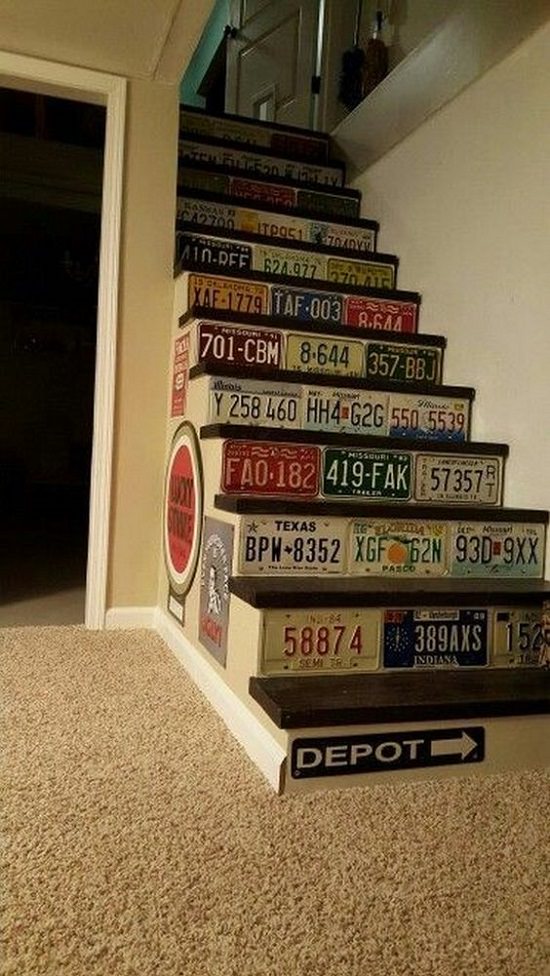 Glue old license plates onto the steps of your living room staircase to put up a quirky show of colors. Take the inspiration here.
2. DIY License Plates Aaron Foster Race Car Art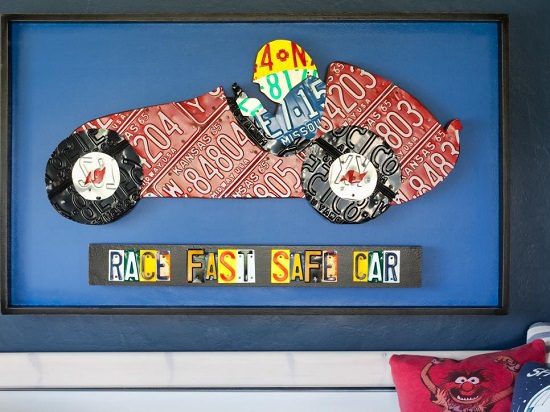 You might find recreating this race car art a little too tedious, but the results are splendid. Look for more details in the 12th slideshow here.
3. DIY License Plates Box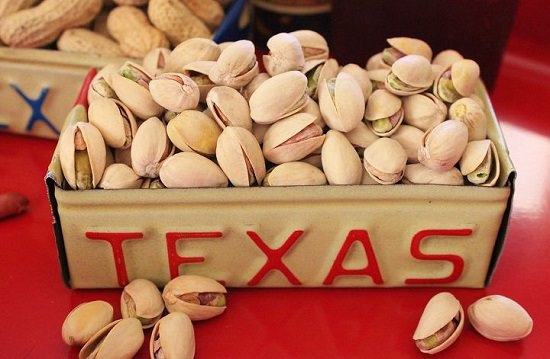 Revamp a few old license plates to DIY a box to serve dry fruits or other items to friends at a party or gathering. No one would identify the origin of these boxes unless you tell them!
4. DIY License Plates Mirror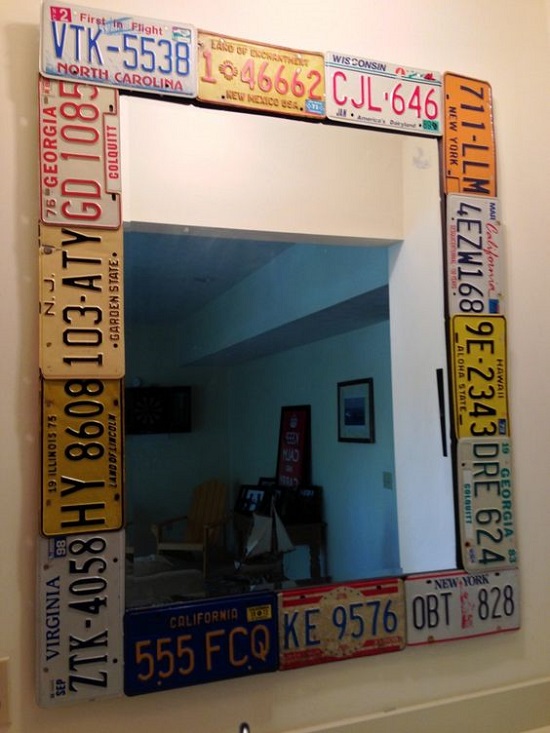 Repurpose your old vintage license plates to add a personalized touch to your home decor. Use them to border your mirrors like in the image above. Take inspiration here.
5. DIY License Plate Map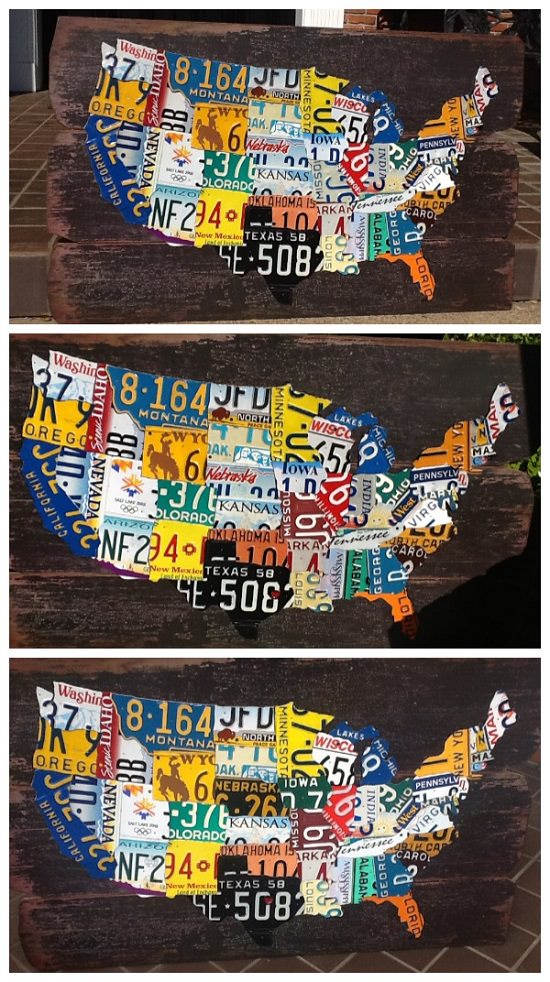 Trace your country's or city's map on a wooden board and embellish it all through with cut-outs of old license plates. Get more information here.
6. DIY Garden License Plate Dragonfly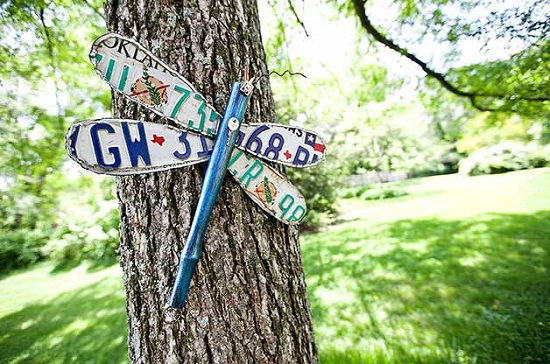 Create this quirky yet innovative imitation of dragonflies by reusing your old license plates. All you need is a picture hanger, paint, keys, metal files, and a few other supplies. For complete information, visit Birds And Blooms.
7. License Plate Garden Flower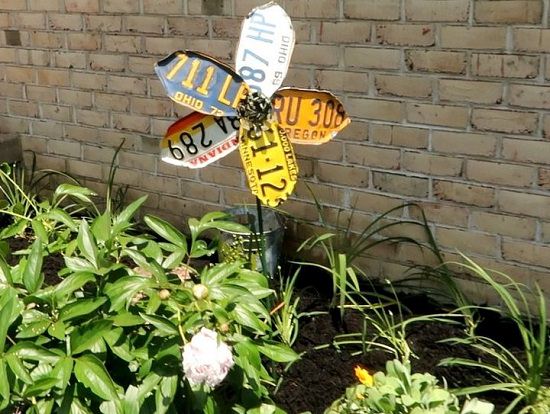 Beautify a space in your garden at budget by using license plates as a way to create a faux garden flower. Get the upcycling idea at Home Talk.
8. DIY License Plate Birdhouse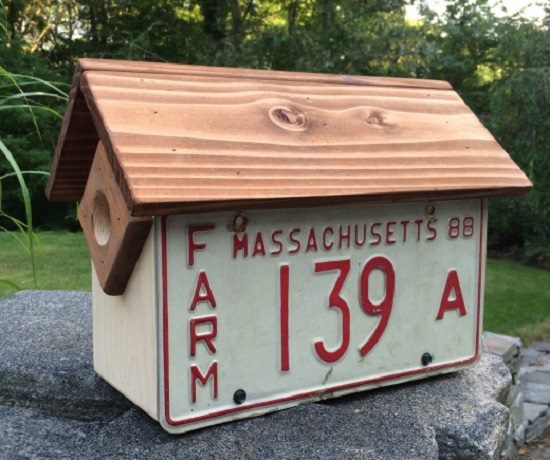 If you're a bird lover and have an urge to watch and study them carefully, then a few old license plates and some wooden planks are what you need. Follow the step-by-step DIY at Felt Magnet.
9. DIY License Plate Magnets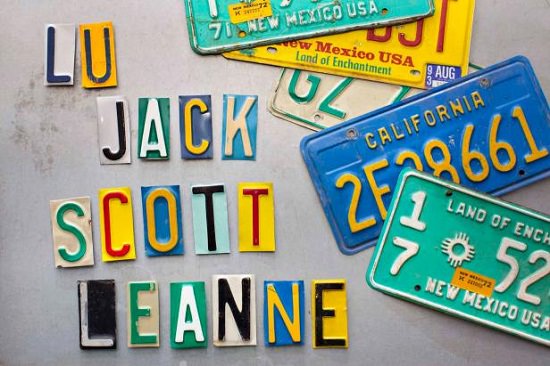 Customize fridge magnets with the names of your family members by cutting out alphabets from old license plates. You can even try other designs or quotes if you would like. The idea is available at HGTV.
10. License Plate Purse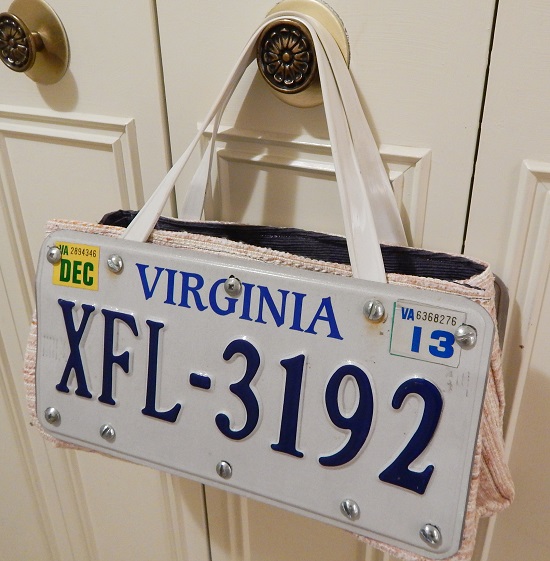 Create a similar personalized handbag and upgrade your fashion game to look distinctive from the crowd. Even if not for a daily use purpose, you can give this a shot for a Halloween makeover.
11. License Plate Coat Racks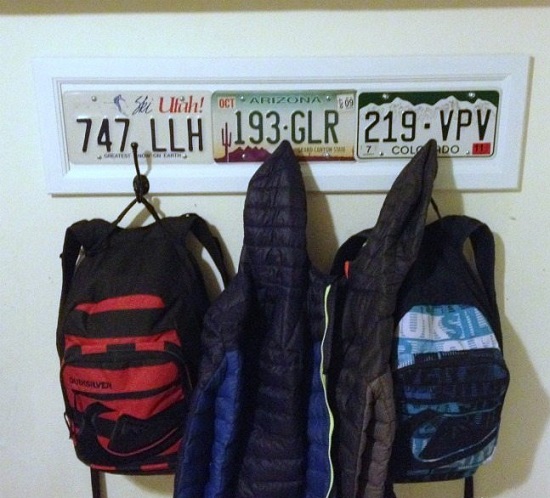 Use a few old license plates, cabinet doors, paint, drill, and a few other essentials to make a coat rack without spending much money. My Repurposed Life has the directions.
12. License Plate Bird Feeder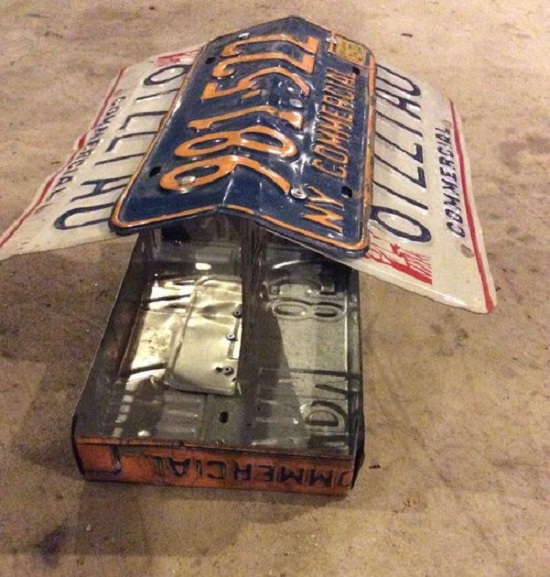 A DIY to pay heed to the starving birds this summer by giving them shelter, food, and water to rely on. Clear your confusions by referring to this Instructable.
13. License Plate Wind Chime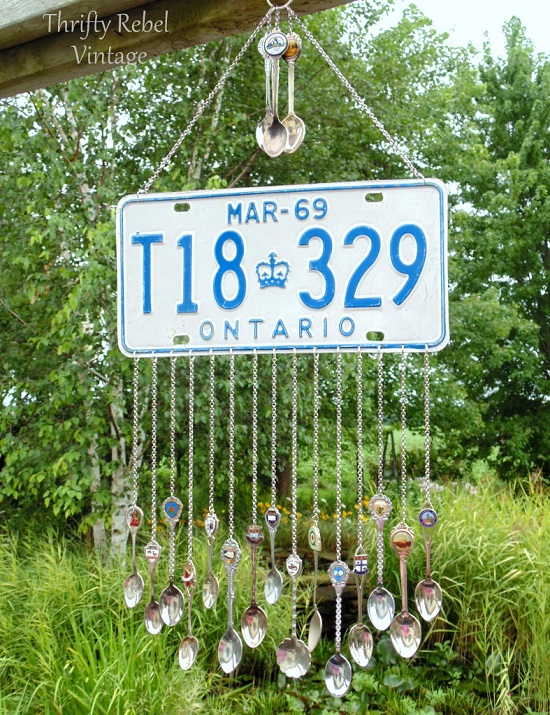 Wind chimes are an attractive home decor piece we find in almost in everyone's house these days. You need nothing expensive but only a few license plates, pliers and a few beads to complete this wind chime idea.
14. License Plates Christmas Tree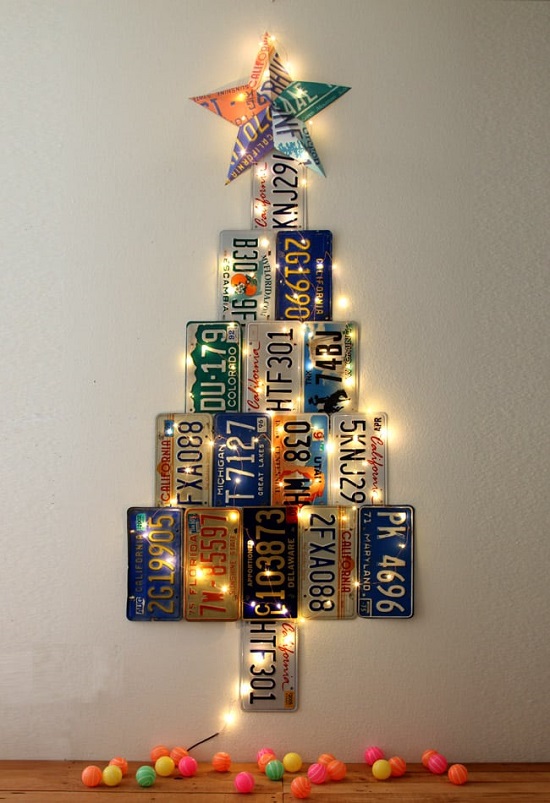 Forget the old way to decorating a tree with stockings and ornaments for Christmas, instead, try this unique and fancy license plate Christmas tree. Follow up at A Piece Of Rainbow.
15. Vintage License Plate Hat Rack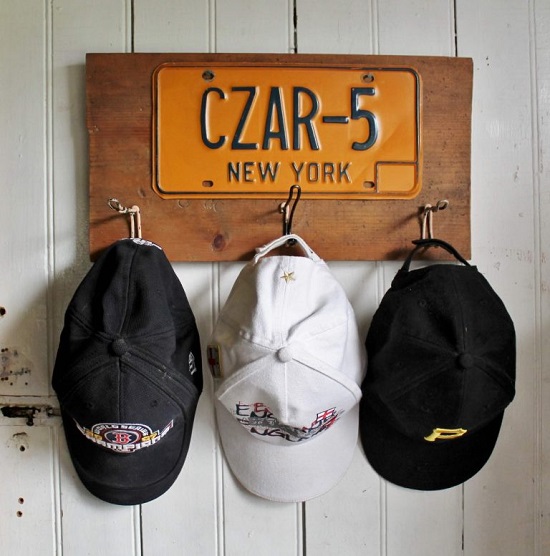 This vintage-looking hat rack is pocket-friendly and easy to make using knobs, a wooden plank, some hooks, and a license plate, of course. Have a look here.
16. License Plate Pencil Cup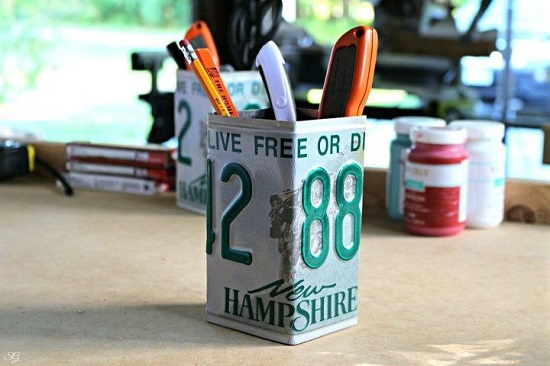 A great upcycling craft to declutter work table or kid's study table by storing the essentials in this license plate holder. Get the full description at Home Talk.
17. License Plate Key Hanger
Solve the problem of losing keys by organizing them in a key hanger that you can design without much hassle and least efforts. Look for the idea here.
18. License Plate Coasters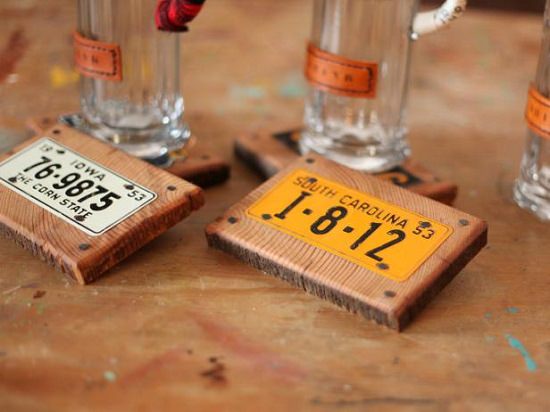 Gift a handmade bar set with plate coasters made of license plates or use it otherwise for personal use. A few supplies and these instructions will help you in the making of this bar set.
19. License Plates Bookends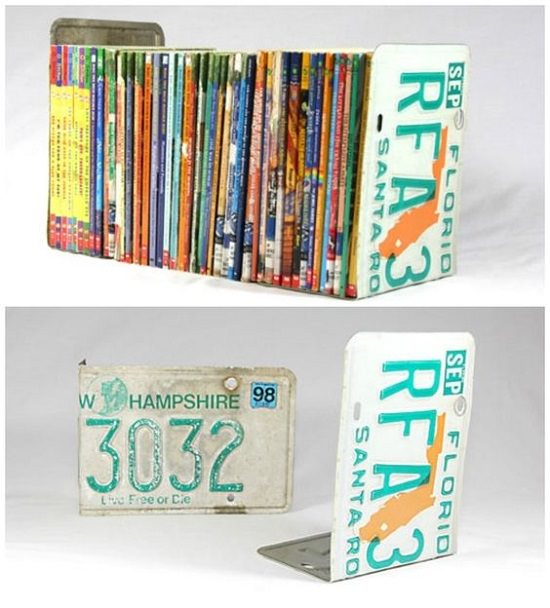 Organize your books on a table and make them easily accessible by crafting a bookend for the same. Simple bend the plate over the edge of a surface, probably a table and that's all!
20. Easy License Plate Clock Wall Art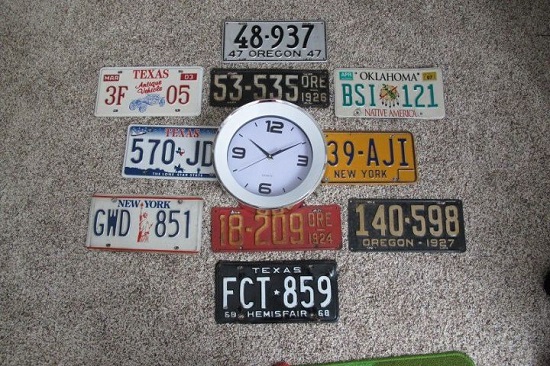 Decorate a dull and lifeless wall by merely fixing a series of license plates around the clock in any pattern you like. We found the idea at Home Talk.
21. Simple License Plate Board Wall Art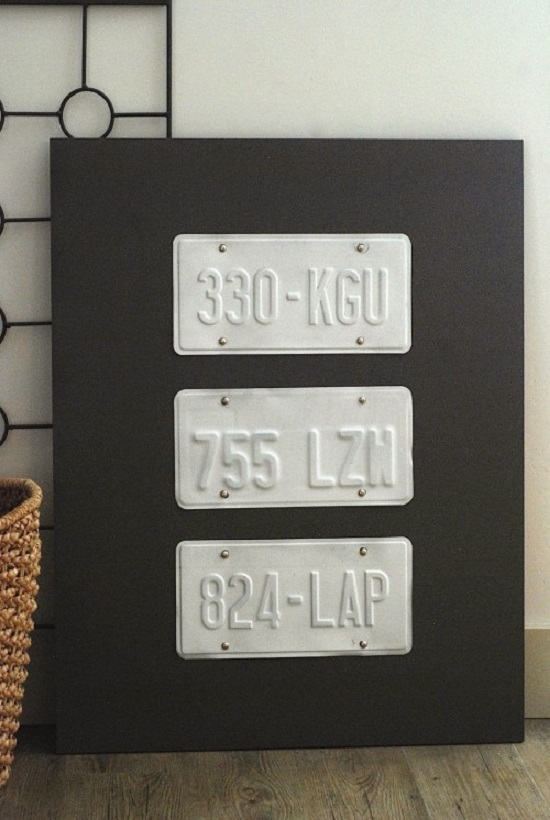 Planning to change your home interiors without burning a hole in your pocket? Then check this exciting wall art piece you can create with vintage license plates and add colors to your house.
22. DIY License Plate Planter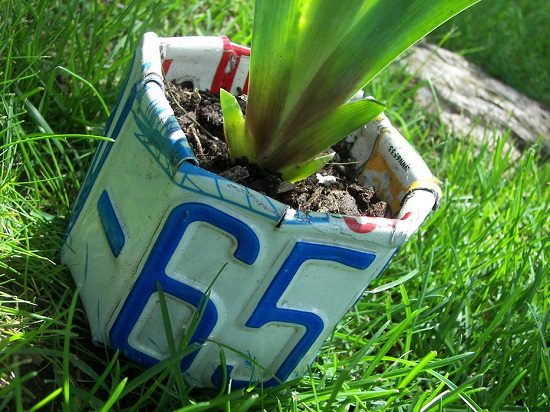 An excellent way to upcycle a license plate lying around in your garage by recycling them into a planter. Not just it may encourage you for planting but also a way to thrash those plastic pots. Understand this Instructable.
23. License Plate Lunchbox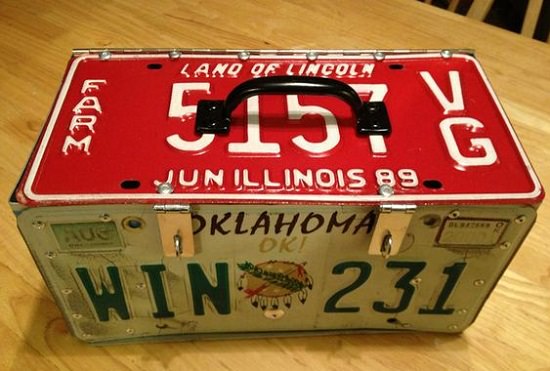 Cover an ordinary lunch box with license plates to upgrade them to a whole new level and give way to the fancies of your boys. Check out more here.
24. License Plate Lamp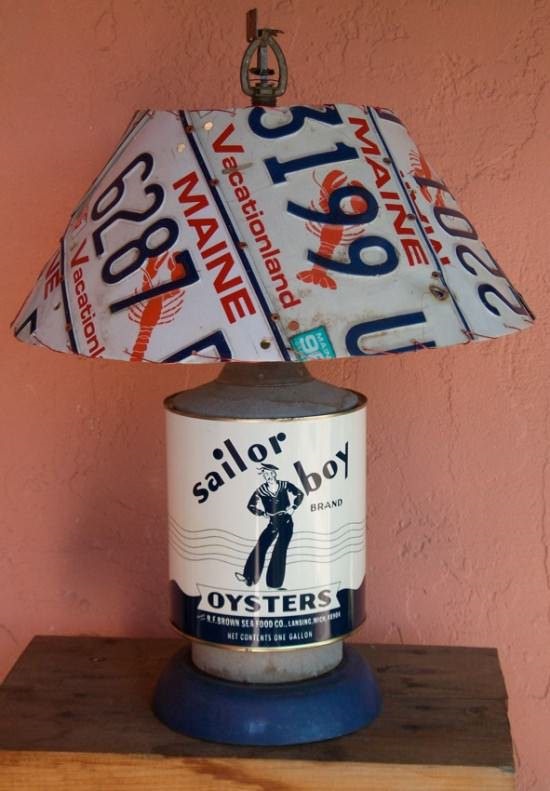 Light up and decorate your house in a budget-friendly yet stylish manner. Make your lampshades using just license plates and give your home an artistic touch everybody would be the envy of. Take inspiration here.
25. License Plate Roadster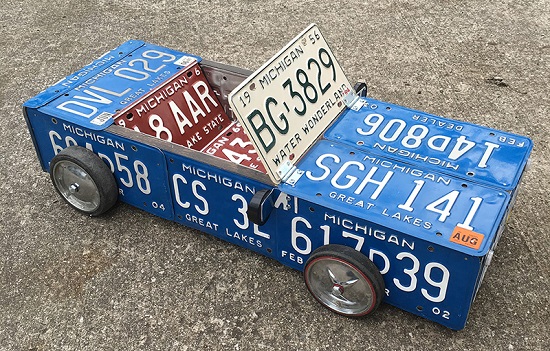 Showcase your motor enthusiasm by making similar motor artwork to decorate them as a centerpiece in your house. Visit here to get inspiration.
26. License Plates Beer Caddy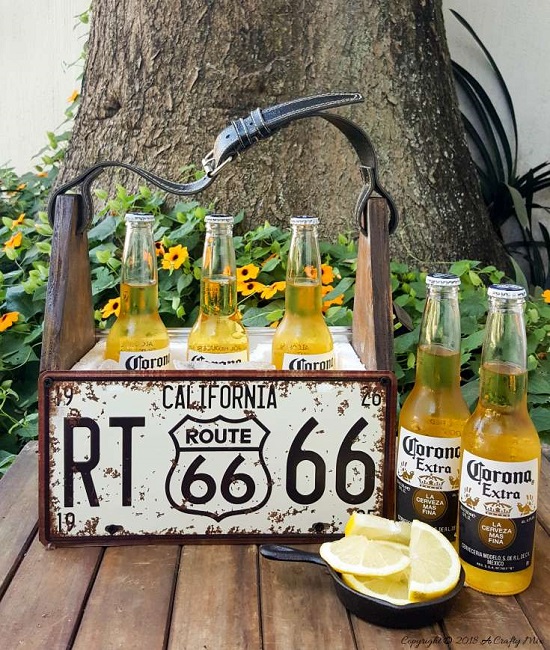 DIYs are not only personalized but also a great way to showcase your skills and gather applauds! So wear on your creative hats and use your old license plates for a useful yet creative way and make beer caddy. Bonus: it also keeps the beer chilled.
27. License Plate Clipboards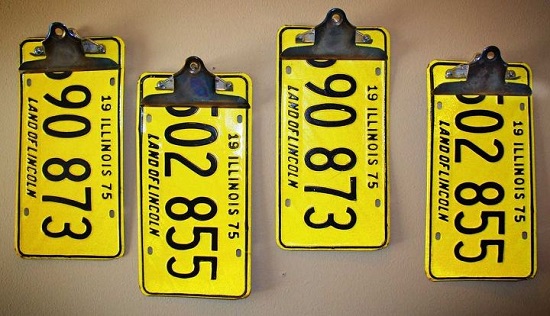 Fix a clip to a license plate and then fasten it to the wall or attach magnet at the back to use them as fridge clipboards instead. Have a look at this idea by Home Talk.
28. License Plate Toilet Paper Crate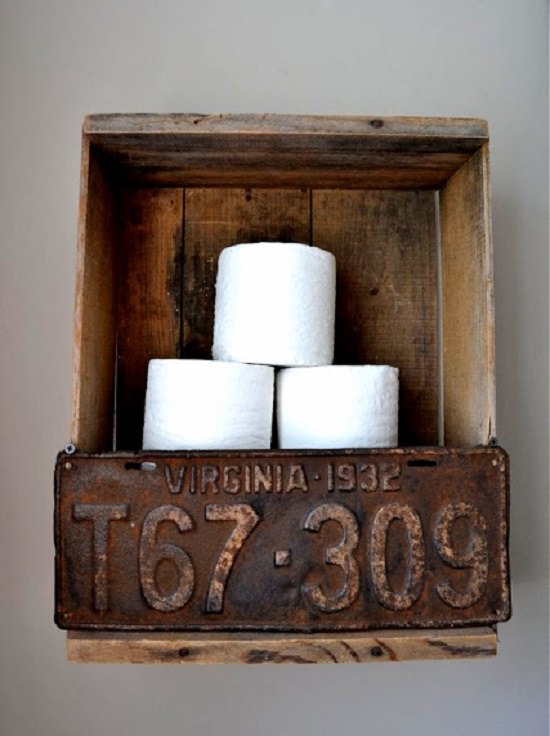 Make more storage to stack up toilet papers in your bathroom by merely repurposing license plate into a little crate. Follow this antique crate idea here.
29. License Plate Dustpan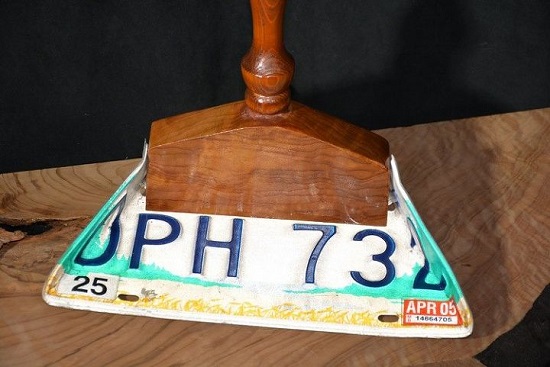 Say no to plastic and make a very basic and pretty handy dustpan from old license plates you never thought could be of any use. You need a handle, a few screws, and a plank of scrap wood to complete this idea.
30. License Plate Flower Boxes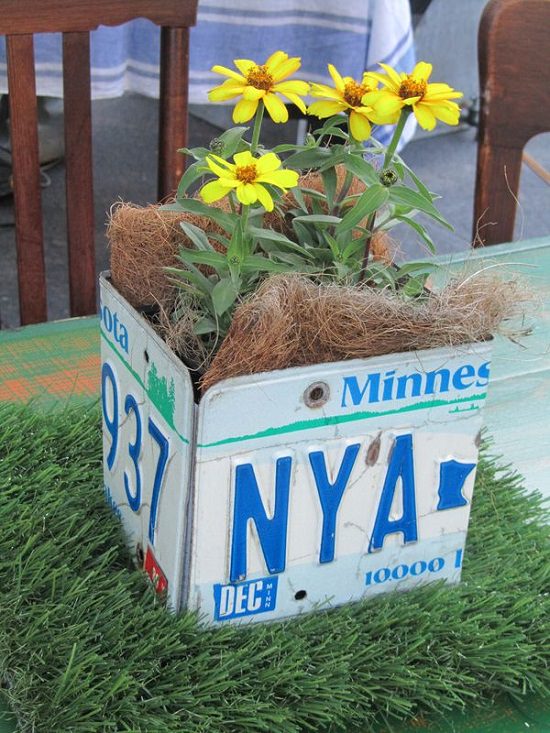 In case you are falling short of storage boxes, try building some by using license plates and a wood board. A few twists and turns, and you'll be there to achieve a homemade metal box.
31. License Plates Upcycled Into Bowls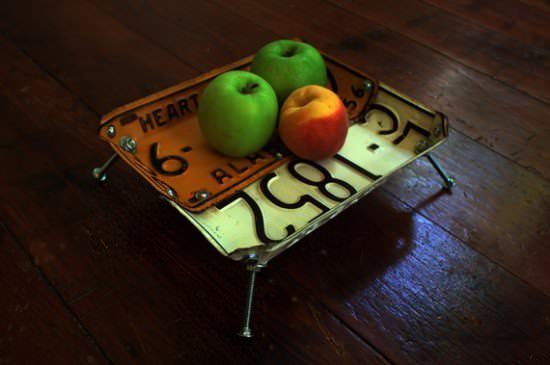 Upcycling your license plates into bowls is not only a unique idea but also useful for holding fruits or other things. Since we couldn't get the DIY for this craft, you can take the inspiration at Recyclart and innovate the procedure.
Upcycle your junk license plates or buy them from charity stores to make one of these license plate DIY ideas! In case you've got more such upcycling ideas, feel free to leave them in the comments below.