Learn how to use saddle soap on boots and other homemade cleaning remedies for taking care of your boots at home without spending too much money on them.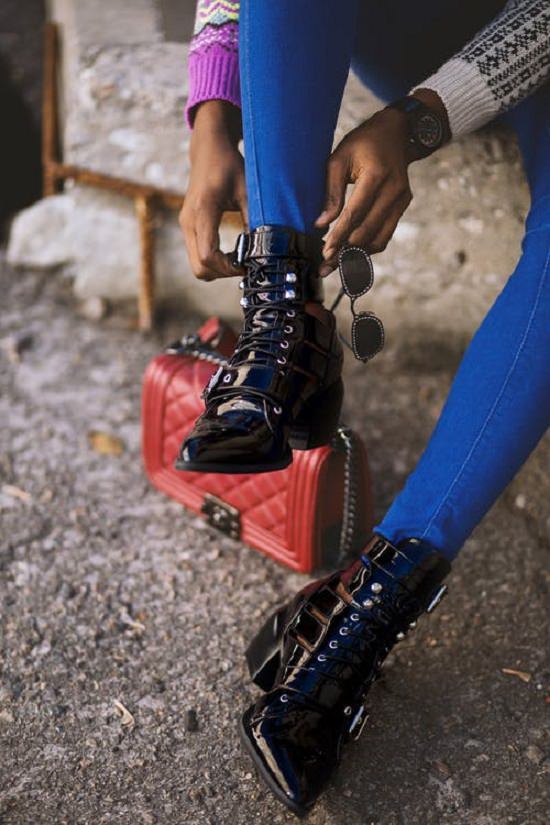 Every one of us must have once gone in the pampering mode and bought a nice pair of leather boots. They are durable, suitable for different weather, and of course, look amazing. You love those shoes but protecting them from the harsh environment, dirt, dust is not always possible. Nobody wants to lose the shine of leather and this is where leather conditioners like saddle soap come into play. Learn how to use saddle soap on boots in this article.
What is Saddle Soap?
Saddle soap is a commonly used leather conditioner made from beeswax, lanolin, and mild soap. Beeswax acts as a preservative, lanolin helps in softening leather, which prevents it from cracking and the mild soap helps in keeping them clean. Earlier it was used for cleaning saddles, but the modern saddle soaps can be used to condition boots, jackets, belts, and other leather accessories.
How to use saddle soap on boots?
1. Clean your Boots
Place your leather shoes on a clean surface and use a dry cloth to get rid of excess dirt and debris. Now damp the cloth (do not soak it) and gently rub over the leather boots to get rid of any stuck debris. You can also use a soft brush to get rid of the dust on the corners. However, don't get too harsh on the boots and don't rub them too much with either the cloth or the brush, it can damage the surface.
2. Apply Saddle Soap
Now, with the help of a sponge or microfiber cloth and saddle soap, coat the leather surface fully with soap by rubbing the sponge all over it in a gentle fashion.
3. Clean with a Dry Cloth
Once you apply the soap thoroughly over the boot surface, let the leather soak the soap. Now, use a dry cloth to remove any excess soap from above the surface.
4. Apply Polish
Even though it is not a mandatory step, it is useful to apply polish on the boots after using saddle soap to lock in the moisture.
5. Dry
Let the boots dry for a few hours or even a day in the shade before using them again. Make sure you keep it away from the sun or any other heat source.
Condition your boots with saddle soap every few months or when it gets too dirty and needs some cleaning. This will protect the leather from damage but do not use it too frequently as the soap can be more harmful than useful for leather if applied many times.
Other ways for maintaining leather boots
1. Using white Vinegar and Water
Mix equal parts of vinegar and water. Soak a soft cloth in the mixture and gently dab the stained areas. Now, clean gently with a wet cloth followed by a dry cloth. Let them dry naturally.
2. Toothpaste
Take little toothpaste on a soft cloth and gently rub it on the leather surface. Take a clean cloth and rub the shoes to remove the toothpaste. Toothpaste is useful, especially for white boots.
3. Baking Soda
You can use baking soda to get rid of tough oily and greasy stains on your leather boots. All you need to do is sprinkle some baking soda on the shoes and leave them for a few hours. After a few hours, wipe the baking soda from the shoes.
Note: This might not work on long-forgotten stains but if you've just gotten a greasy or oily stain, baking soda might prove helpful.
4. Coconut Oil
Clean any excessive dust using a damp cloth. Now dip cotton in coconut oil and rub on the leather boots until the boots completely absorb the oil. The oil will act as a great conditioner for your leather boots.
5. Vaseline
If your leather boots have cracks in them, you can use Vaseline to condition the shoes. Simply rub the vaseline on the boots with a soft cotton cloth.
6. Dishwashing Liquid and Water
Mix 1 tablespoon of dishwashing liquid in two cups of warm water. Damp a soft cloth in the mixture and gently rub across any stubborn stains.
Points to remember
Always first get rid of excessive dust using either a soft bristle brush or a soft cloth.
Never get too harsh with a toothbrush on leather surfaces as it will do more harm than good.
It is better to apply polish after cleaning/conditioning the boots to lock in the moisture.
Do not dry using a heat source, let it dry naturally.
Now that you know how to use saddle soap on boots to maintain their shine even after years of using them, take proper care of your boots and increase their life!