Follow this simple how to make peppermint essential oil spray recipe to extract maximum benefits of the hybrid mint without many efforts.
The mood relieving essential oil, peppermint is mixed with various products for different concerns. One of the popular choices to use the peppermint essential oil is as a spray. This simple how to make peppermint essential oil spray recipe is both easy to make and extremely beneficial. Learn more about the peppermint oil spray and its benefits in this article!
How to Make Peppermint Essential Oil Spray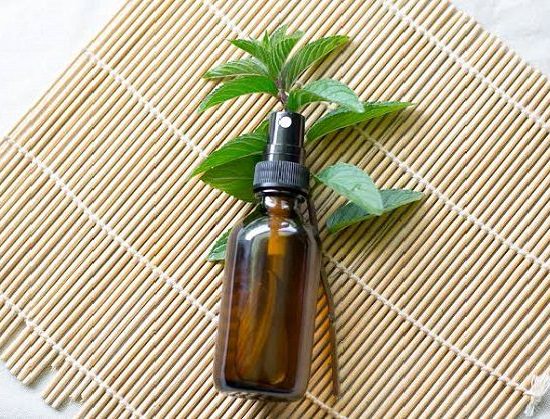 Ingredients:
4 tablespoons of witch hazel
4 tablespoons of distilled water (boiled and condensed form of water)
8 drops of peppermint essential oil
6 drops of lavender essential oil
How to make it:
Thoroughly mix all ingredients in a clean bowl.
Pour in a spray bottle.
Voila, the spray is ready to use anytime you want.
Shake well before use to make sure that the oils get mixed with water and combine the oil and water.
Why You Need Peppermint Spray?
1. Reduces Stress
Just like the concentrated form of the oil, peppermint oil spray is extremely effective in reducing stress levels. A single spray on your face can help you feel refreshed and calm. You can spray the mix in your home as well for a tranquil environment. Both lavender oil and peppermint oil soothes and calms the senses. However, the cooling effect in peppermint keeps your mind alert and energized.
2. An Excellent Bug Repellent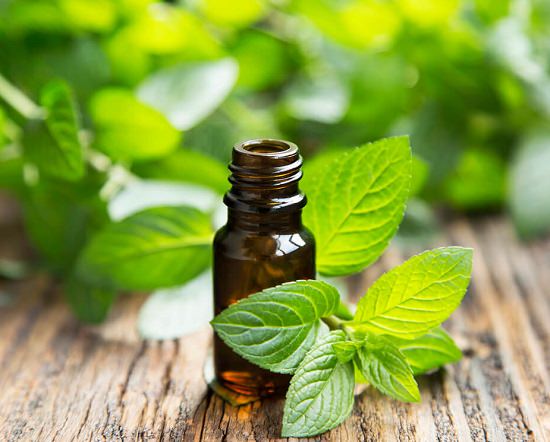 Due to its strong scent and anti-bacterial properties, peppermint oil is an effective bug repellent. So, not only does the spray leaves you with a refreshed look, but it also keeps the mosquitoes at bay.
3. Helps to Relieve Sunburns
A natural remedy for sunburns, topical application of peppermint oil help heal the sunburns. The cooling properties of the spray provide instant relief and soothe the affected skin. The healing properties of peppermint oil, lavender oil, and witch hazel speeds up the recovery process of the sunburns. If you feel you might spill the spray and damage your bag, you can carry a moisturizing gel for the skin instead. Mix 5 drops of peppermint essential oil in 10 tablespoons of aloe vera gel and apply it to affected areas. The peppermint aloe vera gel is easy to carry in a small jar and is ideal for summers.
4. An Excellent Deodorising Mix for Linens
The crisp notes of the peppermint oil spray add a fresh smell to your laundry, bedding, and stinky linens. The anti-microbial properties kill odor-causing bacteria and are an ideal solution for fresh smelling upholstery and curtains as well. For home linens, you can add a few drops of eucalyptus oil to the spray as well. The antibacterial properties in eucalyptus oil add-on to the results of the spray.
5. An Effective Surface Cleaner
The anti-bacterial properties of the peppermint oil make the spray an excellent surface cleaner that disinfects the surfaces. Being a chemical-free cleaner, it can be freely used for infants as well. However, you need a different peppermint oil recipe for a surface cleaner spray. Mix one cup of vinegar and distilled water each with 8 drops of peppermint and lavender essential oil. Spray on the surface and leave for five minutes. Then wipe off with a clean cloth.
6. Relieves Congestion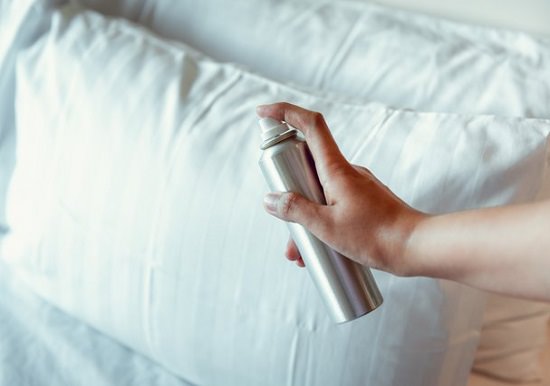 The expectorant properties of peppermint oil encourage easy breathing as it clears the nasal passage and relieves congestion. As the oil is known to boost energy levels, spraying the mix in your room is beneficial for your health and mental peace. You can easily use this spray as a part of aromatherapy and meditation sessions.
7. Hydrates Skin
One of the most understated uses of the peppermint spray is that it keeps the skin hydrated. It can be used to clean and tone the skin. To clean your face, simply spray the mix on your face and wipe off with cotton swabs. You can even use the spray on your face and let it air-dry to use as a skin toner.
8. A Scalp Tonic
Peppermint spray works as an effective hair and scalp tonic. The anti-bacterial and anti-inflammatory properties of the peppermint essential oil make the spray an ideal solution for scalp rejuvenation. The spray improves the scalp's health, resulting in healthy and strong hair.
Make a peppermint spray for your health and home today!