Learn how to make clay with cornstarch at home to ditch buying them at a cost from commercial stores. Not to mention, commercial clays have toxic ingredients as well.
Modelling clay is an exciting product used for various fun activities, including crafts, sculpting, pottery, etc. Whether you use it just to play or to carve into something useful, clay is an enjoyable, stimulating activity and provides a unique sensory experience. There are usually two types of clay available for modelling, polymer clay and self-hardening clay. Polymer clay is generally dried in an oven, and the self-hardening clay stiffens through the air-drying method.
Polymer Clay Vs. Air-Dry Clay
Polymer clay is an oven bake clay that is based on polymer polyvinyl chloride (PVC). Air-dry clay stiffens by contact through the air and is made with paper, resin, and glue. The main benefit of using polymer clay for sculpting is that it does not shrink while hardening, but the air dry clay can shrink and is not as durable. Polymer clay is waterproof, long-lasting, and does not break easily. Air-dry clay tends to dissolve in heat or water and is considered safe for playing with kids.
How to Make Clay With Cornstarch
Air-Dry Clay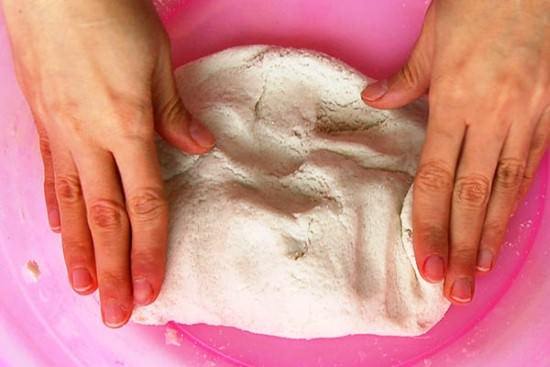 Ingredients
1 Cup Cornstarch
2 Cups Baking Soda
1.5 Cups Water
What To Do
Mix cornstarch and baking soda together. Heat it on medium flame and slowly add water to the mixture. Add a few drops of food colouring to obtain a coloured clay. Constantly stir the mixture, else it will stick to the pan. Do this for about 5-7 minutes until it turns into a doughy texture. Let it cool and start to knead it properly. Model shapes and toys and let them dry overnight. You can now paint it using different colours, glitters, or other decorative items.
Recipe 2
Ingredients
2 cups salt
2/3 + ½ cup water
1 cup cornstarch
Recipe
Mix salt with 2/3 cup of water and boil until the salt completely dissolves. Remove from heat. Add cornstarch and ½ cup of cold water. Stir continuously until it thickens. If it is not thickening, heat and stir to consolidate it.
Homemade Polymer Clay with Cornstarch
Ingredients
¾ Cup Glue (PVA glue is recommended)
1 Cup Cornstarch
Two Tablespoon Mineral Oil/Baby Oil
One Tablespoon Lemon Juice
What to Do
Pour glue and cornstarch in a non-stick pot and stir until thoroughly combined. Now add mineral oil and lemon juice to the mixture. You can also add food colouring, but make sure not to add too much to avoid a change in texture. Heat it over a low flame and stir continuously. Do not let it sit. Once it turns into a doughy consistency, place it over a flat surface and knead well. Add some mineral oil for easing the kneading process. This resembles polymer clay but might not be as similar and may shrink a little on hardening.
Why Cornstarch
Cornstarch is a binding material that helps in keeping the other ingredients together. It prevents the models from breaking and developing cracks when you dry them. Also, you can sprinkle some cornstarch on the surface when you start modelling with clay to avoid losing its texture and also to fix brittle clay.
We hope you learnt how to make clay with cornstarch at home and grasped on other details as well. Try the above recipes and share your experience with us via the comment section!