Follow this guide on how to clean faux leather surfaces to combat the issue effortlessly with homemade cleaners.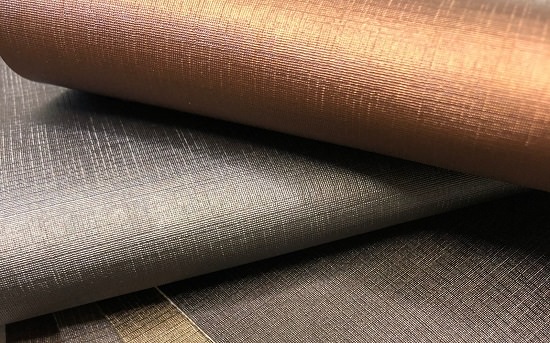 Whether you prefer faux leather being extremely fashion-forward or in support of animal rights, this leather lookalike has its own advantages. Faux leather or imitation leather is a cost-effective alternative to leather and is easier to maintain for an extended period of time. No wonder, several people prefer faux leather products these days. Made of synthetic material, this fine substitute of leather does not need gentle treatment to clean it.
Before we start with the hacks, let's look at the main factors that might help you clean your faux leather products.
Having a non-absorbent surface, most of the dirt and stains will sit on top of it.
While cleaning the faux leather, make sure that it is not too dry as it can lead to permanent damage.
Before applying anything to the product, first, do a test. Try it on the product's hidden part to see if it has any adverse effects. Let it dry, check, and then apply on the visible surface of the product.
How To Clean Faux Leather
Basic Stains
1. Mild Detergents and Water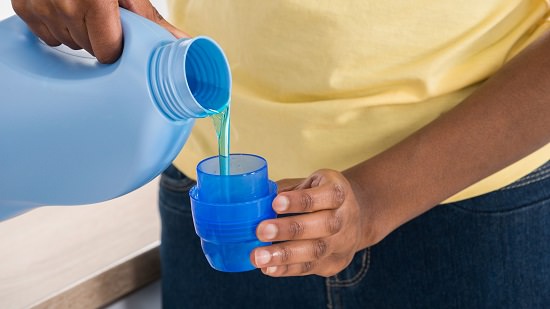 The basic stains caused mostly by your regular food or beverage like juice, tea, and coffee can be removed easily with mild detergents and water. Applying harsh cleaners will be a bad idea as that can make the fabric stiff and eventually damage it. Add 1/2 cup of mild household detergent to a cup of water and mix it well. Spray the liquid on the stain and leave it for 2 minutes. Use a dry, non-abrasive cloth to scrub the mark in a circular motion.
2. Liquid Dish Soap
As soon as you spot the stain on your faux leather fabric, try rubbing a wet towel first. Instead of buying any commercial cleaner, you can simply make a solution of your own with the readily available cleaners. Add two teaspoons of liquid dish soap into a cup of warm water, mix it well, and then pour it into an empty spray bottle. Spray this foamy liquid over the stained area and rub it with cotton balls in a circular motion. Use a damp fabric to remove the soap residues. Repeat the process if any further cleaning is required.
Stubborn Stains
1. Distilled White Vinegar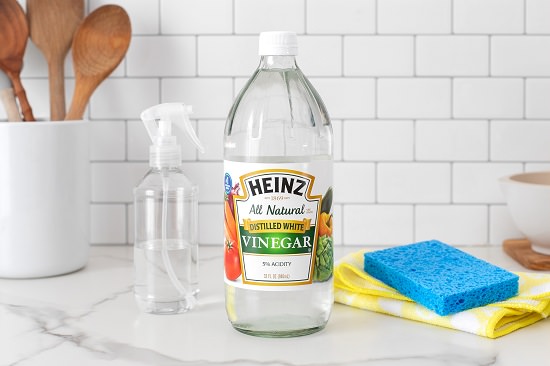 White Vinegar has been a great oil-based stain remover and a natural deodorizer of all time. Added to that, it is available in almost every household. Mix 1/2 cup of lukewarm water with a cup of distilled white vinegar and pour the concoction into a spray bottle. Spritz it onto the stained surface, rub it gently with a lint-free cloth until the mark is gone.
2. Rubbing Alcohol
Well, even our sanitizers have a little bit of alcohol to keep you steer clear from germs. Rubbing alcohol is full of surprising stain-removing elements. But before applying directly to the affected area, put some on a discrete area and check whether there is any adverse reaction. If not, then clean the residue of dust first with any microfiber towel. Then put some rubbing alcohol on a lint-free cloth and gently rub the stain thoroughly. Once it is done, buff out the remaining stain or residue with the help of a soft fabric. Say bye-bye to tough stains and mildews!
Machine Washing for Faux Leather Clothes
For a good overall cleaning, sometimes it is necessary to give your faux leather jacket for a thorough machine wash, considering how well this fabric can trap heat and oil. Here are a few things to remember before you put it inside a machine.
Ensure the faux leather product is machine washable.
Use cold water and a gentle wash throughout.
Turn the piece inside out before putting it into a machine.
Lay the fabric flat or hang it after the wash for best results.
Hover a steaming iron over the wet fabric to remove wrinkles.
Odor Removal
Since faux leather can trap oil, dirt, and stink, the fabric needs to be deodorized. Especially for the faux leather clothes, you need to follow the process before you put it to rest until its season comes and before you start wearing them. Thus, they will be as fresh as they look.
1. Baking Soda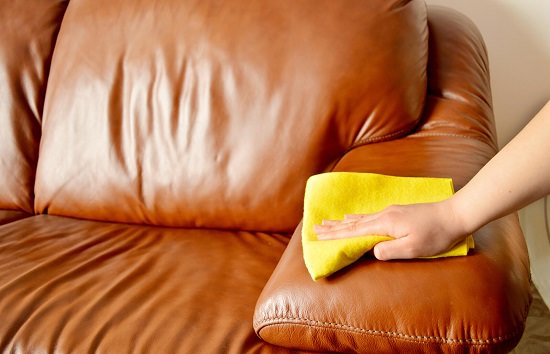 For the greasy stains and bad odor, baking soda is that wonder solution. Sprinkle some of it on the affected area and leave it to dry overnight. The next morning, wipe it out with a wet towel.
These above-mentioned hacks are quite useful for any faux leather product. In case you have furniture of this fabric material, make sure to vacuum it regularly. Never put a faux leather base material under direct sunlight for an extended period, as the Sun's UV rays can damage it. Try vinyl protectant on PU couches and furniture to keep them away from daily dust and debris. A regular rub with a PVC moisturizer helps maintain the natural sheen of faux leather.
Try these cleaning hacks and say bye to even the toughest stains on your faux leather.