Here is a homemade face wash for sensitive skin and complete know-how of taking care of your skin type naturally! Check them out.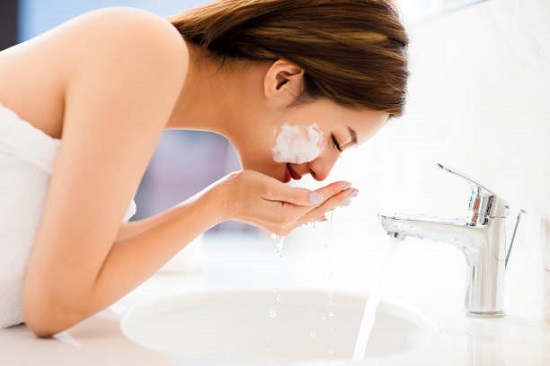 Breakouts, rashes, itchy skin, these are the daily dilemmas of sensitive skin. Most of the time, you bruise your skin or are too harsh on your skin unintentionally, causing multiple issues, blemishes, and marks. Know all about the care of sensitive skin and how to make a homemade face wash for sensitive skin that works without harming your skin texture.
Understanding what damages sensitive skin
While hormonal changes, pollution, stress, and other factors affect everyone, the ill-effects of these factors are more visible on people with sensitive skin. Other skin-related issues that make the skin more susceptible to damage are dryness, eczema, and allergies to specific products and food categories.
Homemade Face Wash for Sensitive Skin Recipes
#1 Pure coconut oil face cleanser
Rich in nutrients and anti-aging properties, this facial cleanser helps clean the skin without aggravating the skin, while working on the issues. The simple three-ingredient cleaner recipe is easy to make and use.
You'll need:
Three tablespoons of virgin coconut oil
One teaspoon honey
One teaspoon baking soda
Method:
For the facewash recipe, you need a creamy texture of the coconut oil. Add the desired texture of oil to a clean bowl and add honey to the oil.
Mix well while adding the baking soda to the mix, so there are no lumps in the oil mixture.
Store the mixture in an airtight container and place it in a cool place.
For use, take a pea-sized amount of face cleaner with the help of a small spoon or a spatula.
Apply and massage on your face and neck gently with your fingertips for a minute.
Wash your face with lukewarm water and clean properly with a microfiber cloth.
Use just a drop of coconut oil as a moisturizer after you have cleaned your face to lock in the moisture.
#2 Chamomile face wash recipe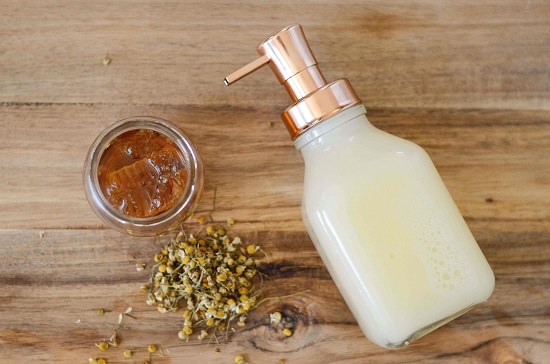 Chamomile has soothing and healing properties, which makes it an ideal ingredient for a sensitive skin face wash. Other oils used in the face wash recipe adds on to the beneficial properties of chamomile.
You'll need:
1/4th cup of castile soap
1/4th cup of chamomile water (boil ½ cup of water and dip a chamomile tea bag in it for infused water)
3/4th teaspoon of sweet almond oil
Eight drops of eucalyptus essential oil
Eight drops of Vitamin E oil
Method:
Mix all the ingredients well in a clean bowl with the help of a wooden spoon.
Mix the 1/4th cup of brewed chamomile tea to the soap and oil mixture.
Add the homemade face wash to a pump bottle for daily use.
Take a squirt of face wash on your palms and massage well on your face and neck for use.
Wash your face well with lukewarm water and clean with a microfiber cloth.
Apply facial toner and moisturizer after the cleaning for the best results.
These homemade face wash recipes are an ideal solution to remove make-up for sensitive skin as well. To use these recipes as a make-up remover massage the cleaners on the face and neck. Then remove with cotton swabs soaked in rose water. Wash and pat dry your face after cleaning.
How to take care of sensitive skin daily
You have to be careful of the products you use if you have sensitive skin as harsh chemicals irritate the skin. People with sensitive skin should forgo rough facials and treatments like chemical peels.
If you have a sudden rash or irritation on sensitive skin, you should use a homemade compress to soothe the skin immediately. For the compress, mix equal parts of milk and water and soak a cloth in the same. Use this cloth as a compress. You can also add a tablespoon of aloe-vera gel to the mix for instant results.
Make sure you keep your skin clean. Wash with cold water when you come from a polluted environment and only use gentle face washes for your skin, twice a day.
Enjoy these sensitive skin face wash recipes that are gentle enough to take care of your skin, but tough enough to clean it thoroughly.