DIY these Halloween boo box ideas to surprise your family with the ghoul-y vibes! Keep reading the article to know boo box ideas for Halloween.
1. Monster Boo Box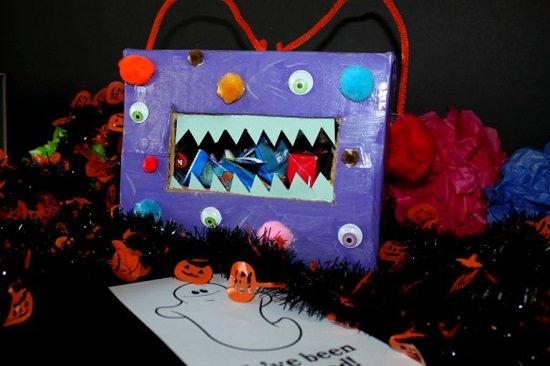 This fun and easy monster Halloween boo box is a perfect way for bringing everyone together and surprising your friends and neighbors. Use a discarded cardboard box and create a monster mouth. Fill it with candies, glow sticks, etc and the boo box is ready.
2. Festive Boo Box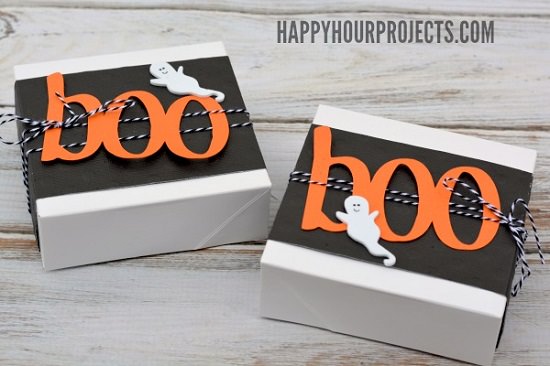 A cute crafting activity for kids, these boo boxes are definitely going to bring out the charm in Halloween. It is perfect for kids as these boxes are not very scary and can be a cute way for keeping this tradition alive. Follow the link for more information.
3. Mini Boo Boxes
These mini boo boxes are a clever way to keep the tradition alive when you have many neighbors and friends to boo. They are easy and the tutorial has many different types of boo boxes. You can even combine a few and make a hamper out of these little boxes.
4. Creative Boo Box
Challenge your creative self with this extravagant boo box. With all kinds of props and decorations, this boo box is sure to make you stand out. This tutorial has some unique ideas for making the decorations and shows all the steps how to make them yourself.
5. Themed Boo Boxes
Instead of going for some generic creatures, you can also make themed boo boxes, featuring your favorite Halloween books and movies. These themed pages can easily be printed or bought and can be used to cover the boxes. Follow the tutorial for a more detailed way of making them.
6. Boo Bucket
If you do not want to make the whole box, then this tutorial is for you. Buy little Halloween buckets or just paint a little faces on regular small-size buckets and fill them with all the candies and props. The best part, these buckets are reusable.
7. Boo Box With Starbucks Cups
Surprise your neighbors with the decorated Starbucks cups in their boo boxes. You can also find some more gift ideas in this tutorial for the boo box.
8. Boo box reuse
This tutorial shows what you can do with most of the generic items that you get in your boo box. It has some innovative ways of using props for decoration in the house. You can also take ideas from this tutorial on what to put in the boo box.
9. DIY Boo Bucket
This video shows another tutorial for using a bucket instead of boxes for surprising your neighbors. To keep the tradition, you can add little boo boxes in these buckets. It has quite innovative ideas for filling up the boo box.
10. Little Boo Box Candy
You can also try making these cute little candy boxes for the Halloween treats for adding in the boo boxes. Fill the boo box with these for a surprise treat for your neighbors.