Reuse old tin cans to create something awe-inspiring with these tin can crafts and projects! You'll be surprised by the creativity of these ideas!
1. Tin Can Wind Chime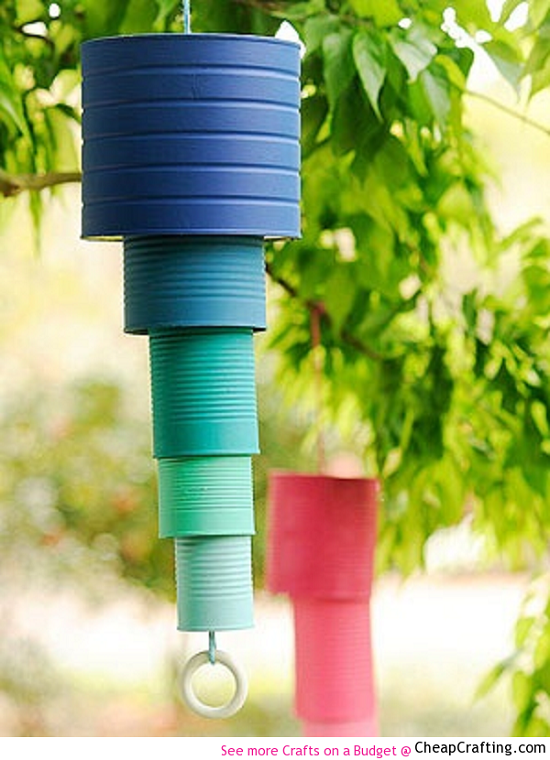 Offset the ultra-feminine appeal of wind chimes with this quaint tin can alternative. Get more details here.
2. Fruit Can Centerpiece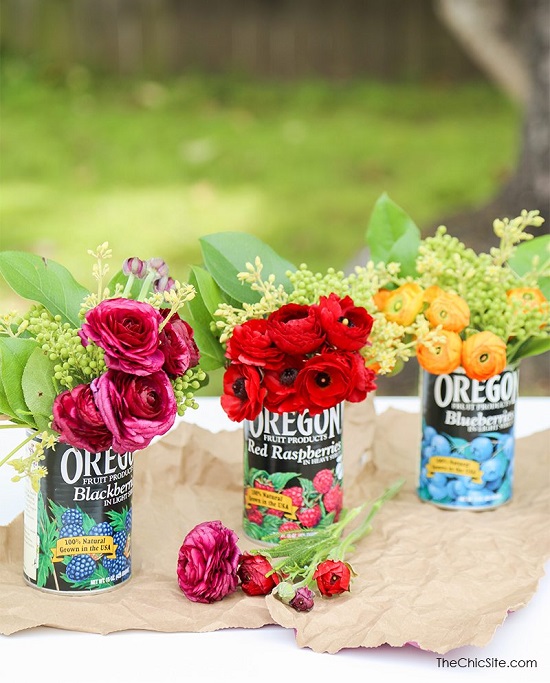 It would be a shame to toss such pretty tin cans in the bin, instead, use them as vases to brighten up your work desk. We got the idea from here.
3. Dipped Tin Can Storage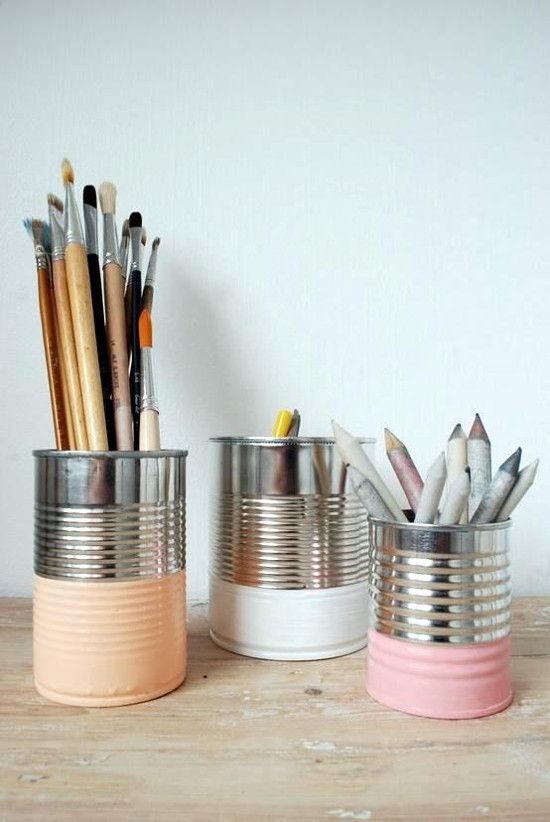 Tin cans dipped in nude shades add a bright and airy feel to a space-cramped room. Learn how to make them here.
4. Real Working Speakers Made Out of Old Tin Cans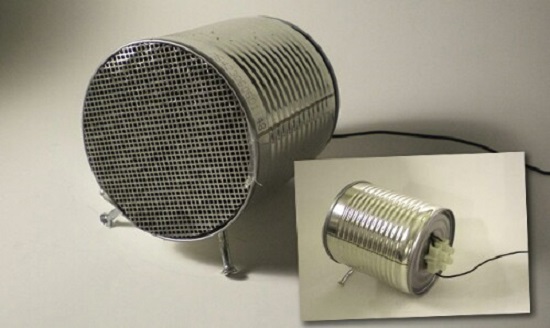 These DIY speakers are the maximum technical help you can get from your tin cans. Visit wired for more details.
5. Tin Can Planters for Spring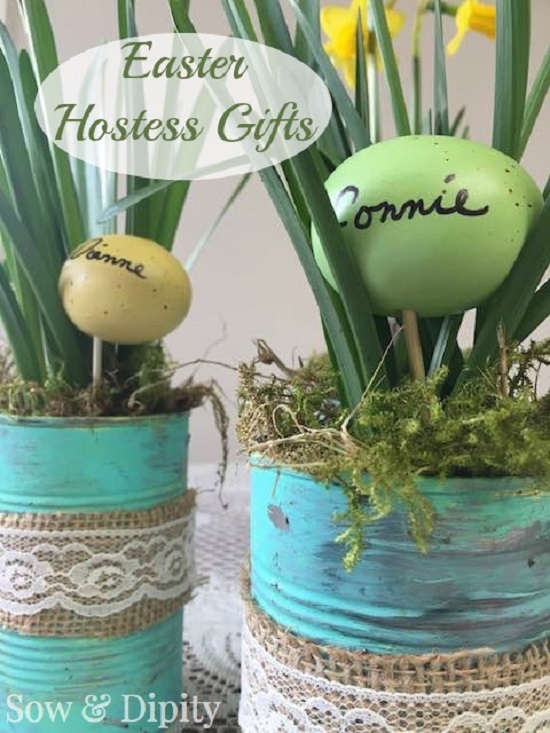 Done up in cheery spring colors, these upcycled tin cans are a charming addition to the outdoor party table or as handmade Easter gifts. Know more here.
6. Halloween Tin Can Bowling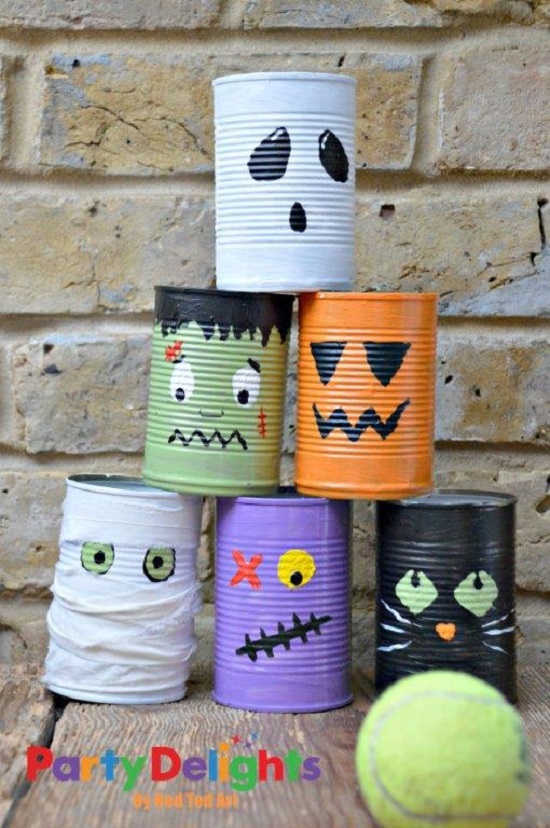 These ghoulish cans are an excellent way to deter offenders from the threshold of your house. Check out the tutorial here.
7. Tin Can Crafts – Snowman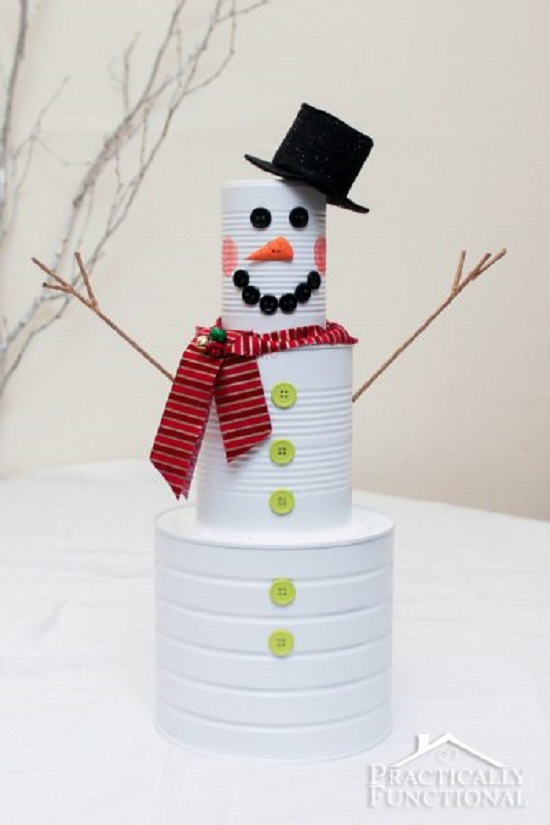 This easy-to-make winter decor is the sturdiest a snowman could ever get. Here are the instructions.
8. Tin Can Drums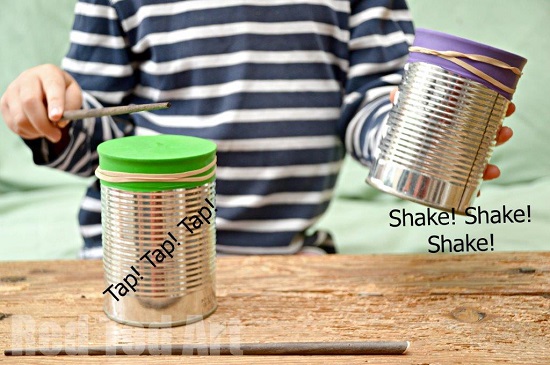 These makeshift tin can drum give out a deep-throated sound that goes well with other musical accompaniments. We were inspired by redtedart.
9. Washi Tape Tin Can Pen Holders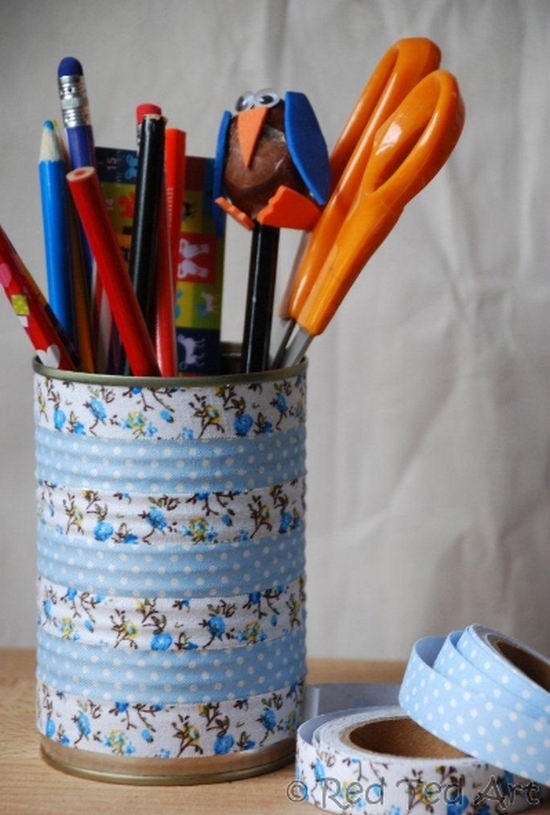 Give a pretty bent to tin cans with layers of patterned washi tape that best reflect the colors of the season. Follow this post for more details.
10. Tin Can Crafts – Mini Shelf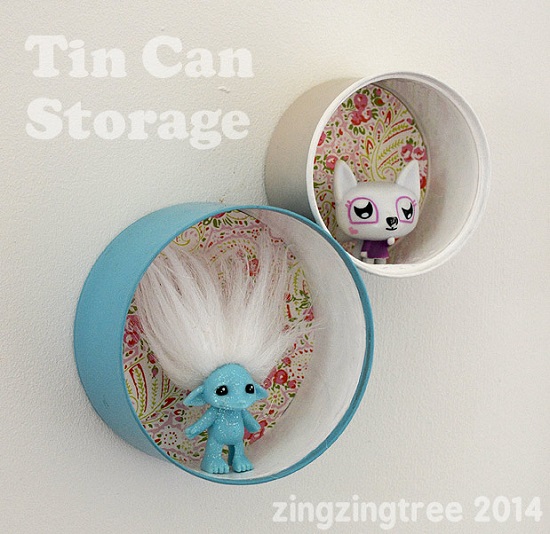 Tin can mini shelves leave little accents around your home while displaying figurines in the cutest way possible. See the tutorial here.
11. Tin Can Utensil Holder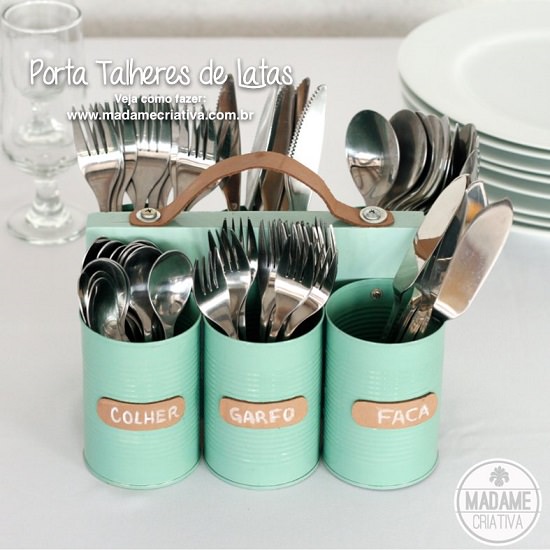 As fancy as it looks, this tin can spoon rack is actually cheaper than the cheapest spoon in your kitchen. The step by step instructions is here.
12. Tin Can Desk Lamp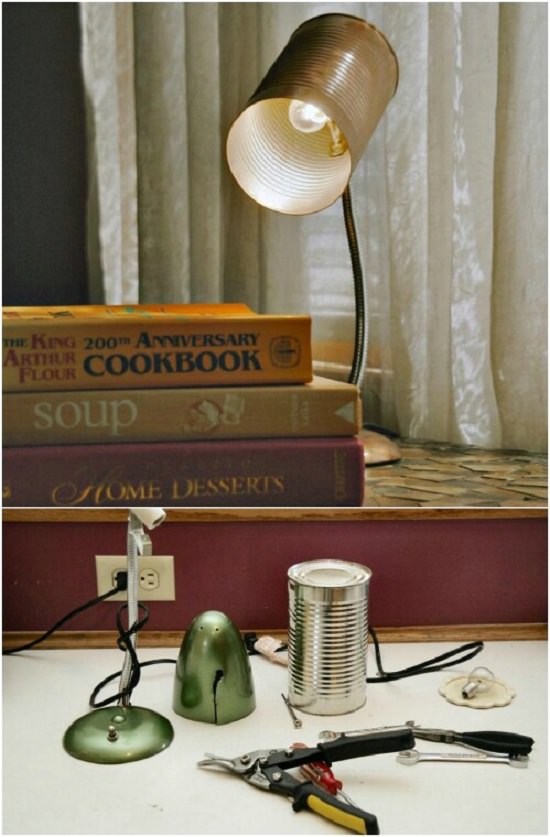 The glossy finish of tin cans blends beautifully with the glow of lamps to create a cozy feel that helps you bring out your A-game to the study table. Get inspired by this post.
13. Tin Can Christmas Tree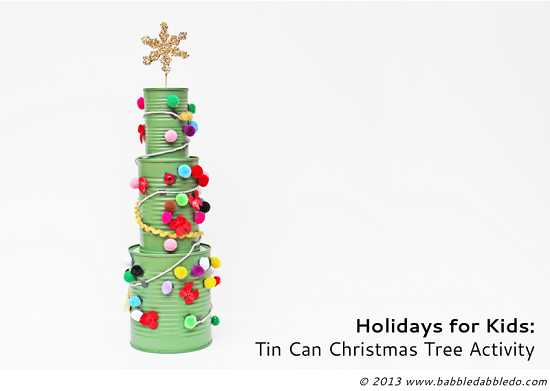 This year, let this tin can Christmas tree be a fun art activity for the kids to do during the boring holiday season. Learn more by reading this article.
14. Tin Can Lanterns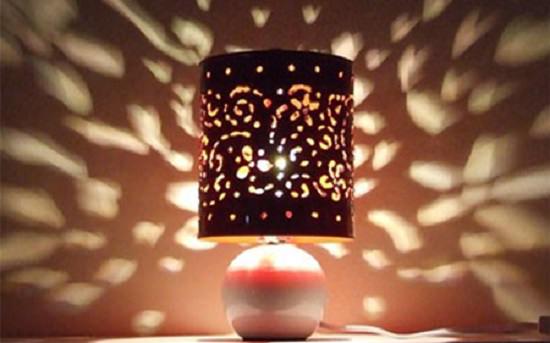 This can-enclosed light adds oodles of character to your bedroom and looks just as fancy as the costlier stuff around. All you need to know is here.
15. DIY Floral Container Covers for Tin Cans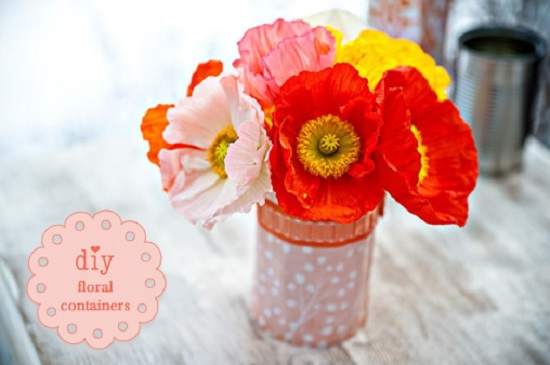 This tabletop vase here is sure to be the talking point at your next dinner party.
16. Tin Can Creatures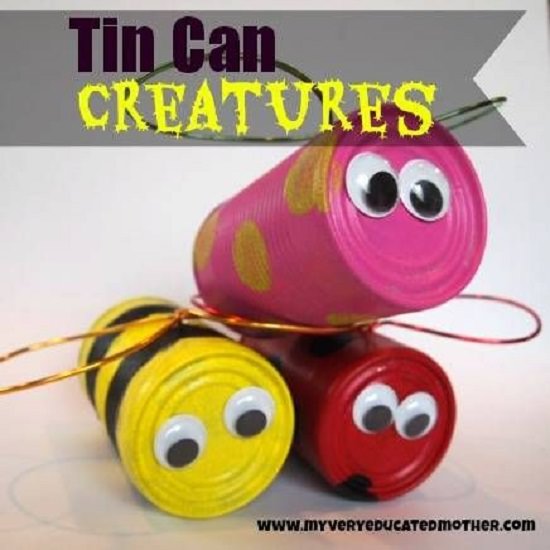 These whimsical figures made using tin cans and googly eyes are sure to put a smile on your face. Here is a detailed article on it.
17. Tin Can Telephone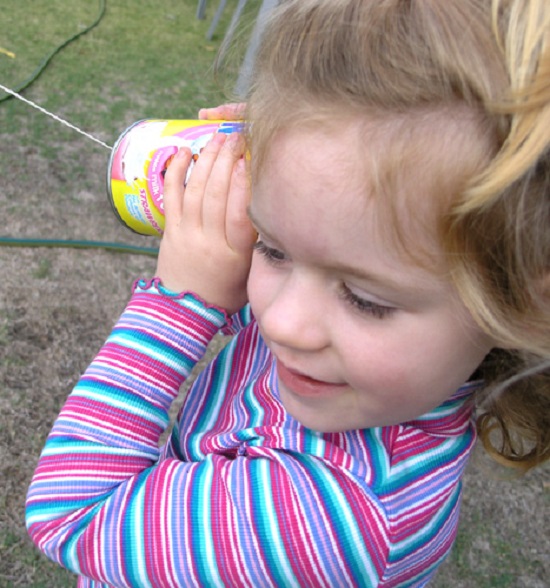 Tin can telephone can be used as fun playthings for the kids; plus they get to learn something important about sound waves. Project details are here.
18. Tin Can Mobile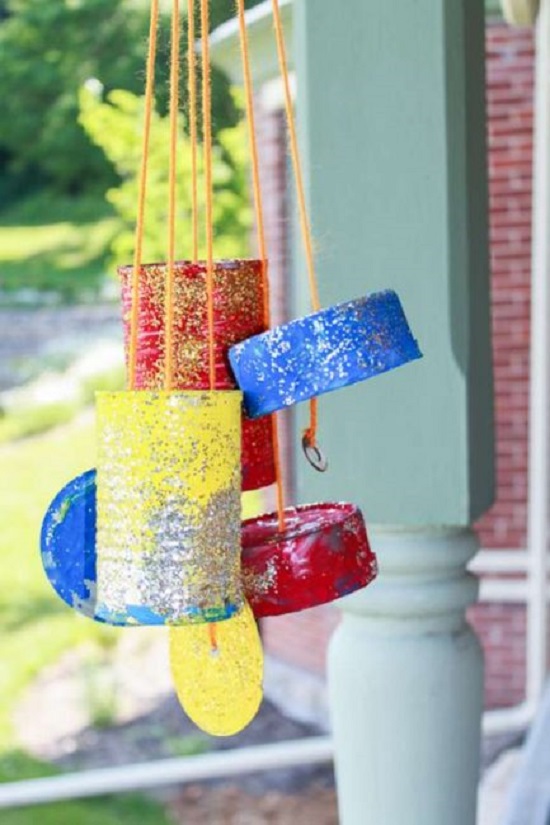 This jazzy wind mobile is made by assembling tin cans that have been smothered with glittered dust to hide their humble beginnings.
19. Rustic Twine Wrapped Tin Can Vase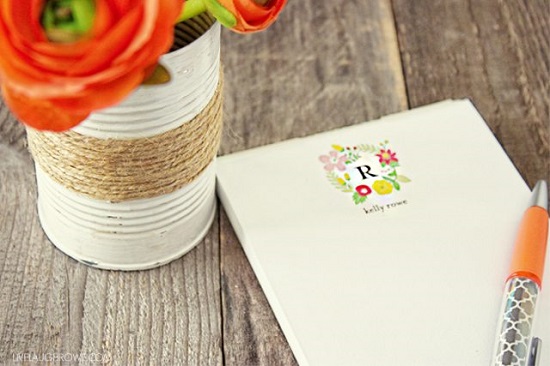 Some paint and some twine and you have rustic-looking tin cans that do justice to handpicked autumn blooms. The steps are here for you to follow.
20. Tin Can Crafts – Votives Candles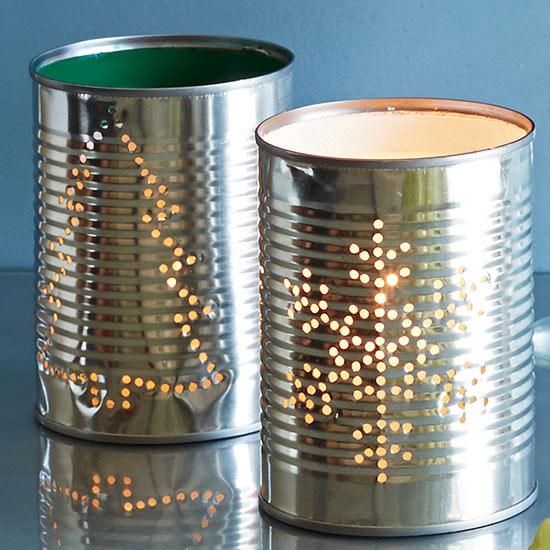 If you feel that holly wreaths and fireplace stockings are too in-your-face, these stenciled tin cans are a subtle way to usher the holiday season. Visit archive for project details.
21. Burlap-Covered Tin Can Candle Holders—Perfect for a Wedding!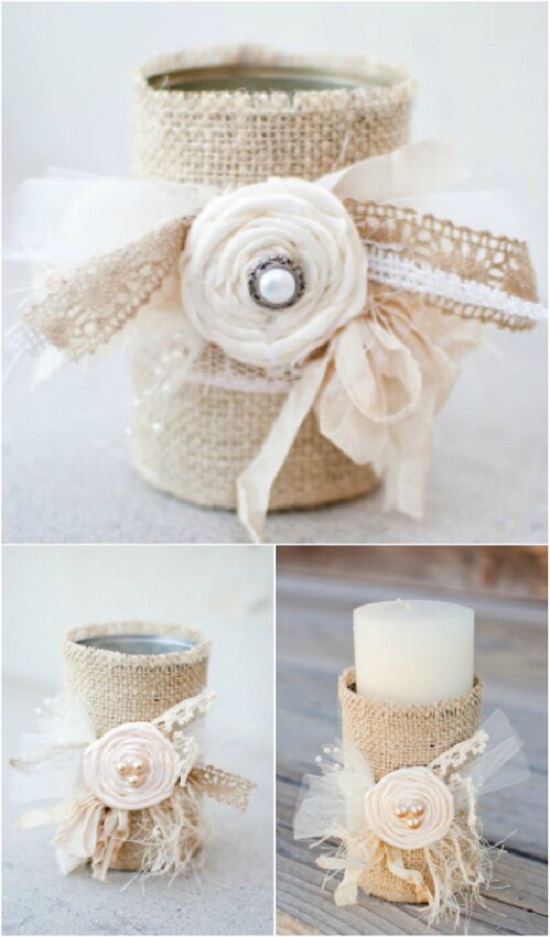 Burlap ribbons are a low-cost way of adding a vintage touch to tin cans. Access the tutorial here.
22. Tin Can Rose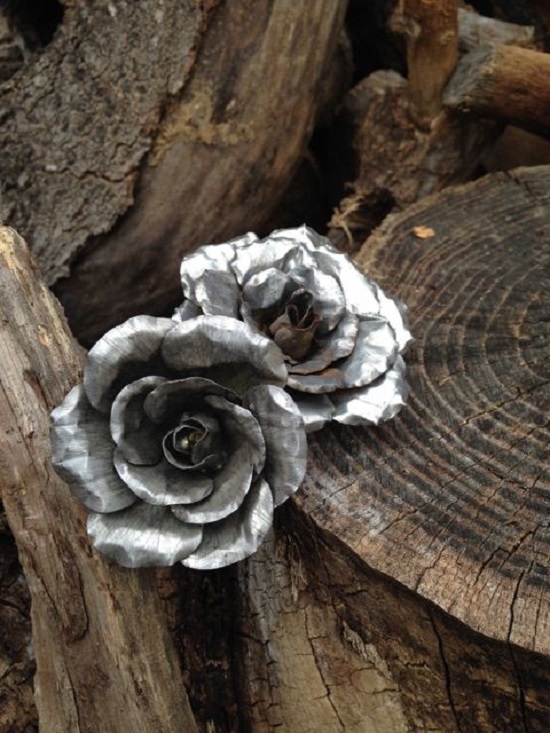 The everlasting glow of these upcycled tin can roses, make them perfect as an anniversary present for someone you love. Get more details here.
23. Tin Can Knitting Loom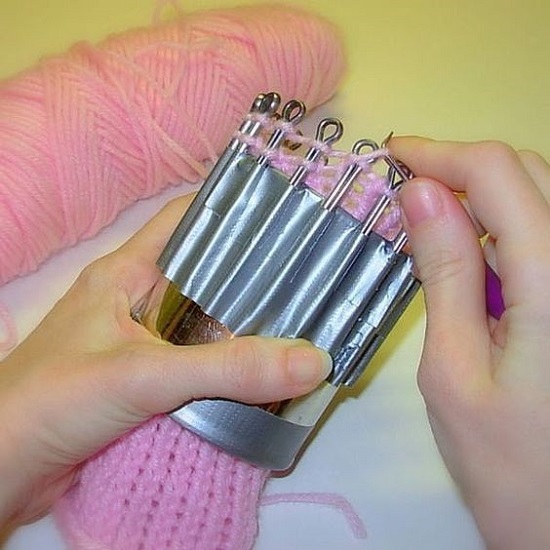 This tin can knitting loom is an easy and inexpensive way to get the yarn ball rolling. To know more, click here.
24. Tin Can Bird Feeder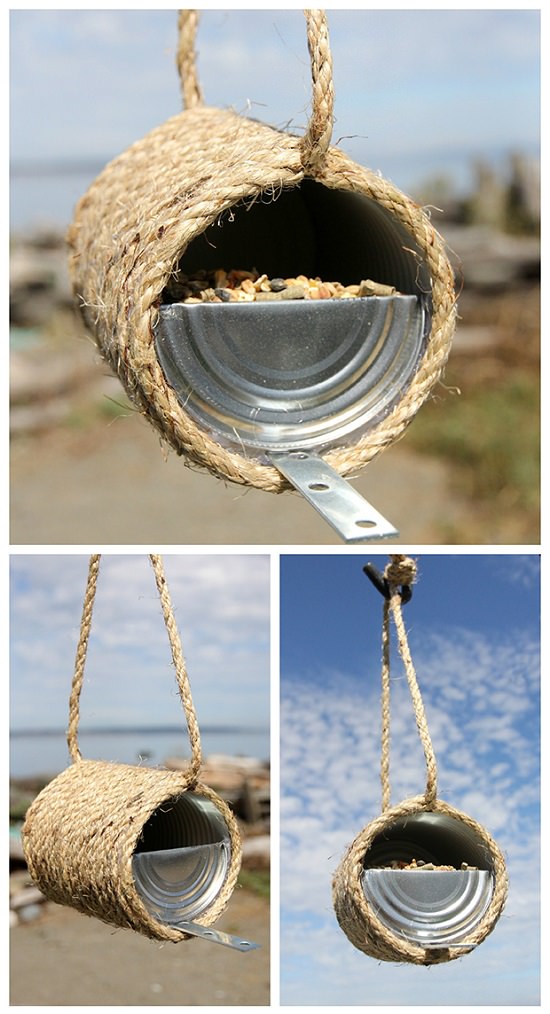 This sturdy bird-feeder is a nice way to invite those colorful pollinators in your garden. Check out the way to make it here.
25. Mood Lighting From Tin Cans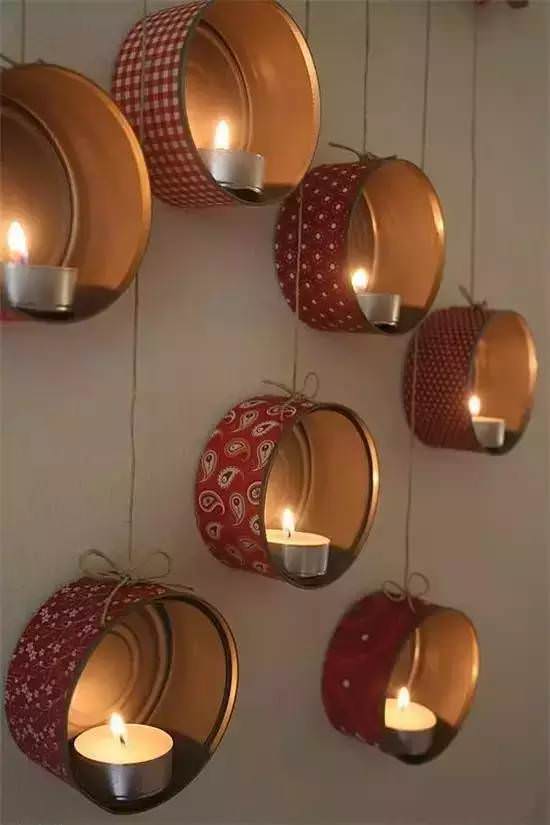 Tin can candle holders add character to any space and are an easy way to create a mood on a budget. Visit translate for the steps.
26. Hanging Hairbrush Storage from Tin Cans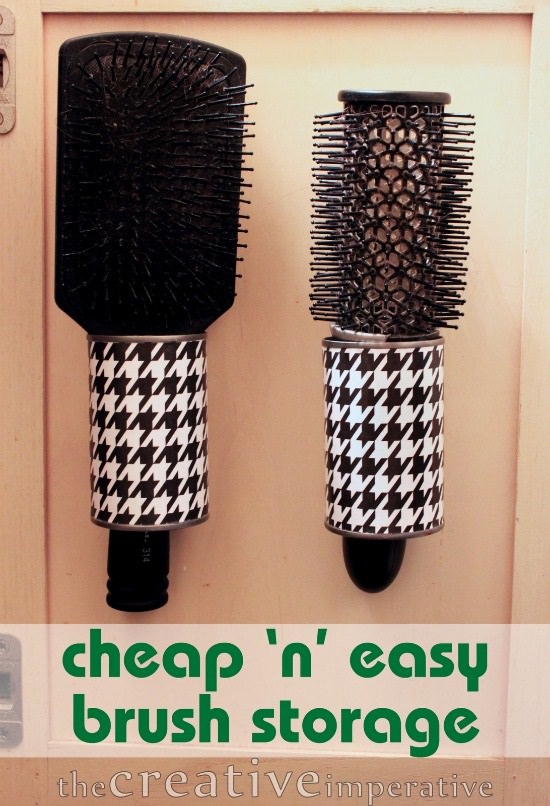 Running hither tither to find your hairbrush is the last thing you want on busy mornings. Enter tin can hairbrush holders to solve this problem by thecreativeimperative.
27. Tin Can Crafts – Wine Rack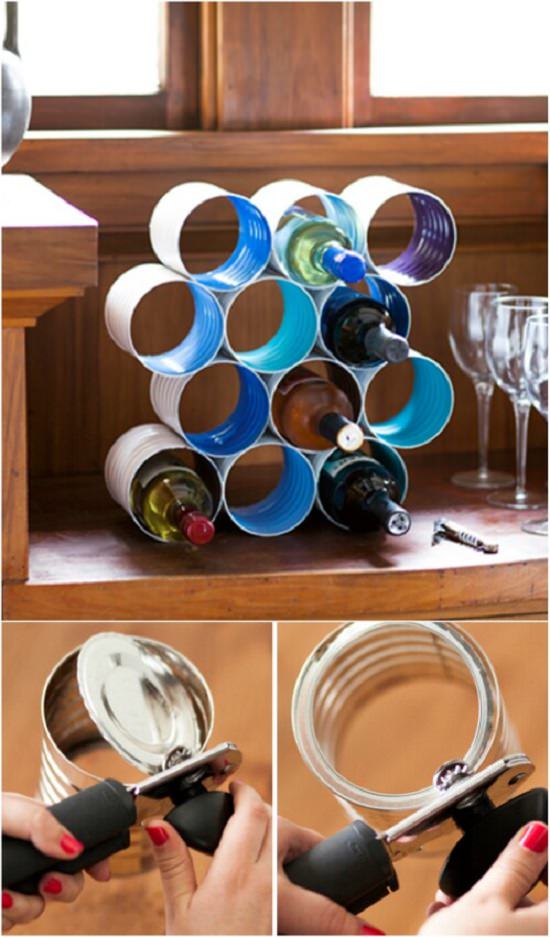 This asymmetrical tin can rack with its countervailed blocks of color makes for an eye-catching way to display your wine collection. Brit provides the project details.
28. Tin Can Portable Rocket Stove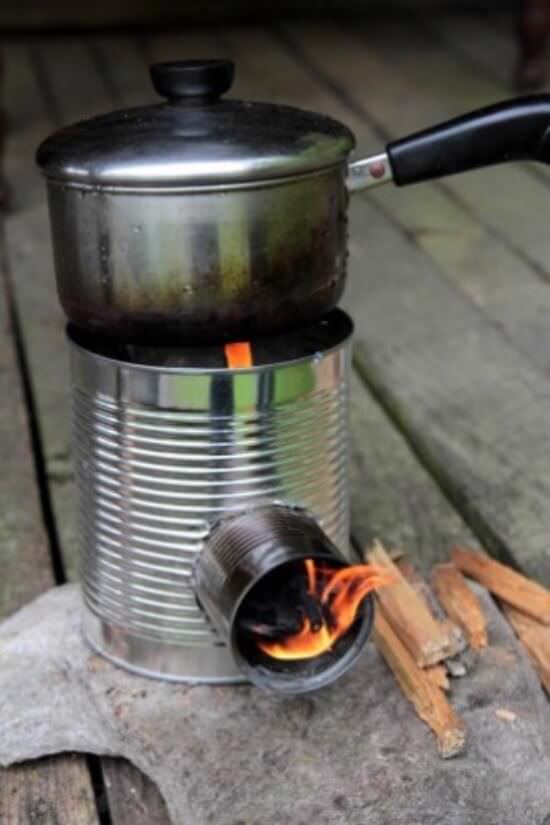 This super-efficient and unbelievably lightweight stove sure top our list of upcycled innovations with tin cans. The simple way to make it is here.
29. Tin Can Nautical Rope Vase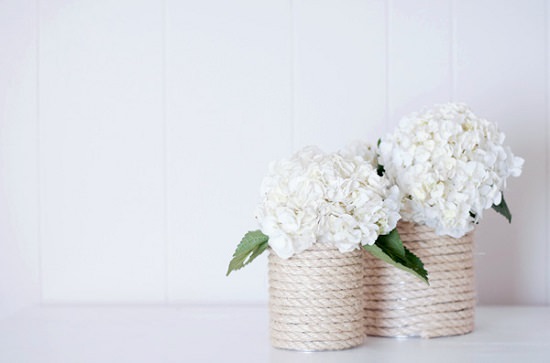 The rustic appeal of this tin can-turned-rope vase is perfect for showing off gorgeous blossoms without overpowering their beauty. The steps are here.