Refer to these cute patched jeans ideas to revamp your old jeans to look as new and cuter than before! You can try these ideas on kids' jeans as well.
1. Denim Patches and Cuffs
Recycle a pair of jeans by patching them up with other pants/jeans that you have no use for. By using the scraps from an old pair, you can add a totally different look to your current jeans. The cuffs at the bottom can also be useful in increasing the length. Here, this tutorial shows a simple way of doing that and how contrasting shades between the cuffs/patches and jeans work together perfectly.
2. Distressed Jeans with Patches
If you want to cover up the holes in the jeans and still keep the distressed look, then this tutorial is for you. It shows a way how you can use the combination of patches and threads for sewing zig-zag patterns, covering the holes but at the same time keeping up the distressed look.
3. Funny Patched Jeans for Kids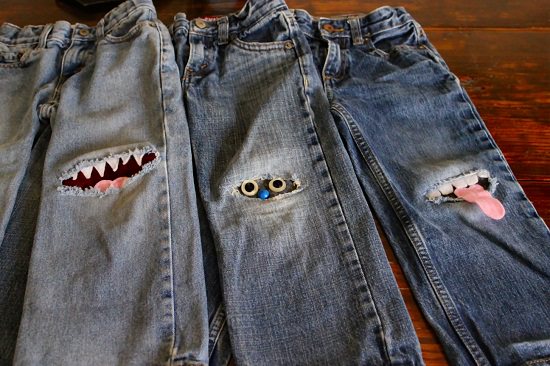 Alter a basic pair of jeans to a funny pair for your kids by adding mouth patterned patches. Go freehand and use your creativity for making these patches. In this tutorial, you will find ideas for inspiration such as sewing monster mouths, owls, or monkey faces. It works as a great solution for recycling the jeans of younger kids who tend to tear their jeans around the knee areas.
4. Floral Patched Jeans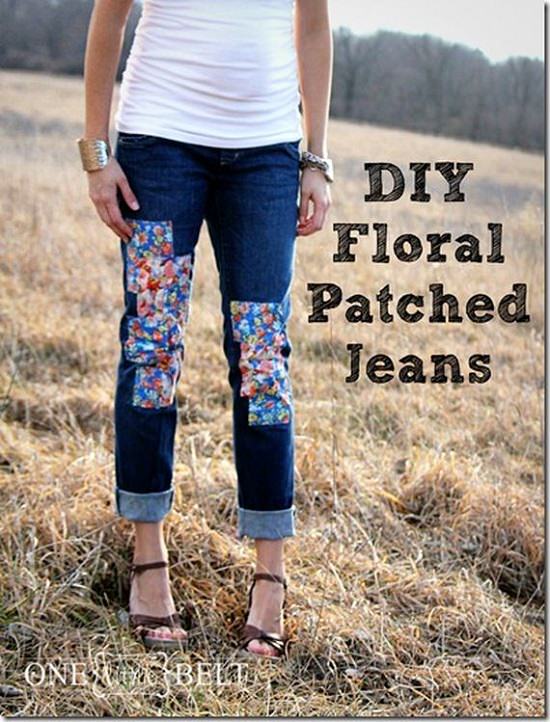 Layers of floral fabrics can transform a boring pair of jeans into cute patched jeans ready for the spring. Whether you chose one layer or many to create a pattern, this will surely make it an uplifting pair of jeans.
5. Layered Patched Jeans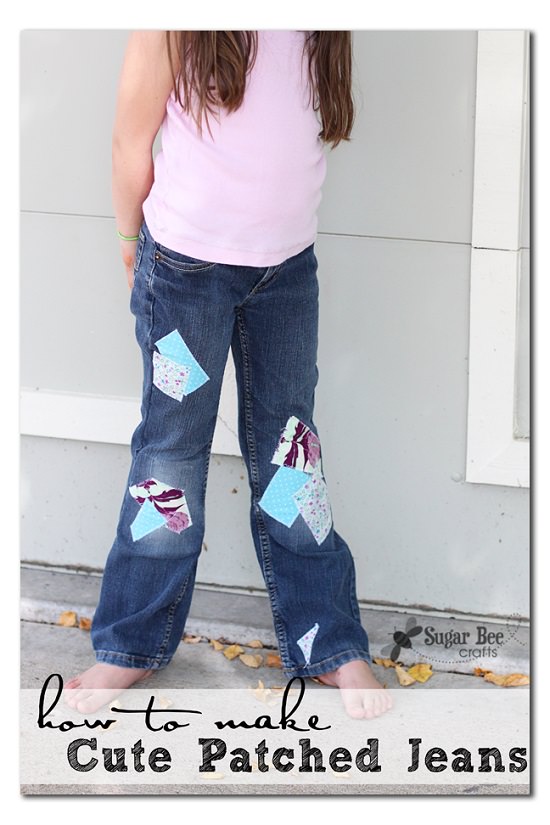 Kids can be very rough with their clothes, and buying new jeans every time can be hard on the pocket. Different colorful patterns of fabric can be used to cover the signs of distress and worn out. Click here.
6. Patched Jeans Without Seam Removal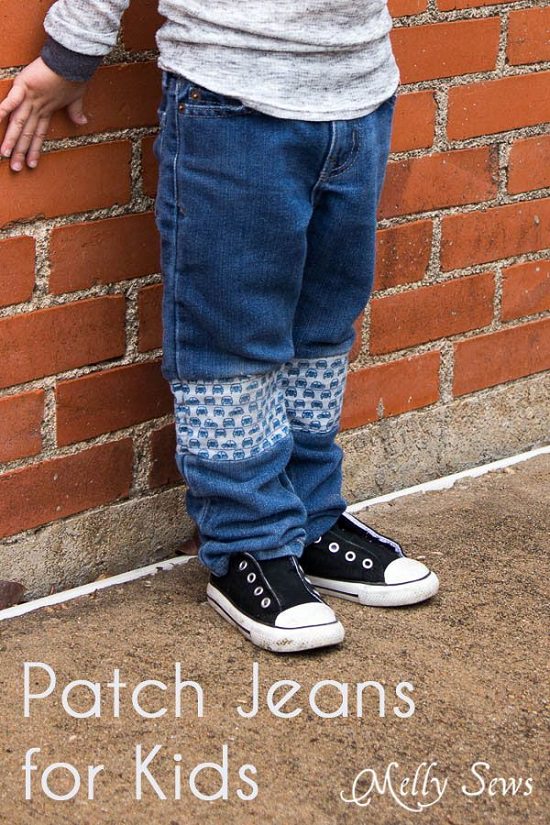 If you do not want to go through the hassle of trying to patch the knees by opening and restitching the seam, you can try this method of patching in which the jeans are cut in two parts with a patch stitched in between them. This could be a great hack for increasing the length of the jeans too.
7. Patched Jeans Using Lace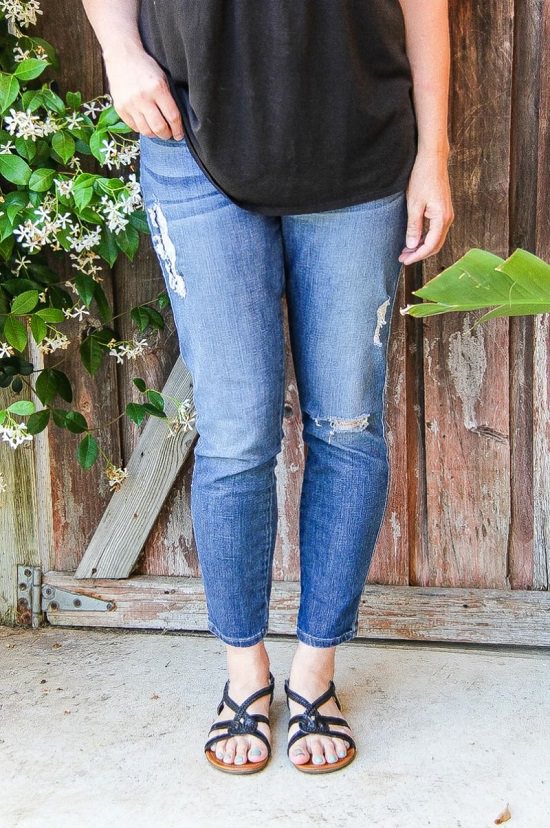 Holes in the jeans getting too big, or just shying away from wearing jeans? Try this tutorial to fix the problem and to make the jeans even prettier. Lace can be very effective in covering them, yet giving a stunning romantic look to the jeans.
8. Monster Mouth Knee Patch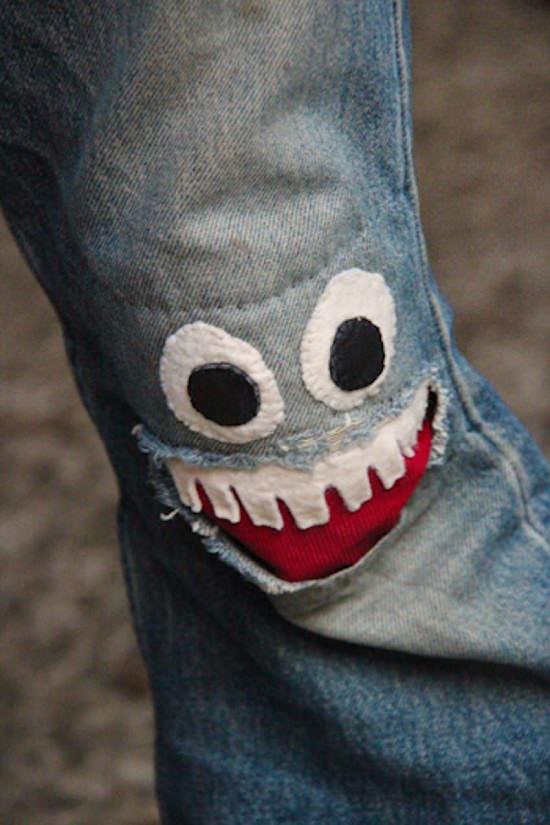 Another blog with an idea for covering a kneehole using a monster mouth patch and has a funny approach to recycling those old pairs of jeans and making them useful.
9. Ninja Turtle Knee Patch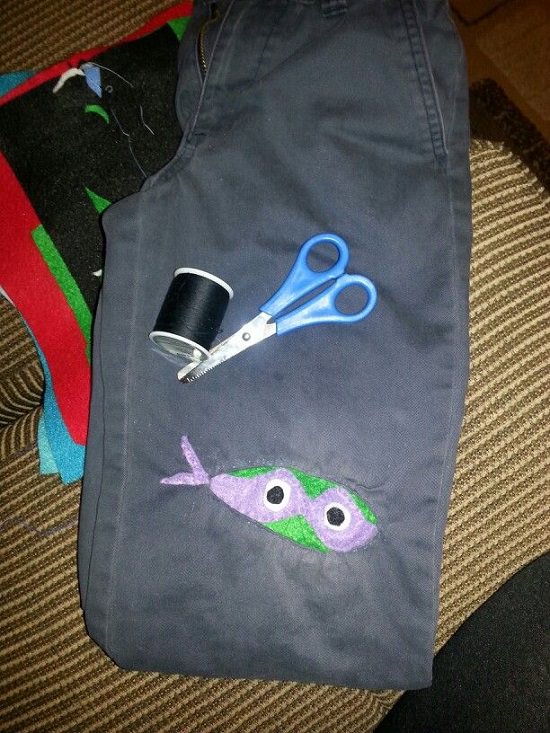 You can never have enough cute patched jeans ideas to patch up old jeans. This pin can help inspire you into digging into your creativity and patch the jeans with some cute characters, such as the ninja turtle or other characters.
10. Easy Monster Patch Tutorial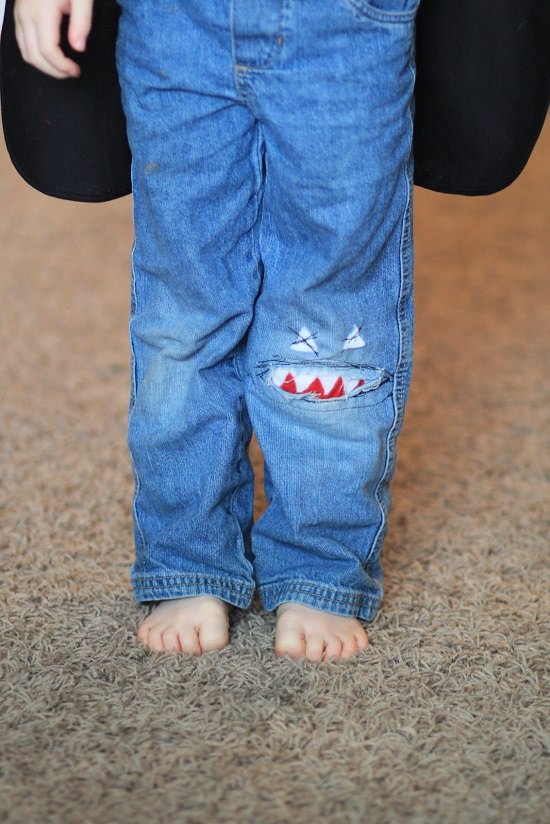 This tutorial shows an easy way to make the monster's mouths without going into very extreme sewing skills. It is suitable for beginners.
11. No Sew Patched Jeans
If you are not keen on sewing the patches, then you can have a look at this tutorial wherein you may use glue to patch them up. Ensure that you use non-washable glue so that the patches don't come off while washing.
12. Embroidered Lace Patch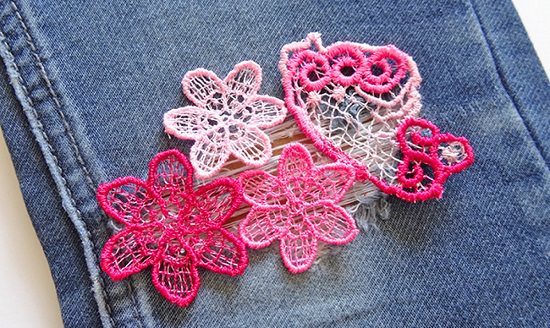 Embroidered, vibrant lace patterns can be stitched closely around on the jeans for very intricate patterns. You can buy a lace patch or combine different lace materials together to form a patch before stitching it on the jeans. Visit here.
Different Ways to Patch Jeans
There are many ways by which you can patch the jeans requiring different levels of expertise with the sewing machine and needles. The above-listed cute patched jeans ideas have specific tutorials using different styles of stitching and the amount of work required. If you are in love with an idea but do not want to go through the stitching process, you can use your own ways to implement those ideas on the jeans. Here is an overview of different ways you can patch jeans:
1. Using Sewing Machines
Sewing machines generally require you to open the seams of the jeans before you can start patching them. You need to be careful with it, but this definitely gives a very strong stitch, which does not tear out easily.
2. Hand Stitching
If you have a little bit of knowledge of working around with needles you can always hand stitch a patch on the jeans.
3. Glue Gun
Not a very durable patch, but this is the easiest way for patching up the jeans with no need for any sewing. It holds the patches well, but these might come out while washing, and require repatching many times.
4. Iron on Patch
Another easy but not so reliable way of patching jeans is an iron-on patch and it is very easy to work with them. These are readily available in the market and just need iron to patch them into the jeans.