Transform your Monotonous Wall at a Budget With these 60 Inexpensive and Clever DIY Wall Art Projects, Available With their Easy to Understand Instructions!
1. Backlit Canvas Flora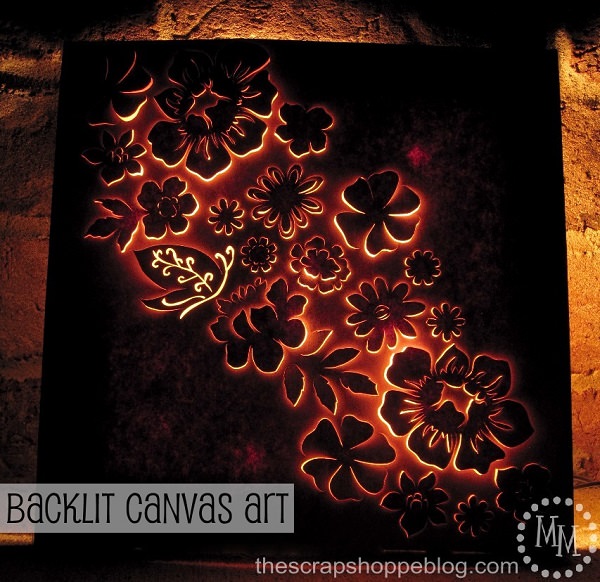 This is one of those rare wall artworks that transforms from simply elegant to stunningly gorgeous when the sun goes down. The subtle shadows of the cut flowers look striking in the day, while the impeccable color and light combination makes for a lovely solo wall accent in the night. Get the instructions here.
2. Quilled Monogram Art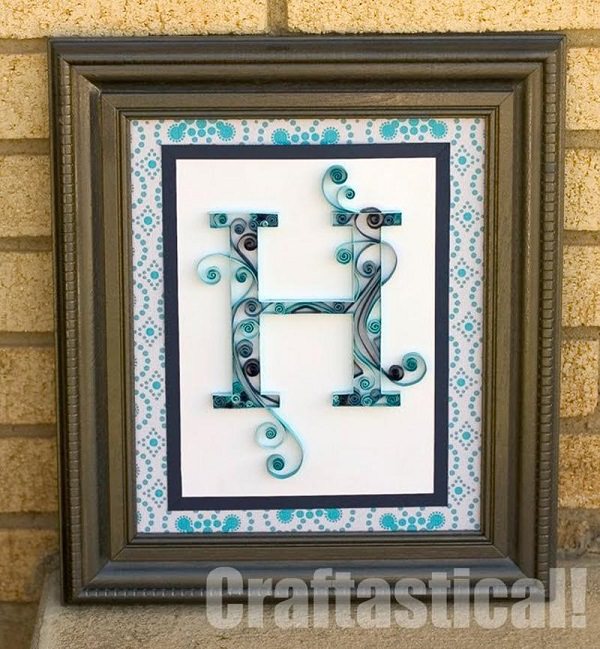 This DIY just proves you can never go wrong with quilled stuff. Carefully rolled paper coils come together to create an inimitable 3D art that can be personalized to complement the room's decor. We suggest you hang it up next to your bookcase or coffee mug display for an understated appeal.
3. Rustic Clock Wall Art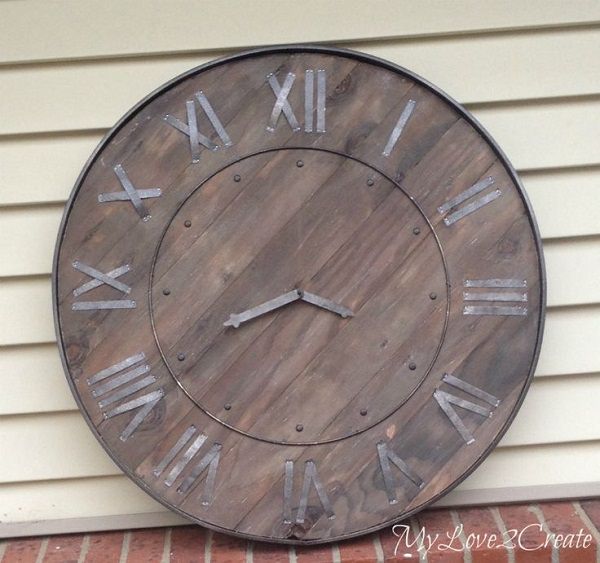 Rekindle old memories of childhood with this giant wall clock that looks straight out of a Disney movie.
4. DIY Paint Chip Herringbone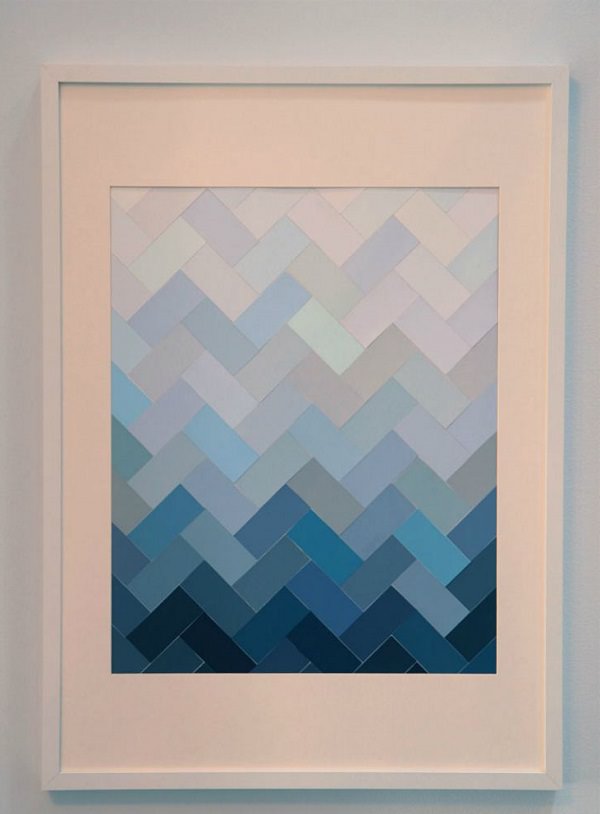 Paint-chip projects are the trend of the season and there's no reason you can't try it. This one here is a herringbone pattern of dozens of rectangle cut-outs in muted colors of blue to bring out the oh-so-lovely ombre effect.
5. DIY Tape Wall Art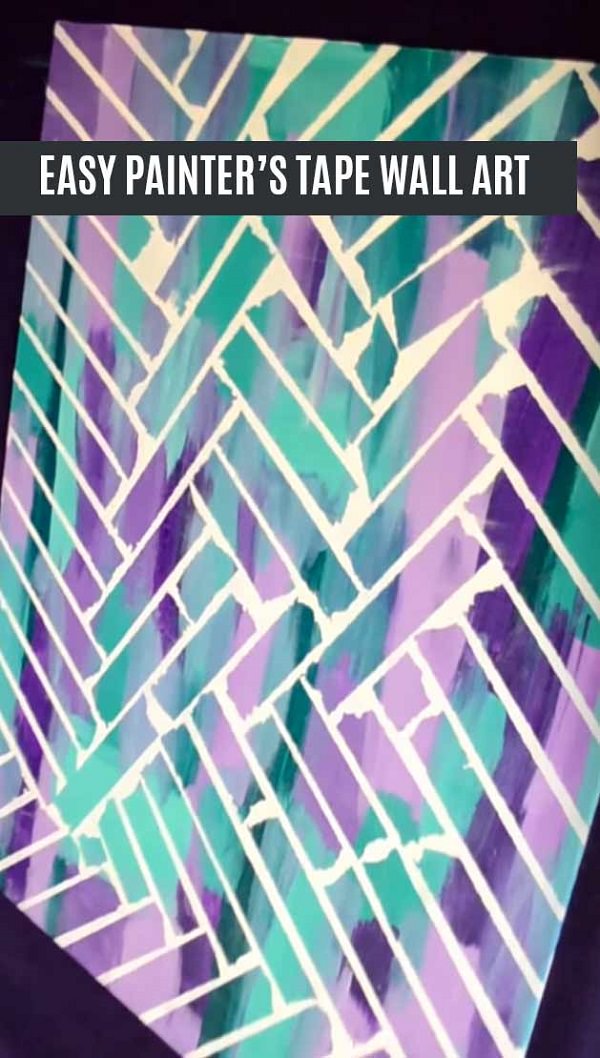 If you think that painting is a tedious job that takes time and skills, this DIY idea might change your mind. It shows you how to use basic acrylics and callous strokes to create a textured masterpiece that is sure to jazz up your blank walls instantly.
6. DIY Indigo Wall Art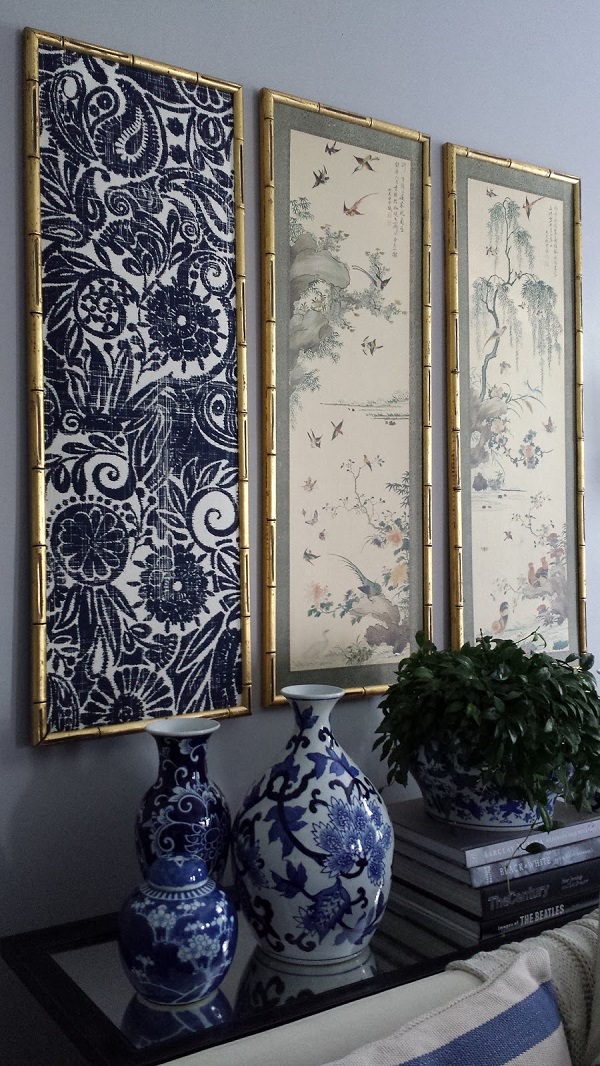 Framing a stunning indigo fabric is a novel way to give your room a facelift. Just don't forget to get hold of some bamboo frames and table runners on your next trip to the dollar store. Check the tutorial here.
7. Decorative Plates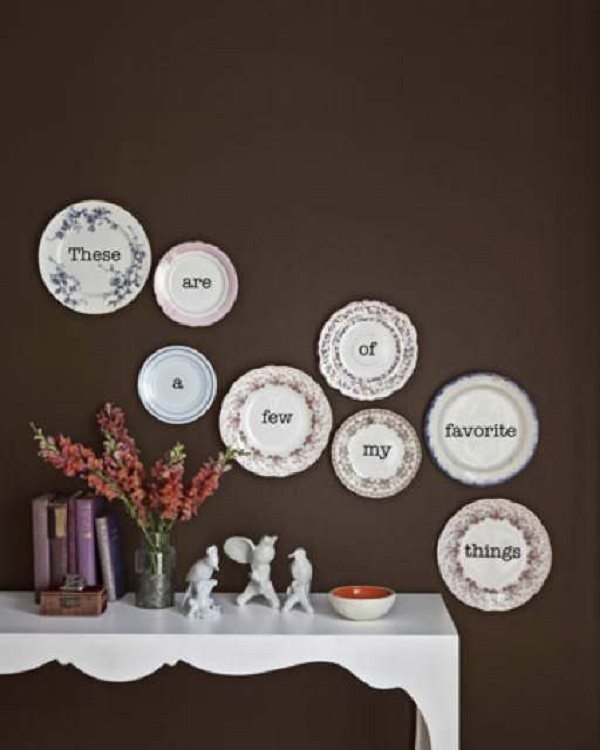 Antique-shop China plates embossed with words decals come together in a gallery setup to spell out your favorite quotation. What better way to start your day in style! See more here.
8. Taxidermy Cardboard Deer Head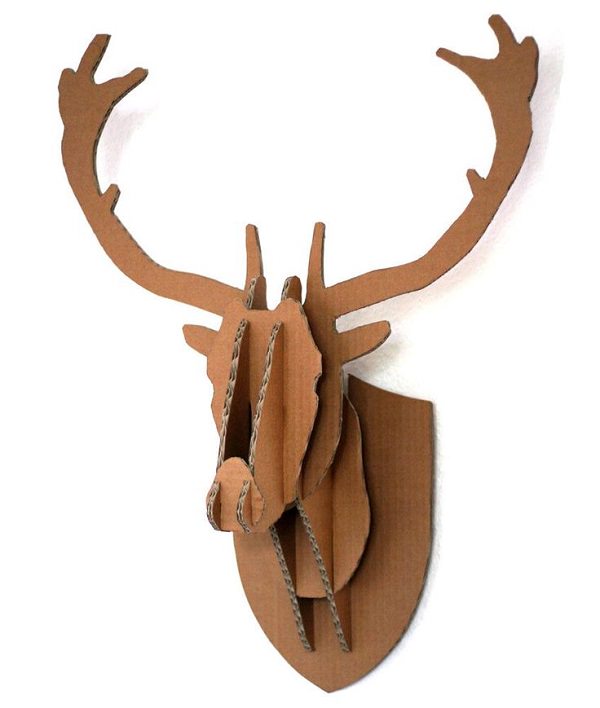 This taxidermy-inspired cardboard wall art is a cruelty-free alternative to all those vegans and peace-lovers out there. We suggest you go all out and paint with patterns and colors of your choice for that extra dash of color.
9. Watercolor Wall Art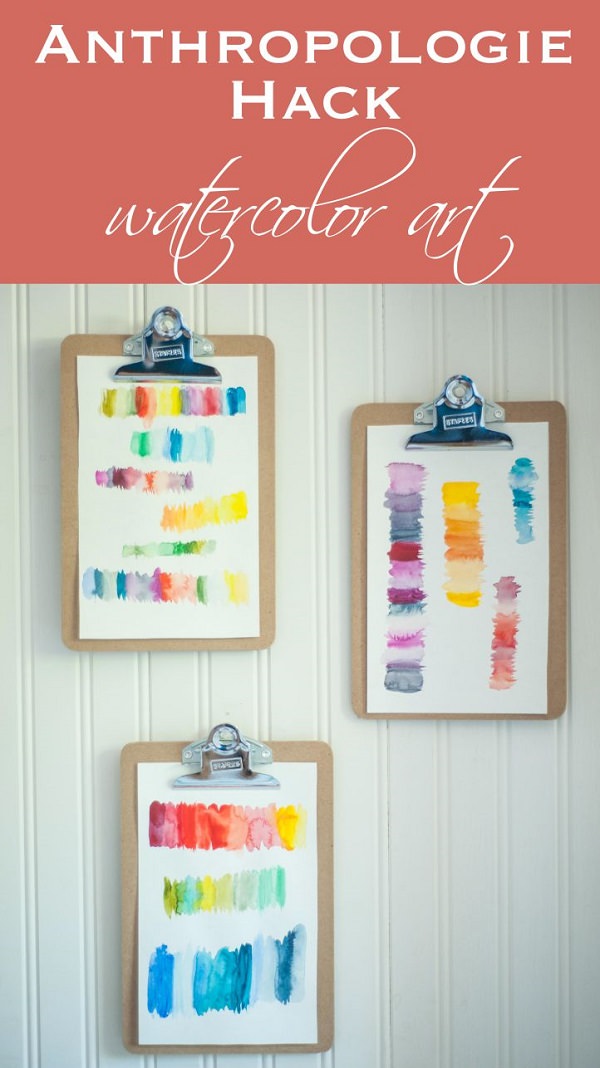 The whimsical beauty of these watercolor strokes creates visual interest when grouped together in an urban setting. And the best part is that you can work on it in leisure without worrying about perfection. Get complete instructions here.
10. Digital Delight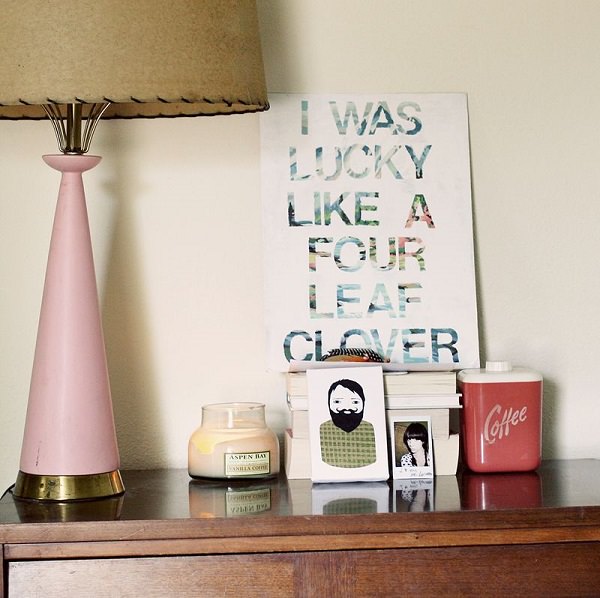 Eccentric and stylish, abstract wall art is the rage of the season. Take this idea for example- These vivid pictures make for a beautiful collage and breathe new life into a dull space.
11. Framed Photos Wall Clock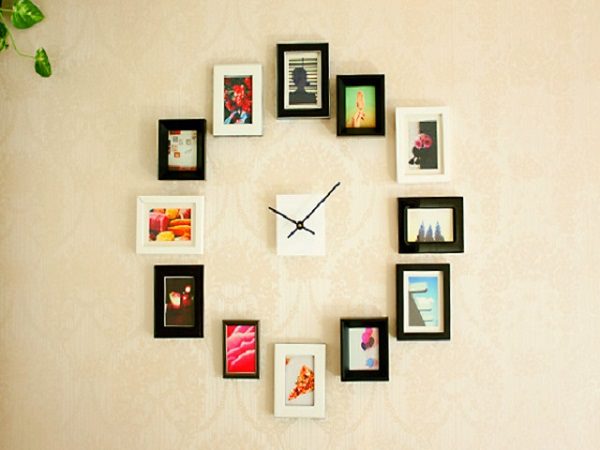 Looking at a wall clock has never been more exciting than with this wall-cum-artwork that flaunts your favorite shots and mementos. It's personal yet functional and makes for a nice accent piece for muted walls.
12. DIY Postcard Wall Art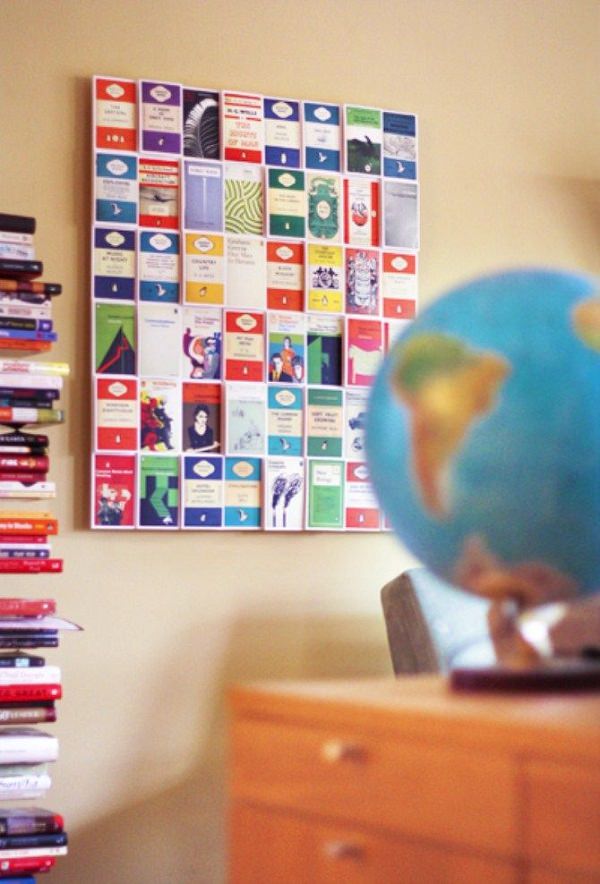 This neatly arranged collage of postcards is sure to become the focal point of any room. Don't hesitate to improve your own collection to make a display that will keep your guests raving about for hours.
13. Poetic Wall Art Installation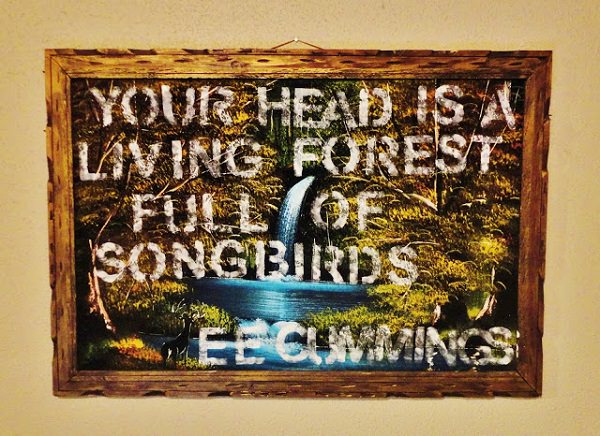 Who needs vintage paintings when you can just arrange some stenciled words together to create an enchanting piece of wall art that can even double as a nice gift for your loved ones.
14. Corner Heart with Photo Prints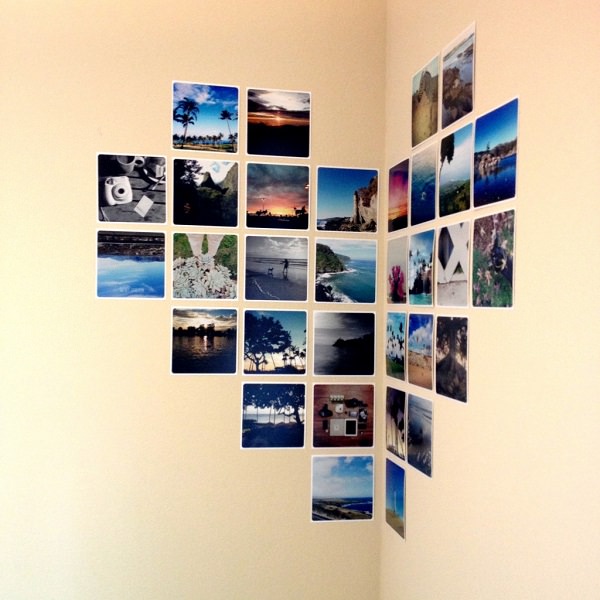 This DIY  couldn't get any easier. Just print out some snaps from your iPhone or downloaded wallpapers, and arrange everything in the form of a giant heart. And use a scarlet (or any neutral-colored) ribbon to define the muted colors better.
15. DIY Wood Slice Art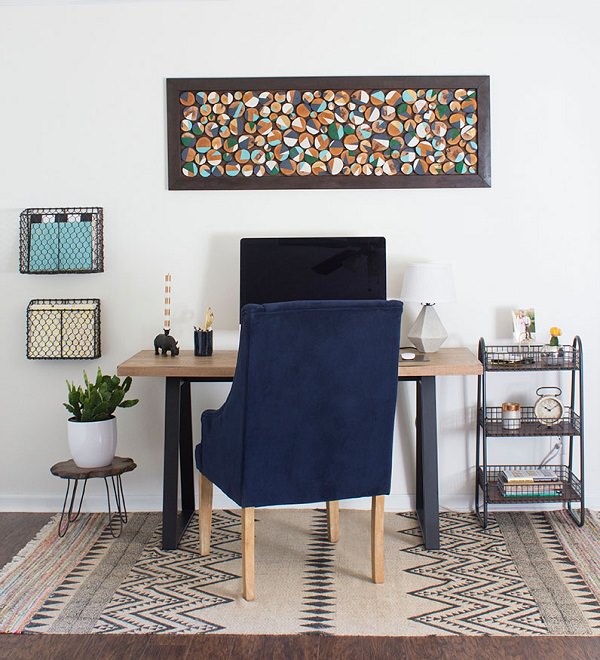 This nature-inspired wall art takes little to assemble and has many opportunities for easy customization to match the style of your home.
16. Coffee Stirrer Wall Art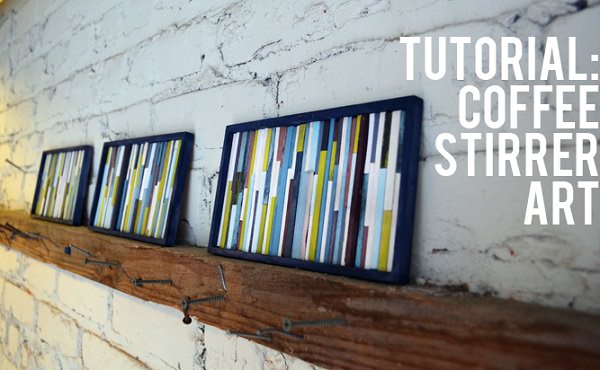 Next time think twice before tossing away those used coffee stirrers in the bin because these seemingly unflattering-looking objects can double as nice starting materials for a stunning wall art.
17. Buttons on a Wood!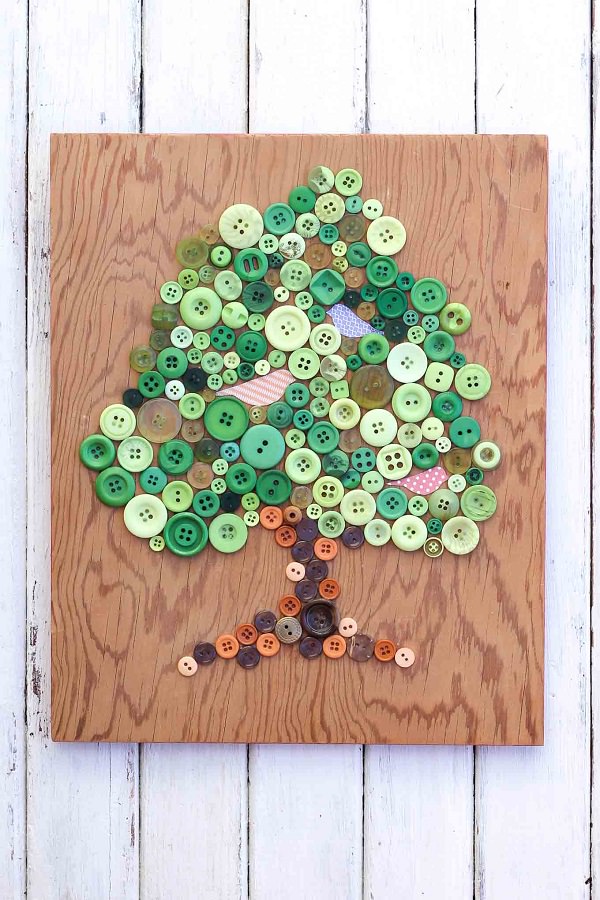 Even if sewing is not quite your thing, this elegant wall art idea will tempt you to sit down with some buttons and needle to whip up one this weekend.
18. Cork Wall Art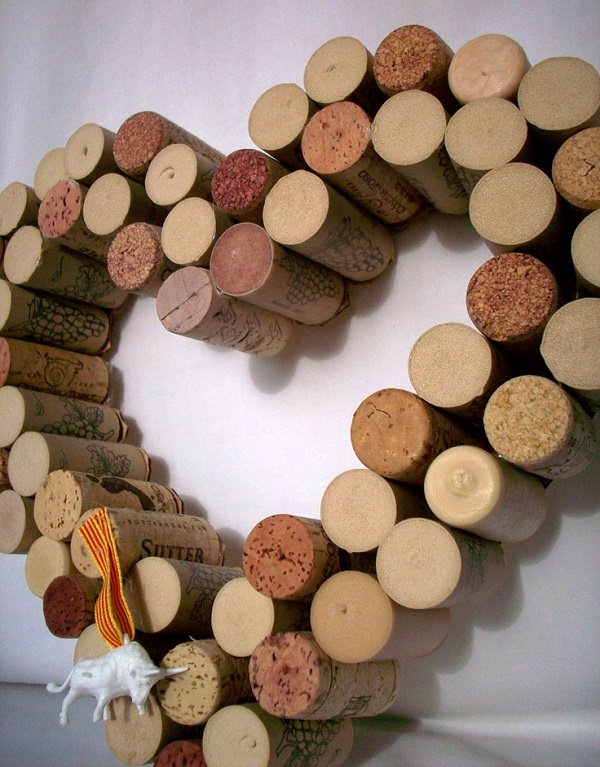 Admit it- buttons always bring out the child-like self in you. And if you think creating art with buttons is too juvenile, this DIY cork art idea will change your mind.
Gathering the corks can't be that hard, especially if you are wine-lover. If anything, this wall decor will act as a nice reminder of all the happy occasions you had opening those elixirs.
19. Framed Botanicals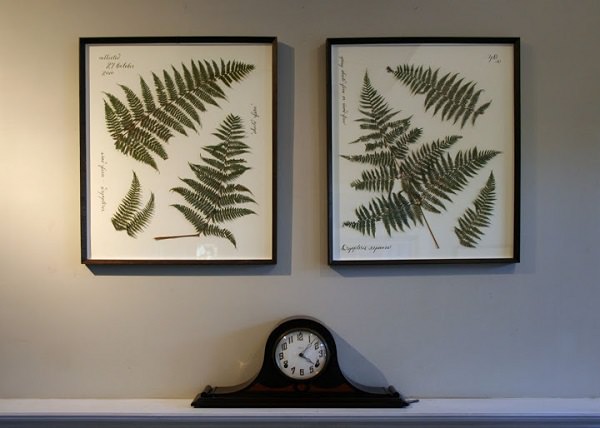 Now, this is for all you proud science lovers who don't shy away from showcasing your love for nature. Framed ferns and flowers offset the brighter tones in a space and evoke lovely, long-lost memories of high school. Get the tutorial here.
20. DIY Hexagonal Wall Treatment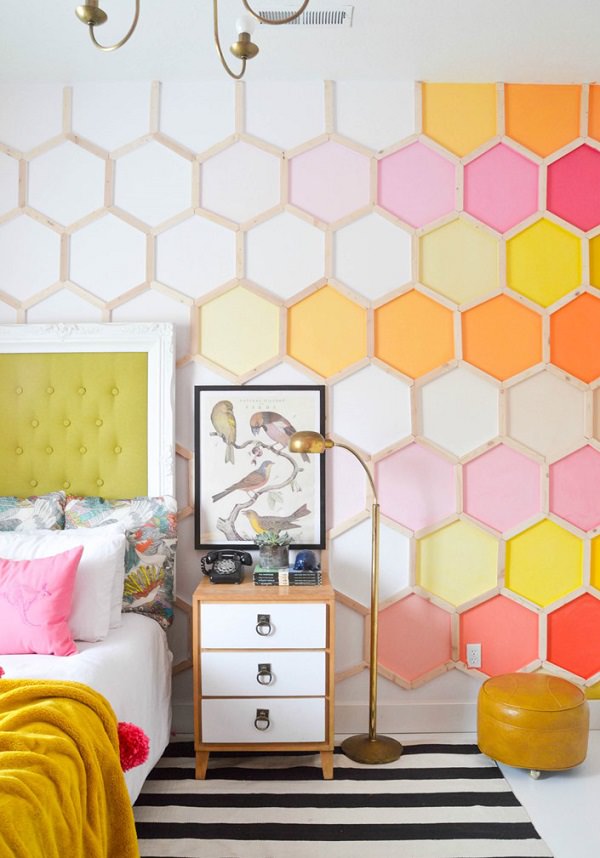 This DIY honeycomb wall  is a nice addition to a space-compromised room; it entails a refreshingly different geometric pattern in the world of circles and squares and adds textural interest to the room.
21. DIY Gold Chevron Painting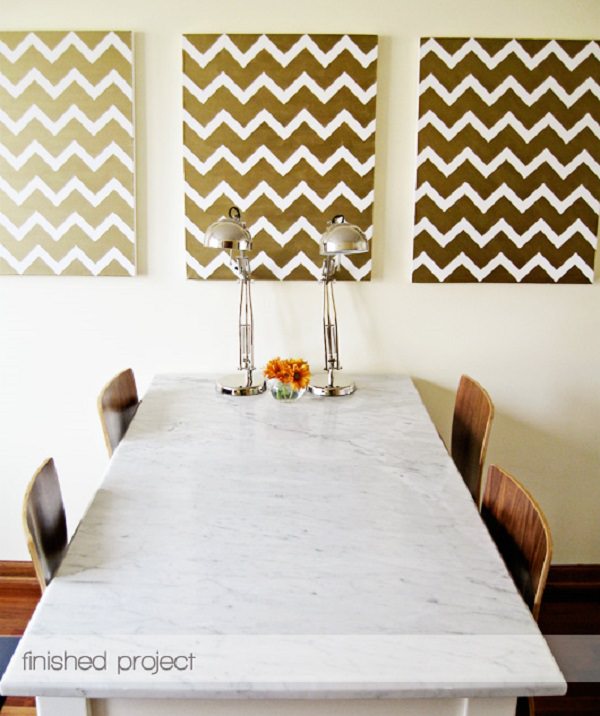 Zigzag stripes in metallic tinge make this chevron idea a must for every room in dire need of a budget-friendly makeover.
22. Framed Calendar Collage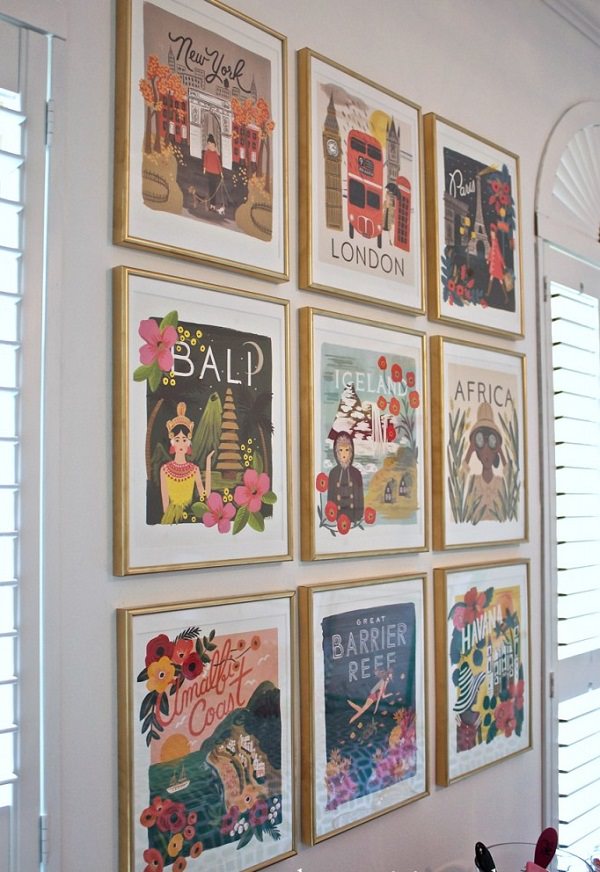 This lovely wall collage uses pretty pages of the calendar arranged in a grid format for a travel-inspired art.
23. Yarn Wall Hanging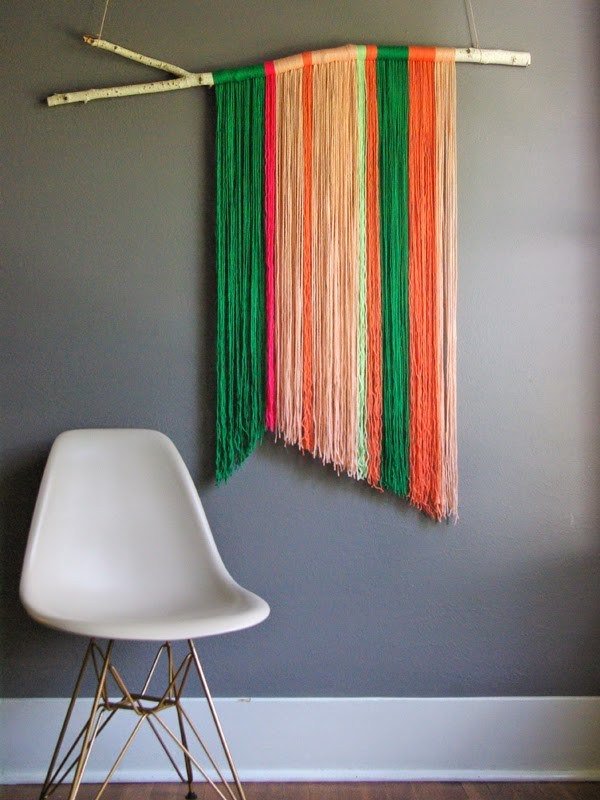 Multiple colors of yarn strands come together in this unique wall hanger to infuse a rustic touch to an otherwise modern space.
24. DIY Heart Wall Lamp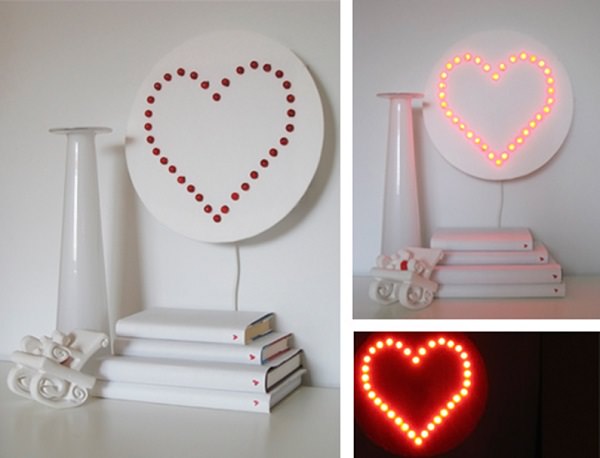 There is something very stylish about this DIY heart wall lamp. Make it extra special by arranging the LED lights to spell the name of your partner, or even your favorite quote.
25. DIY Pallet Living Wall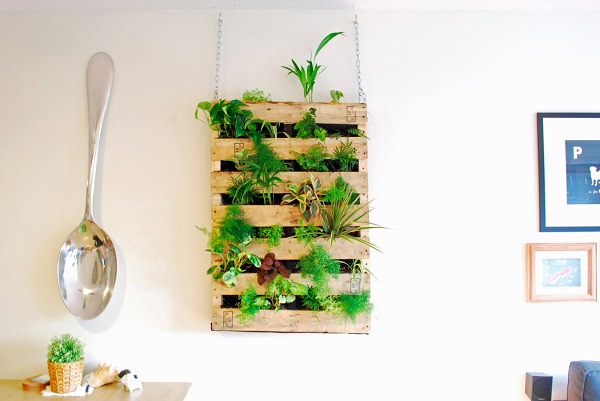 Offering a pop of bright green color, this living wall art infuses freshness and organic vibes to a concrete urban house. Also, it's eco-friendly, and the best part is that you can customize it to make a herb garden as well!
26. DIY Bright Light Installation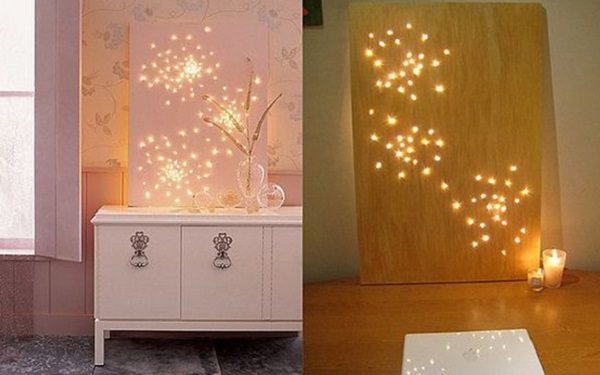 With holidays knocking on the door, this DIY project is just what you need to infuse some festive mood in your home. The quirky-styled lining of fairy lights makes it an enchanting art piece that acquires new life once the sun goes down. We suggest you use alternating red and green lights to exude a more jovial appeal!
27. Floral Wreath Guestbook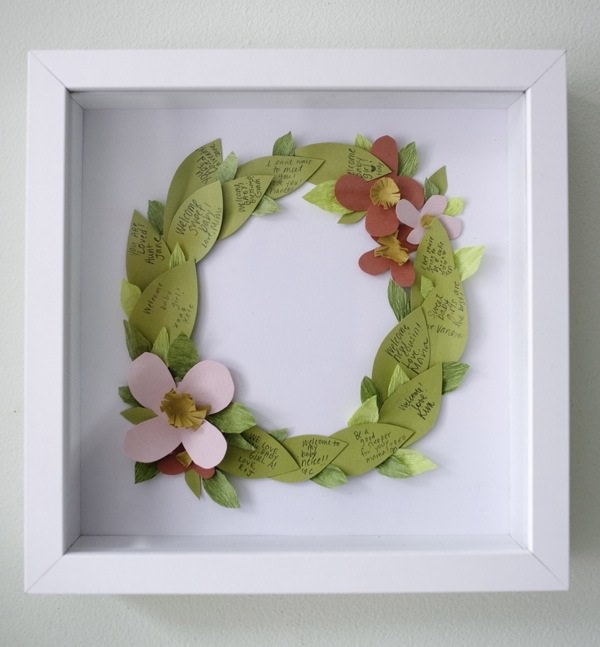 Collect well-wishes from guests in this beautiful floral wreath guestbook. The pretty exterior makes it an amazing wall art, while the uniquely designed pages are easy to arrange as well!
28. Patterned Wall Squares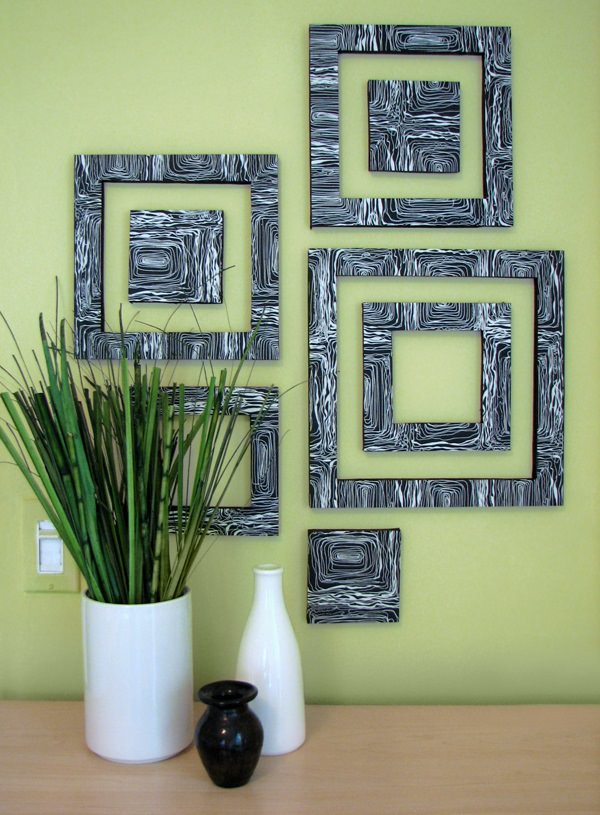 Lending geometric textures to the room is this stunning wall art piece that uses patterned wall squares in eccentric arrangements. Just make sure you select an intricate pattern that complements yet stands out against the walls of your home. And if you're done with squares and circles, try the honeycomb.
29. 3D Geometric Wall Art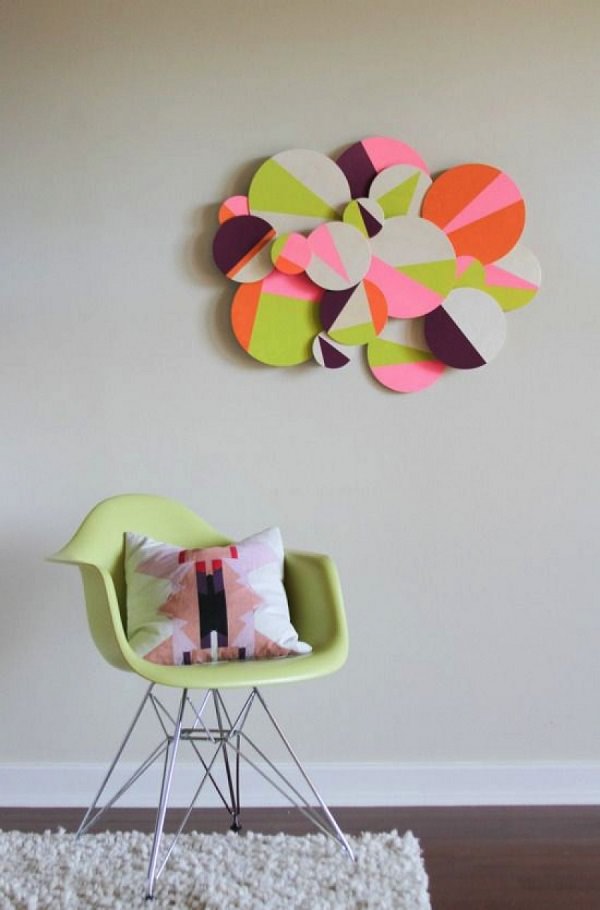 A 3D-art is the best way to immediately add drama and character to a dull space. This one  uses pastel-colored 3D circles for a contemporary setting.
30. Paper Scrap 3D Wall Art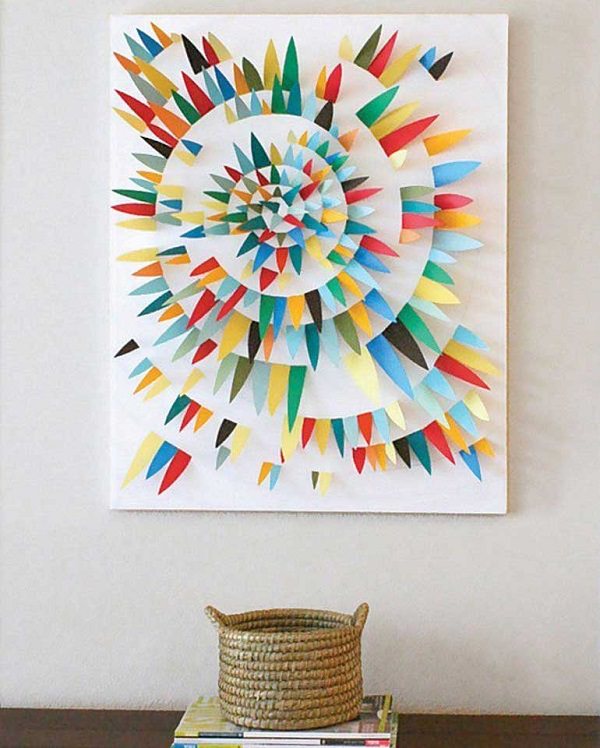 Oh, we just can't get enough of 3D art ideas, can we! This one is another cool idea that attempts to add depth and visual interest to space. It's one of those patterns that don't need to rely on bold, garish colors to sport a fun appeal.
31. Rainbow Paint Chip Art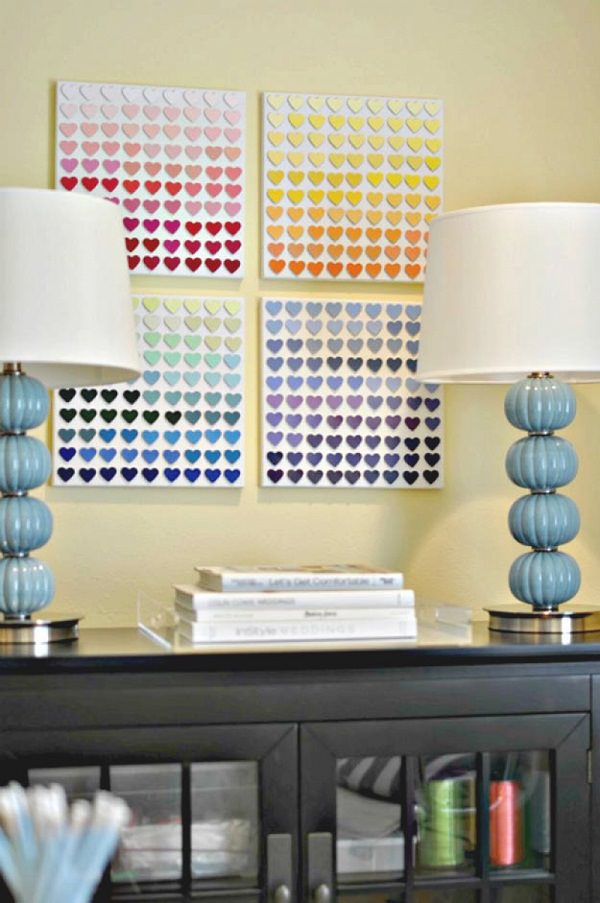 Trust me, this art idea is not even half as difficult as it looks. Just punch out a gazillion hearts in colors of the rainbow and stick them onto a square canvas. And don't stop yourself from experimenting with different patterns of your choice!
32. Framed Digital Art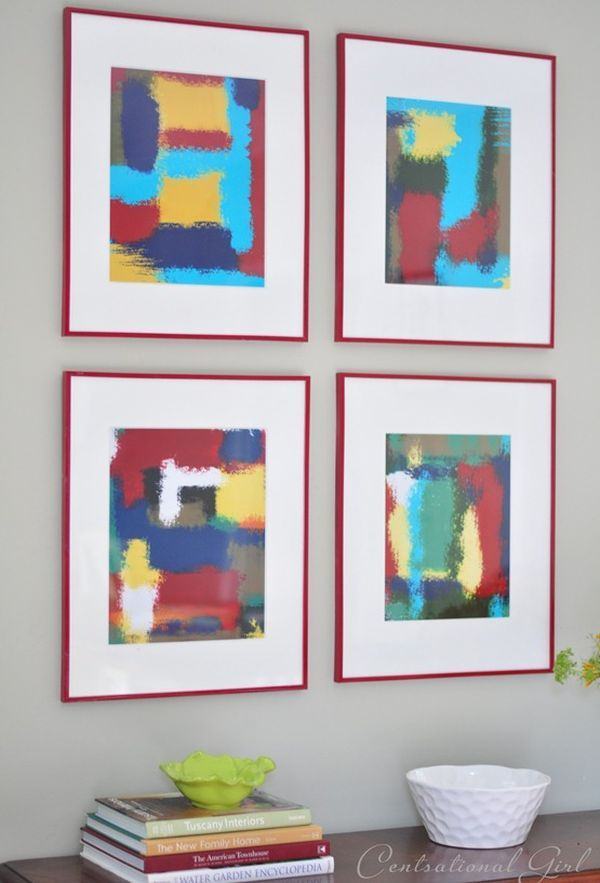 The next time you mess up a watercolor painting, don't fret, just rectify the mistakes in style and attach it to pretty fuchsia frames to make a modern and vivid art installation.
33. DIY Halloween Skull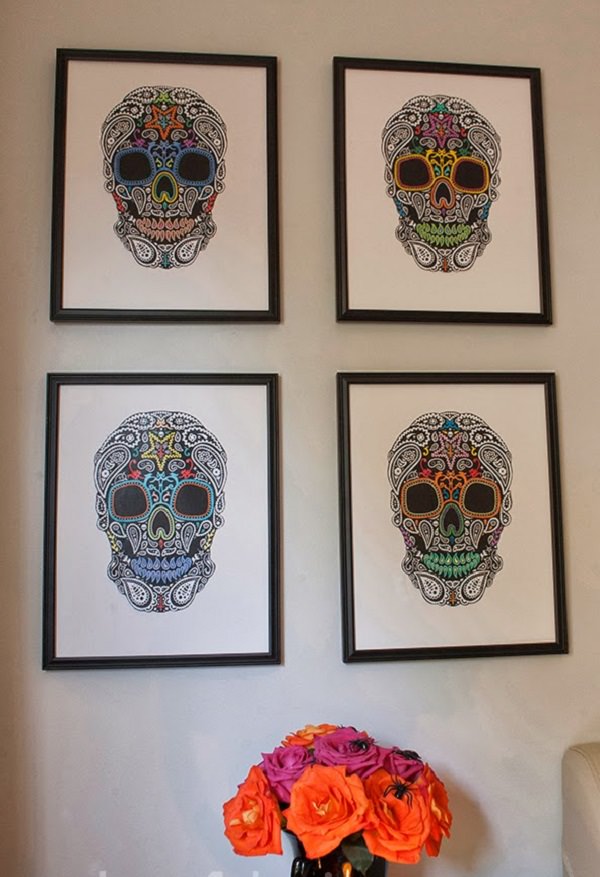 These stylish skulls will look good on your walls even after Halloween is over.
34. Customized Wall Art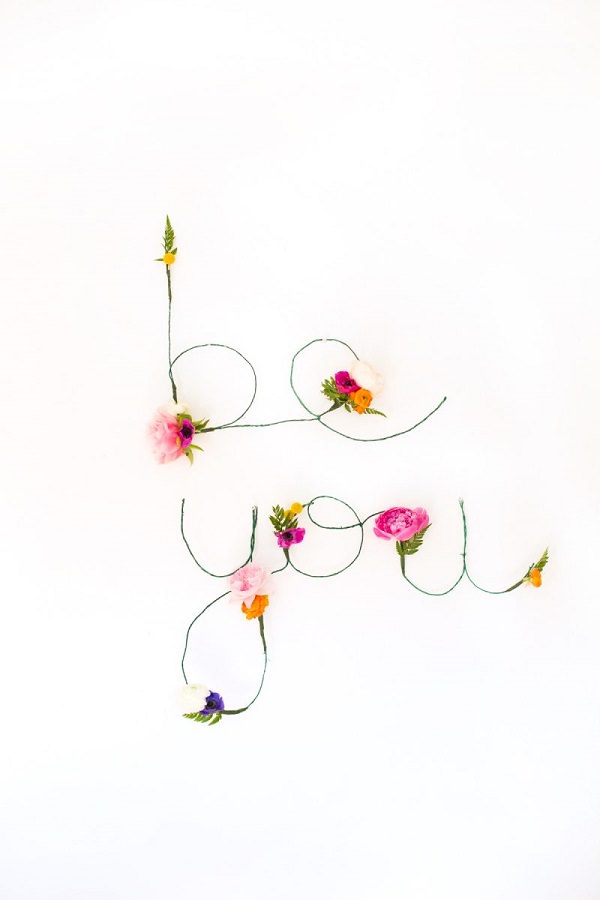 This unique and minimalistic combination of flowers and quotes (https://lovelyindeed.com/diy-floral-and-wire-words/?utm_medium=content&utm_source=roundup&utm_campaign=quote_art_06_08_16) is sure to light up your mood. Place it on the bedroom wall or any lonely corner.
35. DIY Plates Wall Arrangement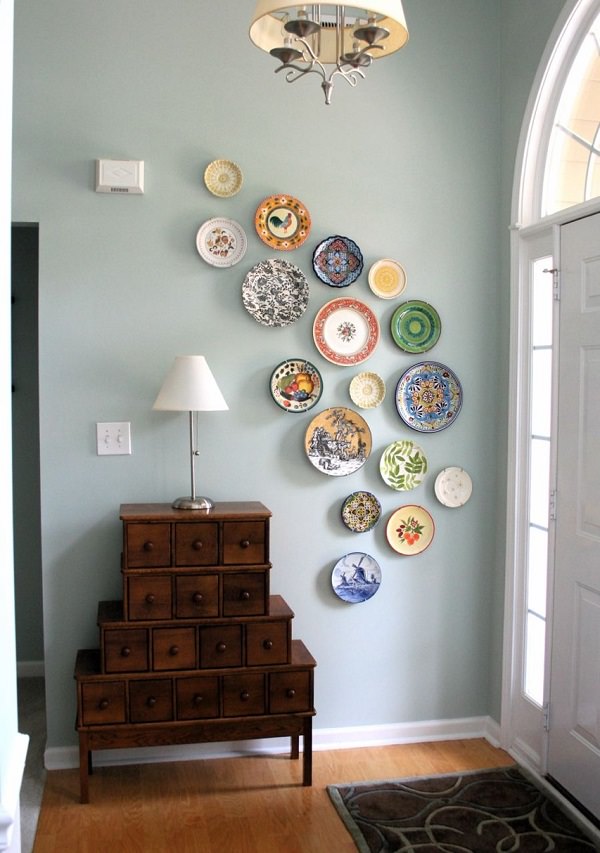 If you have got some fancy dishware in your kitchen, this DIY idea shows you how to show them in a dazzling wall display in the dining area.
36. Calendar Art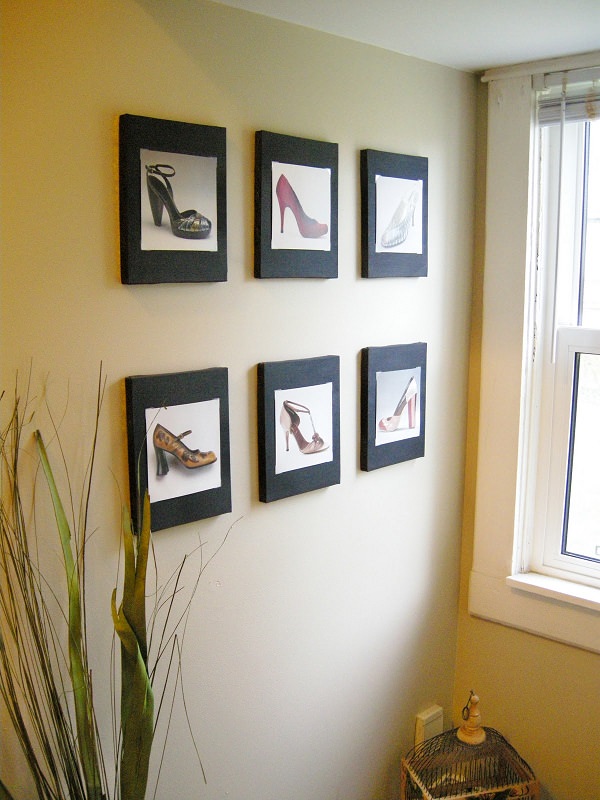 This quirky calendar art elaborates the heart-to-heart connection between a woman and her footwear collection.
37. Ceiling Medallion Wall Art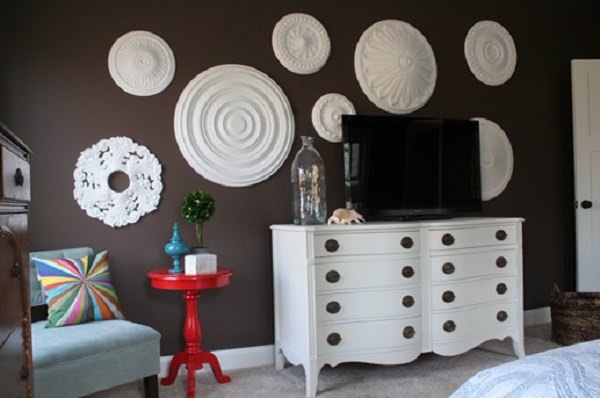 Can you imagine the look on your guests' faces when they see dozens of ceiling medallions grouped together neatly for the maximum visual appeal! We suggest you display the art on dark walls for a luxurious contrast in the bedroom. Get the look here.
38. DIY Threaded Heart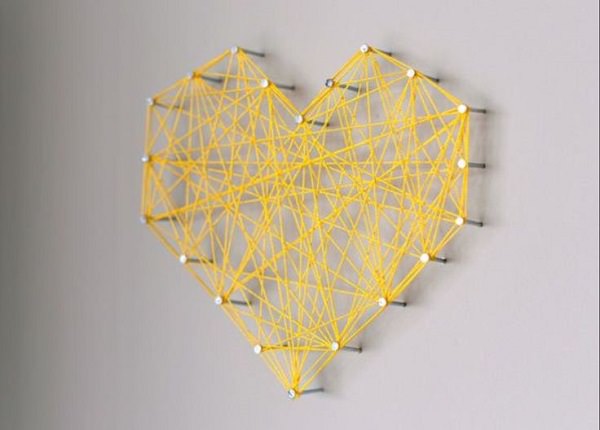 Connecting dots on a 2-D canvas is even more fulfilling that connecting them on paper. This suave wall art is easier than it looks and is sure to fool your friends into thinking you're a seasoned craftsman!
39. Simple Textured String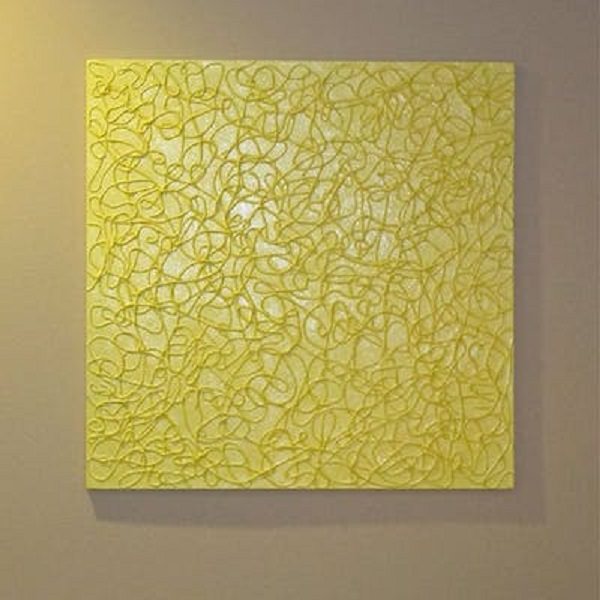 This standalone wall accent is a nice addition to offset the more flamboyant shades in a trendy room.
40. DIY Fish Scale Wall Art
Textured wall art in metallic shades is just what you need to kickstart autumn in style. Extravagant and impressive, this DIY project creates an optical illusion to make the room appear larger than it is.
41. Clothes Pin Mirror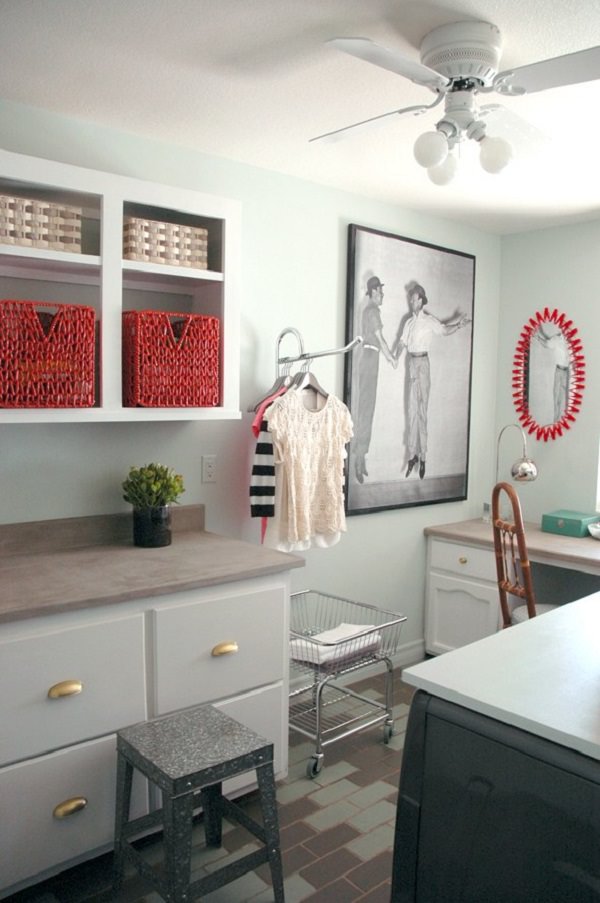 This DIY mirror framed by bright red plastic clothespins is not just for the laundry room but also great for any space that could do with some light and dimension.
42. Feather Wall Art DIY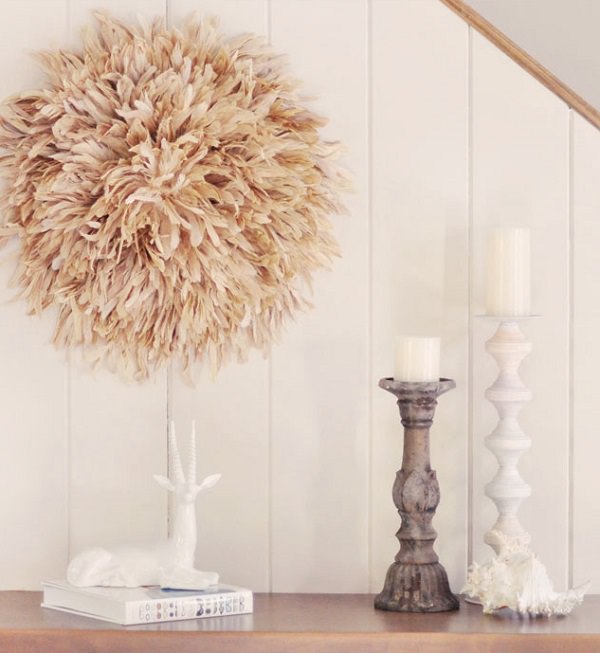 An African Juju Hat-inspired art is the ultimate mural for creating a textured look on the walls.
43. DIY Vintage Marquee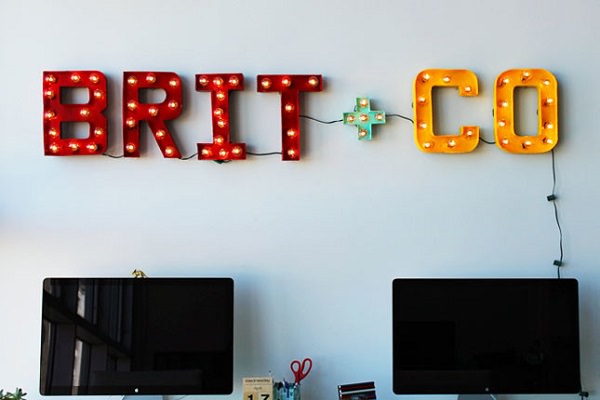 A grander and more modern take on the traditional marquee signs seen on circus tents and movie theaters, this wall decor spells out your name in bold, bright letters.
44. Retro Wood Wall Art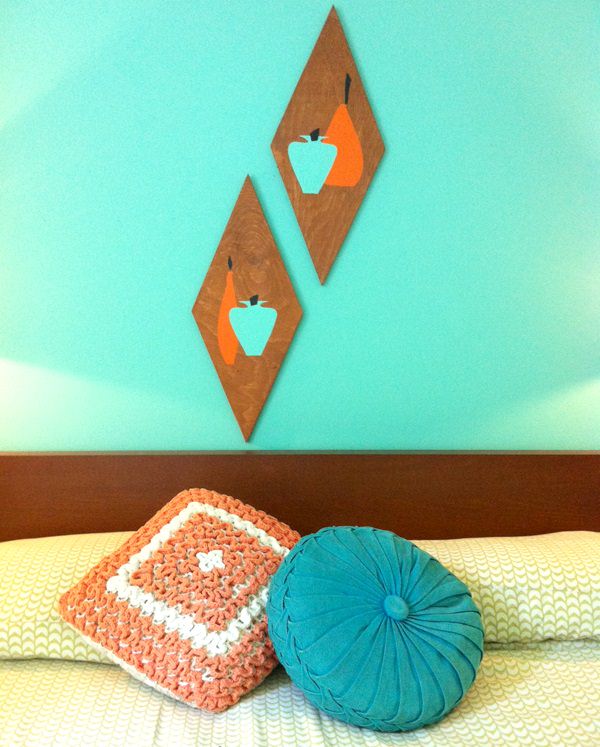 Wooden panels painted in subtle shades are reminiscent of the yesteryear and bring fond memories of Grandma to a contemporary living room. See the tutorial here.
45. Glow in the Dark Halloween Art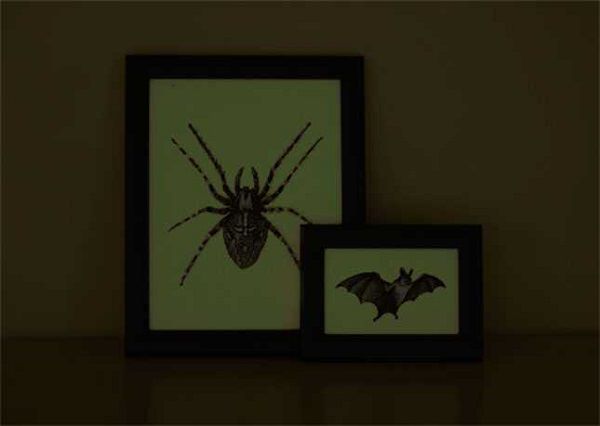 This gothic spider art looks normal in daylight but glows as darkness falls. Sure, the glow wanes in a few minutes but it's still fun and definitely a welcome change from the overly gaudy decor you find in the store.
46. DIY Polka Dots Wall Art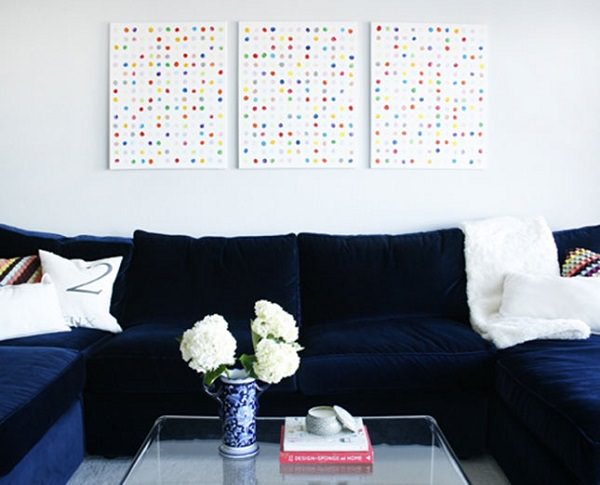 Made from cute polka dots printed with an upturned potato, this wall art makes you instantly happy the moment you look at it. What's more, it's a fun project to introduce the kids to watercolors.
47. Tulle Wall Art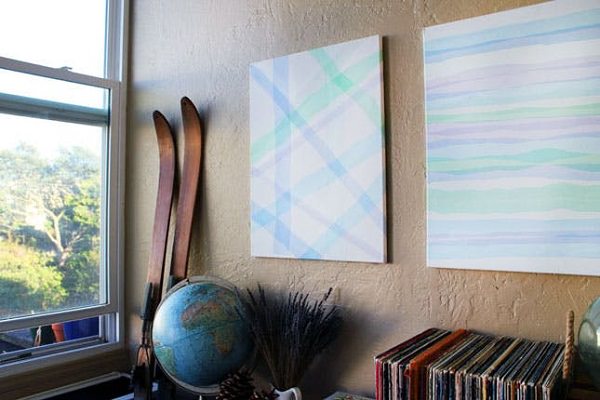 This intricately done tulle artwork makes it easy to fool the guests into believing you are a master painter. Experiment with contrasting colors of fabric to make a dramatic statement on boring walls.
48. Thumbtack Wall Art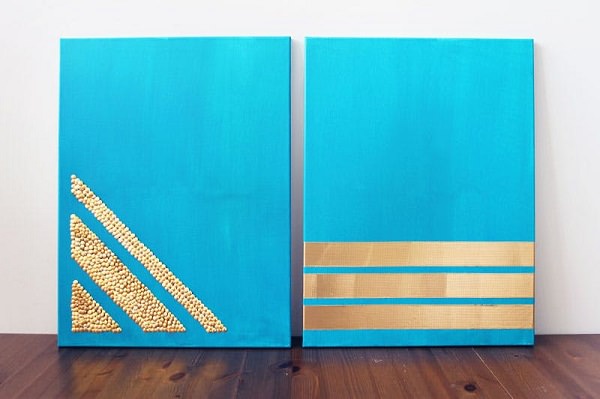 Simple office supplies like brass thumbtacks and golden duct tape can be used to create a chic art installment that is worthy of gracing your newly painted walls. Steal the look here.
49. DIY Doily Wall Art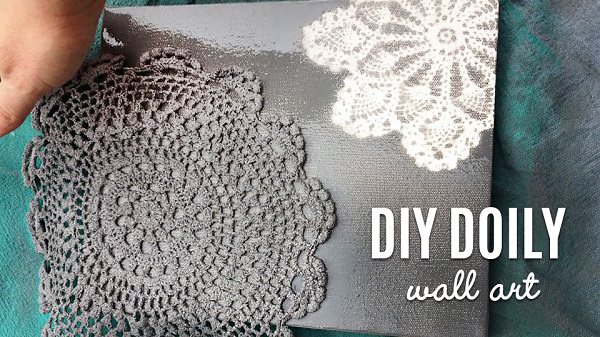 This cool idea is for all those thrifty people who want to decorate their home on a budget. You can go monotone for maximum visual impact or mix and match shades to create an accent piece that stands out from the rest of the room.
50. Wall Art Sconces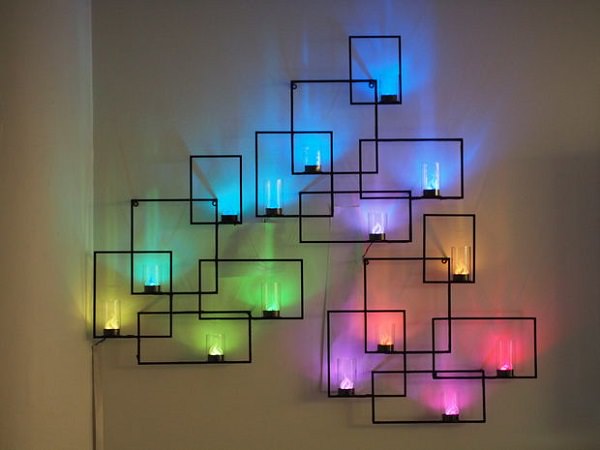 The thing about metal wall sconces is that they exude a nice modular look that blend well with any setup. Here, LED lights are used to create a warm glow at night.
51. DIY Framed Glitter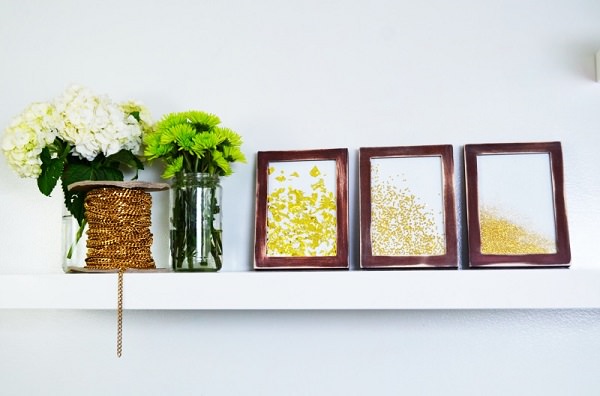 This DIY proves that it's okay to go overboard with glitter. And the possibilities are endless with this one; you can go large-scale with a single color, or mix varying shades to enhance the drama quotient.
52. Washi Tape Tree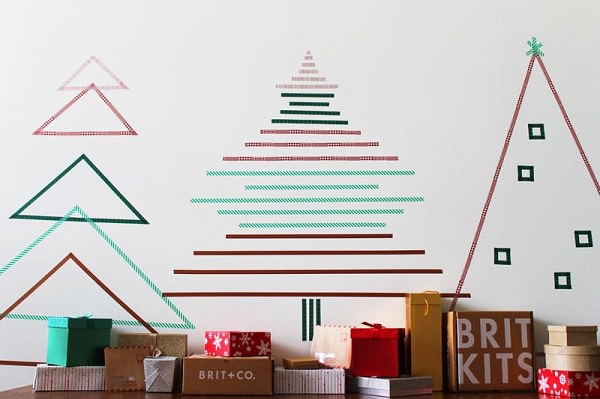 Washi tape is here as a nice alternative to a full-fledged Christmas tree for people living in studio apartments. The best part is that there are no pine needles to clean up later. See more at here.
53. Tissue Paper Pom Poms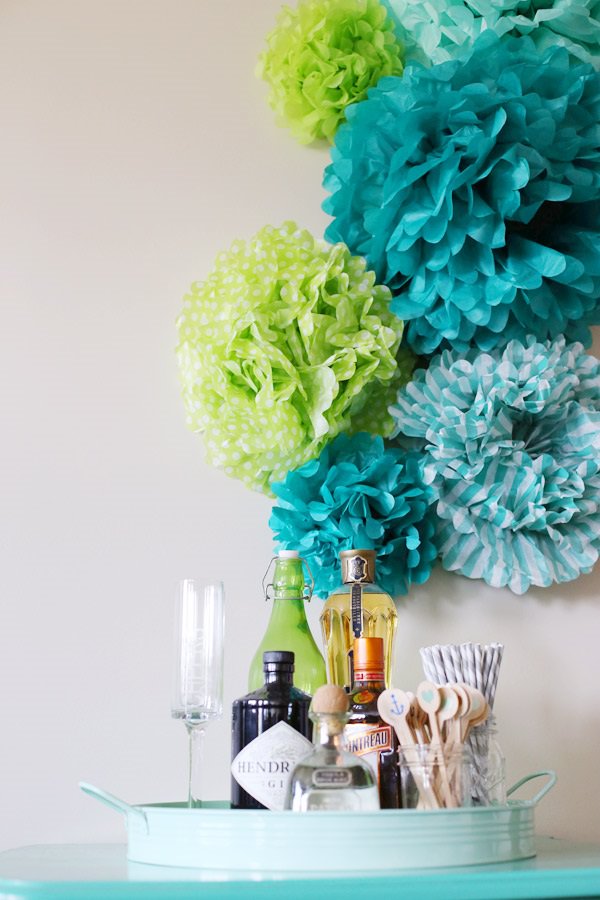 Fancy pom poms made of brightly-colored tissue paper makes a great display. Check this easy DIY idea.
54. Chocolate Wall Art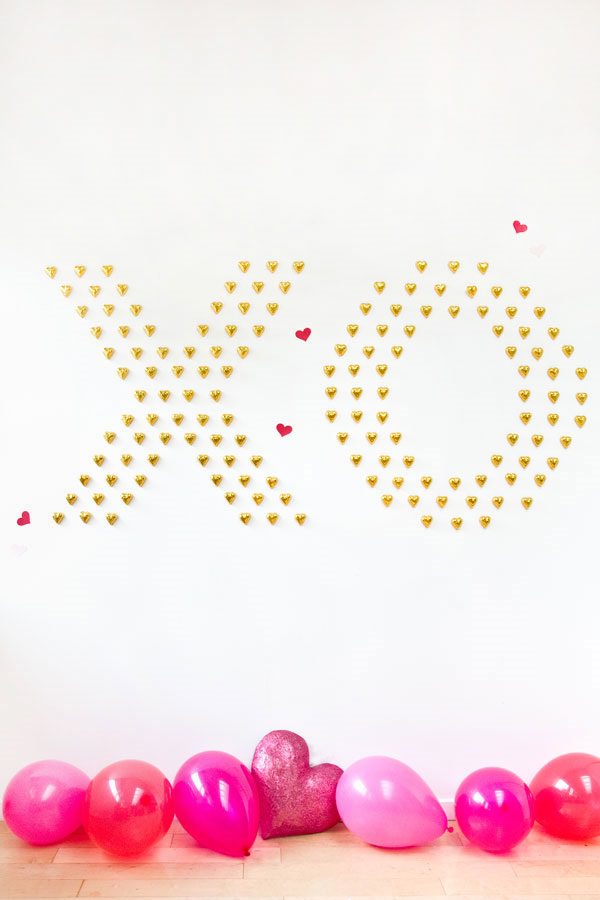 We can bet that this is the sweetest mural you will ever come across in your life! Ideal for Valentine's Day, this edible work of art uses nothing more than glue dots and cute chocolates to look fabulous.
55. DIY Belt Memo Board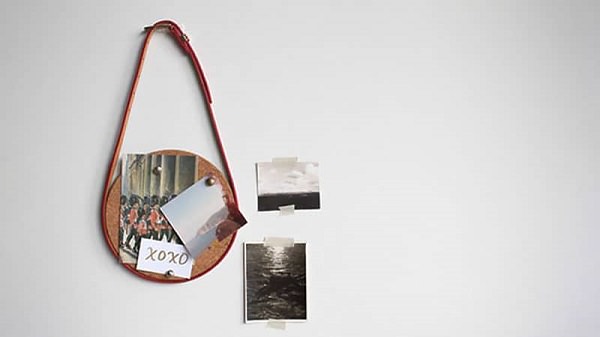 This DIY belt board oozes a smart, equestrian appeal that creates a shabby chic environment similar to a farmhouse.
56. Gold Dipped Feathers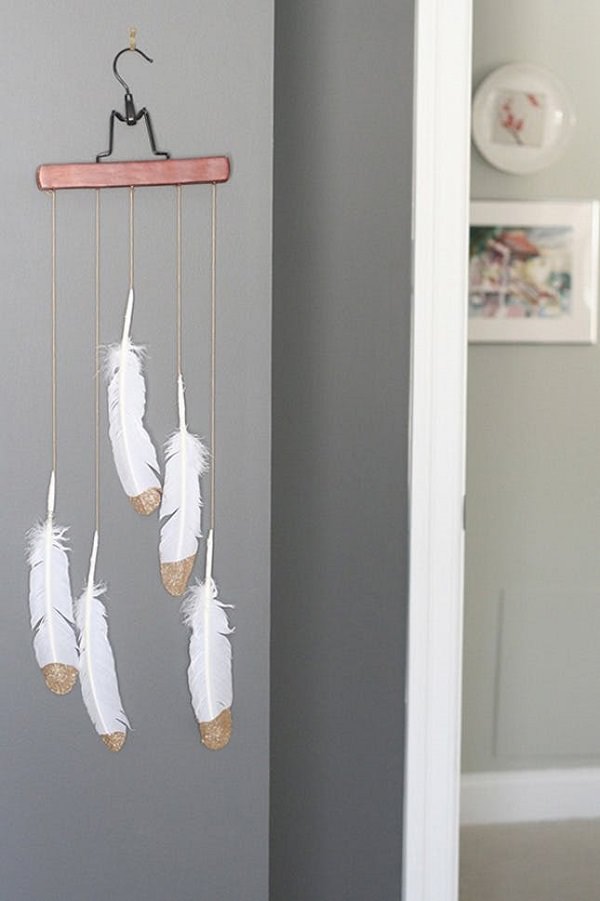 The beauty of this DIY is that it's easy and cheap. You can make this as a nice little mobile for the ceiling or hang it up as a 3D artwork on the wall. Either way, it makes an impression.
57. CD Case Craft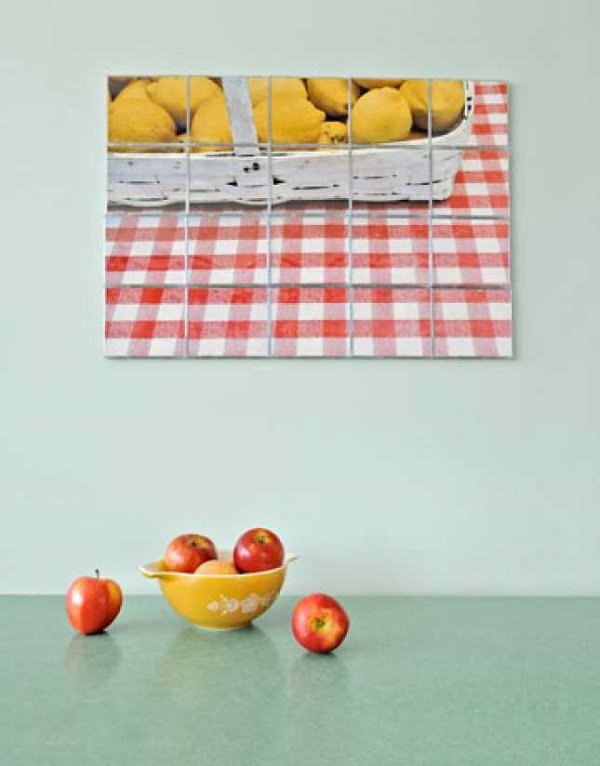 Who knew CD covers could be so chic! Instead of tossing away those plastic cases in the bin, where they are most likely to rot for decades -mount them on the walls with this simple and resourceful DIY idea.
58. Scrabble Tile Wall Art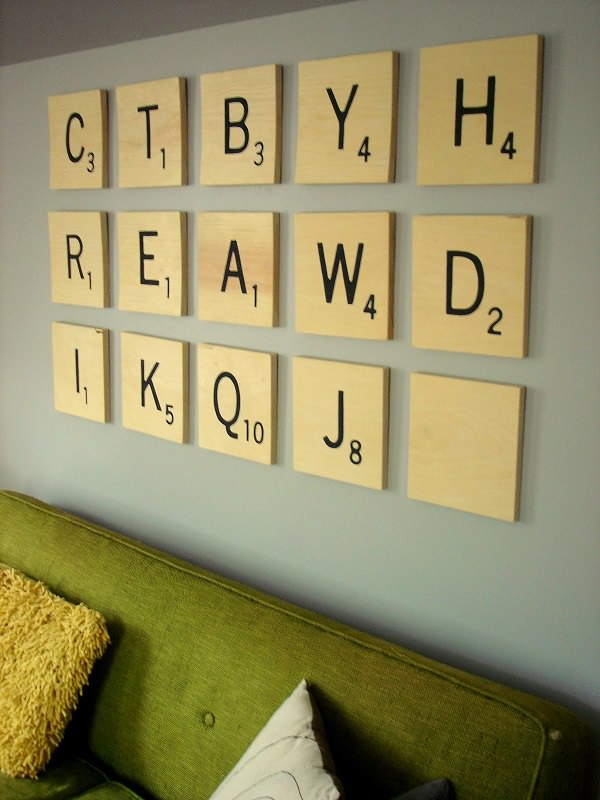 Scrabble aficionados and grammar Nazis, this DIY has your name written all over it. Just get hold of some wood cut in the shape of squares and paint out some tiles or go by your all-time favorite words.
59. Thrift Store Art Update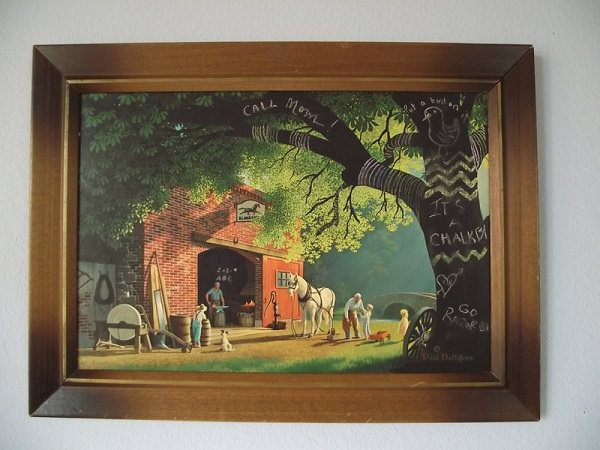 Adapting the art of color blocking to the fullest is this cool and easy DIY that shows you how to give your thrift store finds a modern update to create something that is actually worthy to grace your walls.
60. Light Up Sign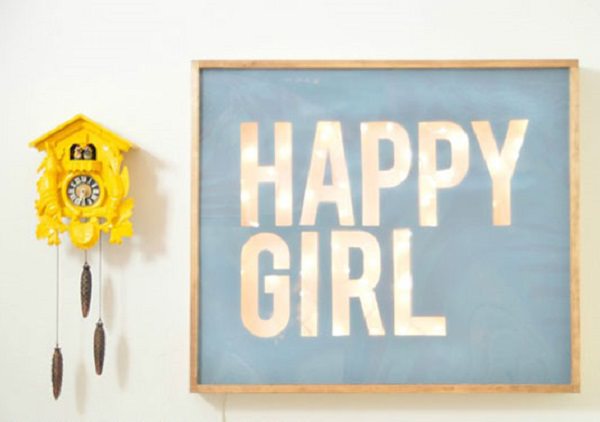 Something as simple as frosted spray paint on glass creates a surreal feel in this light up art that is sure to make your room appear warm and inviting with a soft glow.