Mold destroys your home, belongings, and health too. Learn all about the effects of mold and how you can use baking soda and vinegar for mold!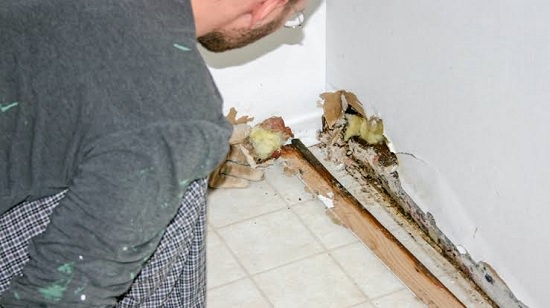 What Is Mold
A type of fungus that grows in damp conditions, mold thrives in humidity and can grow both indoors and outdoors. Forming spores that travel in the air, mold can grow and spread at a rapid pace in an area. The spores can survive in the dry atmosphere as well; once the humidity returns, the spores become active agents again and the mold returns. It is thus essential to get rid of mold as soon as you detect it.
Why Is Mold Dangerous?
Mold can pose a series of harmful effects for your health and is especially detrimental to asthma patients. For people who are sensitive to mold, the related health problems can have severe and intense long term affects as well. Asthmatic patients, people with suppressed lung diseases, and chronic obstructive pulmonary disorder can even face difficulty in breathing and severe asthma attacks.
Wheezing, coughing, stuffy nose, skin and eye irritations, and respiratory problems are some health conditions caused due to mold. There are also sleep-related problems like sleep apnea, insomnia, and fatigue caused due to it if you are sleeping in a room with the fungal presence.
The fungal growth is even more dangerous for infants as it poses risks of memory loss and pulmonary hemorrhage.
Where does it grow?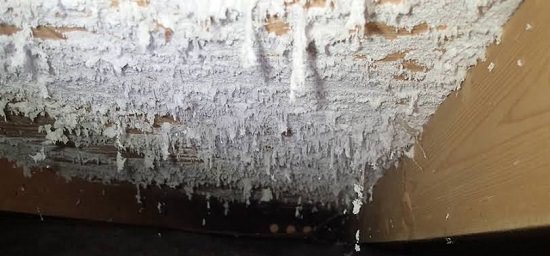 The key ingredients that support mold growth are mold spores, darkness, warmth in the air, and oxygen. As soon as moisture enters the environment, the surface starts to encourage its growth rapidly. The most common places where you can find the mold at home are bathrooms, under the sinks in kitchens, on wallpapers, under the carpets, in closets, behind and in the furniture, damp clothing, and any area in the house where there is humidity. Even as mold is easy to spot, water pipe damage encourages it to grow in areas not visible to the naked eye in the early stages, like inside wooden boards and walls.
There is a musty smell related to mold, which usually is the first sign and indication of the presence of mold in your home. Also, it is best to follow mold prevention practices at home. Some of them are as follows:
Regular plumbing checks to find out any form of water damage.
Checking and maintaining proper ventilation in the home.
Controlling the humidity levels, especially in basements and closed rooms with no windows with dehumidifiers.
Painting walls with mold-resistant paints.
Baking Soda And Vinegar For Mold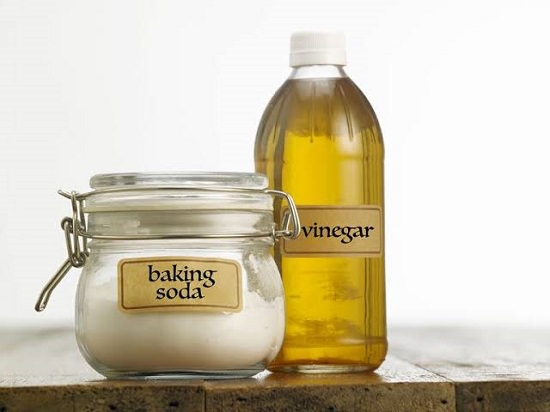 Baking soda and vinegar are simple and non-toxic pantry items that can help you get rid of mold. The acetic nature of vinegar kills around 89% of the mold species effectively, and baking soda, a natural disinfectant, absorbs any moisture on and around the surface, putting a halt to the growth of the fungus. Baking soda also acts like a deodorizer that gets rid of the smell left by the fungal growth.
For the cleaning process, make sure you wear a mask, gloves, fully-covered clothes, and eye protection goggles to avoid any skin irritation.
Ingredients (increase quantity as per requirement)
1 cup of baking soda
1/2 cup of vinegar
1/2 cup water
Method:
Mix all the ingredients to form a baking soda paste.
Spread the mixture on the affected surface and let it dry.
Scrub thoroughly till the surface gets clean of mold.
For creating a baking soda spray for kitchen and bathroom tiles, mix 1 1/2 cup of baking soda in 1/2 cup of dish wising soap, 1/2 cup of water, and three tablespoons of vinegar. Pour the solution in a spray bottle. Spray and let the solution dry. Scrub and wipe the surface with warm water regularly to keep the tiles mold-free and clean.
Cleaning with baking soda and vinegar can be beneficial for your home. Let us know if you know some other pantry items that can help remove mold.