Get the most handsome face and avoid dull and dry skin with all natural skin care for men. We've listed the best tips and recipes to get you glowing skin!
The caution stickers on delicate items say "handle with care" and the same applies to your skin. It needs special care so that it stays fit, moist and healthy. Not being stereotypical, but the majority of the men don't take care of their skin because it might make them unmanly or womanly, perhaps? That's what they think. However, it's highly mandatory to take care of the outer layer of your skin just like a baby.
Our skin dries because of insufficient moisture due to certain soaps or liquids that contain harmful chemicals that strip off the essential lipids required. Our outermost layer of the skin keeps the overall skin hydrated while regulating our body temperature. Healthy skin can fight the signs of aging and any wound can heal faster. Any man who wants to appear charming or handsome, skincare is vital because an unhealthy skin produces swelling, dullness, pimples, acne and the skin loses its elasticity which would always insist you hide your face. Especially those who want to pursue modeling or acting in particular as their career should definitely be concerned about their physical appearance.
In fact, wherever you go, be it in an interview or some stage performance, it's the outward appearance that captures the audience's attention at first go. Although, it's not just to look good but most importantly to stay healthy within. Sometimes it may appear to be fit but for your knowledge, the skin cells shed almost every minute. Every skin type is different depending upon the genes, upbringing, and diet. For example – a person having oily skin may put a lot of effort to make it look good while another person's skin appears to be great even though he/she put no effort at all. No matter what type of skin you have, you should always take care of all your body parts and not just the skin. Ultimately, self-care is a divine responsibility.
All Natural Skin Care For Men
There are various natural skin care for men tips that you should follow to make your skin glow and healthy. Using natural products is a great idea because it has no side effects and gentle on skin.
1. Cleanse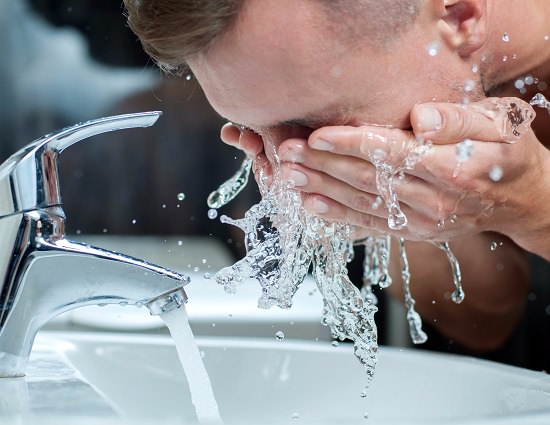 Many men who go to the gym daily or do any kind of workout, should always clean their face with warm water or better take a shower which would fetch out all the dirt and sweat from the pores of your skin. Do not apply any kind of soap or face-wash because most of them contain chemicals. But you can always go for natural products or herbal face washes, although they are not so pocket-friendly you can try to DIY them.
Apply some natural face-wash in a circular motion to your skin and massage to open up your pores. Now wash your face with cool water as it will shrink the pores of your skin. After washing your face gently tap with a soft towel and not a harsh one because it can strip off important lipids from your skin. Also, long hot showers remove oils from your skin. Hence, limit your bath time.
2. Moisturize
After taking a bath, always moisturize your skin with a herbal cream or shea butter. Shea butter is a fat that is extracted from the nuts of the shea tree. It has high concentrations of fatty acids and important vitamins which makes it an ideal product and also has anti-inflammatory properties. It literally soothes up your skin and makes it softer.
3. Sunscreen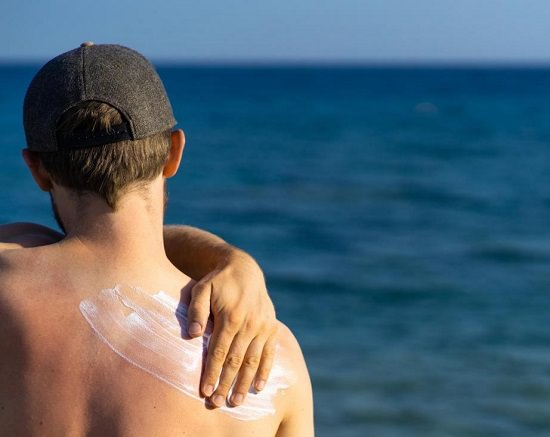 During summers we get exposed to UV rays and can get ourselves tanned or catch certain skin diseases too. Applying sunscreen is one of the best ways to protect yourself. If not, use sunglasses, wear full sleeves shirt and just cover yourself completely until you reach your destination. Apply UVA protective lip balm to help yourselves.
4. Natural Face Mask
Working men may have at least one or two days off in a week which should highly be devoted to the skin. Take 1 tablespoon of yogurt and add a pinch of turmeric powder to it. Then add ½ tsp of gram flour to it. Mix it properly and make sure it's consistency remains a bit thick, similar to toothpaste. Apply it to your entire face and leave it until it gets dried up completely. It may take 20-25 minutes to dry completely. This paste, if applied once or twice a week, can help to de-tan your face and helps you to acquire healthy skin with a natural glow.
5. Natural Face Wash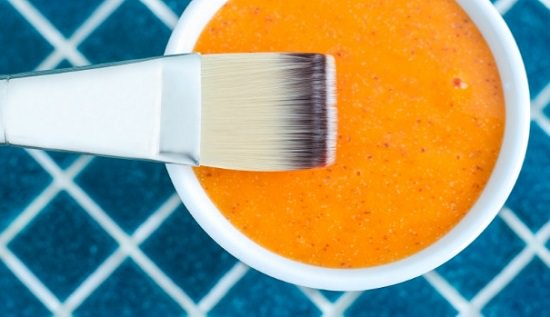 After eating an orange, don't throw off the peels. Instead of sundry them and make a powder of it in your grinder. Add some yogurt to it and apply it to your face. Leave it for 20 minutes approx. It can act as a natural face-wash before going to any party or occasion. You can store this orange peel powder in bulk to use it anytime for instant glow in the future.
6. Coconut Water
Drinking coconut water and fresh real juice daily keeps your skin highly healthy. It rehydrates your skin instantly. It keeps your skin soft because it has all the important vitamins and minerals and other nutrients that are required for healthy skin.
7. Fruits And Vegetables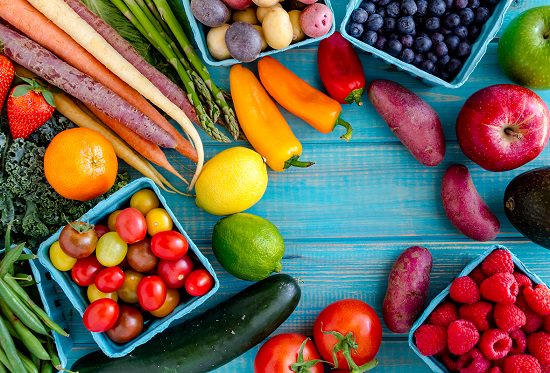 Consuming lots of fruits and vegetables like carrots, tomatoes, avocados which are rich in vitamin E, papaya, spinach, etc are important for skin cells development and healthy skin tone.