Follow any or multiple of these new year's door decorating ideas and enhance the look of your entrance or room doors with the feel of a new beginning! Keep reading to know more.
1. Penguin New Year Resolutions
This new year, transform a whole door to write down the new year's resolutions and goals. You can do this with your family or as a fun activity in schools. It will be a reminder as you go through the year and will bring everyone together.
2. Clown New Year Resolution Door
Another idea for writing down the new year resolutions with everyone is to stick these clown shaped notes on the door and write down your goals for the year. This door is a great idea for your kid's room door or as a fun classroom door.
3. Pacman Themed Goal Door
You can use this Pacman-themed door to write down your goals in small sections inside the yellow dots and move the Pacman as you keep on accomplishing them. This is a fun and unique way of reminding yourself about the goals and works as a motivation booster as well.
4. Year Gigits Hangings
A sweet and simple way of decorating the door, without making it too extravagant is by hanging the new year digits on the door. Add some sparkle on the digits for highlighting them. Besides, try to use thick ribbons and make sure you add a little weight to the digits by layering with cardboard or paper to avoid them flying every time you use the door.
5. New Year Banner
Instead of simply hanging a 'Happy New Year' banner on the door, add some other decorations as well to accentuate it. These decorations could be round papers, stars, snowflakes or any other shape you like. You can use a contrasting color palette to suit the door and make it stand out!
6. New Year's Door Decorating Ideas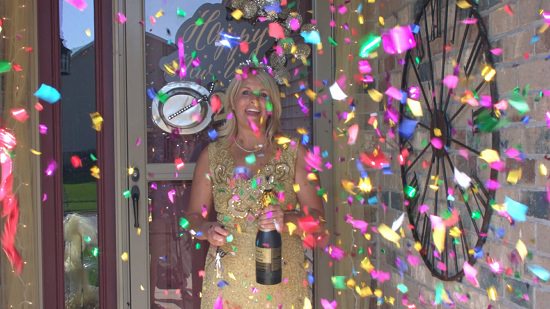 This tutorial shows a complete look to decorate your front door. Start with adding a tulle garland around the door, followed by a glittery topiary. Once done, add a shiny new year door hanger. You can add an antique wall on the side of the door for a more complete look.
7. Extravagant Door Décor
Welcome the new year with this extravagant door décor using organza fabrics and other nice detailing such as silver ribbons, small clocks and shiny paper. Add some extra decorations with year digits or dummy gift boxes covered with shiny wrapping paper.
8. Light Up Door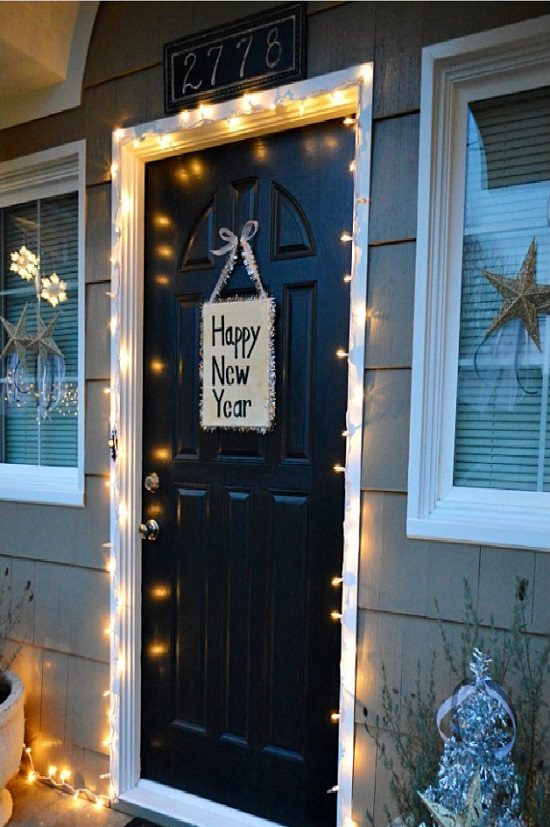 A simple yet beautiful way of decorating the door is by hanging fairy lights around it. This idea will brighten up the door without much effort. Add a 'Happy New Year' hanging on the door, that you can buy from the store or make one at home.
9. Winter slide door
Mix together the winter and new year door decoration with this painted door wall of penguins sliding on snow. This is a great décor idea especially for the kids room. It brings together both the fun of winter snow and the happiness of the new year.