Learn how to create amazing DIY art, accessories, and other craft creations with these perler bead ideas and inspirations.
1. Perler Bead Necklace
Get a step-by-step tutorial for creating this interlocked chain beads necklace in this video. This necklace can be a fun addition to a funky yet stylish attire.
2. Perler Bead Diary Cover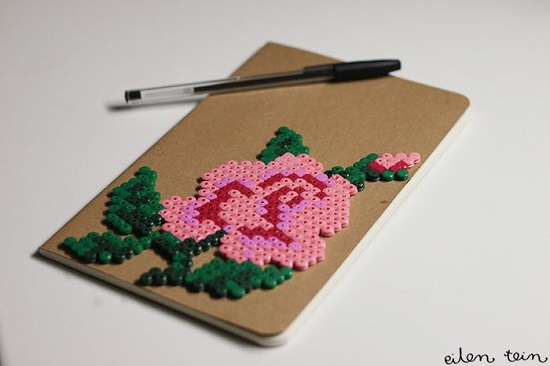 Take inspiration and create your own diary or book cover with perler beads. In contrast to the rose pattern in this DIY idea, you can also create different patterns and designs for a personalized cover.
3. Perler Fruit Fridge Magnets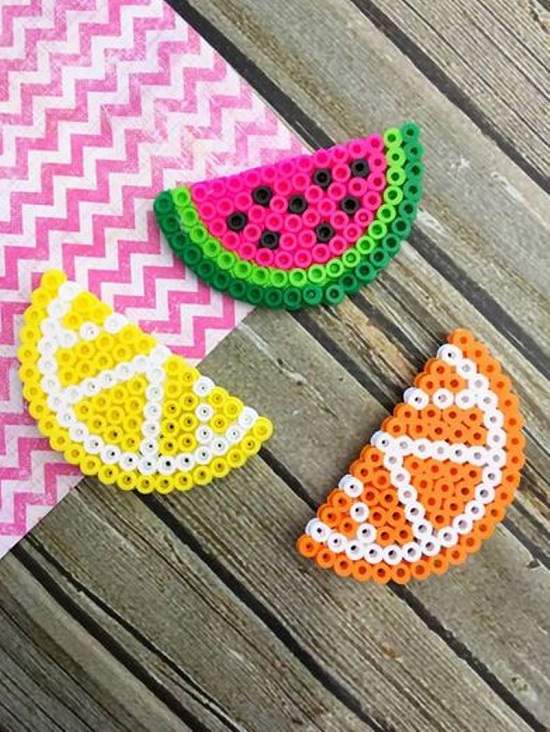 Learn how to create beautiful fruit magnets with perler beads for your fridge here. In addition to being a vibrant addition to your kitchen decor, this DIY craft is an excellent way to pin up your notes, kid's art, and To-do lists right where you can see them.
4. Chevron Perler Necklace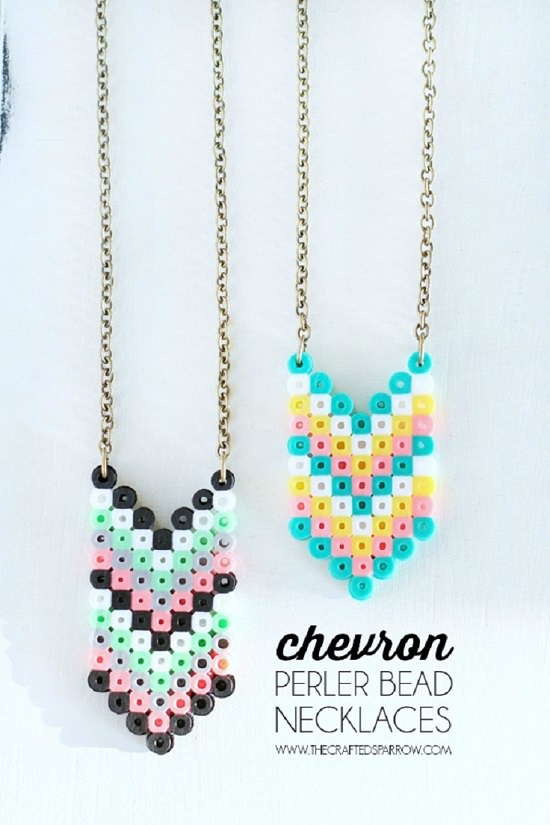 A simple yet trendy accessory, chevron perler necklaces are perfect for your resort or day looks. Not only are these necklaces easy to make, but they also help in making a chic statement! Learn how to make this cool accessory in this DIY tutorial.
5. Perler Beads Key Holder
This intricate DIY craft helps you build a beautiful perler bead key holder for your home! Get inspired and create an elaborate or simple design holder today!
6. Perler Bead Ideas
This stop-motion video tutorial helps you create various patterns and designs with perler beads. Be quick to hit the pause button on the pattern you like to see the placement of the beads!
7. Unique Perler Bead Creations
Learn how to make cool everyday use stuff with perler beads in this video tutorial. The video also features a curved pen stand for an office desk organizer!
8. 3D Perler Bead Art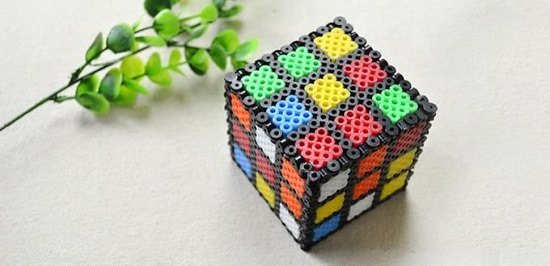 Know how to create this fantastic 3D cube art with perler beads in this DIY tutorial. In addition to being an excellent add-on for your kid's room decor, it is also a fun activity that can be done with the kids.
9. Perler Bead Earrings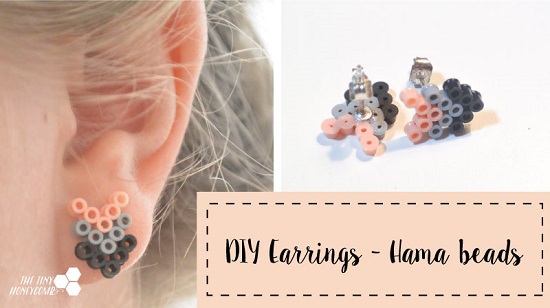 This simple and cute DIY shows you a step-by-step guide to create stud earrings! You may change the design or the color pattern to personalize the DIY earrings as per your liking.
10. Perler Bead Planters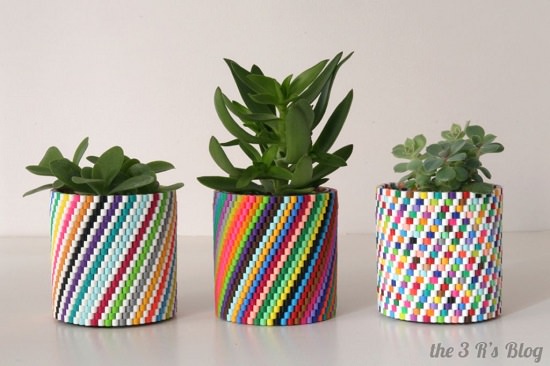 Take inspiration from this DIY idea to create your perler bead planter at home. These 3D planters can be a vibrant addition to your home decor while adding more characters to your home accents.
11. Three Fun Craft Ideas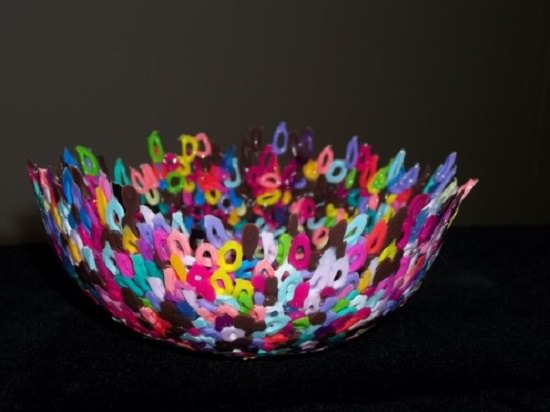 Another tutorial that gives you details of three creative bead crafts and the materials required to make them. Know how to make interesting day-to-day use crafts with perler beads here.
12. Blooming Cacti Craft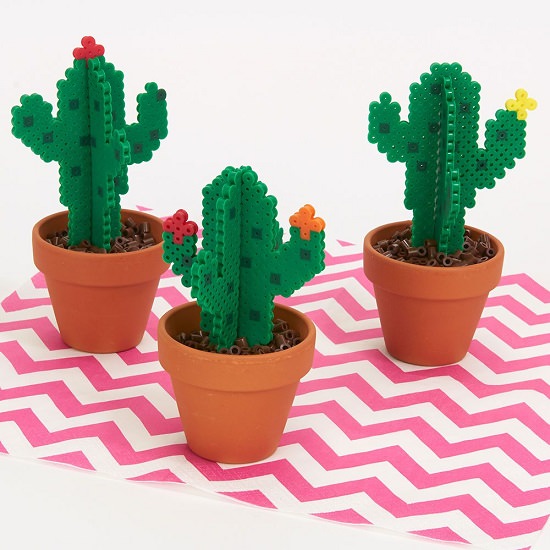 An interesting way to add more greenery to your space without being an expert in gardening. Learn how to make these blooming cactus with perler beads for your home.
13. Phone Cover Decor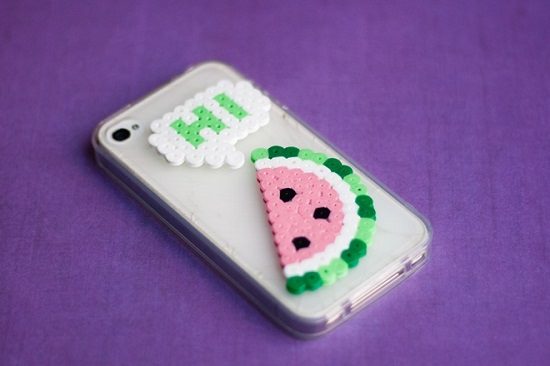 Get inspired to spruce up your phone cover designs with pixel art! Perler beads are an easy way to customize phone covers and give them as presents to your loved ones.
14. Perler Bead Design Tutorial with Template
If you're new perler bead art, then this video is perfect for you to learn, make notes, and see how to create elaborate perler designs with templates. As in the video, you can follow the template, but change the colors as per your preference.
15. Perler Bead Harry Potter DIYS
Learn how to make amazing Harry Potter souvenirs and accessories with perler beads in this video. This particular idea is a boon for Harry Potter fans!
16. Perler Bead Ideas – No Heat
This video teaches you the art of using and binding perler beads without applying heat to it. Check out these unique and simple craft methods to adorn your home, work-desk, or bags!
17. Colorful Wind Spinners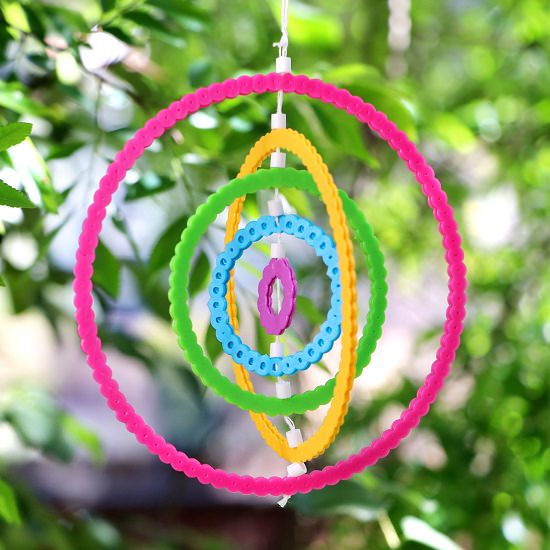 Add on more colors to your home or backyard with this beautiful rainbow theme perler wind spinner. Get inspiration and instructions for this DIY here.
18. Pixel Bead Coasters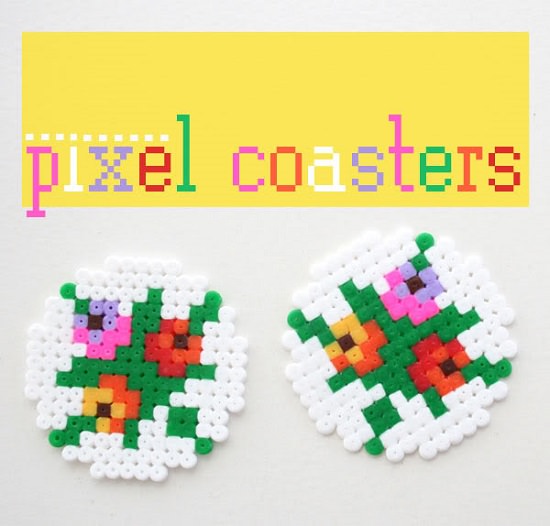 Know how to create pixel pattern perler bead coasters here. Besides being beautiful, these coasters are inexpensive and they add a statement to your serveware without burning a hole in your pocket.
19. Citrus Bead Coasters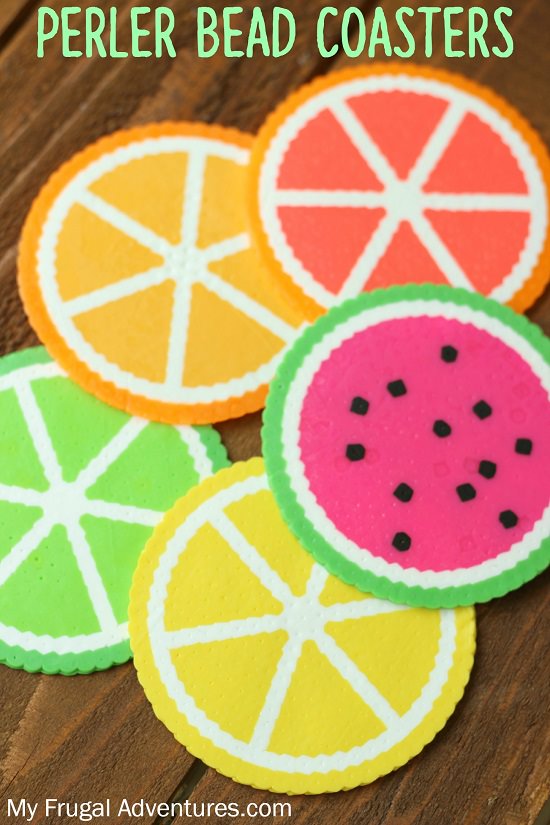 Refresh your kitchen accessories and serve ware collection with these citrus perler beads coasters. Experiment with your favorite fruits and vegetables, visit here.
20. Switch Plate Covers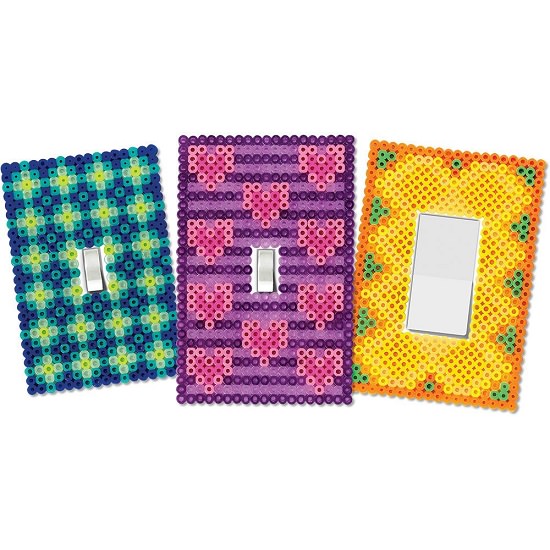 You can always leave the switchboards in your room exposed to dirt and finger stains. However, if you wish to add colorful detail to the blank space around the switch, opt for these vibrant switch plate designs with perler beads. Get your instructions and supply list for the craft here.
21. Bead Tray Design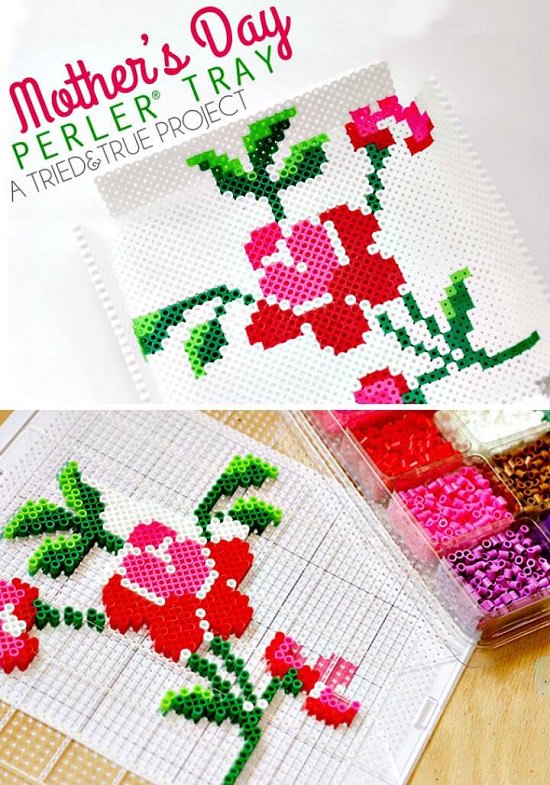 Even as the idea explores using perler beads to create a tray for Mother's day, you can easily customize or make a bead tray for other special occasions too. Learn how to create a tray with perler beads here.
22. Perler bead Buttons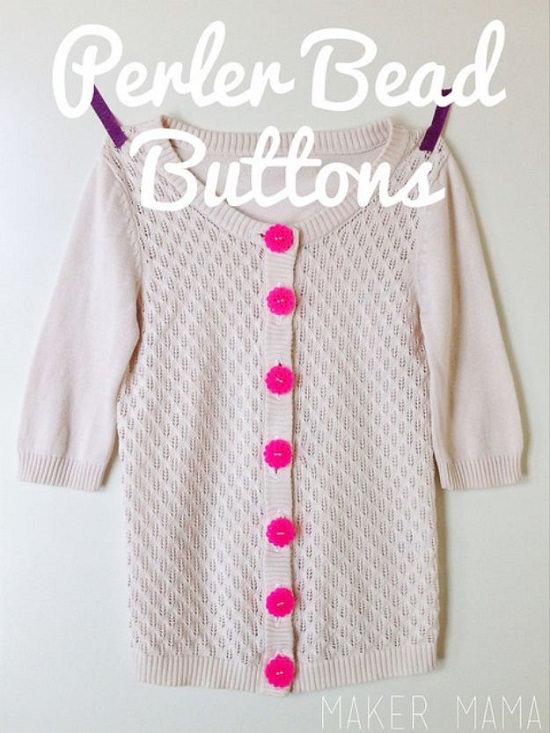 Know how to make these quick and easy-to-make buttons for your cardigans or tops in this DIY tutorial. Next, add these buttons to your clothes for a unique design!
23. Perler Beads Bowl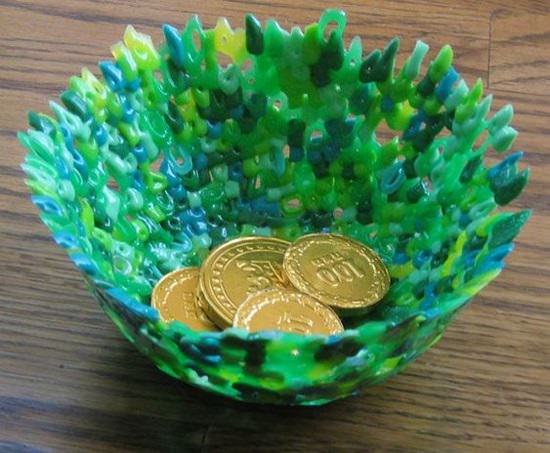 This DIY teaches you how to use perler beads to create a sturdy everyday use bowl for keeping your keys. You may use the bowl to store anything and everything you wish to organize.
24. Bead Puzzle Blocks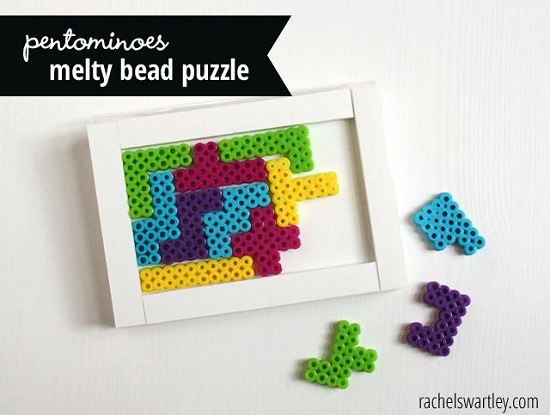 Are you a fan of Tetris or puzzles? If yes, this is the perfect craft activity for you. Complete this DIY and use it as a fun puzzle or a puzzle artwork for your home. It is a great learning activity for kids.
25. Perler Bead Bracelets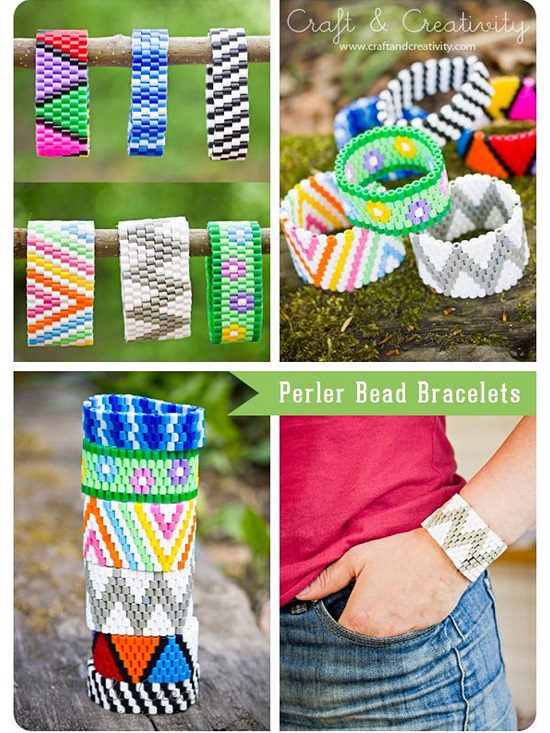 These perler bead bracelets are perfect for friendship's day or to style them with your everyday casual looks too. Make these cool bead bracelets here.
26. Perler Bead Phone Cases
Compared to the other phone case ideas that use small patterns to decorate your phone covers, this DIY video shows you different patterns in which you can spruce up your entire phone cover.
27. Wide Bead Bracelets
Another bracelet DIY, learn how to make fantastic perler bead bracelets in this video. Customize them with different patterns and color styles to pair them up with different attires.
28. Geometric Bead Planters
Create these impressive and stylish air plant pots in this video. Alternatively, you can even use the pots as a pen stand or decrease the height to make it work as a key holder.
29. Perler Bead Key-chains
Choose your spirit animal and start doing this animal themed bead key-chain craft with the help of this video. If not animals, you can try the idea with flowers, fruits, or even anime characters!
30. Slip-on Bead Bracelets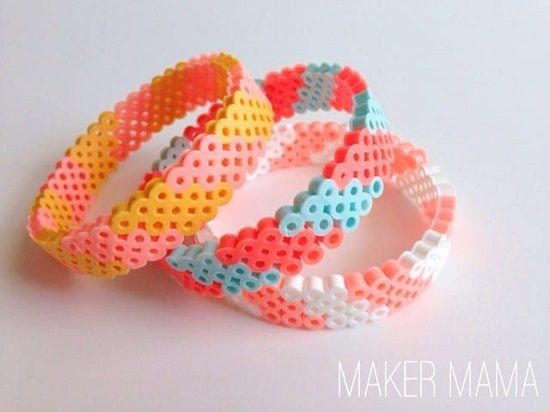 Unlike the other bead bracelets, this DIY teaches you to create slip-on bead bracelets or bangles with perler beads. Involve your kids in this fun project to keep them engaged in something creative!
31. Drink Toppers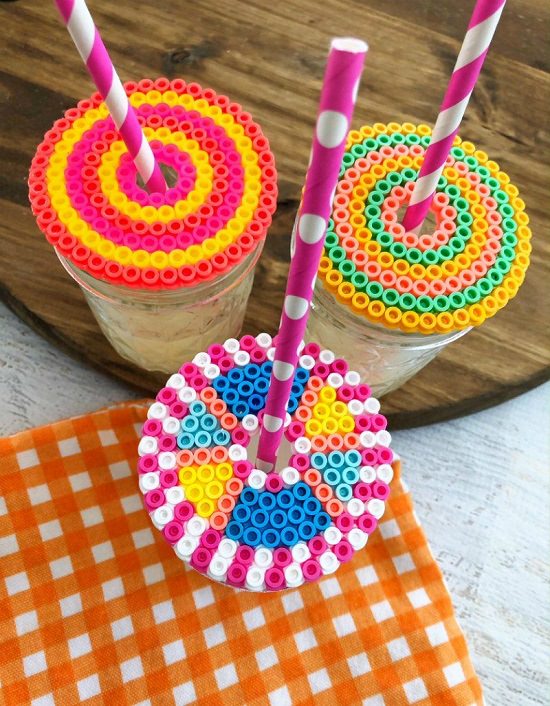 Add a vibrant touch to your outdoor parties or pool parties with these cool drink toppers. Let the toppers suit your spirit or the party's theme for more engagement from your guests, click here.
32. Woven Bead Holders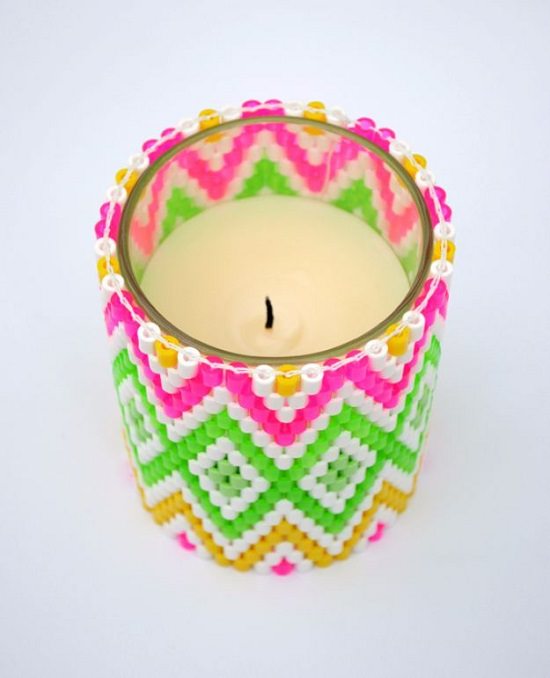 Weave perler beads to create this magnificent candle holder for an evening dinner party in the yard. The DIY doesn't use heat to set the beads, therefore, it is a great craft activity to do with kids.
33. Notebook Covers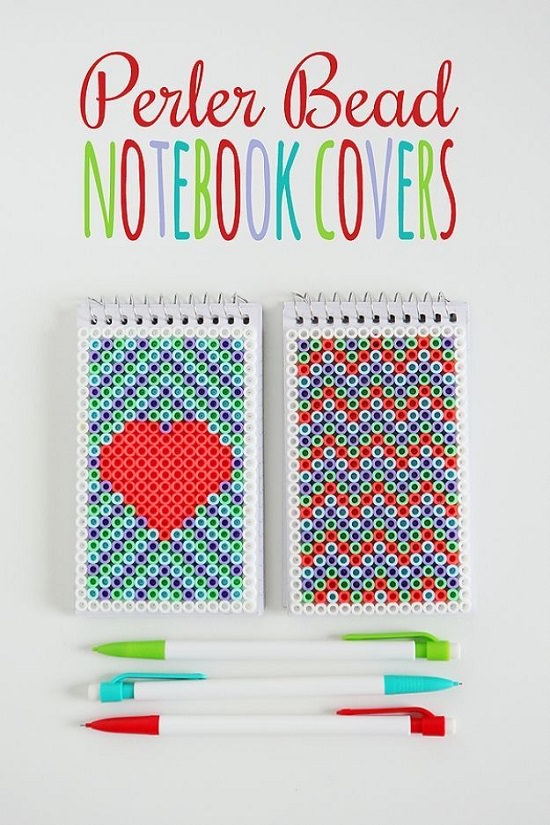 Note and follow the steps of this perler bead guide that teaches you to make notebook covers. Either sort the designs as per the subjects or with your emotions if it's a diary, visit here.
34. Fruit Keyrings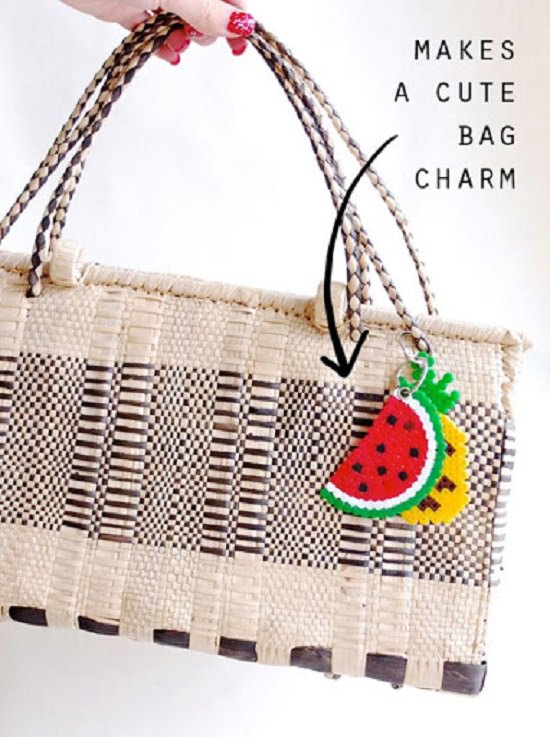 Another cute keyring idea, this DIY gives you the details of making fruit pattern pixel art key rings. These keyrings are a cute idea to showcase your creative side to the world!
35. Colorful Teleidoscope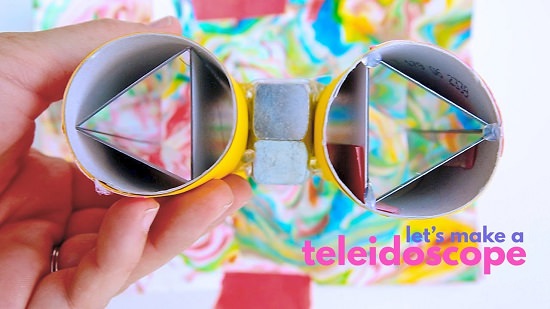 Know how to make a teleidoscope or a homemade kaleidoscope in this DIY tutorial. With the DIY, you can introduce your kids with the scientific nature of a kaleidoscope.
36. Perler Bead Bookmarks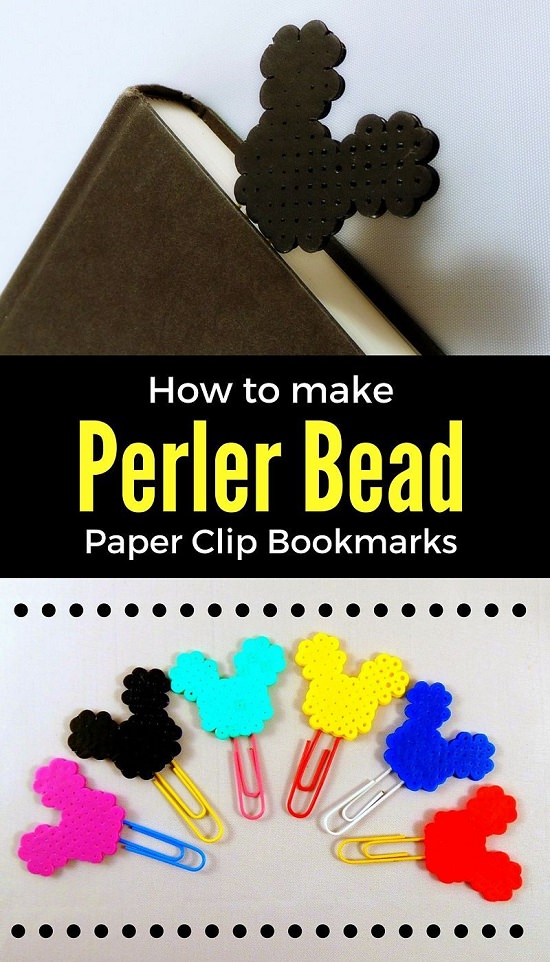 With these mickey mouse pattern bookmarks, you can easily leave reading in between without worrying about the page number. It's a fun and practical way of keeping track of your pages, have a look here.
37. Bead Owls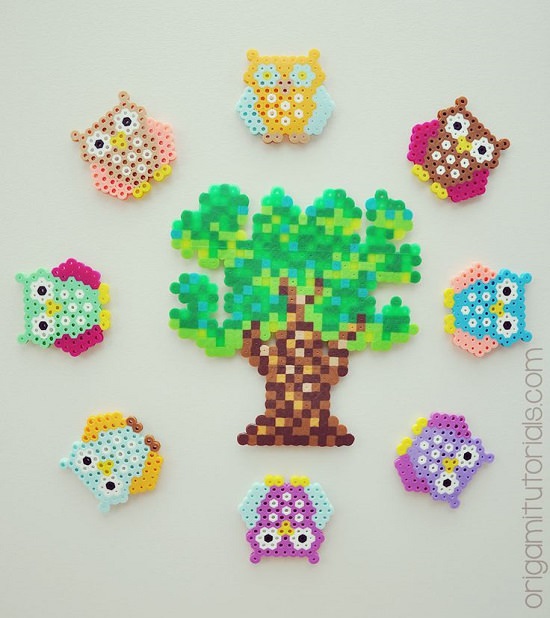 Add a touch of cuteness on a boring wall with this stunning tree and little bead owls here. You can opt to make a ship and fish combination or a mountain and tree combination or whatever you fancy.
38. Bead Sushi Magnets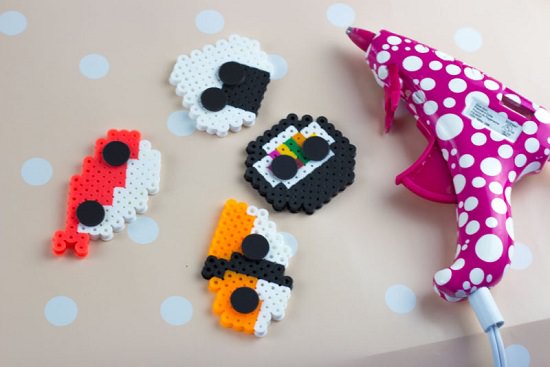 A unique magnet design, especially for the sushi lovers, learn how to trace, bead, and bind these magnets together here. You can use these magnets on your refrigerator or on your metallic work boards to pin up reminders.
39. Perler Bead Bowls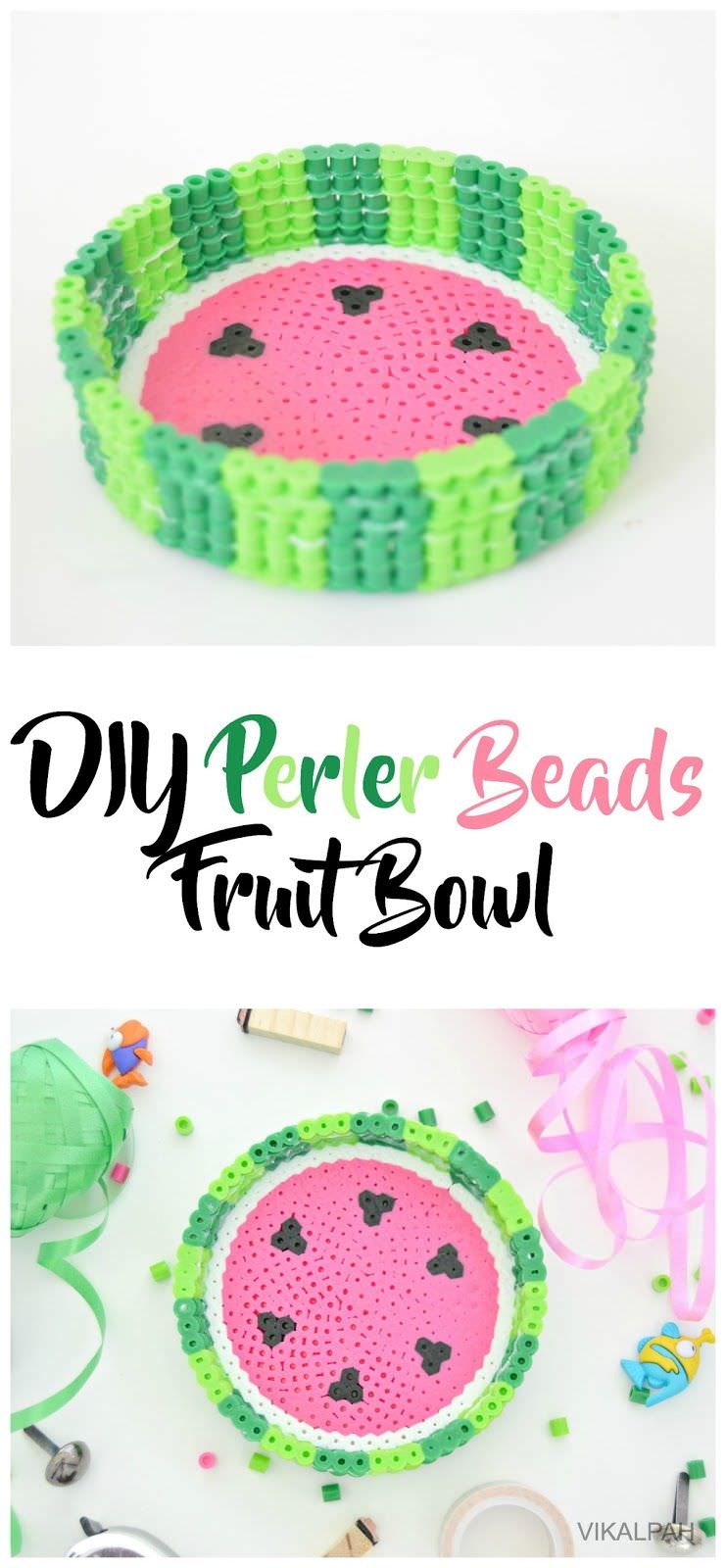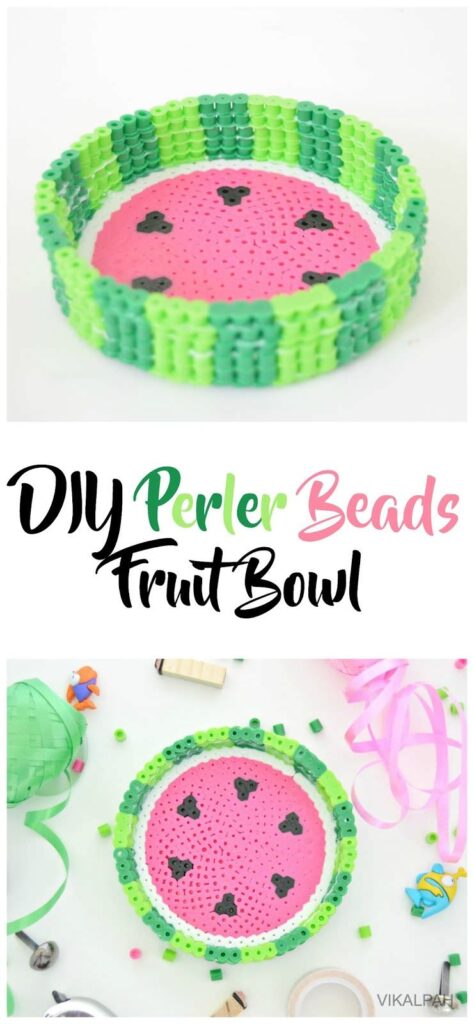 This little organizer bowl can help you in cutting a lot of clutter in your home, make it with this DIY. Explore the idea with different shapes and patterns to suit your needs.
40. Perler Bead Placemats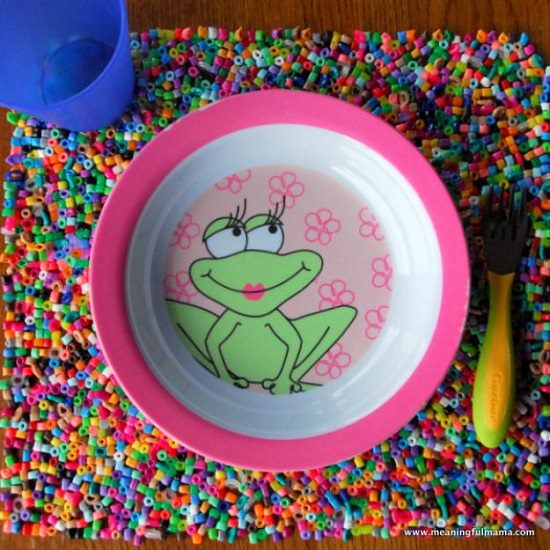 This simple DIY guides you to make multi-colored placemats with perler beads. The craft is easy to make; however, it will need adult supervision if you are planning to do it with your kids.
41. Bubble Wand
A unique perler bead creation, especially for kids and adults who love to make soap bubbles. Learn how to make a bead bubble wand in this video.
42. Rainbow Spinner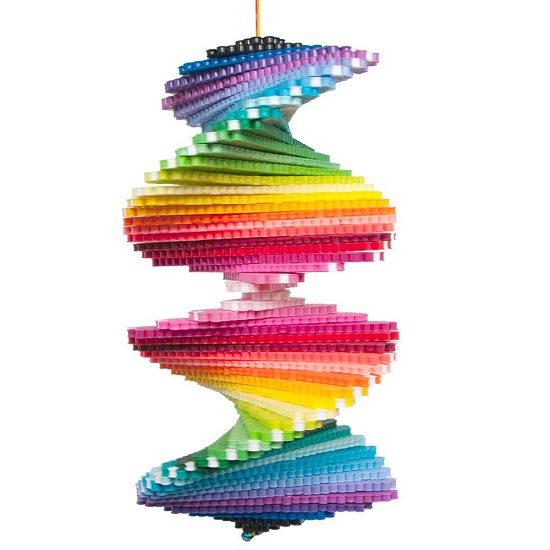 Get your instructions and supply list to create this beautiful rainbow spinner with perler beads here.
43. Perler Bead Headband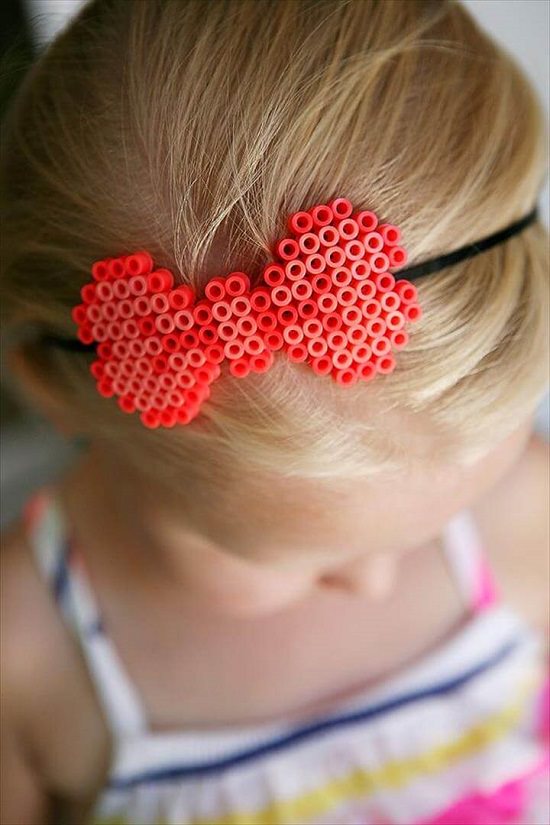 Express your love for your little princess by DIY-ing a similar or same headband with perler beads. Head on to this tutorial to get full step-by-step instructions.
44. Greeting Cards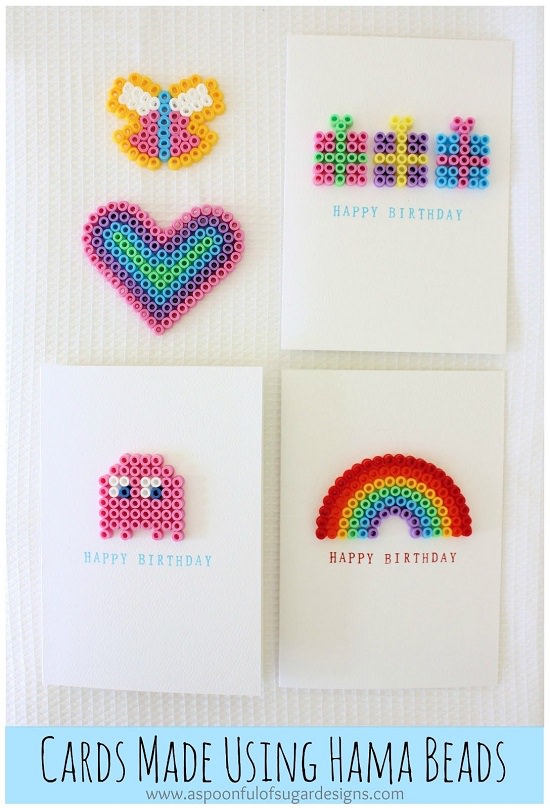 Create unique greeting cards or message cards with perler beads to celebrate an occasion or just to surprise your loved ones. Get your supply list and card design inspiration here.
45. Picture Frame DIY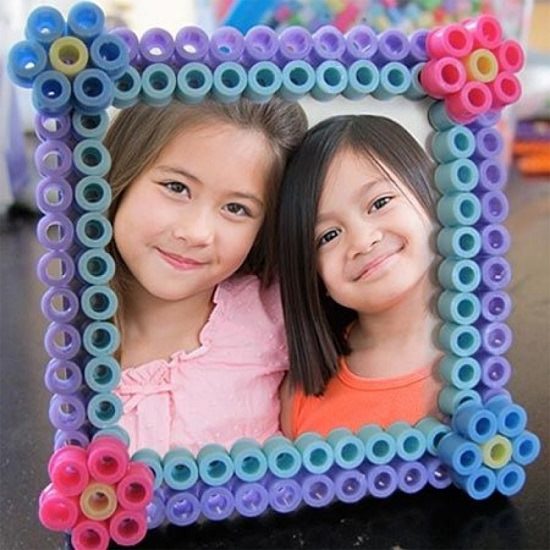 Display your special captured memories by way of this unique picture frame, which you can easily customize. Get the instructions here.
46. 3D Star Creation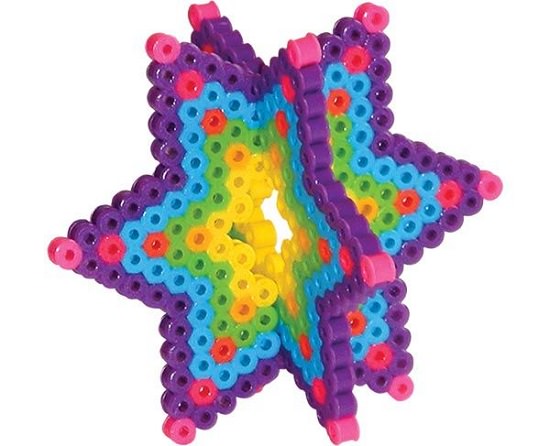 Learn how to create this table-top accessory for your home or office desk with this tutorial. Experiment with the shape and design to suit your surrounding theme.
47. Perler Bead Patterns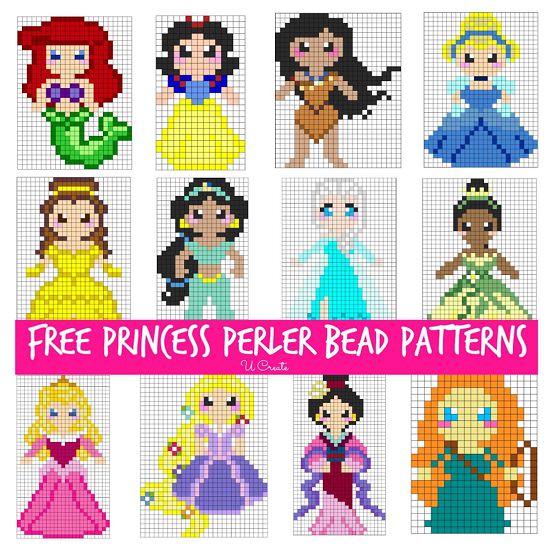 This pattern guide is perfect for template perler bead crafts, especially for kids! Pick a template your kid likes, download the design, and start creating a fantastic pixel art creation.
48. License Plate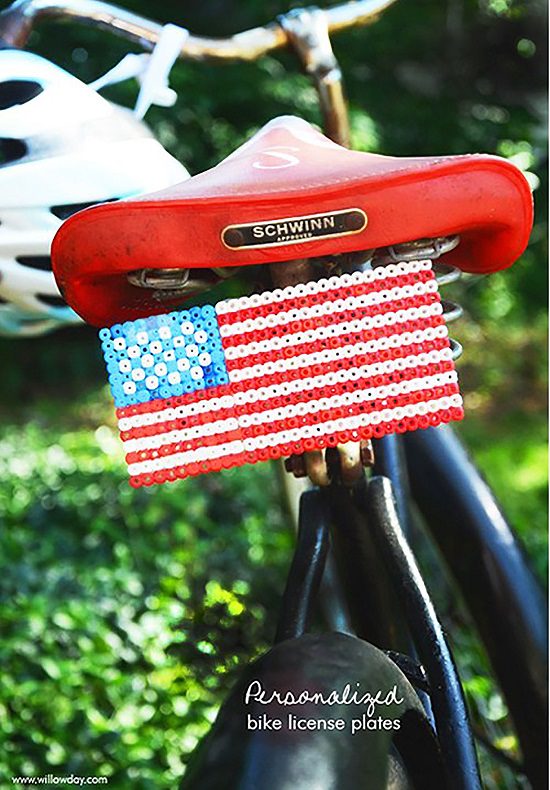 Give your kid the feel of riding a motorbike by adding a license plate at the rear end with this tutorial. These craft plates have been used for cycles; however, you can use them as nameplates for rooms.
49. Mermaid Perler Bead Craft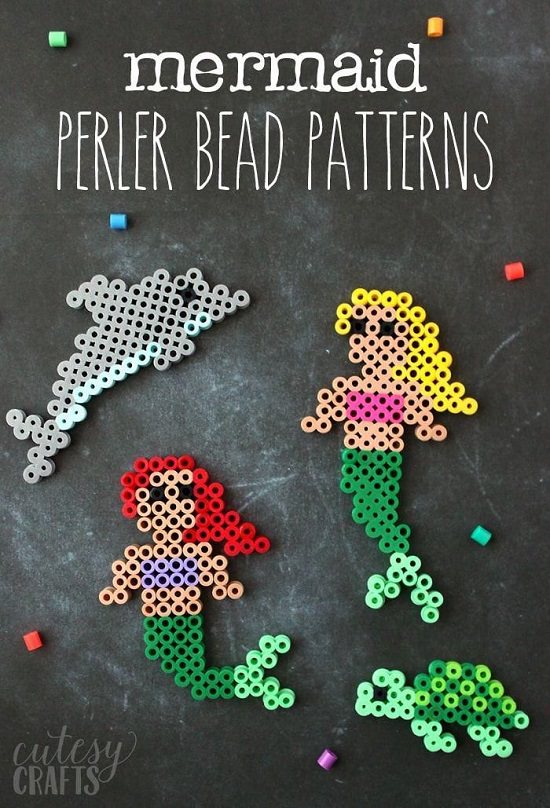 Create special mermaid perler bead creations with this DIY guide. It could be a perfect gift for your baby girl and for her room decor!
50. Bead Snowflakes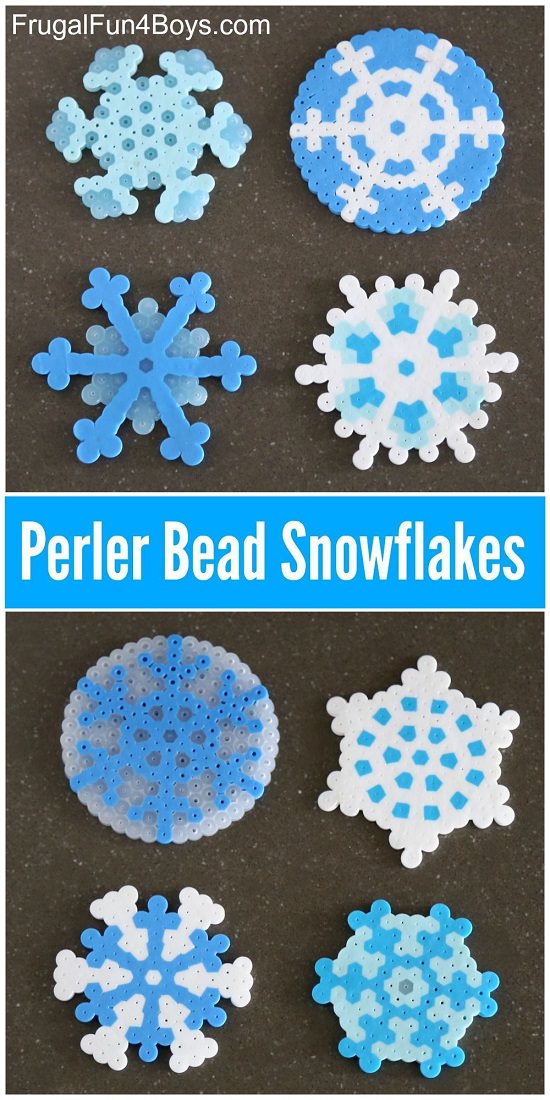 Prepare for the festive season with these handmade snowflakes to add to your winter home decor.n Take your festive home decor game at another level with this idea here.
51. Perler Bead Ideas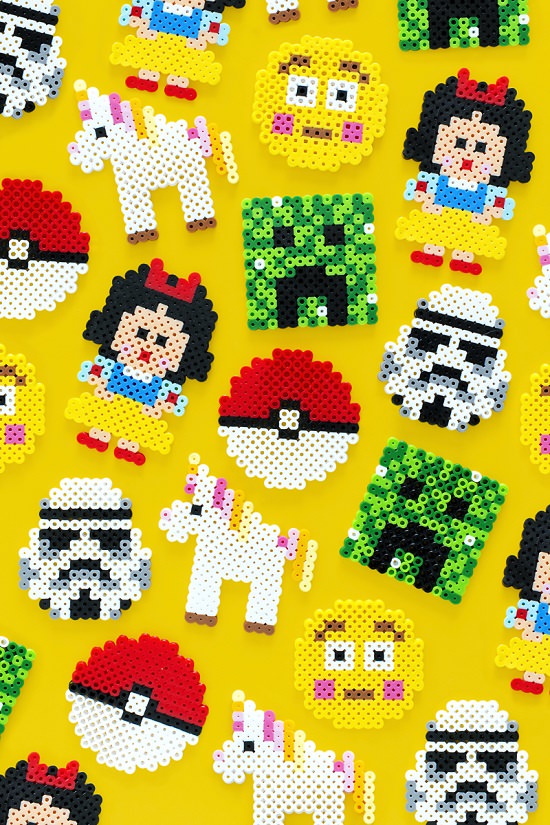 Another pattern guide for perler beads creations, go through these vibrant patterns for a perfect craft session.
52. Perler Keychain Design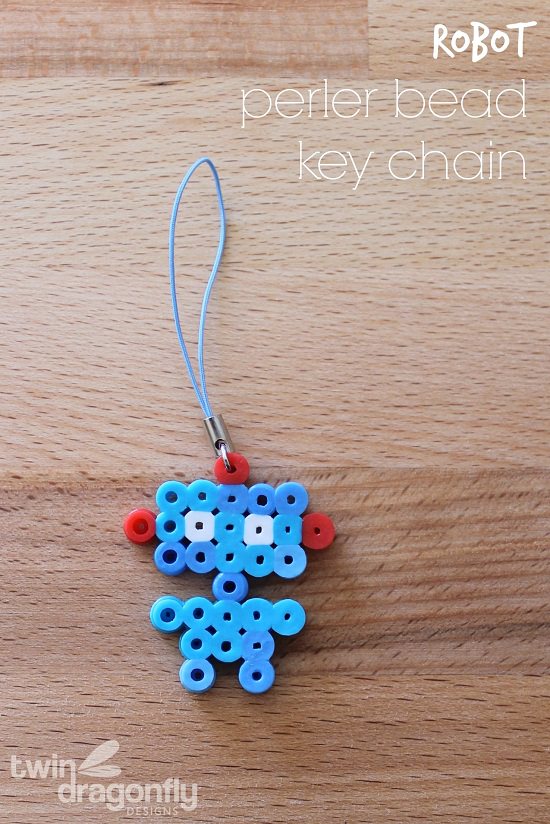 Simple yet beautiful, this robot perler bead keychain is the perfect accessory to organize your baby boy's keys. Know how to make this keychain hanging here.
53. Star Wars Pattern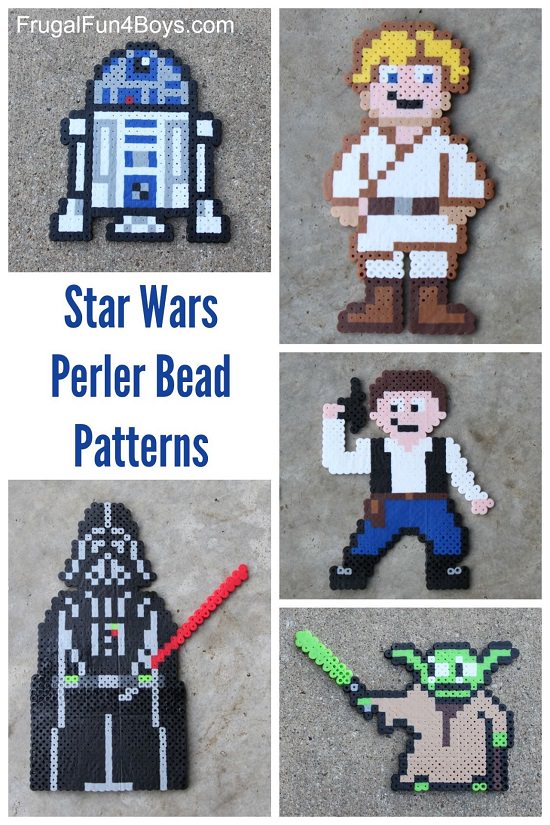 If anyone in your family is crazy about star wars, this perler bead craft would be the right gift for them. If not star wars, try your hand at making avengers or any other movie your like!
54. Minions Pattern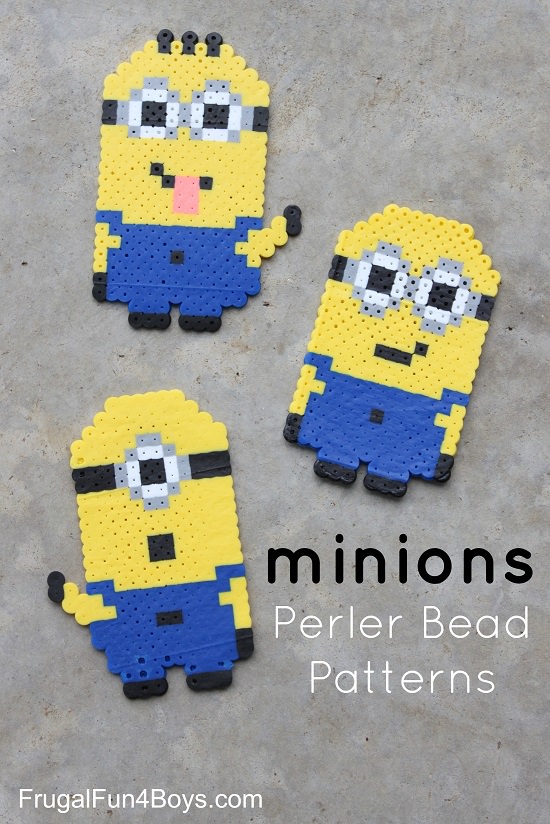 Minion crafts are capable of adding instant cuteness to anything they are put around! Try making this minion bead craft and use it as a key-chain, magnet, or even brooches.
55. Christmas Ornaments


Create special Christmas ornaments with perler beads following this tutorial. You can also experiment with the designs of the ornaments for your tree.
56. DIY Toys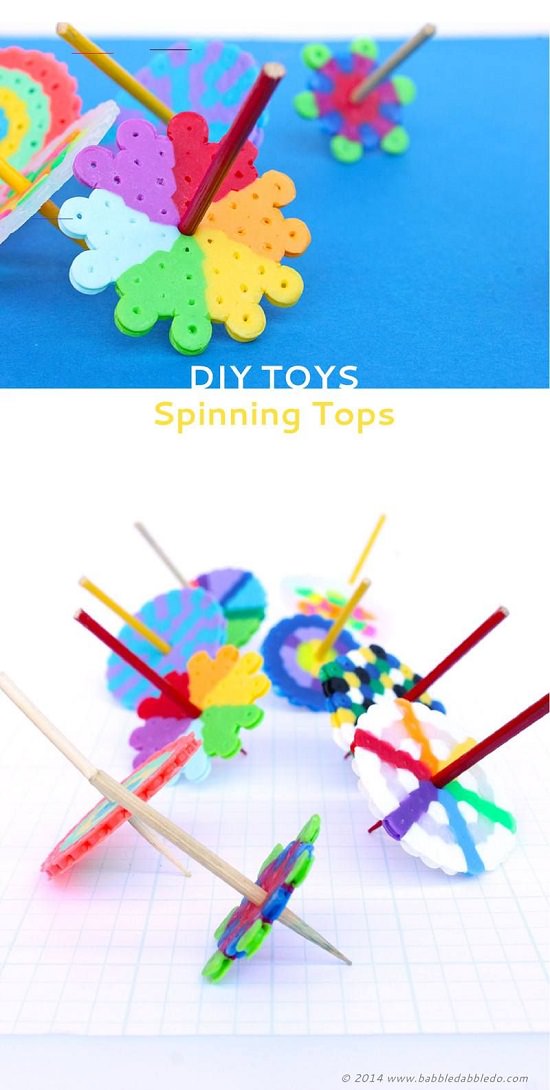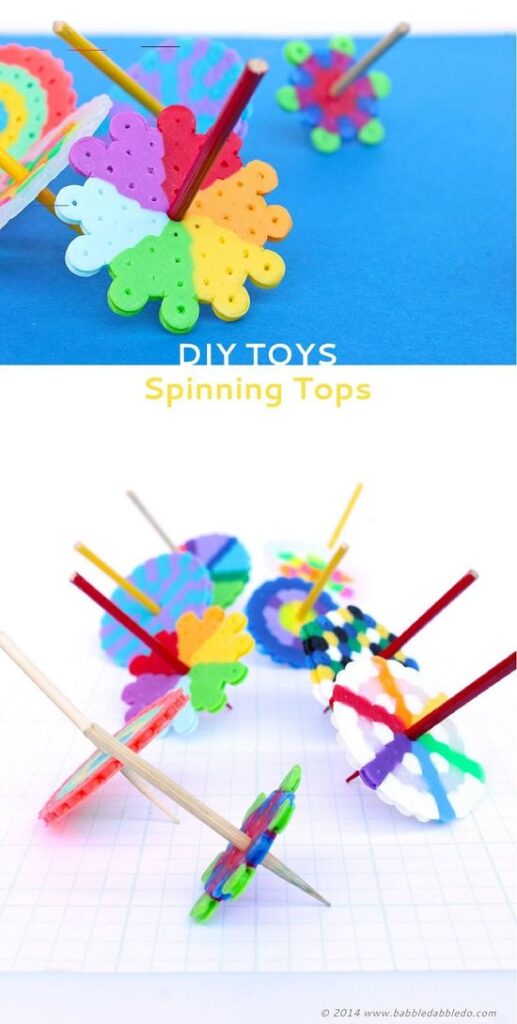 Learn how to create spinning tops with perler beads. Not only are these simple toys easy and fun to make, but they also help create a great outdoor activity for kids.
57. Perler Bead Maze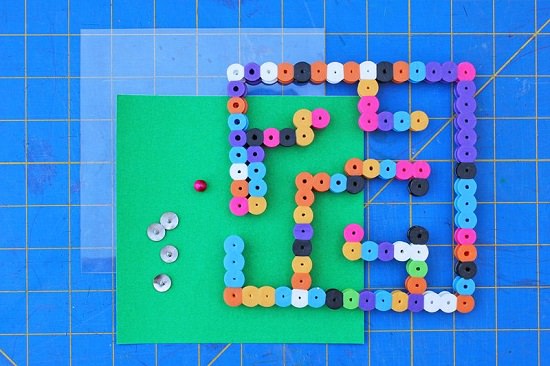 Create fun mazes with perler beads; DIY is here. You can also customize your maze from easy to complicated plans by taking inspiration from the DIY craft.
58. Perler Bead Necklace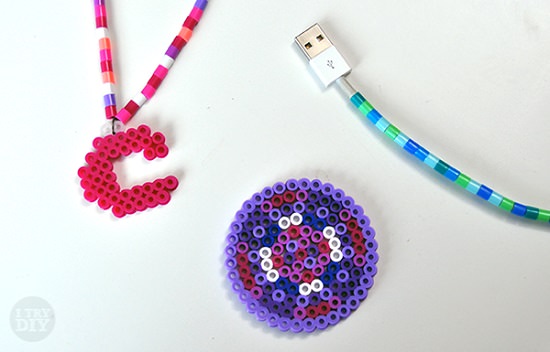 Create necklaces, pendants, and wire covers with these pretty beads. Customize a pendant to go with your fancy attires with this perler bead idea here.
We hope that you liked these perler bead ideas and found the right DIY to do with your kids! We'd love to see your collections and new creations of perler bead crafts.