There are not many things as exciting as making DIY baby clothes for a new mom. This extensive list will inspire you to create some cute baby clothes.
Making DIY baby clothes is a new trend on the internet. It's a great way to build anticipation for those who are expecting a baby and fun activity for new parents. To save your time and efforts, we've searched all over the web and collected the best baby clothes patterns and ideas in this post. Check it out!
1. DIY Baby Leggings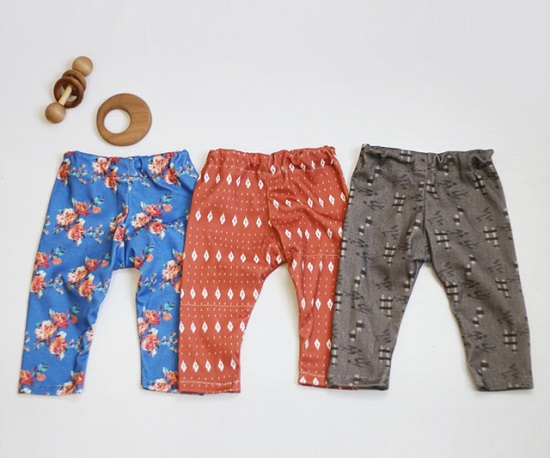 Sew fabrics together as per the measurements of your baby and make a perfect-fitting and soft leggings for your little one. Click here to know the supplies and the steps.
2. DIY Skirt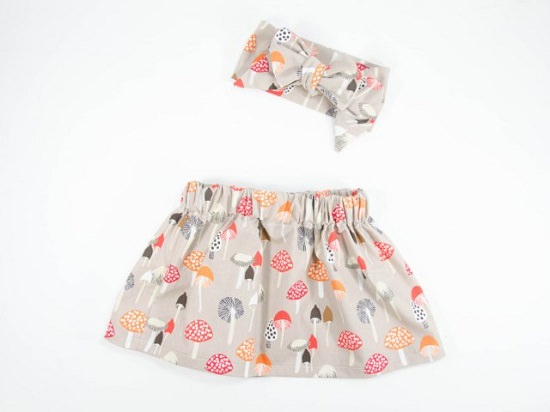 Often you don't get the exact size clothes for your kid, and you end up buying a wrong pair. DIY baby clothes save you from such troubles as this girl's skirt. Take the measurements and start knitting using a few other essentials.
3. Boho Baby Romper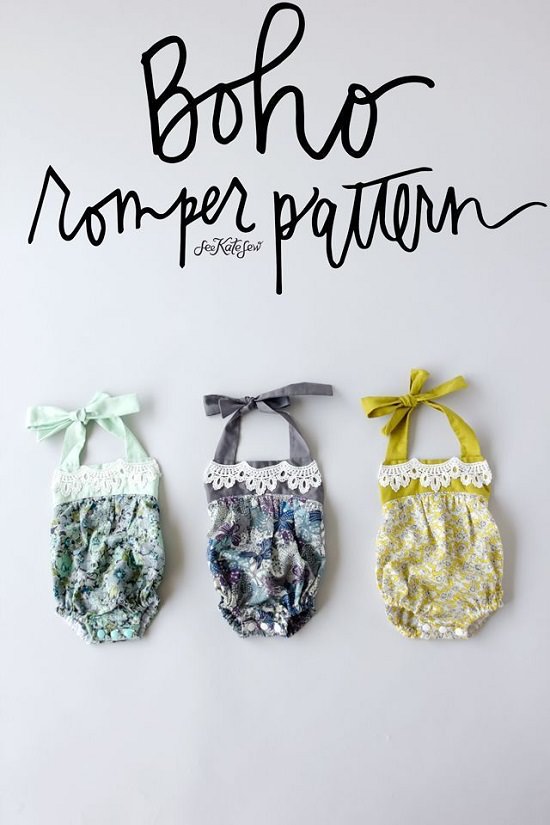 It is often difficult to find the right fabric in the market that does not irritate the skin and keeps the child cozy. So, be your child's designer and gift them clothes with both style and comfort. Visit here and make by yourself these fantastic, chic boho rompers.
4. DIY Baby Slouchy Leggings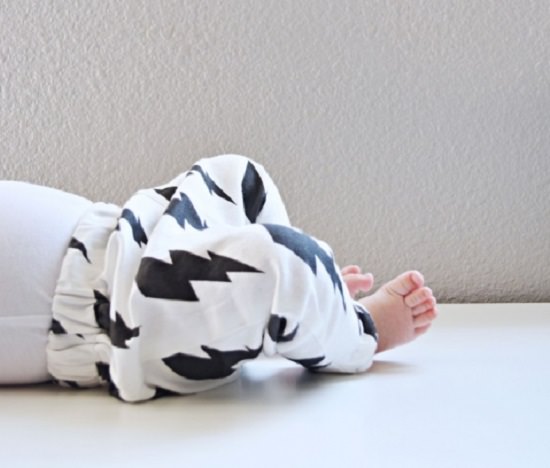 Even if you are not an expert in tailoring, you can still make these slouchy leggings by following these steps. You need two pieces of fabric, elastic, scissors, thread, pins, and sewing machine to imitate the clothing idea.
5. DIY Toddler Skirt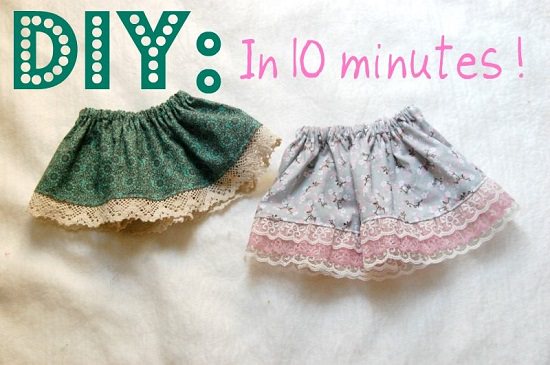 This DIY is probably the most undemanding; as compared to other DIY baby clothes here. The skirts are so easy to make, you can make more than ten in a day for your little princess. Click here to know more.
6. DIY Baby Clothes Pattern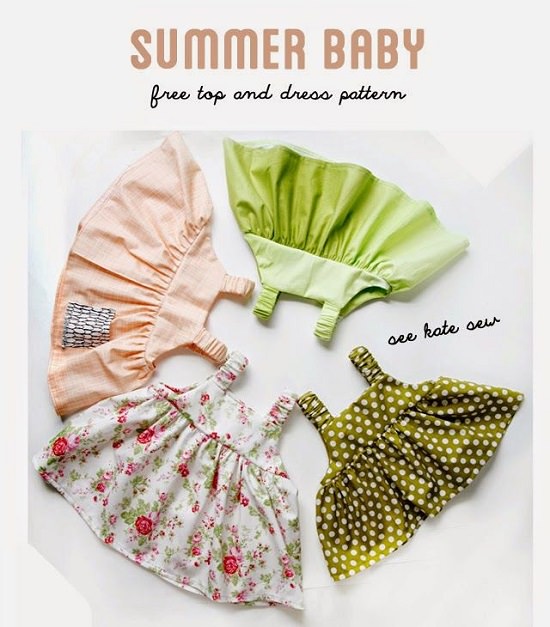 Create some summery outfits for your girl this summer out of small pieces of fabric. The tutorial instructs you to make a dress that will easily fit a three to nine-month-old. Make variations in measurement according to your needs. You will get the full details here.
7. Mermaid Baby Gown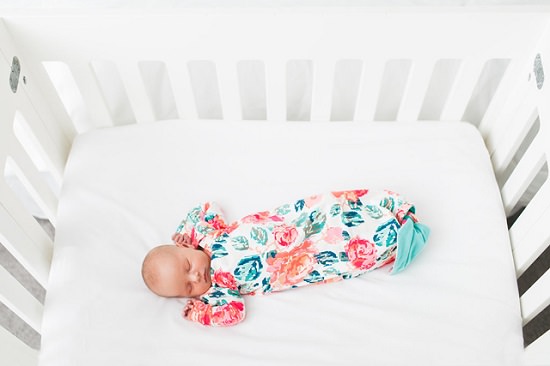 Make mermaid-inspired bath plus sleep gowns for an infant to keep him/her warm and let drift into a cozy sleep. Visit the link to know the material requirements and full details.
8. Interchangeable Onesie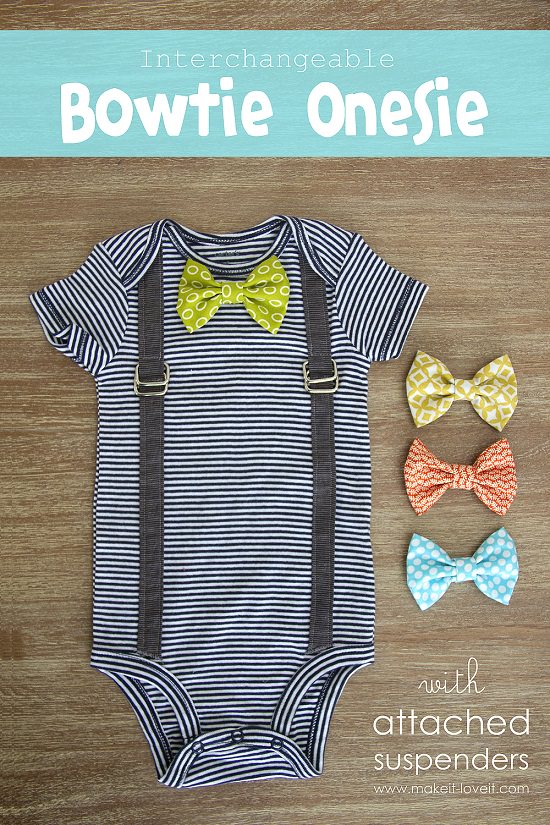 Headband bows influence the idea of this DIY. This DIYer creates interchangeable bowties for a little boy to accessorize their clothes.
9. Ruffle Sleeve Onesie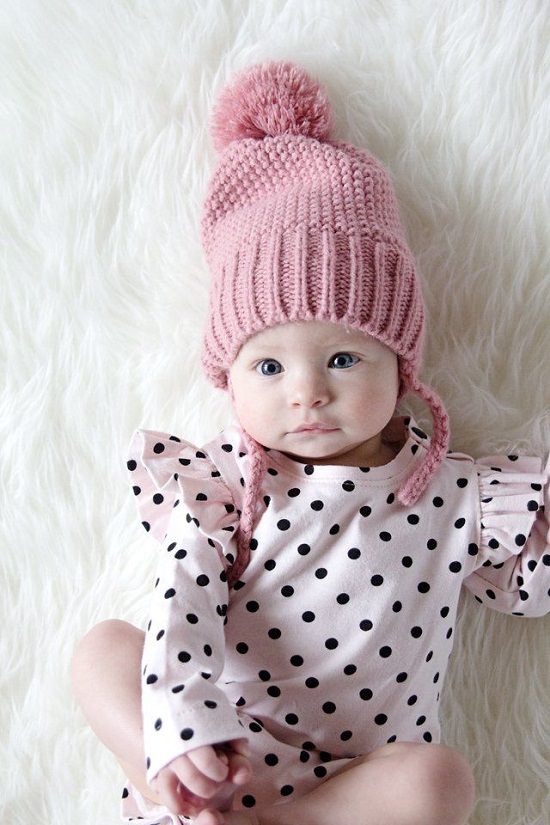 Knit a loose-fitting, one-piece garment for your child and say goodbye to those zip locks and buttons. To make them fancier, you can even add ruffle details at the sleeves or buttocks as per your choice.
10. Baby Bloomers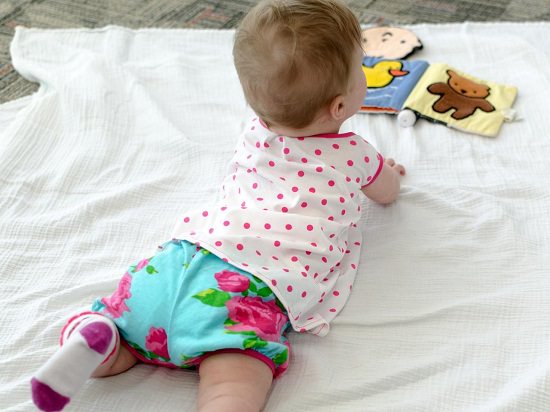 Whip up plenty of bloomers for an infant within no time with pieces of fabric, needle, sewing machine, elastic and pins. Visit DIY Network to know the procedure in detail.
11. Baby Joggers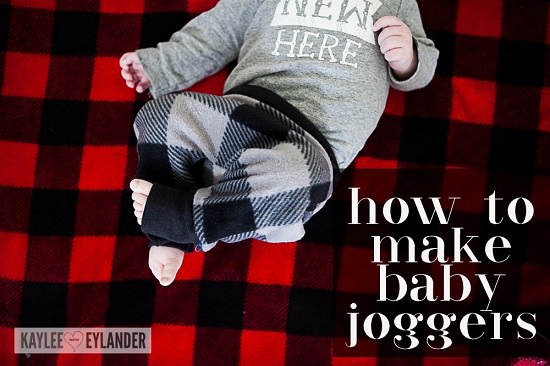 Buying clothes for a newborn is the most tedious task. The changing size, the imperfect fit after every few months makes it difficult to shop for clothes that could be worn by the baby for long. To save on your budget, you can DIY some pair of clothing at home instead.
12. Flower Fleece Cardigan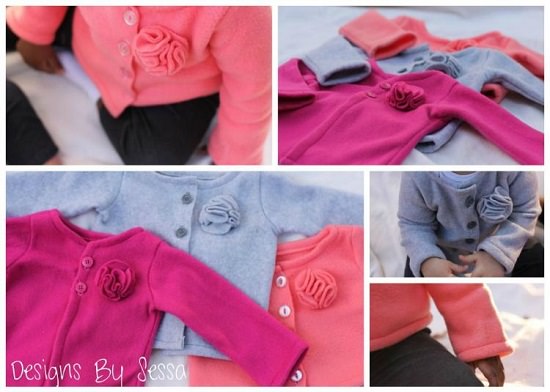 This winter, give your kids the warmth of love by recreating similar flower cardigans using fleece fabric. The fleece fabric will keep them warm throughout the day without costing you much money. We found the clothing idea here.
13. Gender Neutral Onesie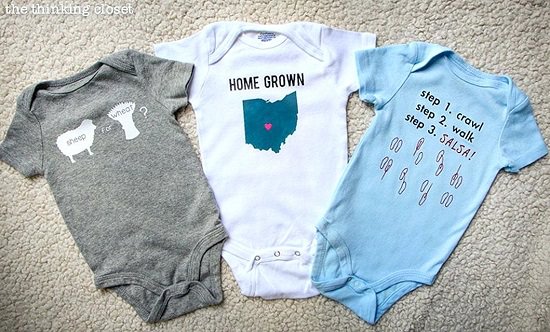 Make these gender-neutral onesies for your child or present them to someone as a gift who is expecting. These onesies are quite versatile. Click here to see a detailed tutorial.
14. Baby Harem Pants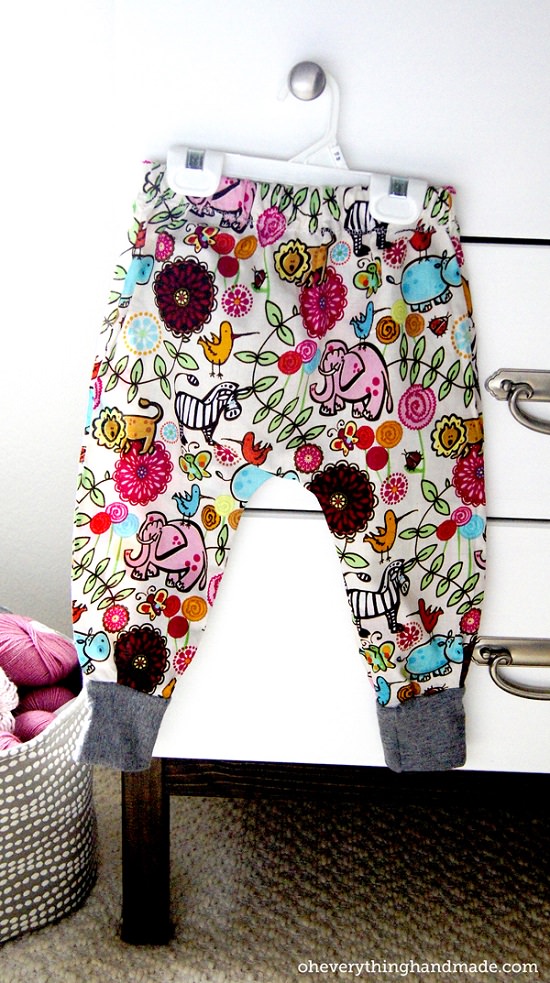 Sew your child some cool harem pants following the description given in detail here. Supplies you need are harem pants templates, sewing kit, fabric, elastic and a sewing machine.
15. Dinosaur Costume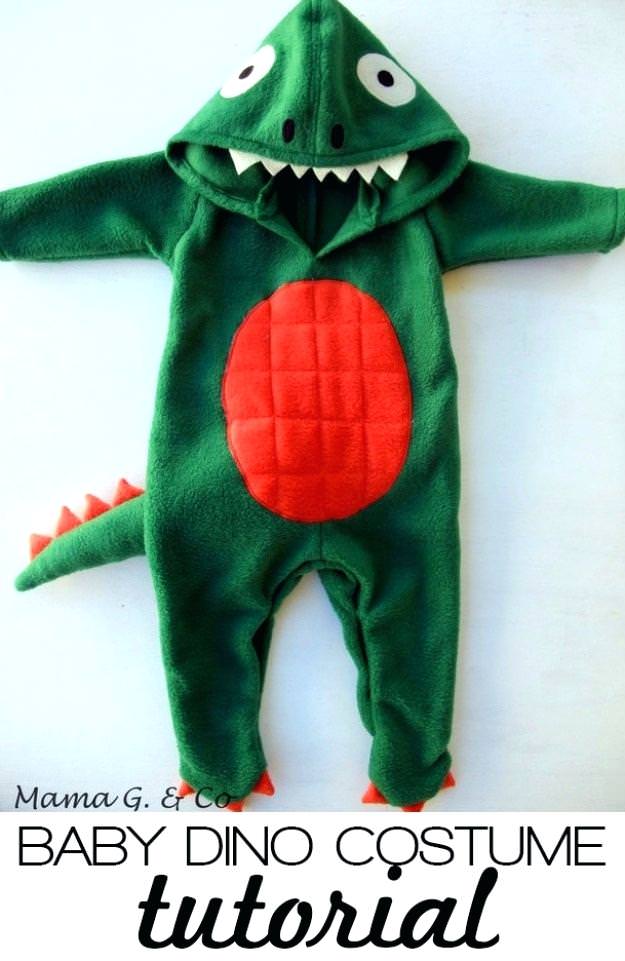 Modify your kid's romper into a cute little dinosaur, which you can even use as a Halloween costume. Make changes in the measurements and the design accordingly to suit your needs, visit here.
16. DIY Baby Clothes – Baby Pants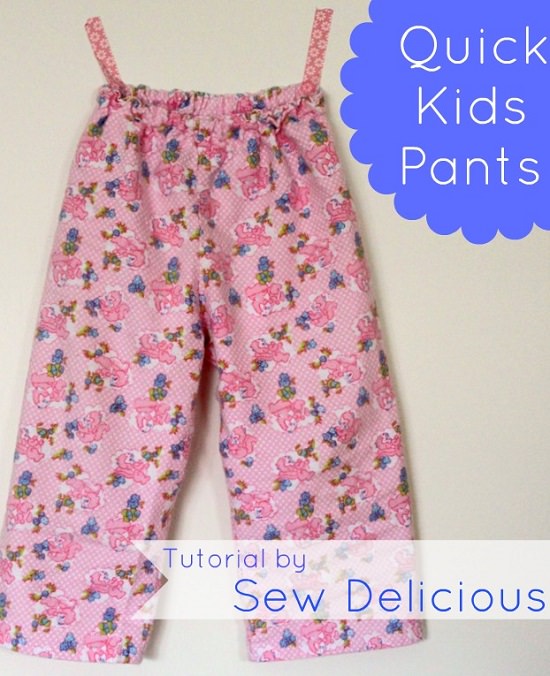 Upcycle your kid's old shirts that he/she no more fits into, and make pants out of it for them. Try to use a thick fabric to work with. Look for the tutorial here.
17. Monogrammed Onesie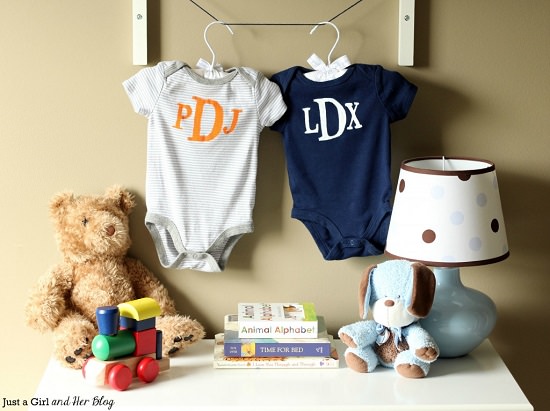 Monogram your kid's plain onesies and make them funkier with some card stocks, paint, brushes, and chalk. Understand the monogramming technique here.
18. Ruffled Butt Onesie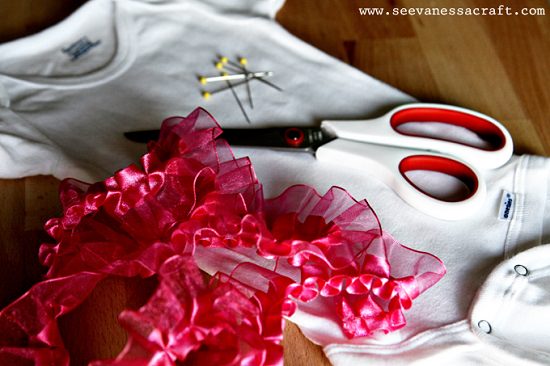 Add a ruffled detail to a plain onesie and make it quirky. This dress can be an ideal baby shower gift as well. Just sew and layer the ruffled ribbon on the dress using a sewing machine, and you are done. Clear out your confusions here.
19. A-Line Dress for Girl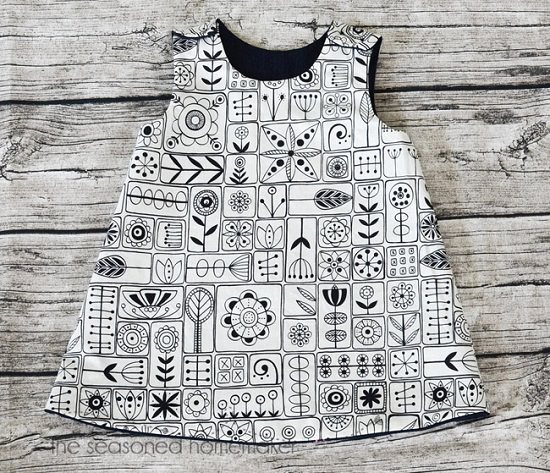 Knit beautiful A-line dresses for your kid or gift them to a toddler in your family. Visit here and know the detailed procedure to make these dresses.
20. DIY Leggings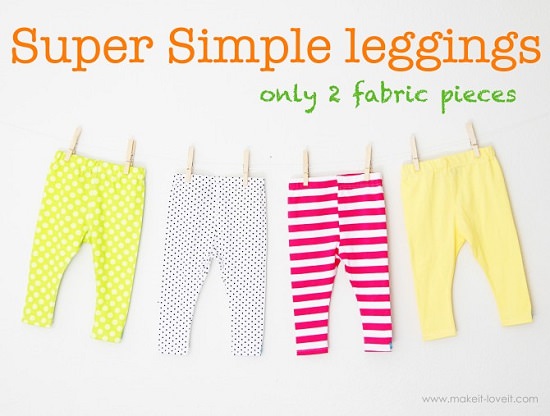 Super easy tutorial to cover your little one's legs; just cut two pieces of fabric and sew them together and your kid's legging is ready. Though the leggings are not that expensive to buy, you may not find them in the right fabric.
21. Baby Onesie Idea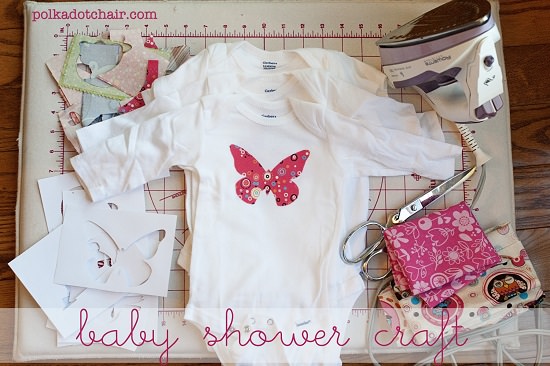 This DIY is undoubtedly going to be super easy and fun. Cut out stencils from silhouettes; choose the material of your choice and sew them together using a sewing machine.
22. Rhinestone Onesie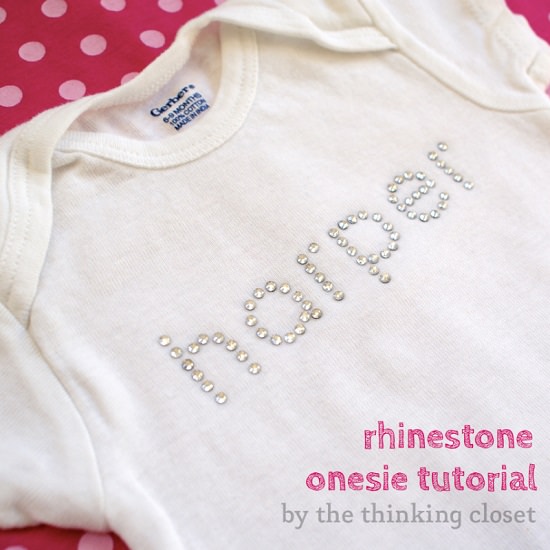 Add a showy touch to the ordinary onesies using the rhinestone kit. Embellish your kid's onesies and customize them your way with words or their names even. Click here to know the complete steps.
23. Fiji Sun Suit
This summer, keep your little one cool and comfortable in this Fiji sunsuit. To make one follow the tutorial in the video and imitate an exact suit.
24. DIY Baby Clothes – Summer Romper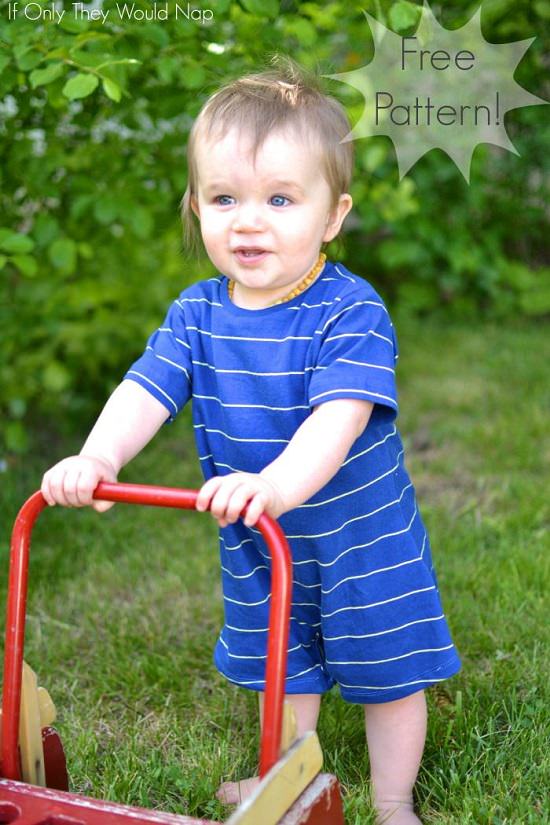 Rompers are in trend these days; kids also look extra cute in rompers. What makes this DIY cheap is that you can use your old t-shirts to make the romper.
25. Ruffle Butt Onesie DIY

Make alterations to the plain bodysuits of your child and turn it more classy by sewing ruffles near the butt area. Crap I've Made has the tutorial in detail.
26. Ruched Onesie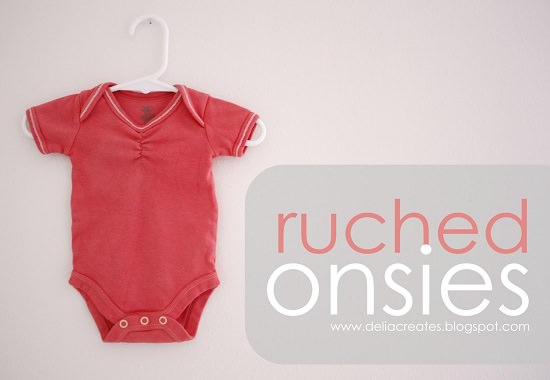 This is one of the easiest idea in this list of DIY baby clothes, it will only take five minutes, and you do not need to work hard. All you need is an elastic, matching thread, a onesie, and this tutorial to start sewing.
27. Onesie Dress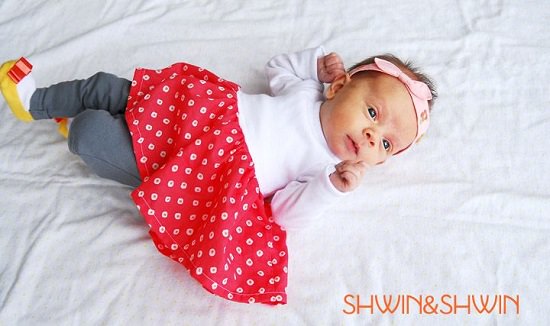 Repurpose your child's old onesies and glam them up in a new way. You can make a variety of dresses with just old bodysuits and never fall short of clothes for your angel.
28. Stamped Baby Onesie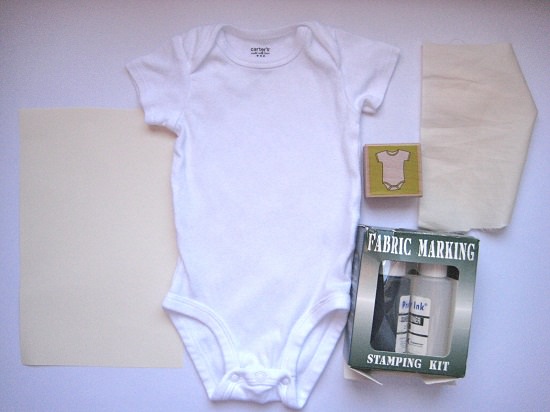 Fabricate some toddler's onesies by adding colors and patterns by painting them and customize the prints the way you desire. Visit here for full information.
29. Faux Vest Onesie

Knit together your kid's onesies with a vest and accessorize it with interchangeable bowties. Your child will easily slip into the dress and will feel comfortable throughout the day. Click to know the description of the DIY.
30. Baby Tights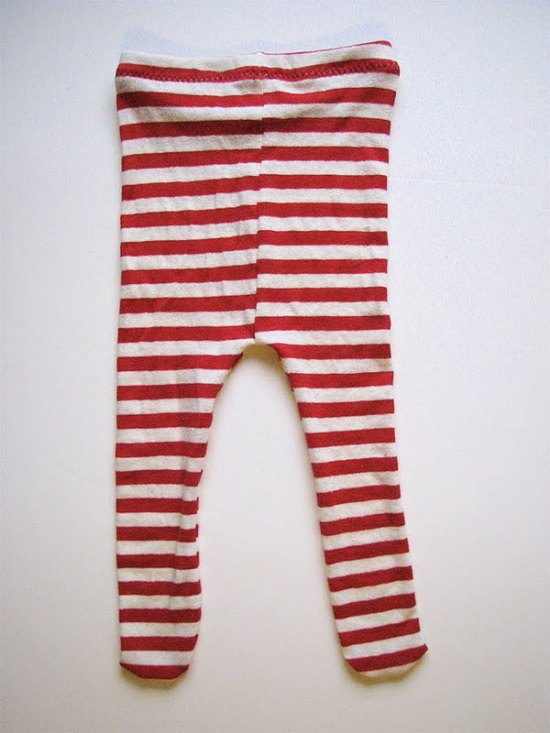 Shape some old t-shirts or jerseys into baby tights knit quickly with sewing machine or serger. Visit the site to know the particulars.
31. Explorer Pants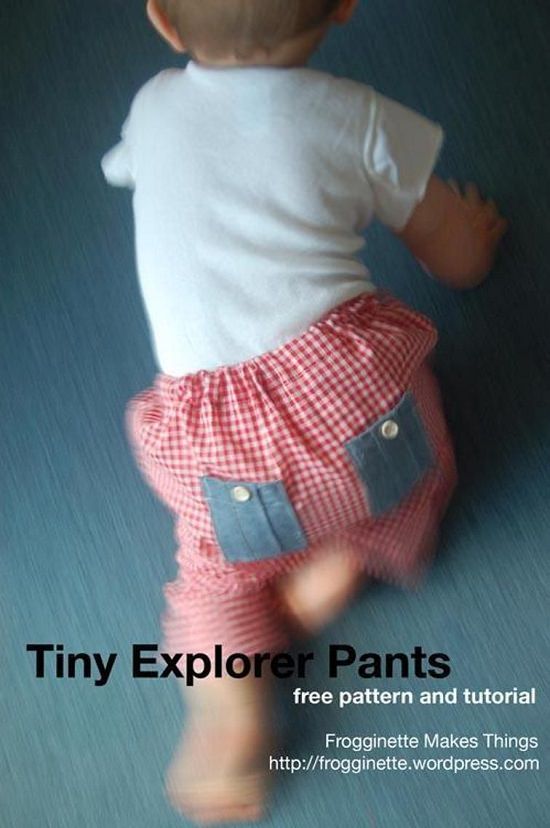 Tailor some extra comfortable, adorable pants with space for a diaper with the help of this DIYer's instructions. The link provides details of a one-year-old's pants, however, you can modify the measurements if you're making it for a bigger kid.
32. DIY Baby Hat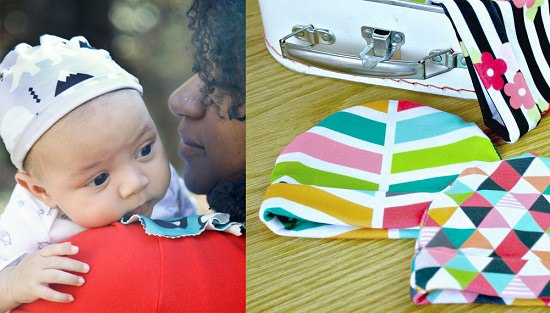 Protect and cover your kid's head with a hand-stitched cap using the most appropriate, soft, and comfortable fabric you could find. Follow Spoonflower for a complete guide.
33. DIY Baby Mittens
Stitch these adorable and cute gloves for your infant and safeguard them from scratching their skin as you can't cut a newborn's nails easily. You may watch the tutorial for better understanding.
34. Baby Girl Tutu
Stich your angel a beautiful and glittery ballet dress all by yourself. It might sound complicated, but the tutorial will help you ease your work and guide you to make one for your daughter.
35. Baby Hat Pattern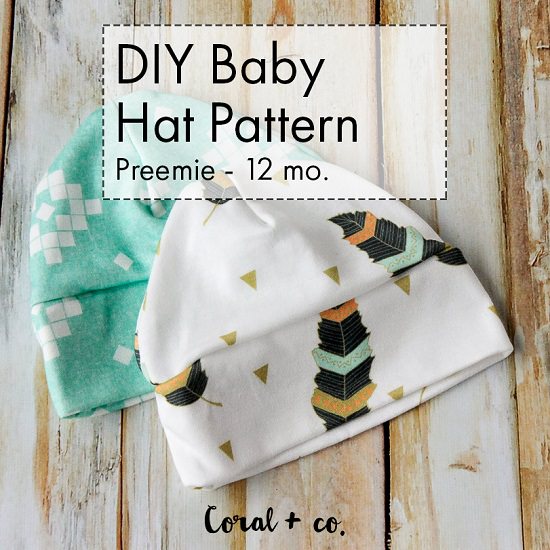 Customize and create hats for your kids ranging from newborn to six to twelve-month-old baby. If you are a beginner, Coral And Co will help you to start knitting with their detailed tutorial.
36. Easy Child Kimono
Making kimonos are quite effortless if appropriately made. The video will make it easier for you to make one for your cute baby.
37. Baby Hat Tutorial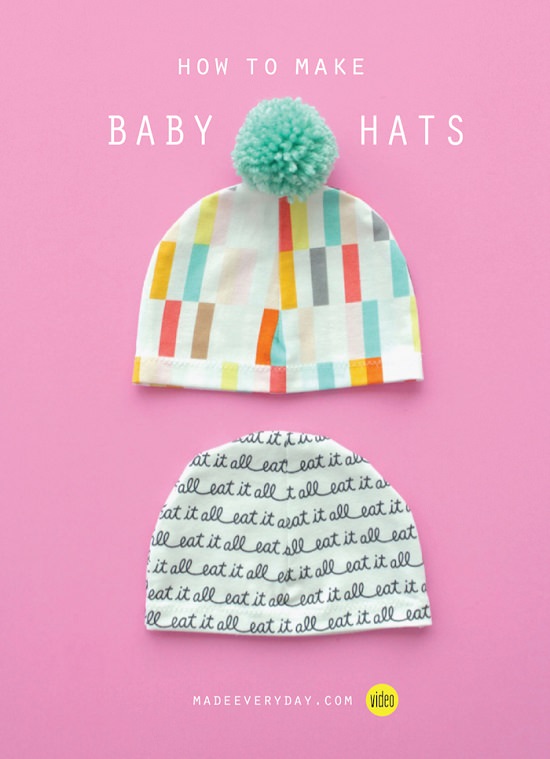 Put on your creative caps, pull up your socks, and make some cute little caps for your little one. Add little details like pom-poms to make the hats more adorable. For, instance have a look here.
38. Vintage Heirloom Dress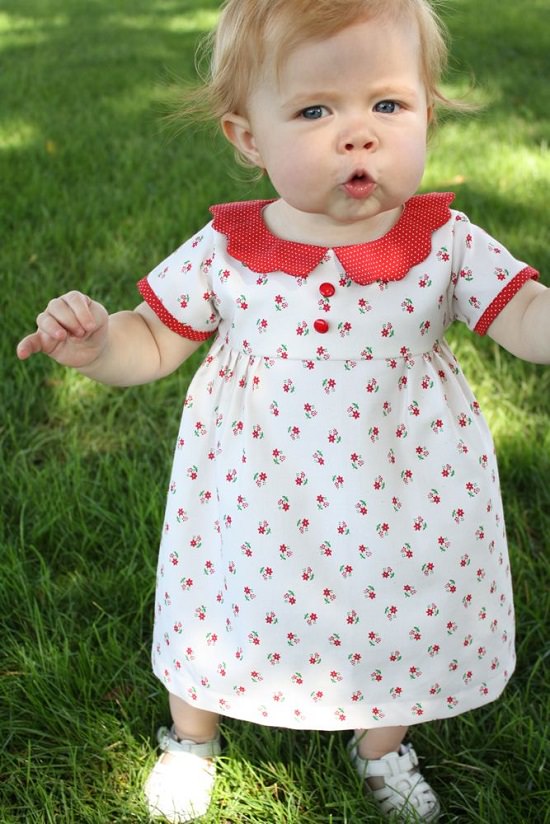 Cut some fabrics and stitch for your angel a vintage heirloom dress to fit her perfectly and be gentle on her skin. You can mend any two fabric together and color coordinate the clothing in your style.
39. Infant Peasant Dress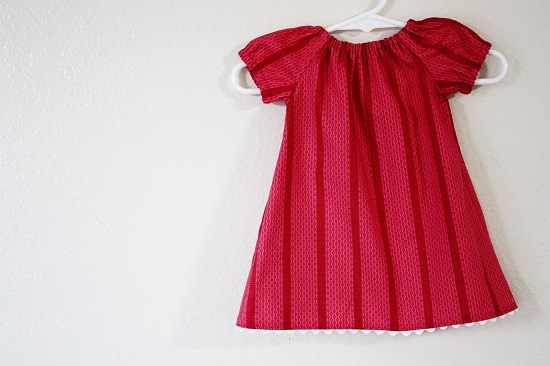 Sew Much Ado has the description of a zero to three-month-old infant dress. The dress has an elastic neckline that assures the dress to be intact throughout the day without compromising on the comfort of the baby.
40. Adorable Onesie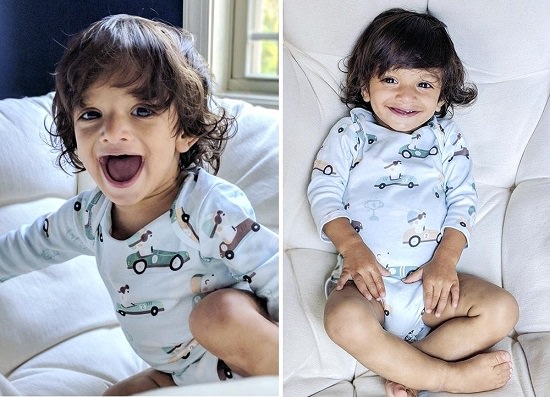 If you could find a fabric to suit the liking of your toddler, there's no better way to employ it except making a customized bodysuit. Learn how to DIY this adorable onesie here.
41. Criss Cross Dress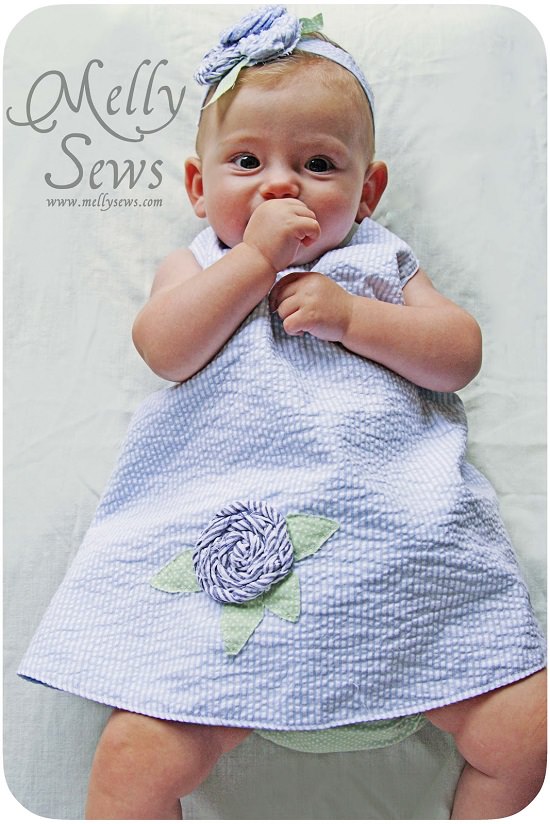 Make these super easy criss-cross dress and either present them to someone expecting or use it for your kid. You will get the full description here.
42. Girls Crossover Pattern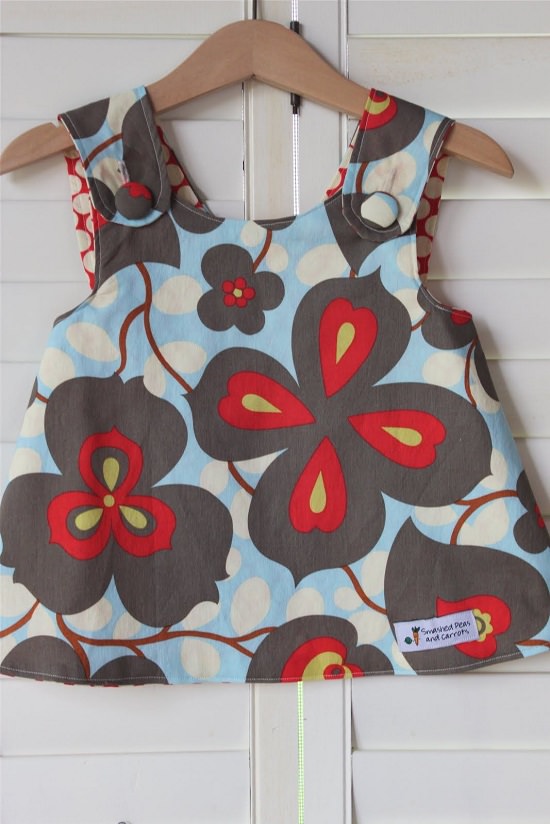 Stich these crossover pinafore dresses for your little girls. The site has details of six to twelve months' dress. Bonus: these dresses can be later worn as tunics and top when your child outgrows them.
43. DIY Baby Clothes – Mini Maxwell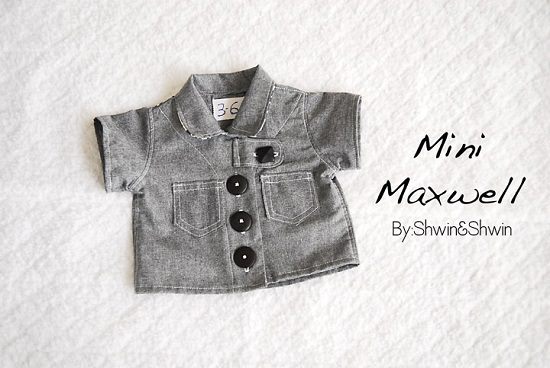 Shrink a maxwell shirt pattern to the size of your baby and pair it up with different pants and shoes to customize a new outfit altogether. Look at this tricky tutorial here.
44. Baby Hudson Pants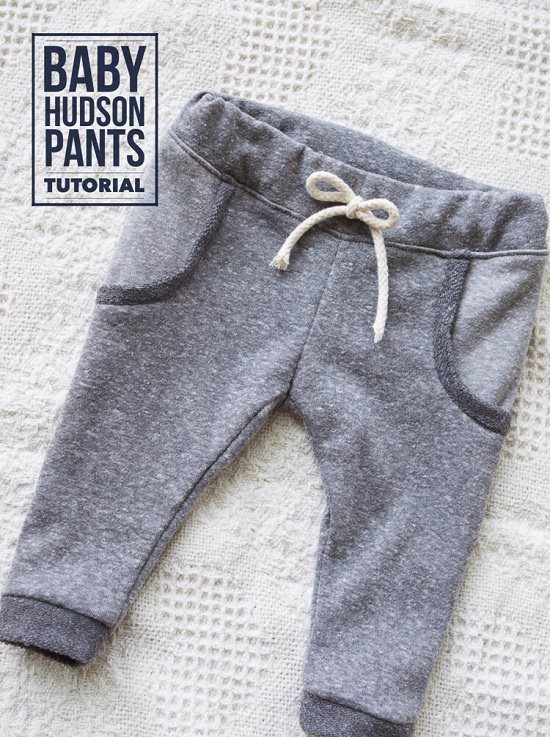 This winter, keep your newborn's legs warm and take care of his comfort by making Hudson pants. The pants can be made using legging patterns or any other of your choice. Click here and make one for your baby.
45. Tops And Bottoms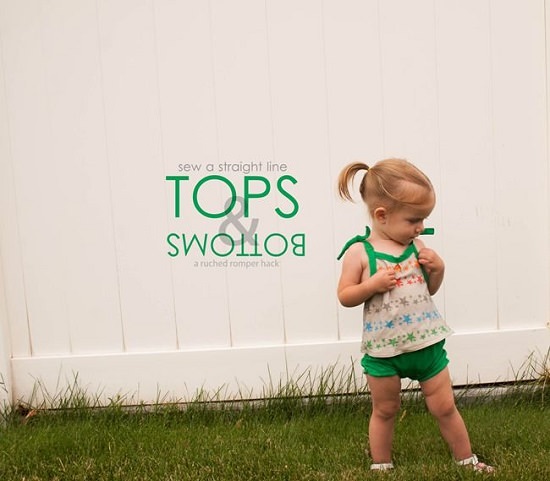 Upgrade your child's wardrobe with the fashion found no where else. Make some cute variety of bottoms and tops for your little prinecess. Take inspiration here.
46. Re-purposed Boho Leggings

Look how easily you can transform an old shirt into a boho legging for your kid within twenty minutes. The comfort of these leggings offer is beyond that of any pants or jeans that often make the child uncomfortable.
47. Footed Baby Pants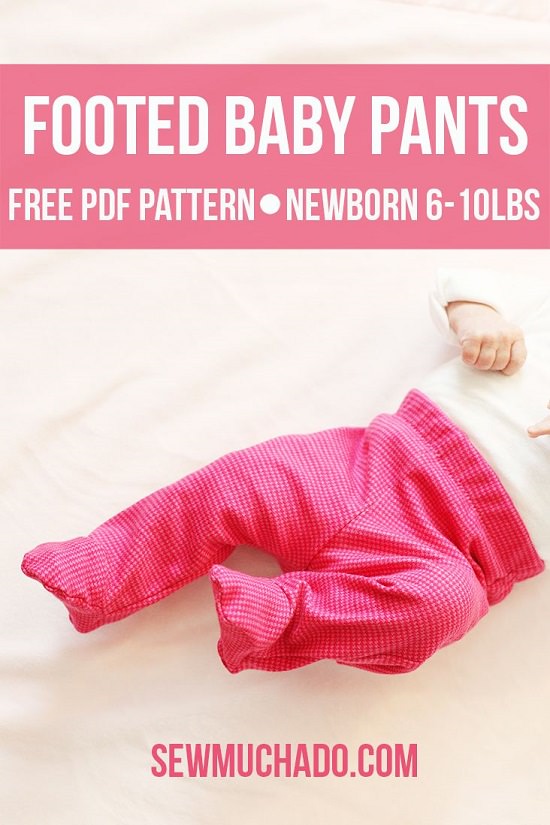 Protect your infant's feet and legs by just slipping him into these baby footed pants. These pants are cozy and would be a favorite of the moms as you no more have to worry about socks to protect the tiny feet of the newborn, just a pant would do.
48. Ruffle Bloomer Diapers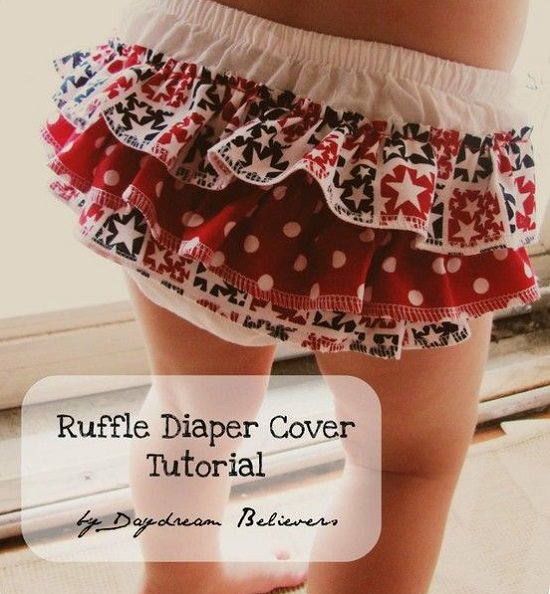 Make your simple diaper cover unusual to find anywhere else. Decorate them with ruffle, and your pretty diaper covers are ready. You will need less than thirty minutes for this activity. Click here for further details.