We've rounded up 35 creative DIY bead projects you can try right now! You'll be surprised to see you can make so many things out of beads.
1. Perler Bead Placemats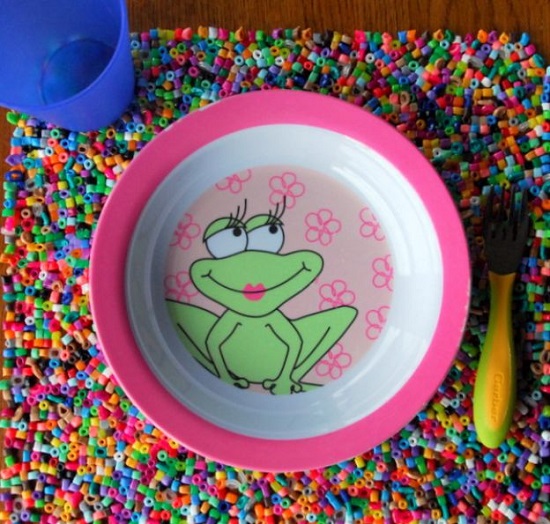 Lay Perler beads on a jelly roll pan and bake it at 350 degrees for at least 10 minutes. Get more details on this DIY bead project at Meaningful Mama.
2. DIY Bead Projects – Perler Bead Candle Holder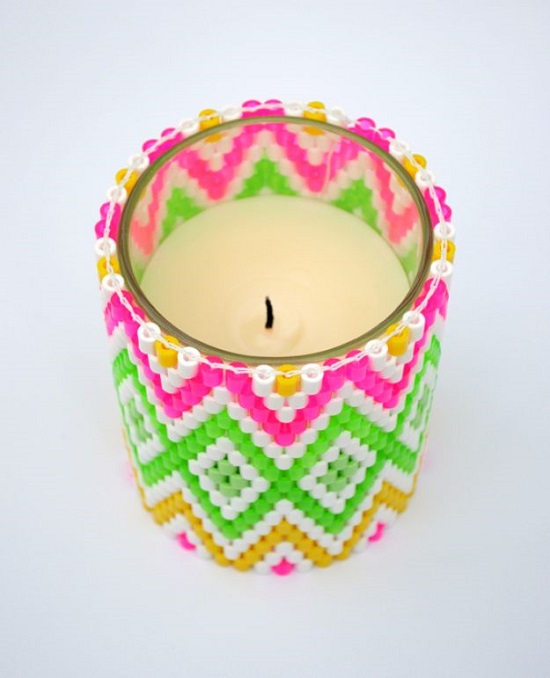 Weave Perler beads to create a fancy and vibrant candle holder for your party night! The post is inspired from here.
3. Perler Bead Tray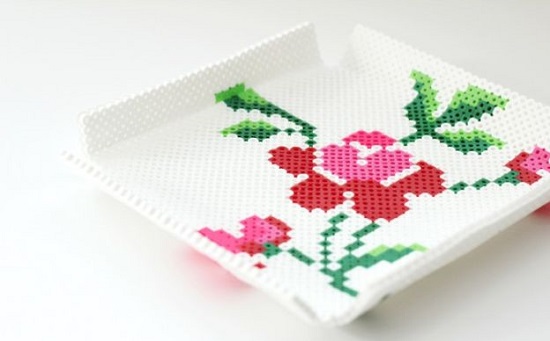 Fill Perler beads in a clear pegboard and create whatever design you like to imitate this DIY bead tray idea. For more information, visit here.
4. Fun Fruit Keyrings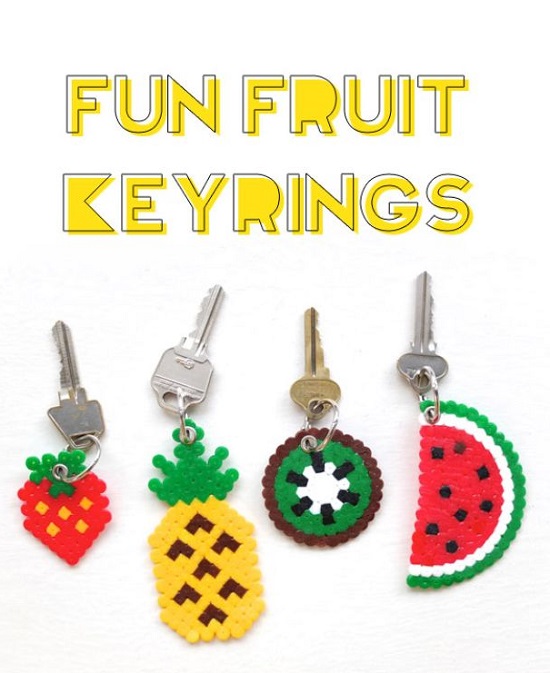 You'll need pegboard, beads, tweezers, baking paper, iron, metal rings, and eyelet tool to make some fun keychains yourself. Get it at My Poppet.
5. Perler Bead Bowls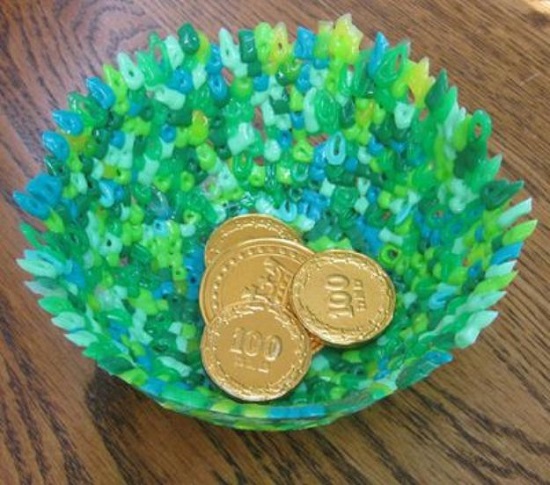 To create this perler bead bowls you'll need an ovenproof bowl, beads, and cooking spray. Find the steps to the project here.
6. DIY Bead Projects – Purse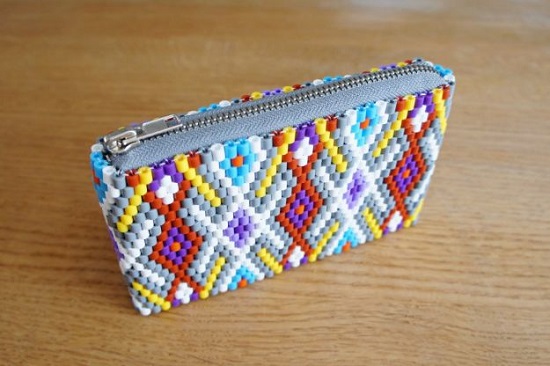 Take help from this useful guide to create a perler purse using thread, beads, zipper, glue, scissors, and pencil. Style Design Create has directions.
7. Perler Bead Bracelet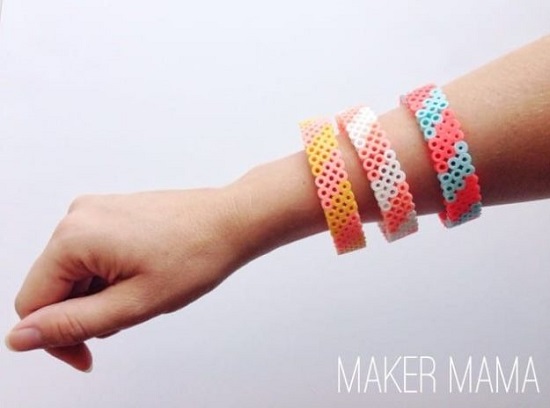 Gift your little princess a set of these handmade perler bead bracelets explained in easy steps here. In addition to this, they even have provided a link to make perler bead crowns!
8. Hungry Caterpillar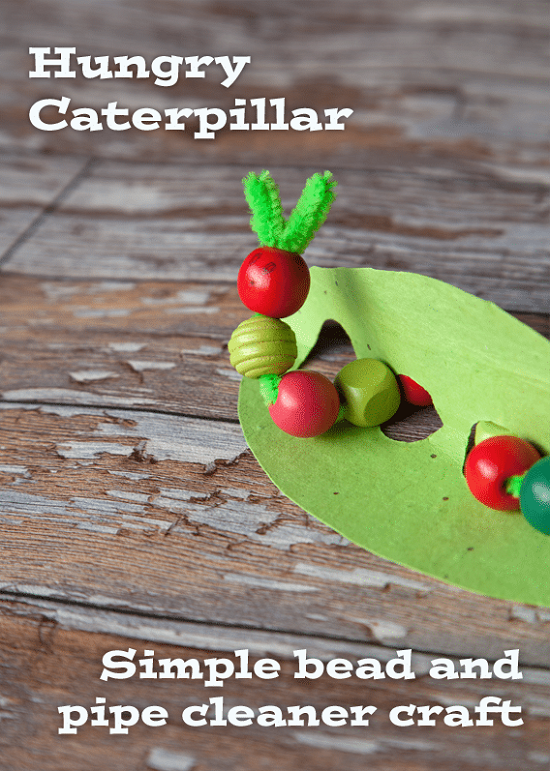 Let your kids spill their creativity in making this hungry caterpillar out of pipe cleaner, wooden beads, pen, green paper, and scissors. Have a look here.
9. Pearl and Burlap Napkin Rings Tutorial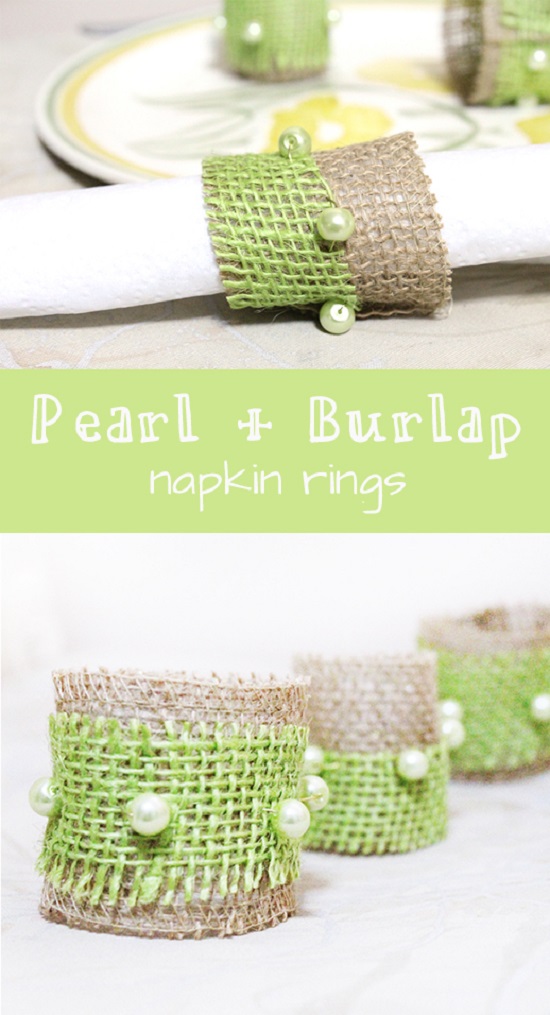 Combine the rustic beauty of burlap and shine of pearl in making a napkin ring to feature on your dining setting. Learn the craft here.
10. Melty Bead Puzzle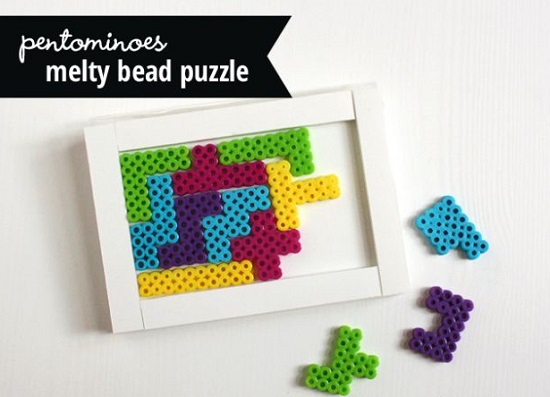 Puzzles are always a great idea to keep your kids busy, it's not just fun but also improves solving skills in children. Click here to know the procedure.
11. DIY Perler Beads Fruit Bowl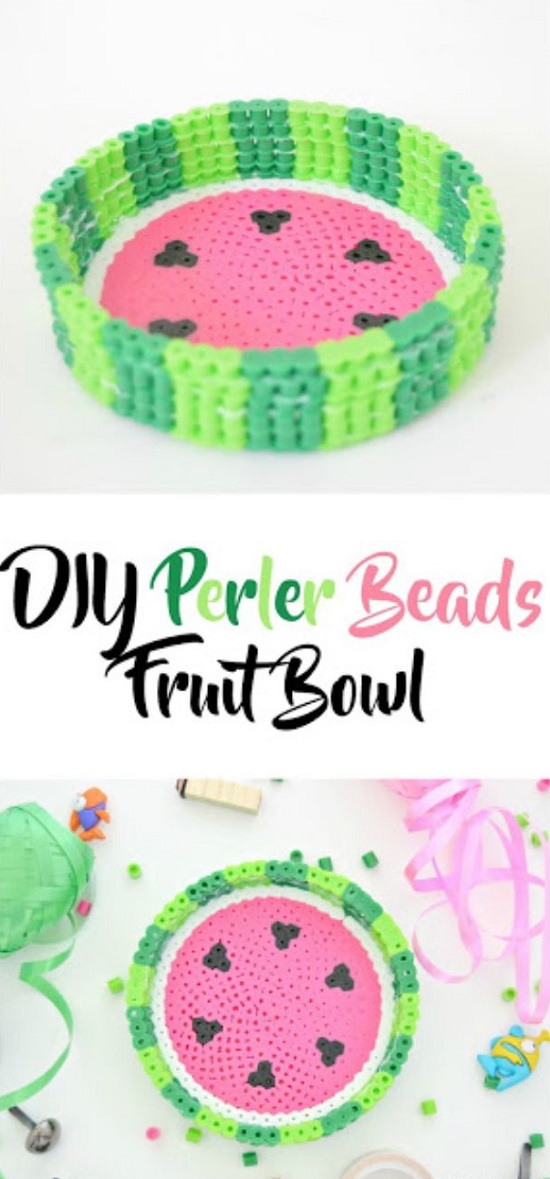 Design a fruit bowl similar to any fruit using perler beads, circle pegboard, parchment paper, Iron, and  Epoxy glue. Learn it here.
12. Perler Beads Drink Topper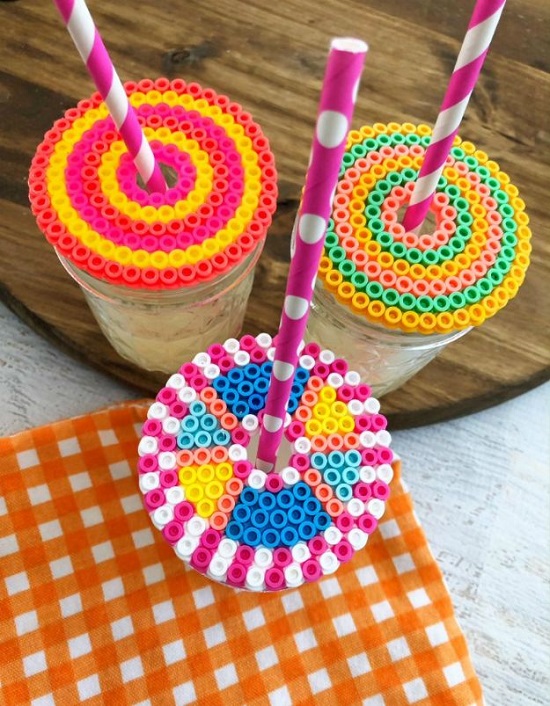 Keep your drink safe from bug or flies getting into it when you're out in the porch enjoying your summer drink with these drink toppers. Have a look at the details and steps here.
13. DIY Mickey Mouse Perler Bead Bookmarks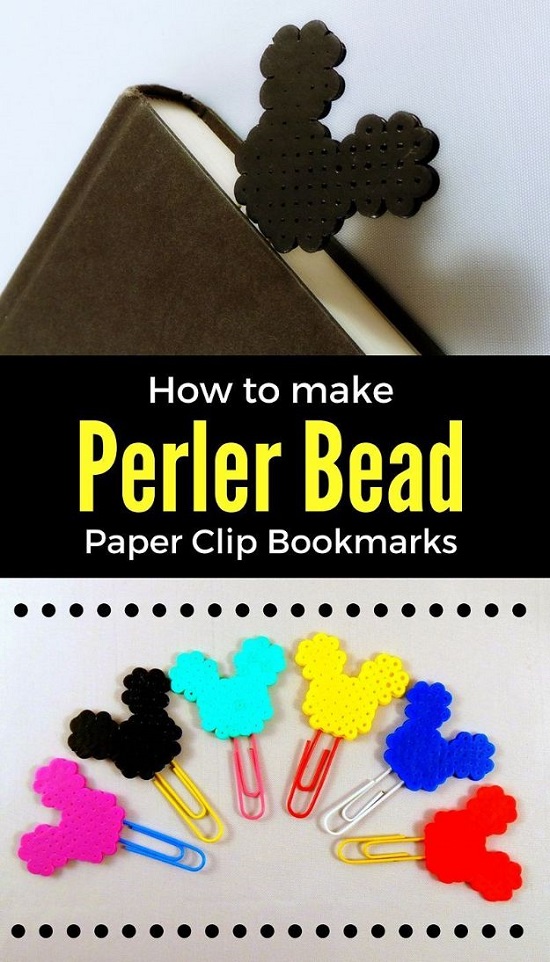 Gift your inner reader a much-needed gift to keep track of where you left your reading earlier. Krysanthe has the instructions.
14. Fruit Perler Beads Coaster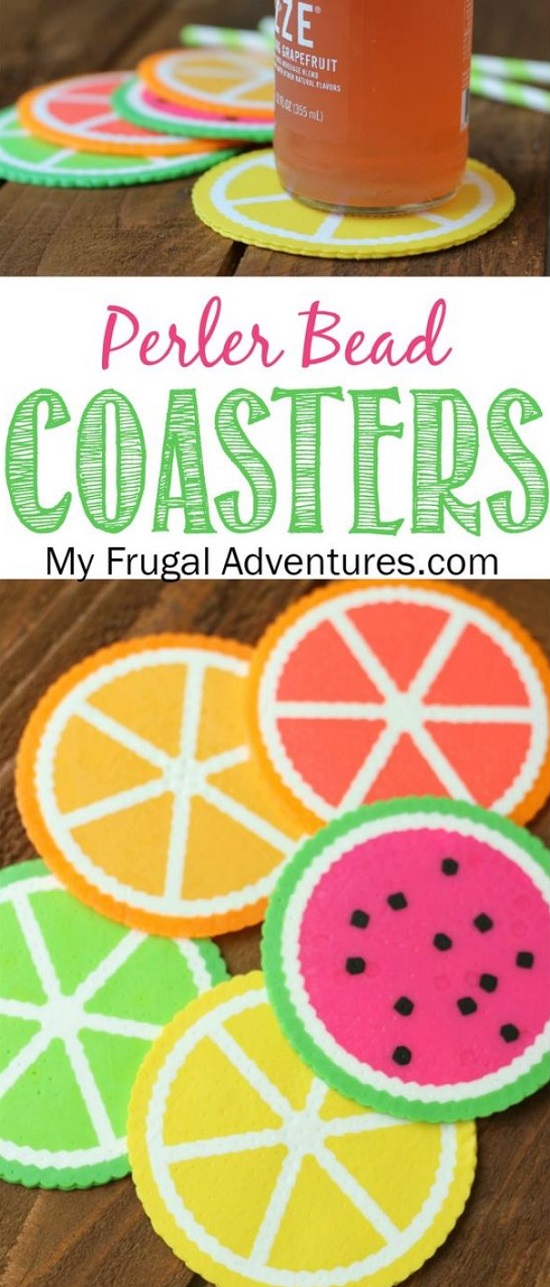 Place your perler beads onto the pegboard in a specific shape and design and iron them to make them stick together. Visit My Frugal Adventures.
15. DIY Perler Bead Rainbow Wind Spinners
Enjoy the view of your homemade perler creation while the slow wind hits it on a lovely sunny day. Refer to the video for directions.
16. DIY Bead Projects – 3D Cube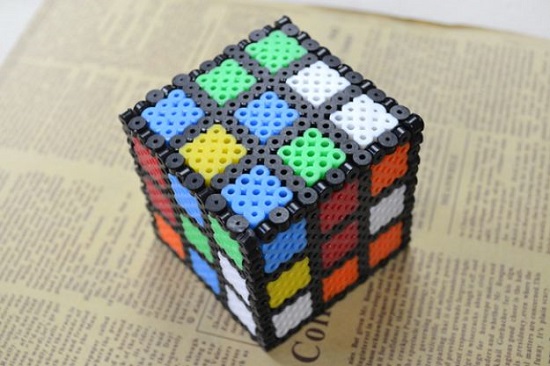 Although not practical, this 3D perler cube would make a unique desk decoration or even a great gift idea. Make them with your kids here.
17. Perler Bead Notebook Covers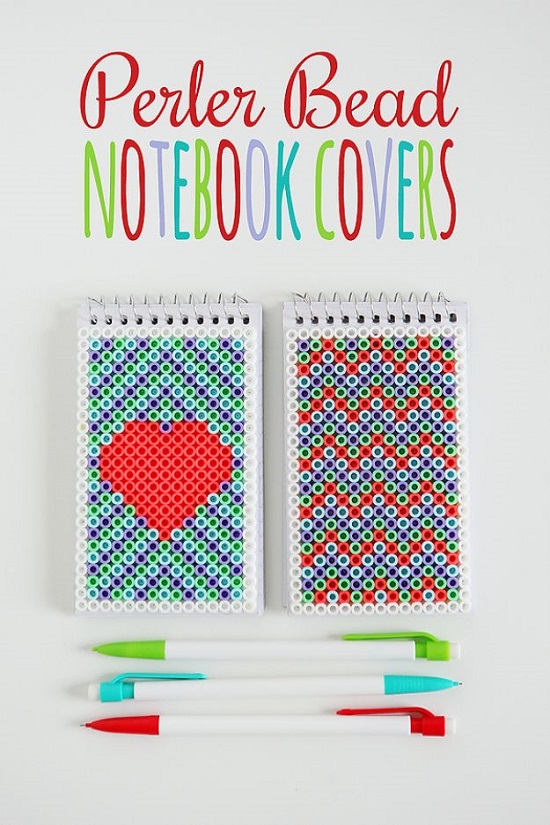 This idea will definitely boost the look of any notebook or notepad with joyful colors and patterns. Fill in the desired design on a pegboard and stick the beads together by ironing them on parchment paper.
18. Switch Plate Covers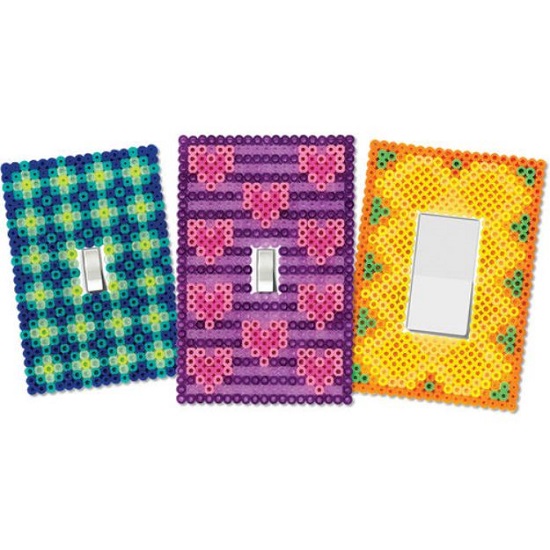 Add a unique and decent accent surrounding your switchboards with these switch plate covers. Pay a visit to Perler to know more.
19. Mini DIY Kaleidoscope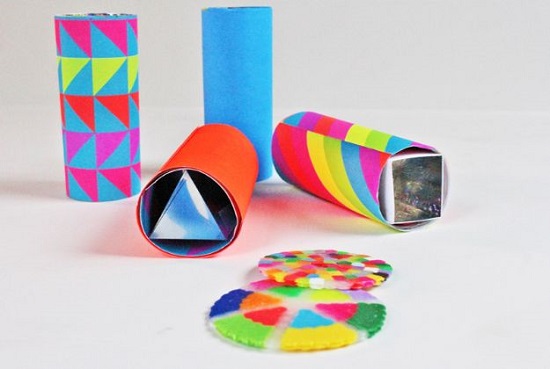 Teach your kids the science of reflection and optics with this homemade kaleidoscope project, which isn't only easy but kid-friendly too. Find it here.
20. DIY Bead Projects – Earbud Covers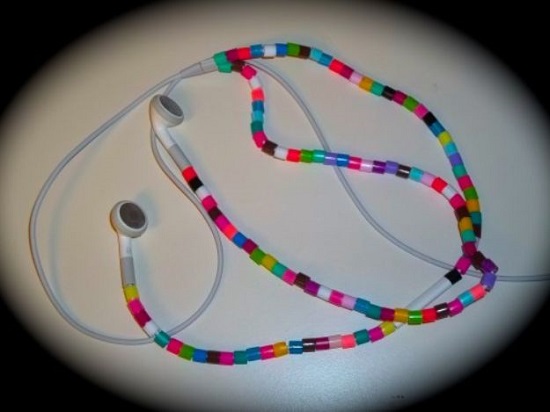 Tangled earbud wires end up in a complete mess and an irritating task to solve. A better way is to cover them with thread or beads, whatever you prefer. Learn to cover your earbuds in beads at Felt Magnet.
21. Bead Owls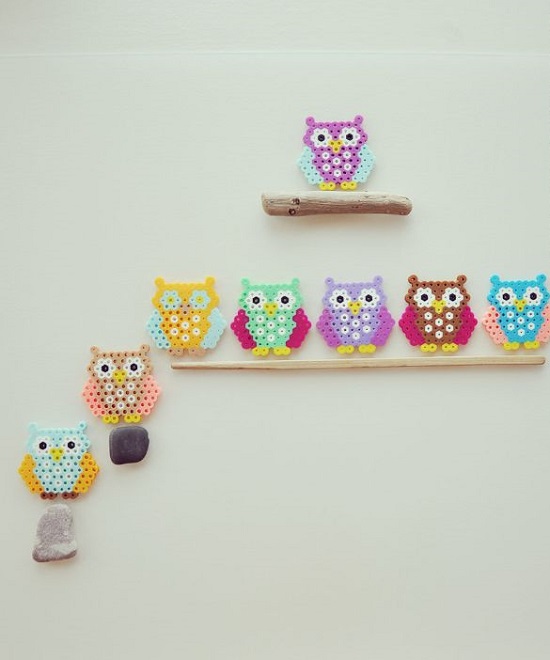 Copy an owl structure in meager of colors while filling a pegboard with beads and finish it off by ironing or microwaving the beads to secure them in place. We found the cute owls here.
22. Pony Bead Fish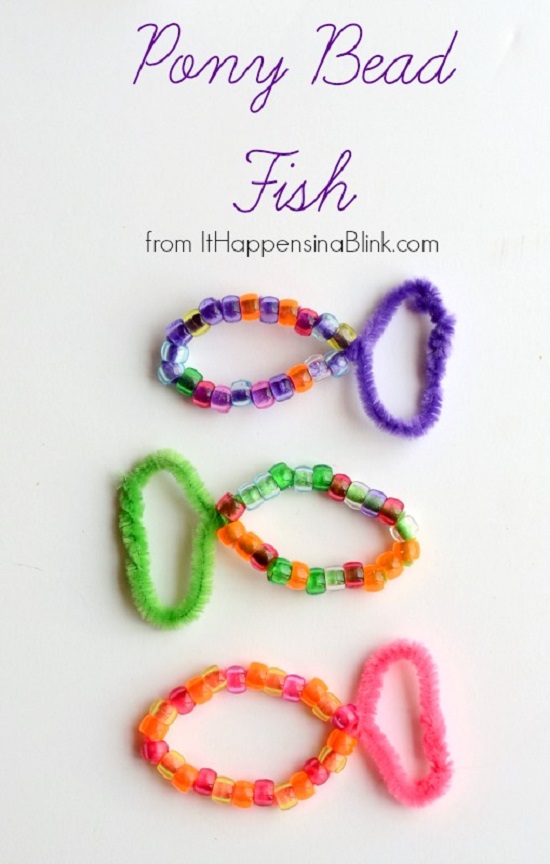 Fill 24 beads in a fuzzy stick and fold the stick to form a fish shape or any shape you like and secure the ends by twisting them. As of now, we couldn't make out a practical use, but this project is surely a fun pass time for kids.
23. Perler Bead Buttons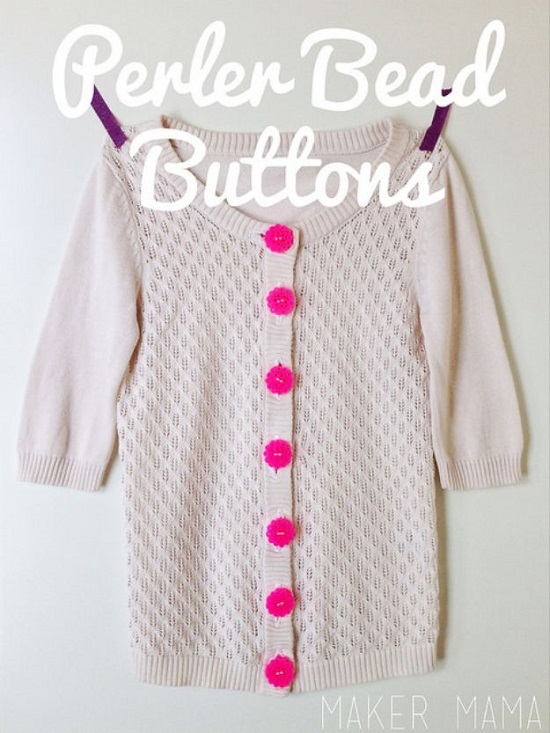 Embellish an old sweater with buttons made out of beads of cheerful colors, which can make it look new and more dramatic. Arrange the beads in a button shape on a pegboard and sew the button to the sweater, that's all!
24. DIY Perler Bead Planter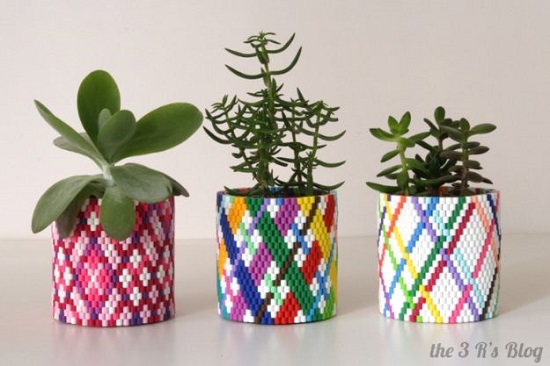 Give your plants a more aesthetic planter to thrive, you may find it difficult to create, but it's definitely worth a try. Understand the tutorial here and follow up the updates here.
25. Perler Bead Sushi Magnets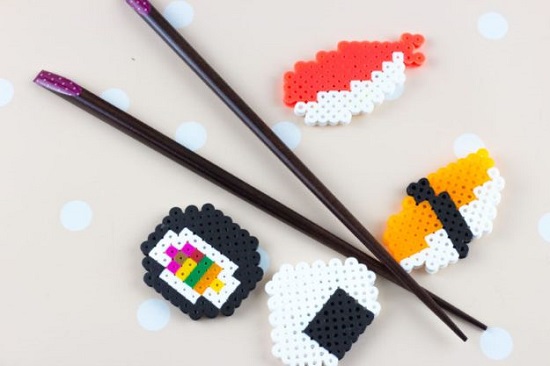 If your daughter has an extreme love for cooking games, get her into making these unique beads sushi magnets. Not just for playing, these can be a\ great fridge magnets too.
26. Perler Bead Earrings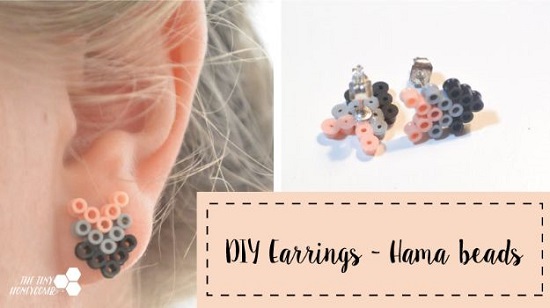 Fill the pegboard with beads in a design, which you'll like to wear as earrings and heat the beads to attach them together. Once done, glue earring backing to one of the beads and you're good to go. Here's the idea.
27. Colorful Cuffs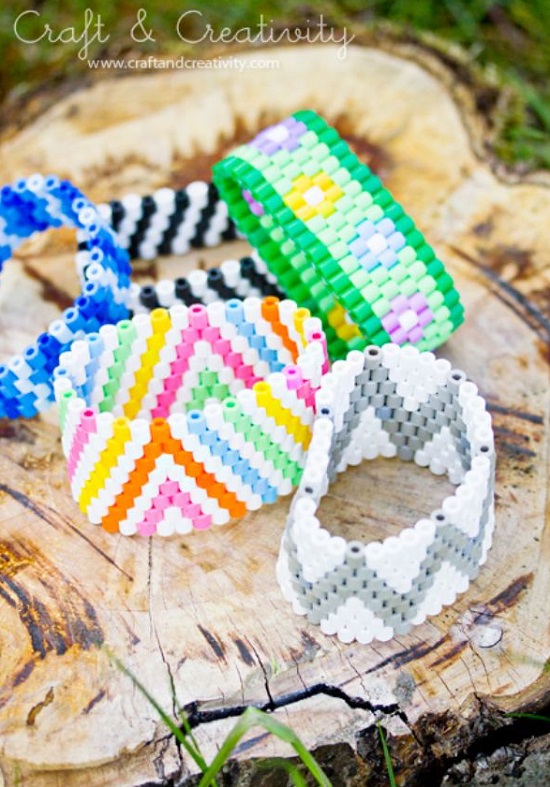 Tie a bead at the end of a string and go on adding different colorful beads by following the procedure here. Once you achieve a long enough handcuff, secure the ends together by weaving it back and forth.
28. Beaded Zip Tie Necklace
Watch the video tutorial to learn to make the beaded zip tie necklace for you and your loved ones!
29. Perler Flower Notebook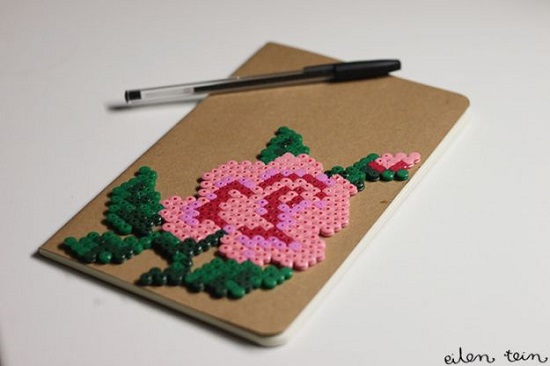 Follow the same technique of designing the shape on a pegboard and ironing it on iron paper to secure them. Once you complete making the flower, use a strong glue to attach it to the cover. Get it here.
30. DIY Bead Projects – Phone Cover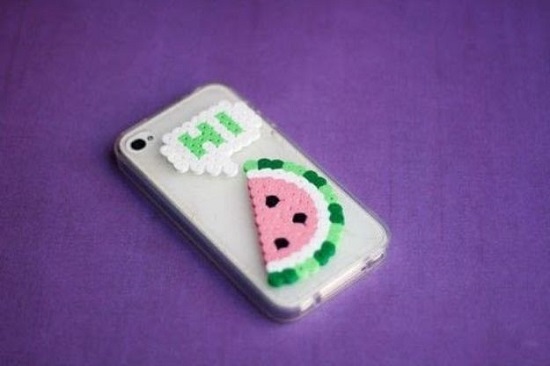 Give your phone a new and energizing look by creating desirable shapes using beads, pegboard, iron, ironing paper, and glue. Follow the instructions here.
31. Pony Beads Lizard Tutorial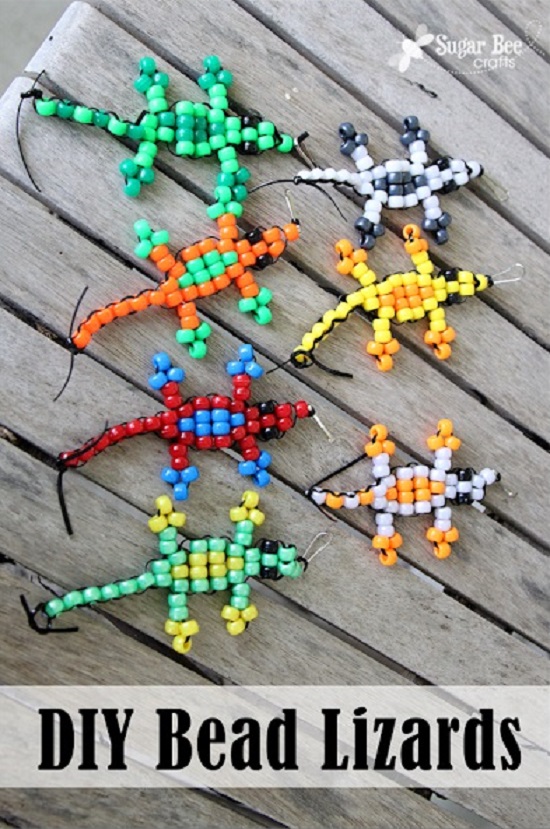 Try this interesting and exciting craft with your kids, not just lizards but experiment with other animal figures too. Have a look at this tutorial.
32. BBQ Beads Sun-catcher Ornaments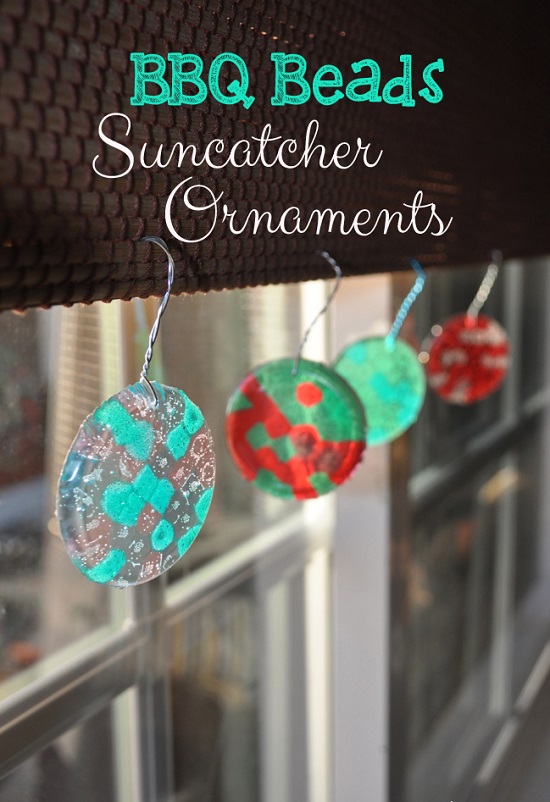 How about creating these enchanting and shiny BBQ beads sun-catcher to showcase your creativity? Combine different colors of beads in one tin, allow them to melt in a grill and let them rest and cure. Finally, make a hole in each one of them to attach wire and hook, click here.
33. Blooming Perler Cacti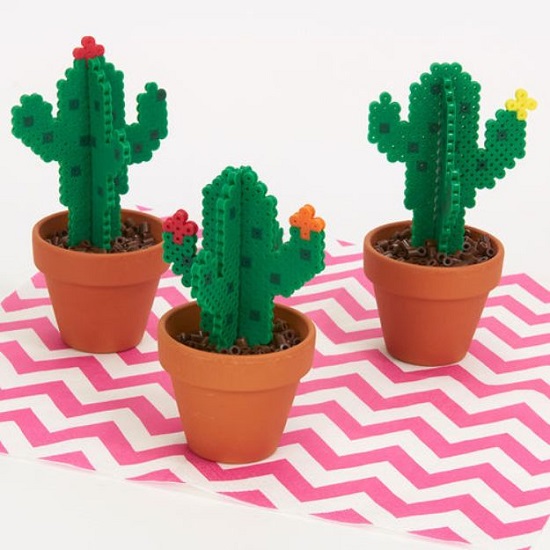 If you have a black thumb in planting, try making these artificial blooming cacti with beads, pegboard, iron, ironing paper, flower pots, and floral foam oasis.
34. DIY Easy Colored Bracelet
You'll need colorful seed beads, pearl beads, thread, a pair of scissors, needles, a pin, clasps, and this video tutorial guide to complete this bracelet DIY.
Liked these DIY bead projects? Share your thoughts below and follow us on social media for regular updates.