Turn your functional cork bulletin boards into a piece of art with these DIY cork board painting ideas.
1. Cork Bulletin Board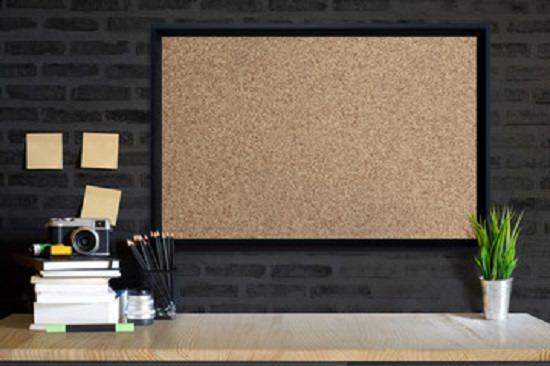 Dress up your corkboard with chevron prints and more! Learn how to paint a cork bulletin here. Also, get a complete list of resources required for this DIY.
2. Confetti Cork Board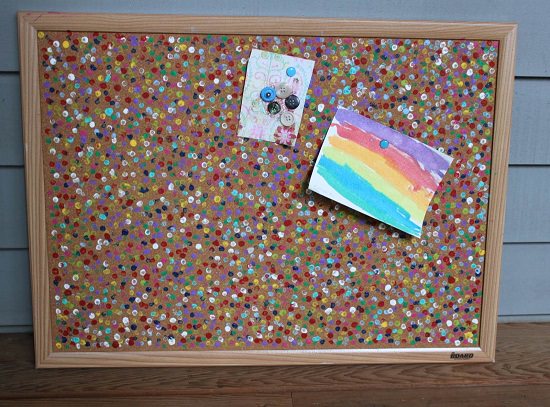 In addition to being quirky, this DIY is extremely easy to do. Learn how to make a confetti design corkboard for a fun study session.
3. Cork Board Painting Ideas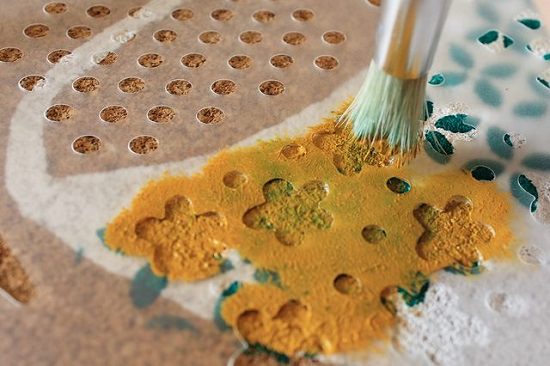 Know what you need, to create this pretty corkboard design here. Also, learn how to prep up your corkboard for the DIY.
4. Cork Board Into Piece Of Art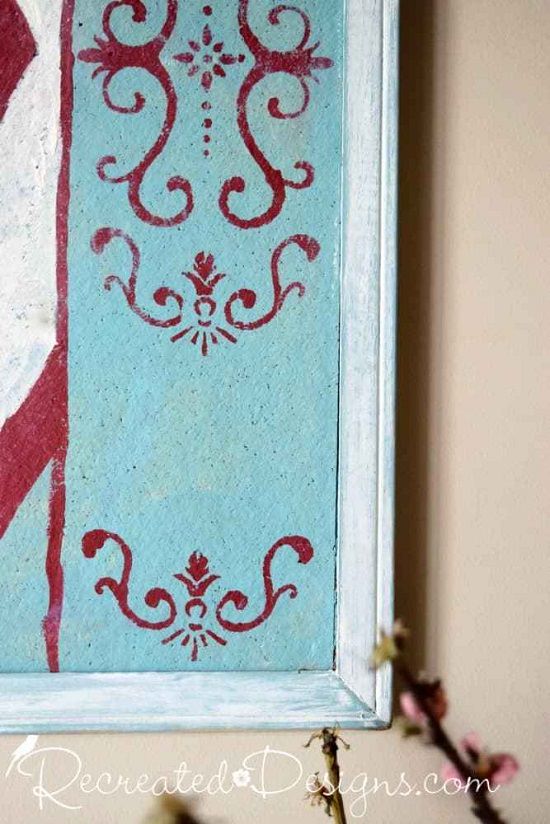 Upcycle a basic corkboard to a work of art with this DIY here. Furthermore, know how to pick up an inspiration for your art that goes well with your room.
5. DIY Jewelry Organizer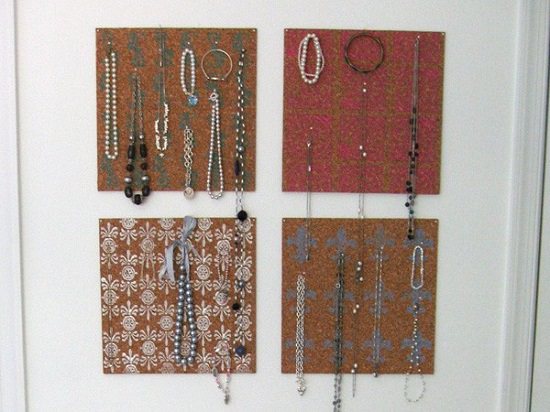 Convert your corkboard in a simple yet functional jewelry designer with a stencil pattern design and other material here.
6. Pink Ombre Cork Board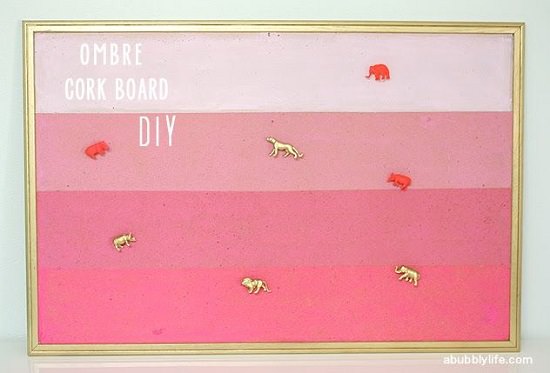 In contrast to quirky and bright DIY ideas, this corkboard painting idea explores a subtle ombre art look. Even as the idea explores different hues of pink, you can personalize the design with any color you like.
7. Cork Board Inspirations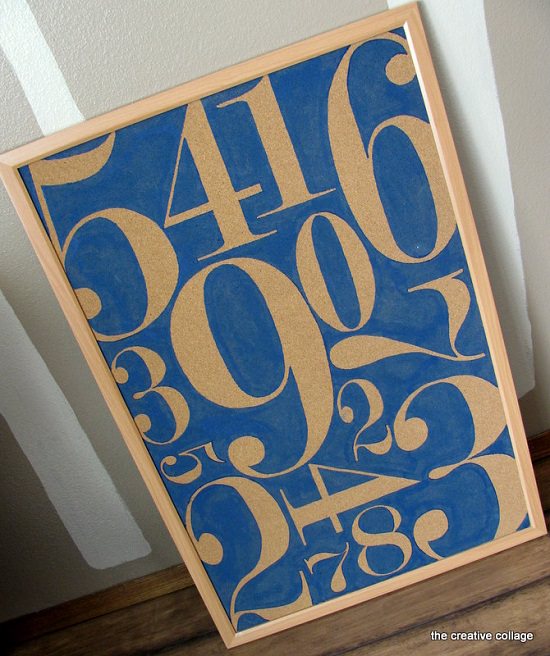 Get inspired by these ideas and create your own masterpiece. You can customize the designs as per your design sensibilities and color choice as well.
8. Painted Trivet Cork Board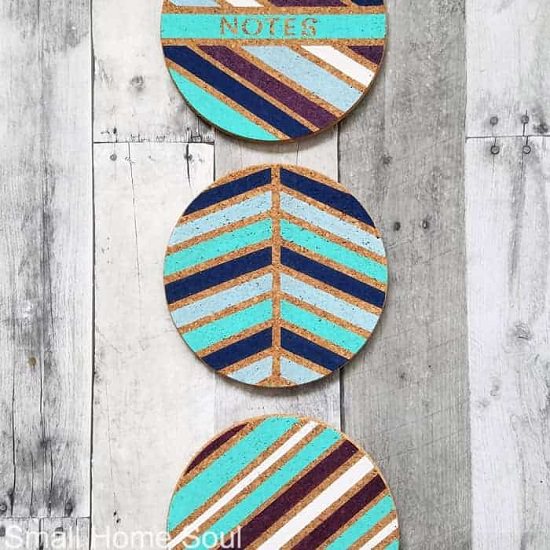 In contrast to the single-piece board, this DIY explores a trivet corkboard, that helps you pin up your work in style. This three-piece design also gives you the liberty to add contrast to your artwork.
9. Drab to Fab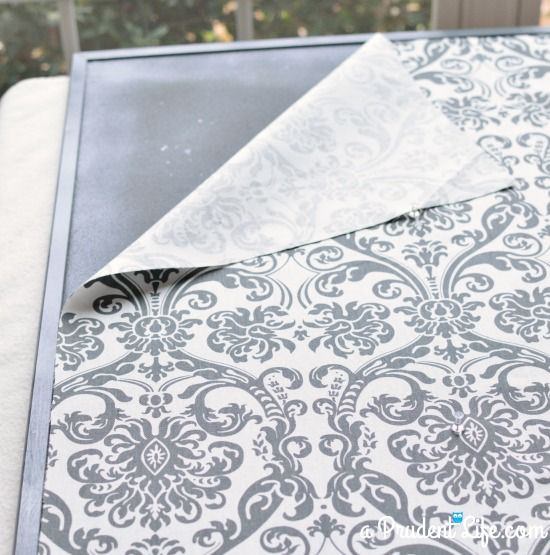 You can go ahead and pick up paint for your own board idea from all these cork board painting ideas. However, if you are looking to spruce up your corkboard with fab printed fabric, know how to do it here.
10. Loving Cork Board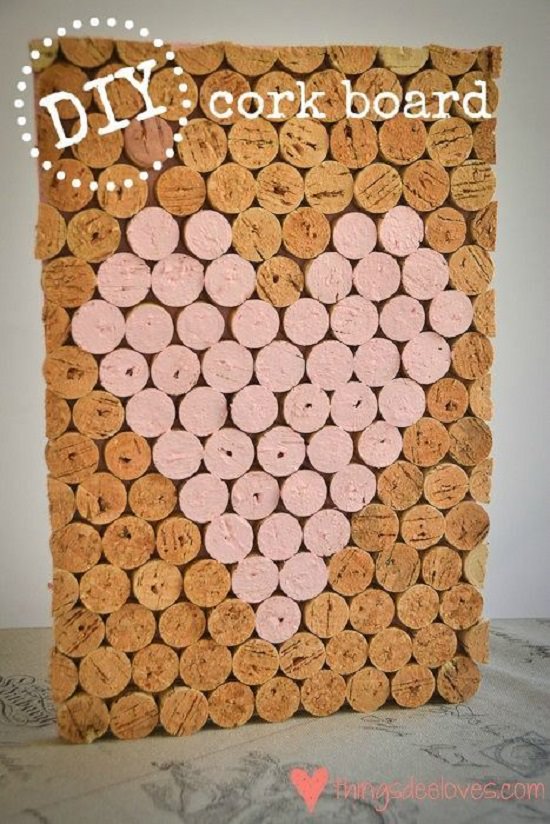 Know how to bring together an admirable corkboard with bottle corks here. Besides the inspiration, the site also features everything you need for the DIY.
11. DIY White Cork Board
Create a white cork board from scratch with this idea to add a creative touch to your daily planner. Watch the video to know more.
12. Colored Cork Board
If you like a particular color, you will love this DIY idea. Color up your corkboard into the color you want with spray paint.
13. Tangram Cork Board Wall Art
You don't have to go with a traditional corkboard to save and pin-up your work, you can go crazy with the artistic approach when it comes to your pin-up boards. For example, you can create an origami look cork board like this, which would also act as pretty wall art.
14. Skyline Corkboard DIY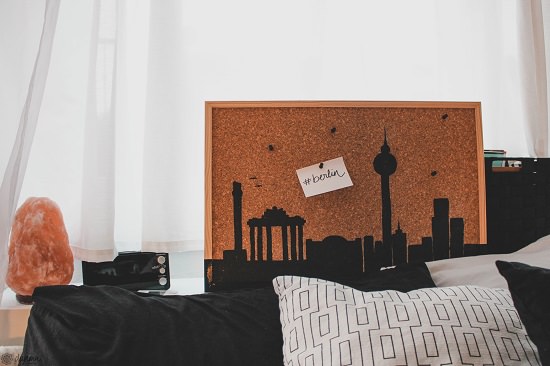 Getting bored of your plain corkboard at the workstation? Here is a dreamy addition to your to-do list. Customize a skyline design corkboard here.
15. DIY Corkboard Map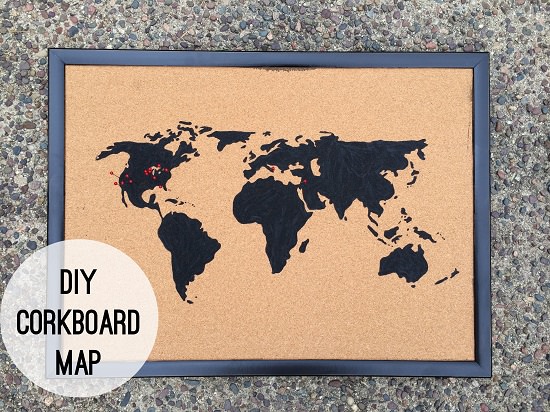 An ideal work station addition for the travelers and wanderers, this world map corkboard DIY is easy to make and has multiple functions. In addition to making your travel conquers, this pin-up board can hold important notes as well.
16. DIY Inexpensive Cork Board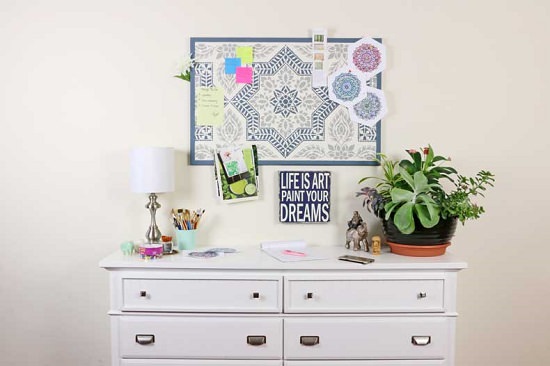 Create this inexpensive yet stunning artwork corkboard for your home office. Truly, an apt choice of corkboard design, as it helps bring balance between your workspace and the home decor. Choose a tile stencil for your design, and after that, follow the steps in this DIY to create a one-of-a-king corkboard for yourself!
17. Painted Geometric DIY Corkboard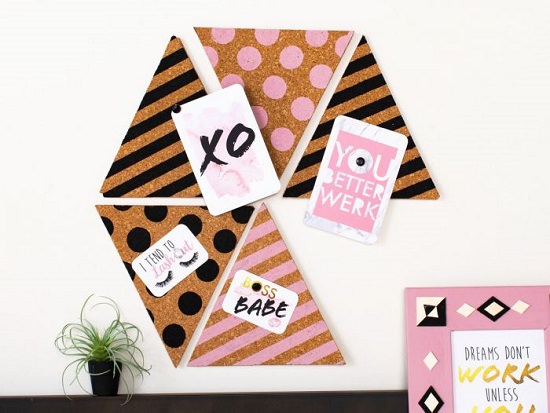 Another geometric creation to spruce up your workspace! This corkboard DIY includes inspiration and a complete guide to upcycle or create an interesting corkboard design for your work station.
18. DIY Wine Cork Bulletin Board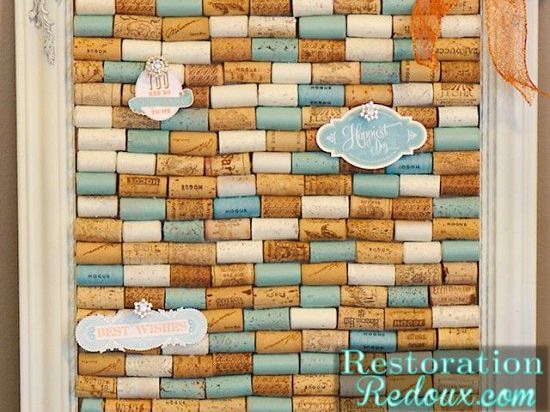 Collect all the bottle corks you have from your party sessions to make an interesting corkboard for yourself. Follow this DIY to create a beautiful message corkboard.
19. Stenciled Cork Board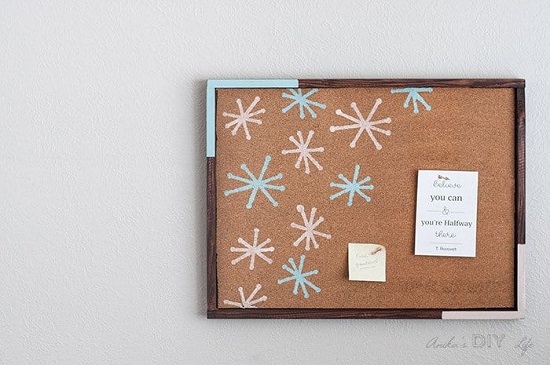 Get a detailed list of requirements as well as the know-how of creating a simple yet beautiful stencil print corkboard design here.
20. DIY Holiday Cork Trivet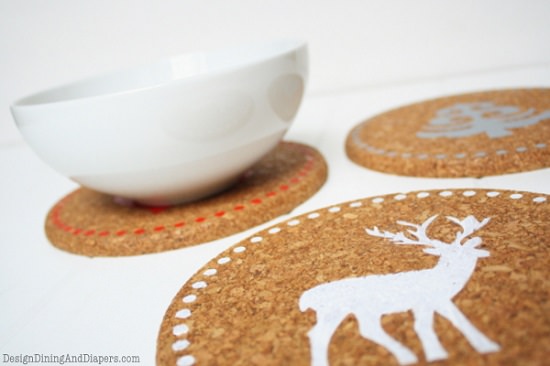 Add a festive touch to your cork trivets. Functional, fun, and simple to create, these trivets can be used to pin up important holiday messages/lists, as well as to save your table from piping hot festive food bowls! Learn how to make these painted stencil cork trivets here.
21. Handprint Cork Board Art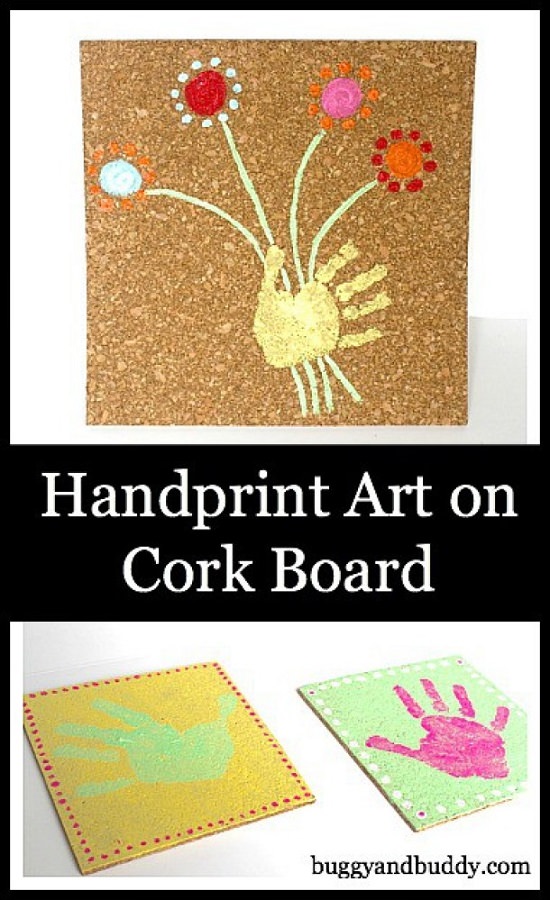 This fun craft project for kids is also a beautiful corkboard DIY idea for you to try today! An ideal cork board painting idea, especially for those without an artistic bone in their bodies, make this simple yet amazing corkboard painting here.
22. Painted Cork Board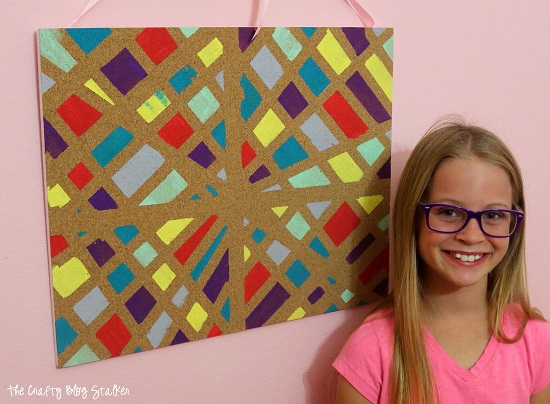 Get a list of supplies for this DIY project, along with a detailed step-by-step guide of making this painted corkboard design. Watch a video tutorial for this DIY here.
23. Hexagon Corkboard Dorm Decor
Know how to make an elaborate hexagon cork board wall with this video tutorial. An ideal design for people who pin-up multiple ideas in a day and like to compartmentalize their projects as well.
24. DIY Wall Art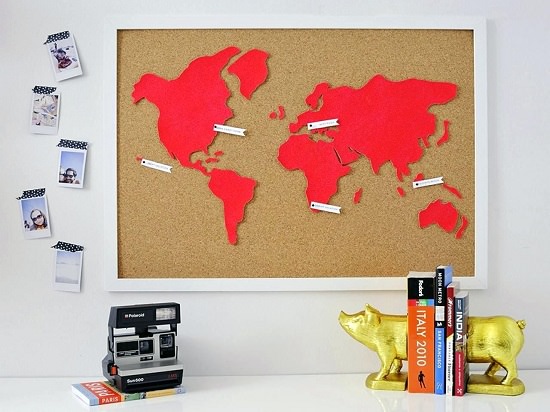 Customize your travel board with this world map paint idea. In addition to adding notes and reminders on your desk, this DIY corkboard helps you create your travel wishlist as well.
25. Chevron Cork Board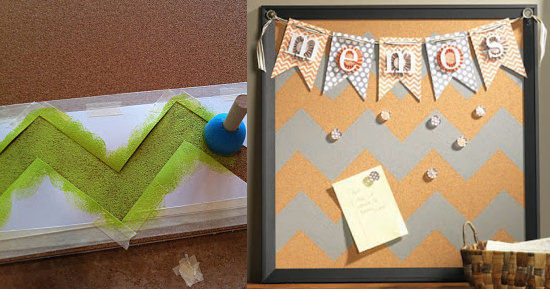 Check this detailed guide to create a chevron print corkboard for your work station. You can use the same colors used in this DIY. However, if you want a more lively corkboard for your desk, you can easily customize the design with colors of your choice.
26. World Map Pattern Board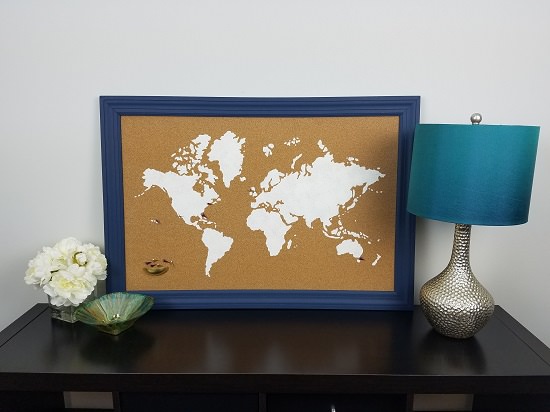 Learn to make a world map stencil to paint your corkboard here. Not only does this DIY gives you all the details you might need for making your own stencil, but it even lists other details like the shade and names of the paint used in the project.
27. Easy DIY Chevron Board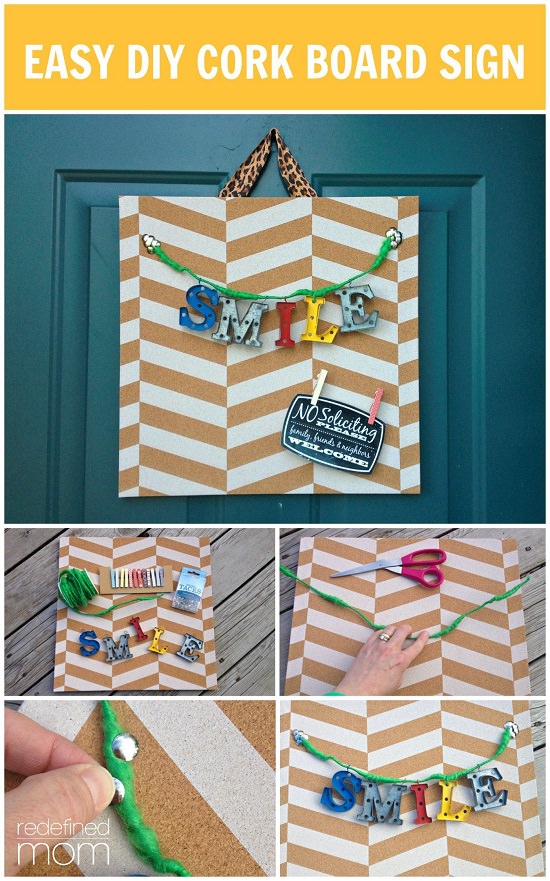 Create this chevron print pattern on your corkboard design with this DIY idea here. Get a list of things required as well as the know-how of this design.
So, what are you waiting for? Go through these amazing cork board painting ideas and after that, spruce up your own work station as per your design preferences.