These pegboard ideas for craft room will help you to design and organize your craft supplies in an cost-effective and easy way.
1. DIY Pegboard Wall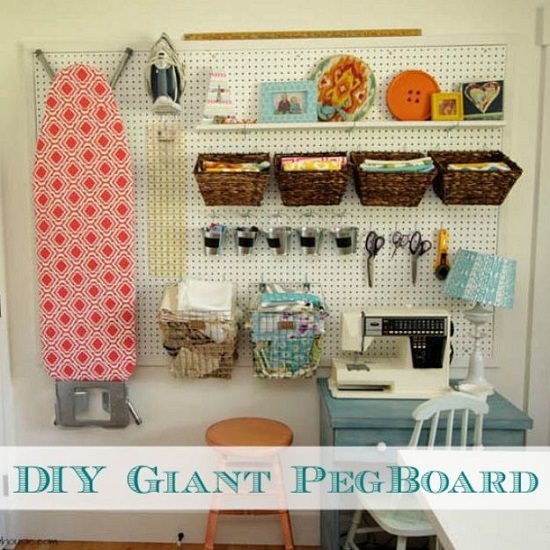 This pegboard wall or organizer is an excellent way to keep your craft material in one place. Additionally, it can become a display board where you can easily pin up your finished artwork. Learn how to create this pegboard wall here.
2. Project Runway Theme Pegboard Idea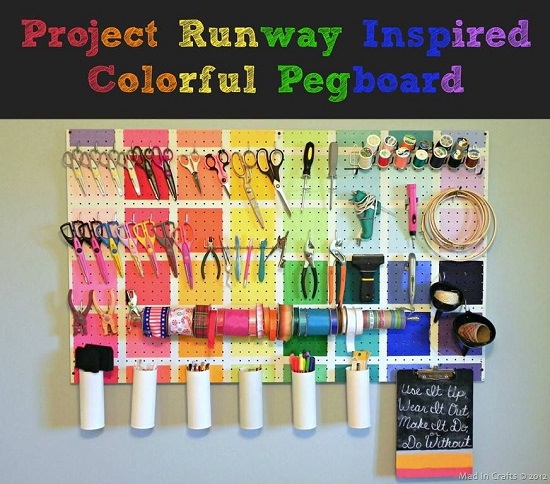 Are you a fan of fashion and some outlandish colors used in the art form? Well, then you will love this DIY craft. Get inspired and create this colorful pegboard wall installation that is perfect for designers! You can also use this board to pin up your reminders and mood-boards.
3. Pegboard Yarn Organizer Idea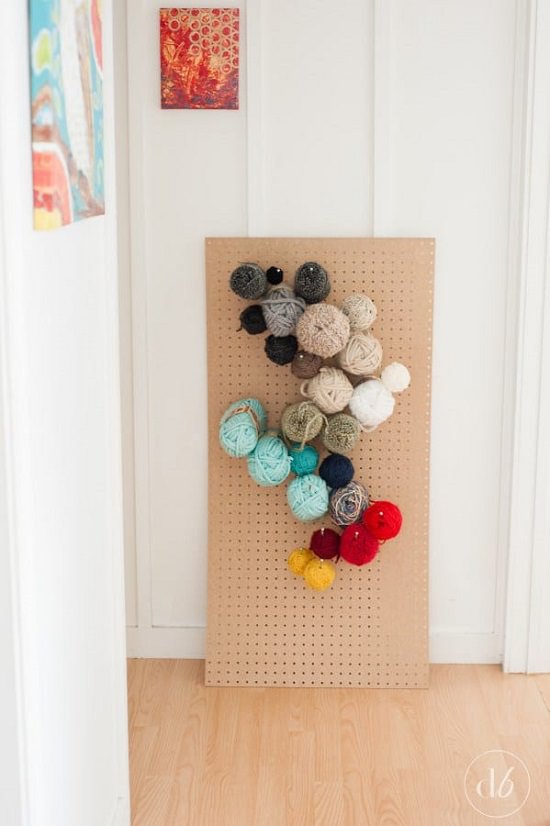 Another cool way to use a pegboard is to convert it into a yarn organizer. Not only is it an inexpensive yarn storage idea, but it is also a convenient way to choose and use the yarns for your new craft project.
4. Pegboard Craft Room Organizer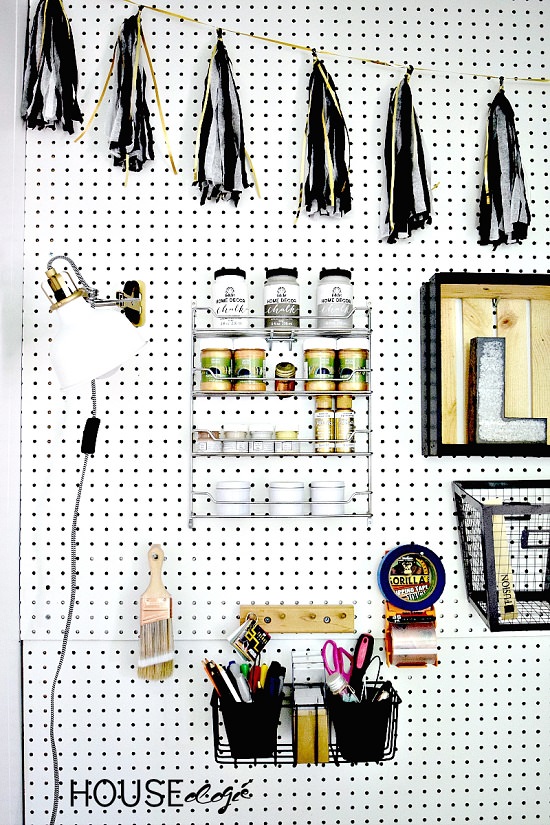 Know how to create this unique craft room organizer here. Also, get a glimpse of the before and after space with the pegboard installation for your design inspiration.
5. Clean Pegboard Organizer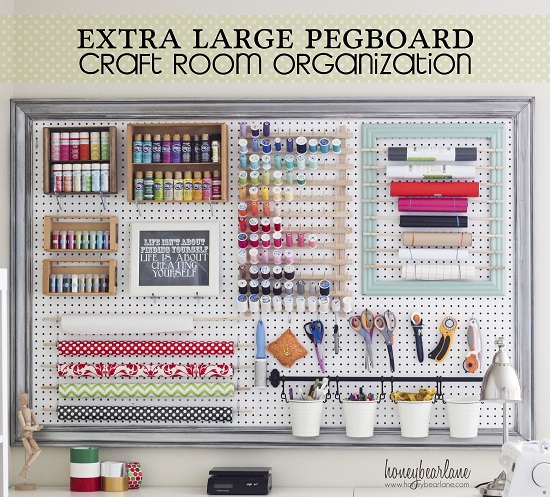 Get a complete list of requirements for your pegboard organizer here. The DIY helps you create a picture perfect organizer with the visuals. So, collect the required material and create this neat, clean, and colorful pegboard organizer today!
6. Pegboard Craft Organizer and Supplies Idea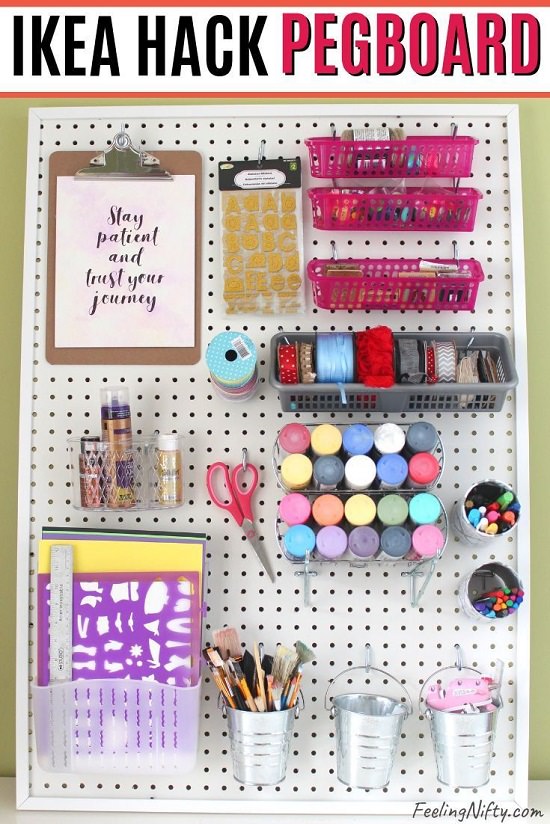 Besides being an easy hack to create a pegboard frame, this idea also explores the list of supplies that can be stored and organized on this DIY board. Install this pegboard frame in your craft room today!
7. Pegboard Gallery Wall Idea
Showcase your craft creations along with the supplies with this pegboard gallery wall video tutorial. Pegboards are a great way to avoid all your craft room mess!
8. Craft Room Wall Organizer
Watch this step-by-step pegboard craft tutorial to create an elegant and functional organizer wall. Not only does the video tutorial helps you create the pegboard wall from scratch, but it also helps you see the end result and how to organize it.
9. Painted Cross-Stitch Look Pegboard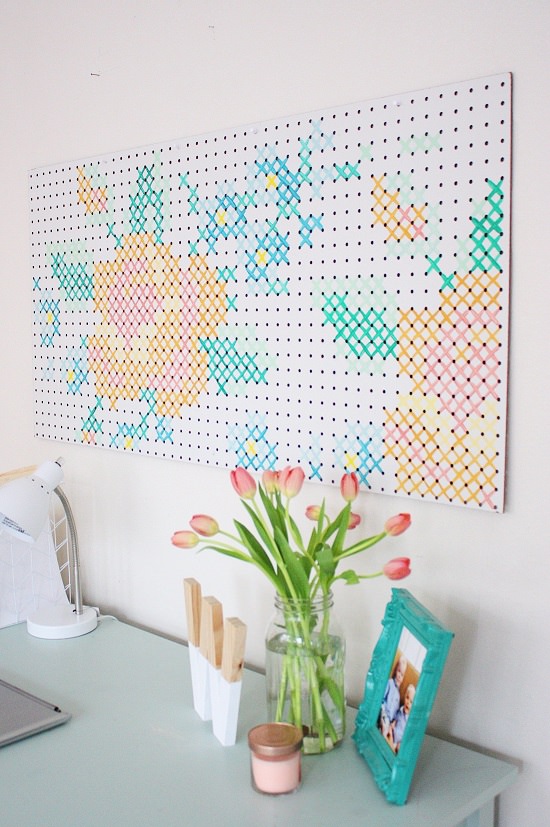 In contrast to the other pegboard ideas for craft room DIYs on this list, this pegboard idea helps you create wall art, which then you can transform into an organizer easily. Learn how to create this pretty cross-stitch pattern pegboard DIY here.
10. Pegboard Organizing Inspiration
A wall organizer will not only save up space but is an effective solution to save all your craft requirements in an easily accessible place. Check this video tutorial and get creative!
11. Pegboard Organizer Video Tutorial
Learn how to create a framed pegboard craft organizer in this video tutorial. The video also shows you how to put up your supplies and organize them neatly on the pegboard.
12. Craft Organizing Idea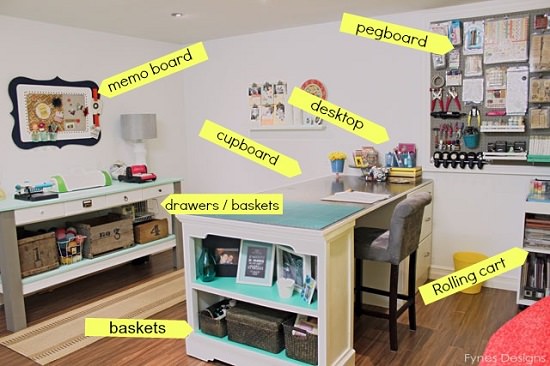 Don't limit your craft room organization to only one wall, rather organize the whole of your craft room with this DIY.
13. Pegboard Workstation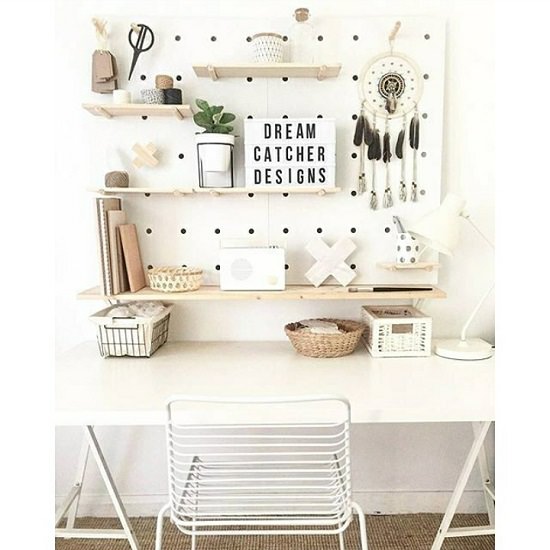 Get inspired and create your own workstation memo wall with a pegboard with this idea. Check out the placement of the wooden racks and accessories in this inspiration. You can also change the placement of the racks as per your requirements. Now that you know a pegboard can be used as a creative workstation wall, make one for yourself today!
14. 5 Ways to Transform a Pegboard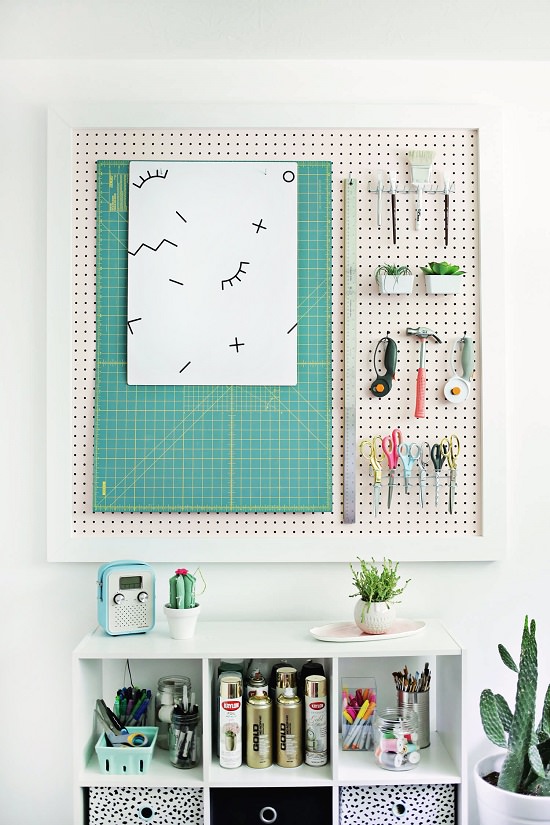 Transform a boring pegboard into something stylish and fleek with these 5 ways as given by A Beautiful Mess. Color coordinate your pegboard to go with your craft room interior.
15. Personalized Pegboards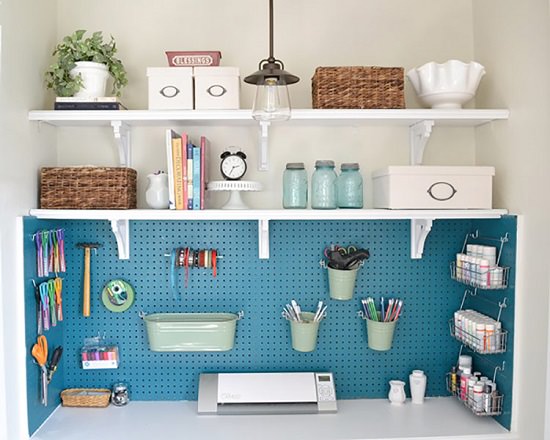 Take inspiration and create personalized pegboards for your space. Not only can these ideas help you create a unique art wall for your home, but they can also help you organize various things such as jewelry, craft material, work memos, etc.
16. Black and White Pegboard Organizer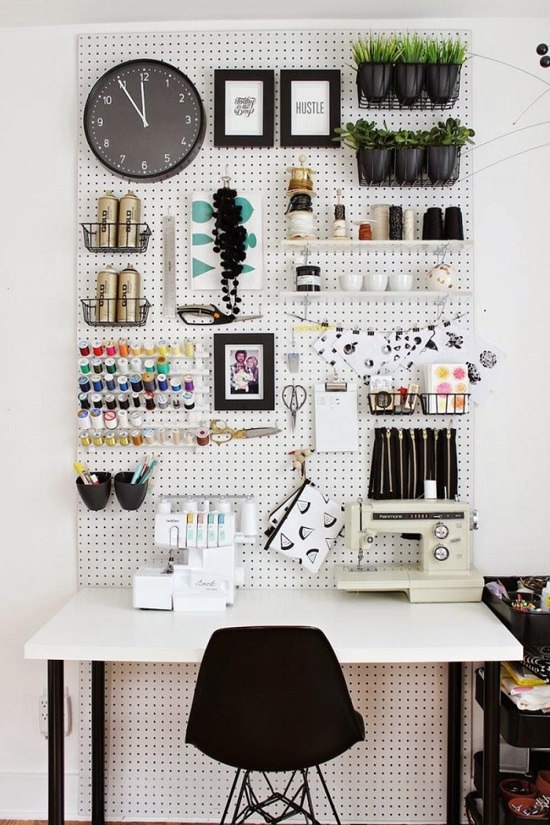 Get inspired to create an elegant black and white pegboard organizer wall with this idea. You can also add your personal touches to this inspiration to make a more personalized wall organizer. Furthermore, you can change the colors of the inspiration to match your decor mood.
17. All-in-one Pegboard Organizer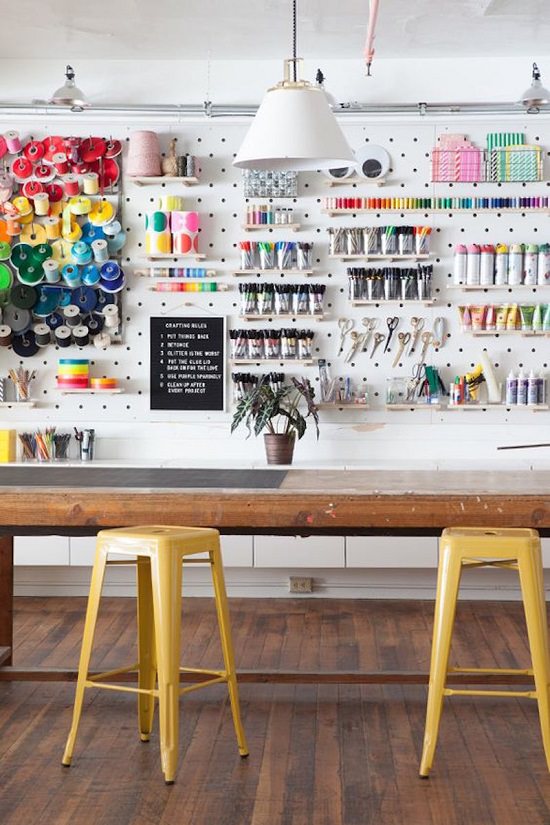 Do you need help organizing everything? Take notes! This easy to install inspirational pegboard wall showcases how to keep everything in place. Notice the shelve placements and how everything is organized to create a similar or a simplified version for yourself.
18. Pegboard Organization Hacks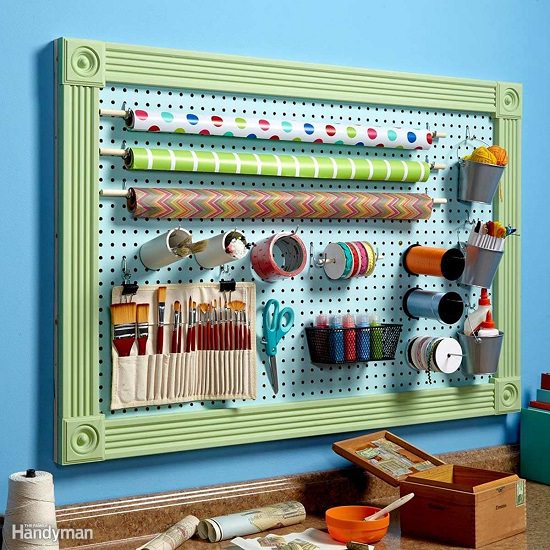 With this DIY, you'll get not just a pegboard organization guide but also different storage techniques to store artwork tools and supplies.
19. Color Theme Pegboard Wall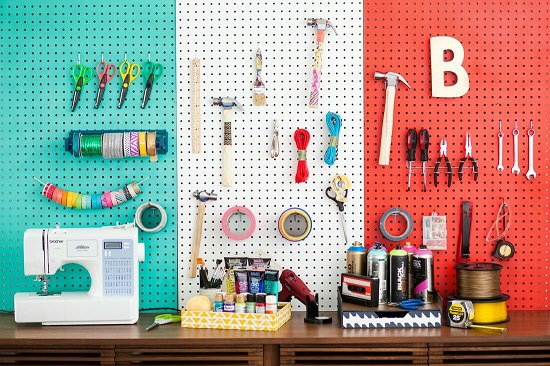 You can put up a pegboard wall for your storage needs. However, if you wish to add more color to your space and organization wall, take inspiration from this tri-color design. In addition to being functional, this is an attractive way to keep your things organized. You can also add more colors to your wall!
20. Stitch Master Workstation Idea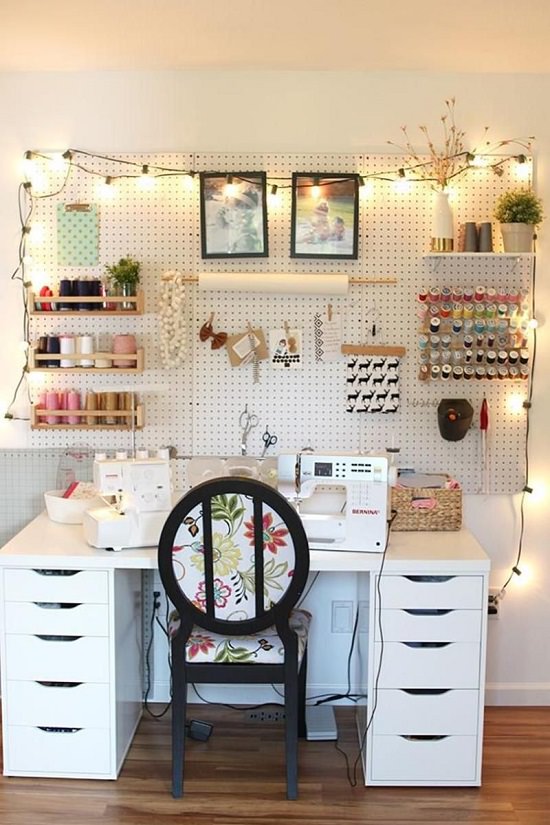 Take inspiration and idea from this clean and elegant pegboard wall organizer. Ideal for people who like to indulge in specific hobbies, especially stitching and knitting, this organizer is a go-to design for easy access of materials. Moreover, it really looks pretty tucked in a corner or can even shine as a feature wall in your craft room.
21. Memo Board Idea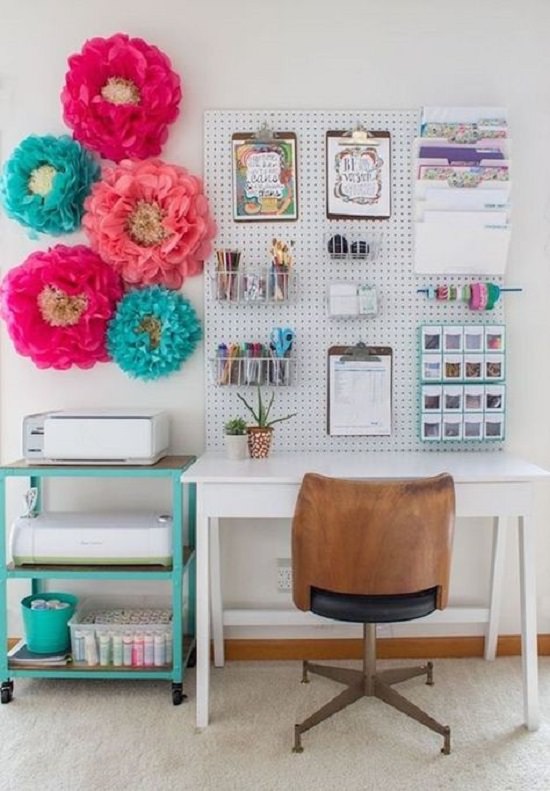 This particular DIY inspiration helps you create an ideal memo board for your work station. Besides the actual pegboard organizer/memo board, the inspiration displays a vibrant use of colors and materials that can help you decorate the area around.
Now that you have a list of brilliant and unique pegboard ideas for craft room DIYs to make use of dull and boring pegboards, get creating!