On a lookout for lego storage ideas that would not let you lose your precious pieces? Look no further, we have the most amazing DIY lego organization ideas!
1. DIY Wall Lego Organizer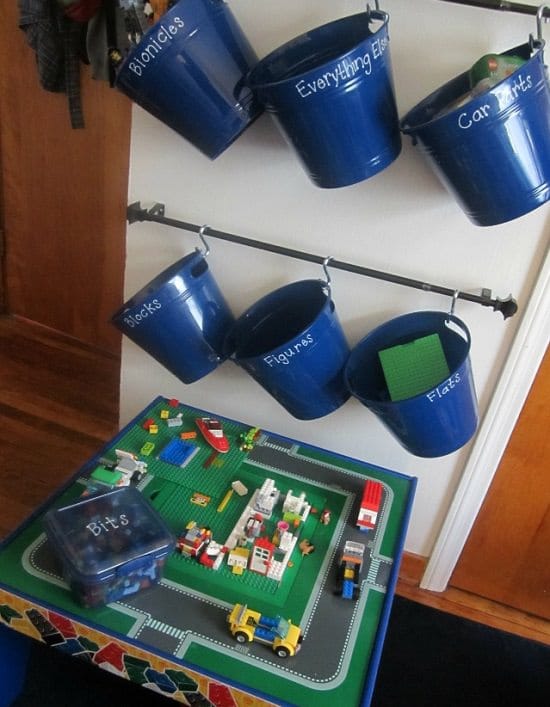 Not only is this a labeled lego haven, it's also an easily accessible organiser for your kids. Know everything about this DIY here.
2. Lego Bin Storage Organizer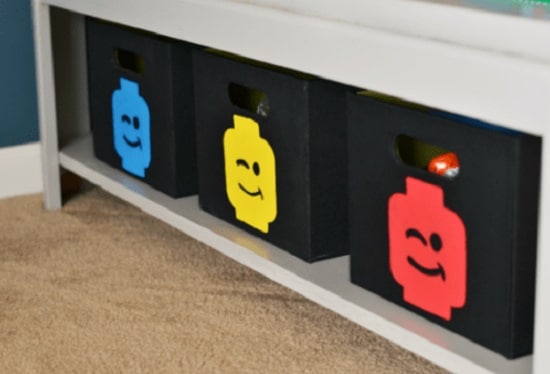 If you don't mind putting in some time and money for a compact and complete lego play station, here is an amazing DIY lego table for you. Apart from being a storage station, this table is also an ideal lego playground.
3. Plastic Drawers Lego Organizer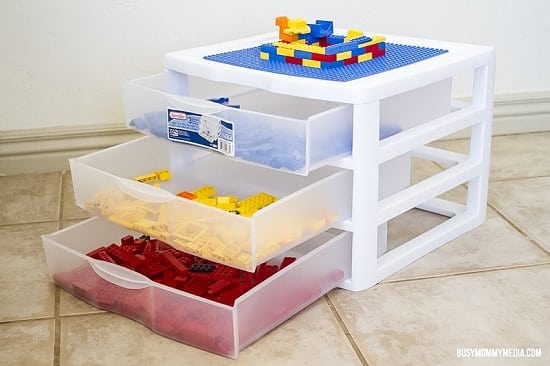 This extremely easy to make lego storage drawer is a compact saviour of the feet, that can be a victim of rouge lego pieces. Learn how to make this DIY lego drawer here.
4. Lego Organizer Cube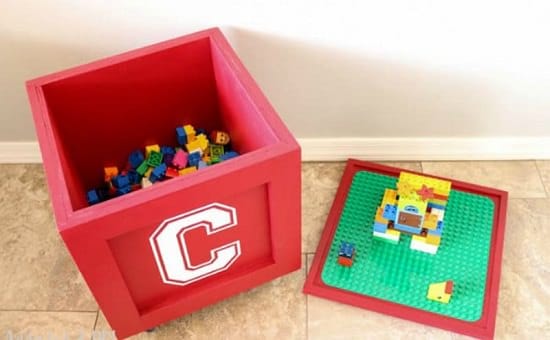 A lego storage cube on wheels, this easy to move organiser can be customised for your kids. Get a free plan of this storage box here.
5. Rolling Under Bed Lego Organizer Tray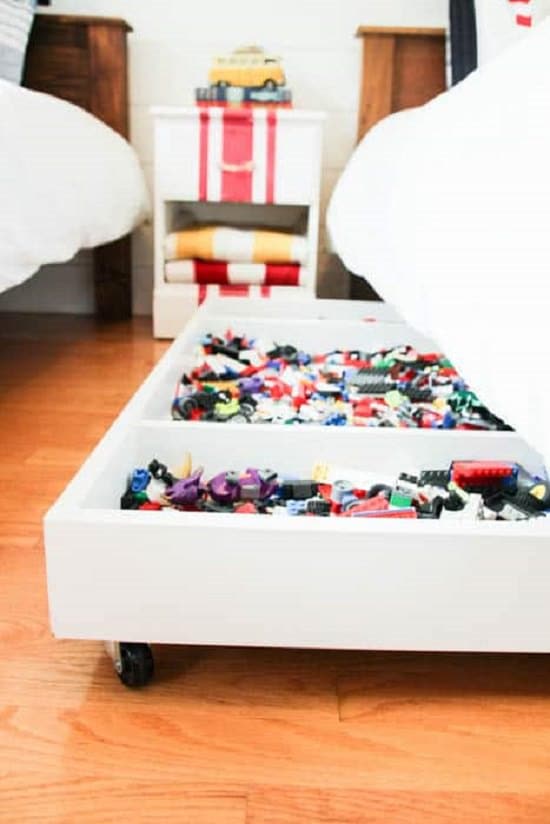 If you are not sure about dedicating a certain space for the lego pieces permanently, we have just the solution for you. This roll under the bed lego cart is an ideal DIY for small houses and compact spaces.
6. DIY Portable Lego Organizer Tote
This portable DIY lego tote is a solution for your lego woes and an amazing way to entertain your kids on picnics and holidays. Click here for a more information.
7. Color-Coded Lego Organization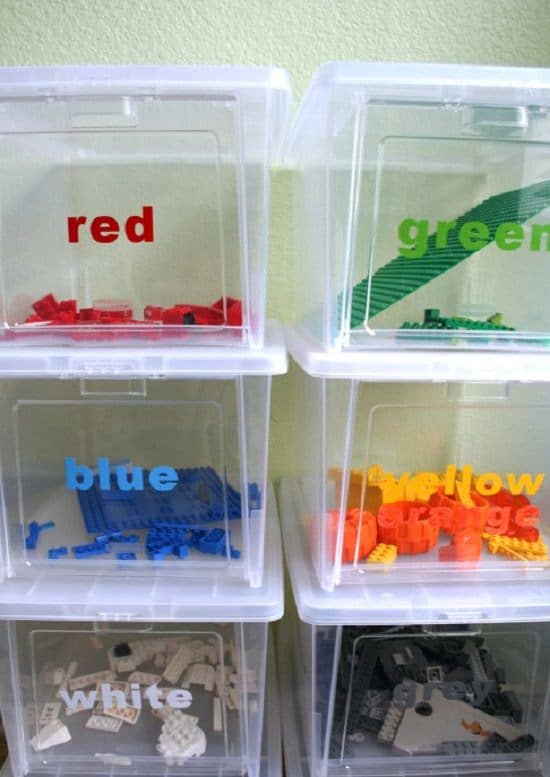 Like a perfect organisation line, this colour coded lego storage idea stacks the pieces in another genius way. The DIY storage helps your kids put away the game pieces neatly and forms a colour sorting activity as well.
8. Hanging Shoe Organizer Lego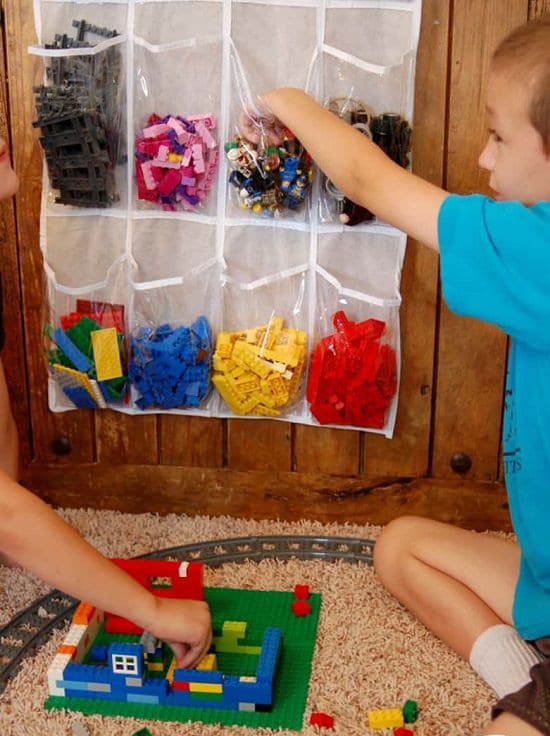 This storage idea is one of the easiest ways to store your lego pieces and keep them from being lost. Learn more about this idea here.
9. DIY Lego Head Containers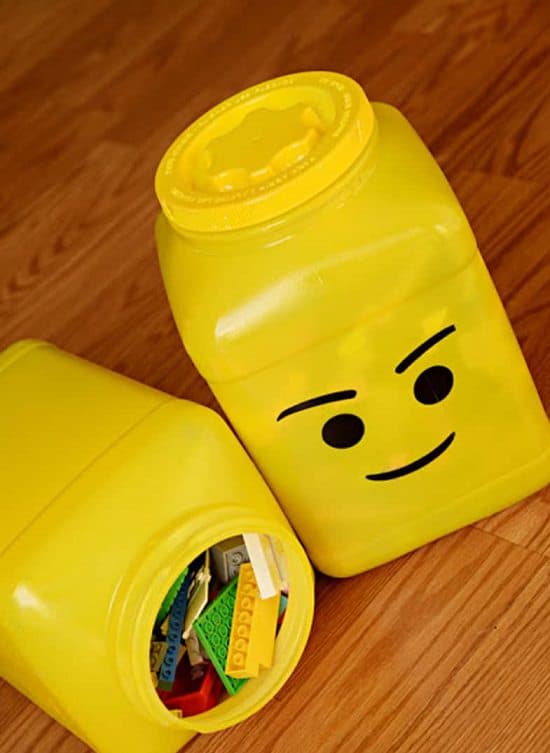 A cute inexpensive way to recycle old containers, these bright lego storage boxes are extremely easy to make. Get all the details of this storage idea here.
10. Plastic Basket Lego Organizer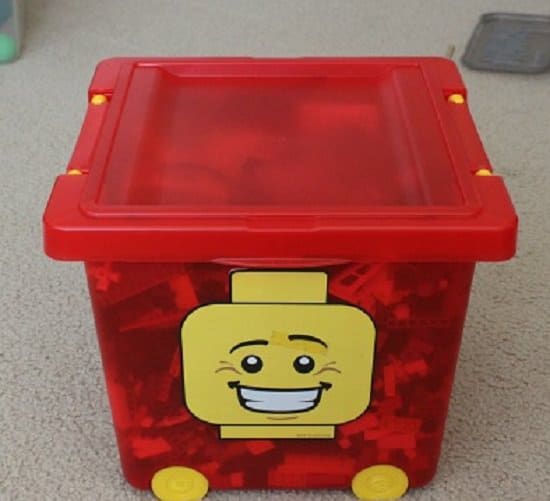 A customised lego tub table sounds like the best solution when you have more than one kid, each trying to keep their lego pieces separate in the same lego play area. Know more about this lego table here.
11. LEGO Organization Shelving Unit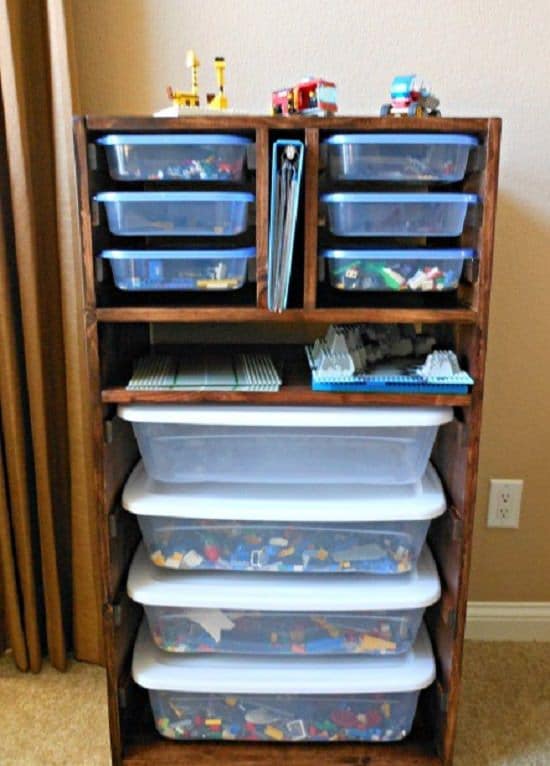 This is an all-inclusive shelf to solve your lego storage problems and it you can suctomize it as per your requirements and space provision. Take inspiration here.
12.DIY LEGO Organizer Pick-a-Brick Shelves
See this video to learn how to make this solid cup-holder organisation shelf wall that helps you organise every small piece of the lego puzzle.
13. DIY LEGO Organizer
Bring together this easy to build drawer shelf for your lego pieces with the containers that you can find at the Dollar Tree.
14. Amazing DIY Lego Organizer
This dream lego organizer is a result of hardwork and skilled craftsmanship to keep legos in place. If you are willing to put in the time and resources in building this cupboard, you will never step on a lego again.
15. DIY Lego Storage Case Organizer
This easy DIY storage lego case is simple yet efficient and the fun pasrt is that, you can easily carry this case with you wherever you go.
16. DIY LEGO Storage Organizer Idea
Step-up your lego storage with this organisational hack, which is also an ideal lego playfield for kids of different ages and is a playing surface all around!
17. DIY Lego Organizer with Water Bottles
If you have a tall shelf available to store your lego pieces, you can recycle plastic bottles to serve the purpose. Apart from helping the environment, you are also helping yourself to keep the home clean!
18. Easy Lego Organization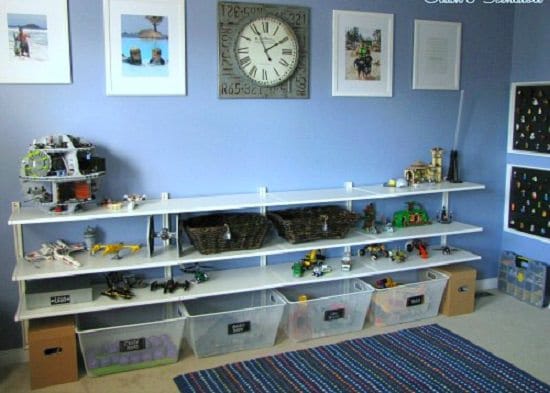 These lego organization shelves are perfect for kids with a playroom since it stores and proudly displays the beloved lego characters as well. Read about this lego storage idea here.
19. Food Containers Lego Organizer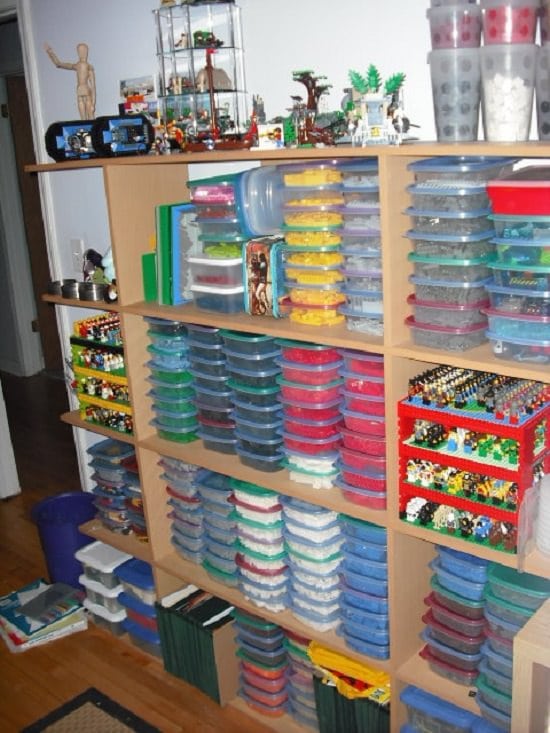 Another inexpensive solution to store and separate your lego pieces is to use food containers as the storage boxes. Take inspiration here.
20. Cheap & Easy Lego Storage Organizer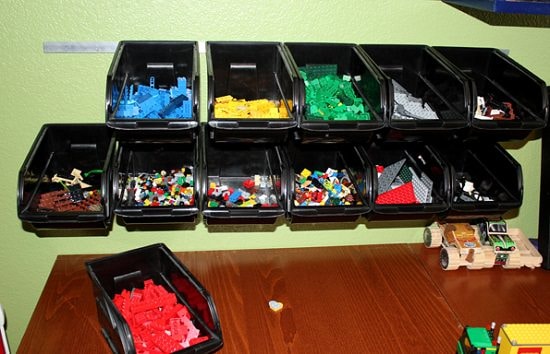 This storage bin wall for your lego pieces keeps the puzzle pieces safe, secure, and in place. Read details about this wall storage idea here.
21. Under The Bed Lego Storage Trays Organizer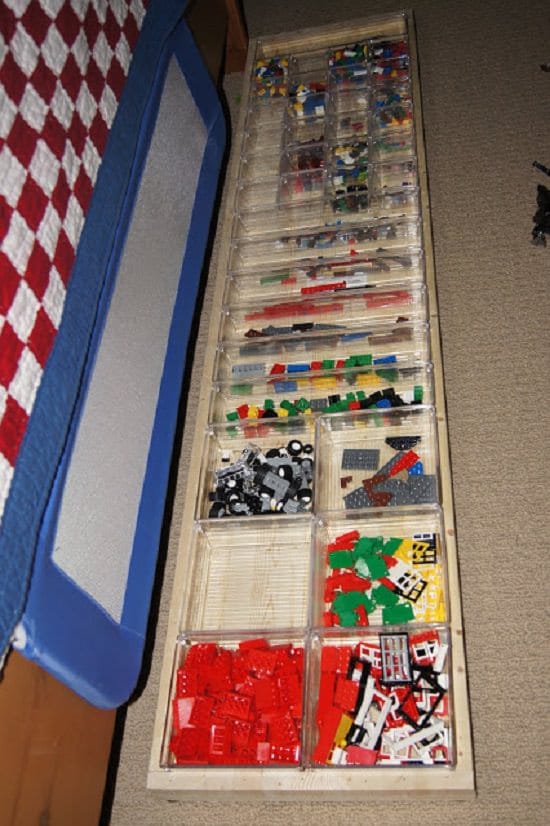 This DIY lego tray is another under-the-bed storage idea and is a compact way to keep your lego pieces in place. Have a look at this DIY idea here.
If you happen to get inspired by these DIY lego organization ideas and create something out of the box, feel free to share your creation with us! We'd love to hear from you and praise your creativity and efforts!