Here are some PVC pipe laptop stand ideas that you can make to avoid buying expensive stands unnecessarily. These stands are not just easy to make but economic too!
1. Laptop Stand with Metallic Pipe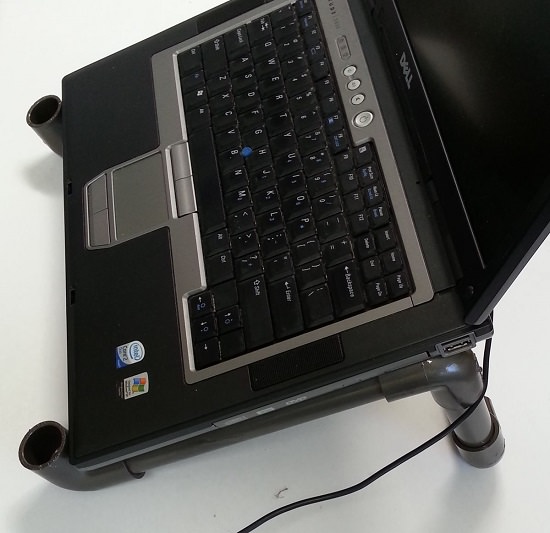 You can make this laptop stand using just a single PVC pipe, which not just elevates the laptop but holds it as well. Make it in the dimensions of your laptop keypad, so that it can hold it in place without the support of the table or anything else.
2. Laptop Stand with Metal Pipes
This minimalistic laptop stand can be quite resourceful, made with simple metallic pipes. It uses some basic tools, and wooden rods to hold everything together. If you have some experience working with tools, this stand can be quite easy to make. Replace the metallic pipes with PVC pipes for a more cost-effective laptop stand.
3. Laptop Stand with Cable Routing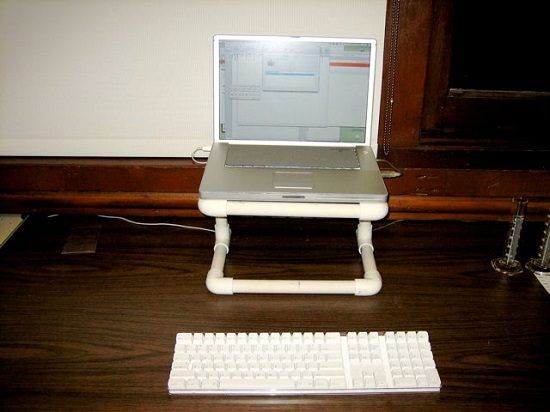 Make this cute little stand using PVC pipes, which have special cable routing that can help keep the cables in place and your desk neat and tidy. You can lower the stand or move it in a left-right direction for making space on the table.
4. PVC Pipe Laptop Stand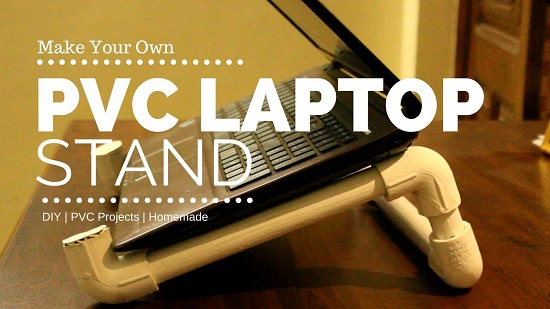 This basic laptop stand is easy to make and is quite easy to carry around. You can use it on the desk, bed, or anywhere for holding the laptop at a level. It is quite light and comes quite handy if you tend to work with your laptop in different places other than your desk.
5. Double Base Stand
Follow this quick tutorial to make a strong base stand for your laptop. It provides extra support in the middle section, which also rotates to change the elevation of the laptop. This is suitable for all sizes of laptops.
6. Laptop Stand with Keyboard Slot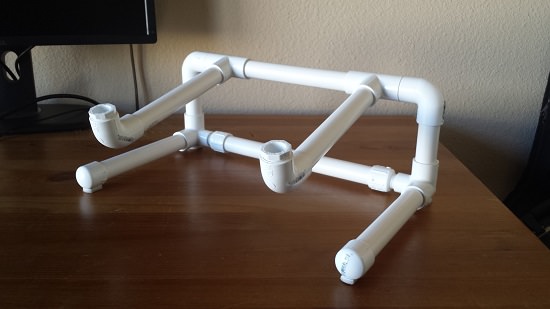 A multi-purpose stand, you can use this to store your keyboard and mouse neatly when not in use. This way you can just pick the whole thing up and work wherever you like. Follow the tutorial for a detailed process.
7. DIY Colourful Laptop Stand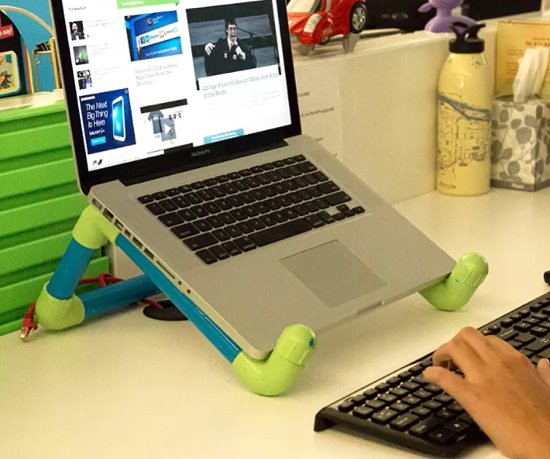 Bedazzle the basic PVC laptop stand with some vibrant color combinations, which helps add a positive vibe to it. You can even match it with your room décor, or choose a combination that you like the most, but this laptop stand is surely a decorative yet useful addition to your desk.
8. Laptop Stand Using Used PVC Pipes
Make use of the old PVC pipes to DIY this laptop stand. It has a slant stand to keep the laptop less elevated than required and to easily move it around.
9. Easy PVC Laptop Stand
This laptop stand is easy to make, and you can cut it according to the size you want, using a simple cutter. You can use bottle caps for covering the pipe holes and to avoid sharp edges. Paint it using spray paint for a much nicer look.
10. High PVC Stand
This tutorial shows a quick and easy process for making a PVC stand, with detailed steps and a material list. It has measurements for a high elevated laptop stand.
11. DIY PVC Laptop Stand
Another tutorial for a quick way to make a laptop PVC stand! It shows how to assemble the stand once you have all the pieces cut according to the size of your laptop.
12. PVC Cooling Stand
Laptops can easily heat up if you use them for longer durations, or heavy computing, or just because of warm temperatures. This tutorial shows a unique way on how you can keep your laptop safe by making a PVC laptop stand with electric cooling fans attached.
13. PVC Adjustable Laptop Stand
To make more versatile use of the laptop stand, you can try making this adjustable height stand. You can change the height according to your requirement. Follow the video tutorial for a detailed process.
14. PVC Stand for Any Laptop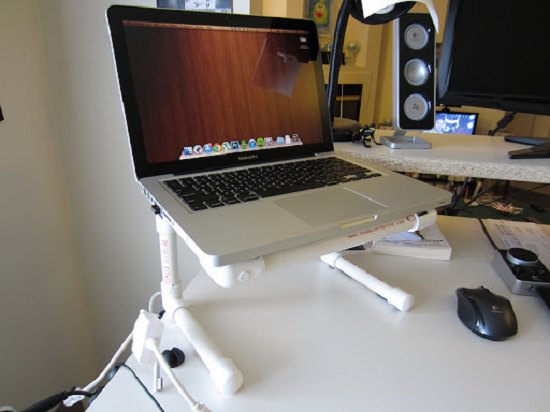 This tutorial shows a different way of making a laptop stand, which you can use to place any laptop at a height. It does not require the measurements of a laptop and hence, can be used for any laptop. Try making a larger one so that it provides better support.