Choose from any of these Date Night Gift Basket Ideas to surprise your partner with a personalized experience of love and thrill with you!
1. Romantic Date Night Basket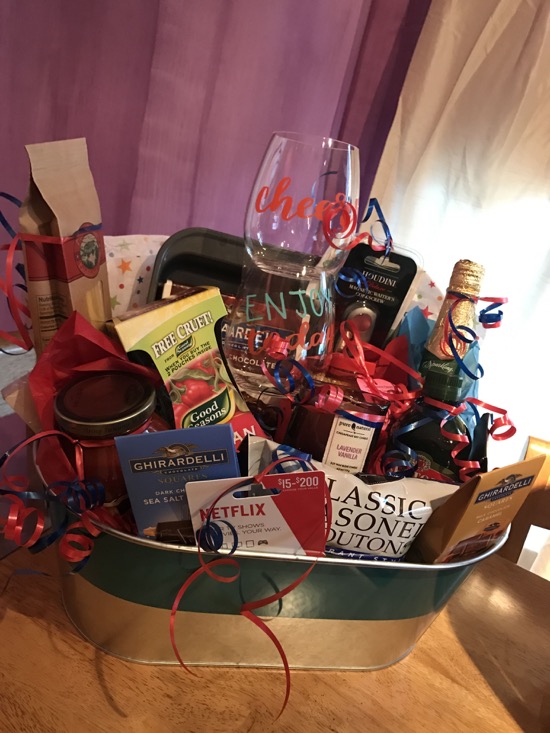 Romance can add a spark to your life as it plays an important role in intimacy and connection. A little bit of appreciation for each other through romance can go a long way to building a strong relationship. You can add anything to everything that your partner would love in a romantic basket but keep in mind to not overflow the basket with many items. More than required things can set the mood off and turn the excitement down for your partner as too many items will cause distraction. Instead, include only the required things that will excite your partner and tune up your romantic evening. Here are a few things that you can include:
Alcohol
Chocolates
Blanket
Champagne glasses
Candles and Essential Oils
Personalized Card
Flowers
2. Sporty Date Night Basket
If you and your partner enjoy playing sports, you can opt for a sporty date night basket. This basket can have coordinated items for both of you, making sweating together even more fun. A sporty date would go well planned on a fine evening in the lawn with you and your partner playing and staying fit together. Here are some date night basket essentials you can add.
Athleisure shoes
Matching athleisure wear
Energy drinks
Protein bars
Reservations at the court (on your choice of sport)
Equipment (on your choice of court)
His and Hers towel
3. Relaxing Date Night Basket
Stressful lives can sometimes become an obstacle to a healthy lifestyle with your partner. Curate a date night basket consisting of all the items which can help you both relax and spend time together. A little detour from your usual stressful lives will not only relax your minds but make your bond even stronger and healthier. Below are some items that you can include in a relaxing date night basket.
Wine
Face mask
Robes/Comfortable Sleepwear
Comfort food
Towels
Candles
You can also chose a particular activity you enjoy which relaxes you both, such as yoga session or a dance session and personalize your date night basket.
4. Sexy Date Night Basket
Spice up your relationship with your partner using this date night basket. Indulge in some sexy activities and get closer to your partner, both physically and mentally.
Elegant Lingerie
Eye mask
Speakers for romantic music
Alcohol
Chocolates/Strawberries
Couples board games
Candles
Perfume
5. At Home Date Night Basket
Too lazy to step out? Try out this at-home date night basket for making the night-in more romantic. It's not always necessary to go out with your partner, staying in and enjoying the time together away from the hustle-bustle of the streets and restaurants can get you even closer to each other.
Blanket
Movie/Board games
Alcohol
Chocolates
Candles
Decorating lights/flowers to create a romantic ambiance
A recipe which you can follow for cooking dinner
6. Hotel Slumber Party Date Night Basket
Plan a spontaneous date night at a hotel to give yourself a break from the regular life. You can have a slumber party theme. Take these essentials when you are at it.
Hotel room booking
Coordinated sleepwear
Board games
Alcohol
Ice cream
Snacks
7. Valentine's Day Date Night Basket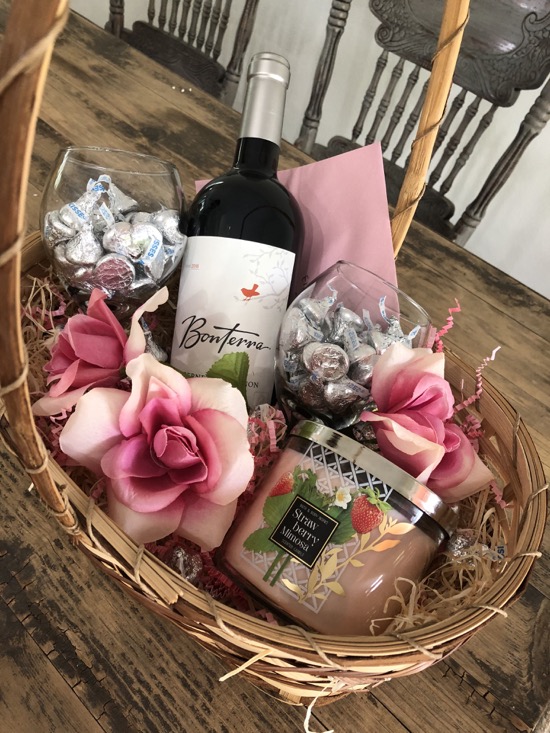 Valentine's day is the most romantic day of the whole year without defeat. It is a day you can rekindle your romance, add spark to your life and have fun. Make it even more romantic by surprising your love interest with a customized date night basket idea. Include the below items and others too which will excite your partner for sure.
Champagne
Champagne glasses
Chocolates
Candles
Flowers
Other cute valentine tokens
8. Playful Date Night Basket
Have a fun date night filled with laughter with your partner using a playful date night basket. Take some ideas from the list below to personalize a perfect basket as per you and your partner's liking.
Board games (Monopoly, Scrabble, etc.)
List of fun YouTube videos
Soda
Snacks
Playing cards
Video games
9. Travel Date Night Basket
Make a travel plan by gifting a date night basket to your partner with all your travel needs. It can be a road trip or getaway tickets to your favorite destination across the globe!
Eye Mask
Neck Pillow
Gift certificate for a travel website
Map/Globe
Travel games
10. Bucket List Date Night Basket
Bucket lists have become a part of our life goals. As a couple, you can create some common bucket lists and specially curate a gift basket which will help you in ticking things off that list. Add coupons/ gift certificates for these items such as a particular restaurant you both want to try, a movie you want to watch, want to travel somewhere, or try an adventure sport. Take one of the items off your list which you can do together that night to motivate you to try more activities in the future.
11. The Five Senses Date Night Basket
Enhancing all your senses will help in enjoying each other's company in a more conscious state and appreciating your life. Chose different items for each sense but make sure all these items connect creating a whole experience.
Touch:
Cozy sleepwear
Blanket
Lotions/Oils
Sight:
Pictures of you and your partner
A movie
Artwork
Sound:
Speakers
Subscription to a streaming site
Taste:
Alcohol
Hot beverage
Gift certificate for a restaurant
Chocolate
Smell:
Scented candle
Freshener
12. Coffee Date Night Basket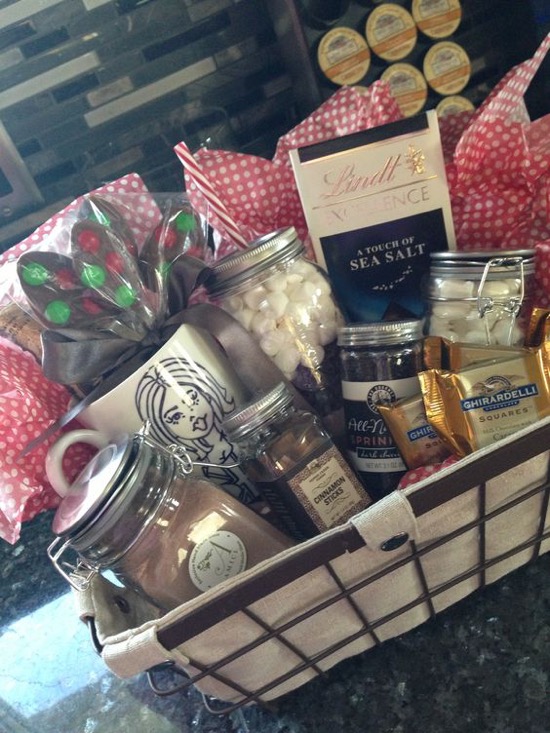 We all have had the most personal and deep conversations over a cup of coffee. This date night basket is a great way if you feel a loss of connection and want to spend some quality time with each other.
Personalized mugs
Favorite coffee
Cookies
Marshmallows
13. Movie Night Basket
Having an at-home movie date night can be quite an intimate affair depending on what genre of movie you choose to watch. It is great for having a hassle-free yet romantic date. Take inspiration from this basket to add an extra spark to your night.
Cozy blanket/Throw
Popcorn or other snacks
Drinks – Soda or Wine
Your Favorite Movies
Candy
A pair of cozy socks
14. Spa Date Night Basket
Another great way of having a relaxing date night is by having a spa date. This basket can cover all essentials as well as some personal massage coupons for fun. You can also book professional couple massages.
Massage oil
Plush Robe
Scented candles
Moisturizer
Sheet Masks
Comfy slippers
Detox water
Light healthy snacks such as strawberries, nuts, or baked chips.
15. Taste Test Date Night Basket
Indulge in a romantic taste test to get yourself in the mood for date night. Challenge your partner's taste buds with some variety of food items which can set the mood.
Wine/Juice
Fruits like strawberries, peaches, cranberry
Cheese
Nutella
Honey
Blindfold
16. Camping Date Night Basket
Camping out for a date can give relief from the monotonous liFE and can bring you closer to nature. Collect a few items to prepare a basket for your partner.
Foldable tent
Blanket
Picnic
Mosquito repellant
Marshmallows
We hope you liked these date night gift basket ideas and that you will try one of these with your partner for a fun-filled evening!