We bet you can't find better DIY football basket ideas then these for your football lover friend or relative. So grab your supplies and get started!
1. DIY Football Gift Basket for a Teenage Boy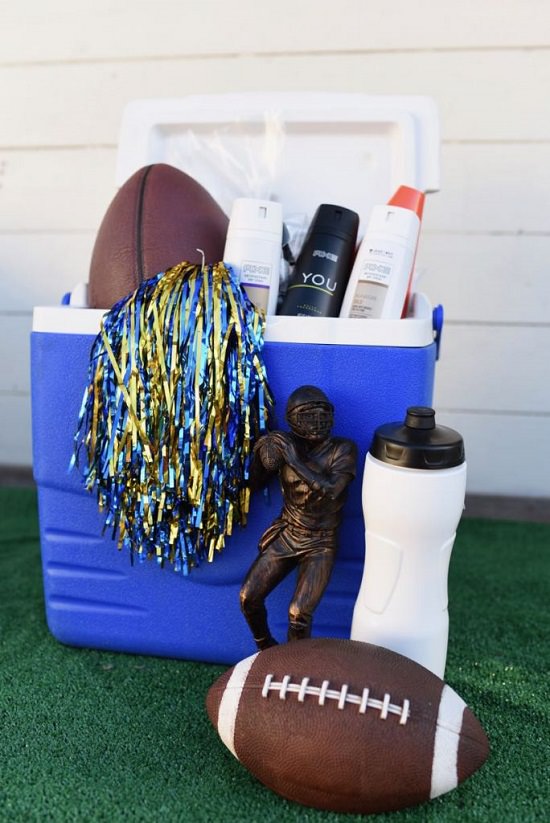 Bring together this ideal gift basket for a teenager that loves to play. The gift cooler comprises everything a boy would need for a practice session or a game. Get the details of the gift basket items here.
2. Football Drink Tub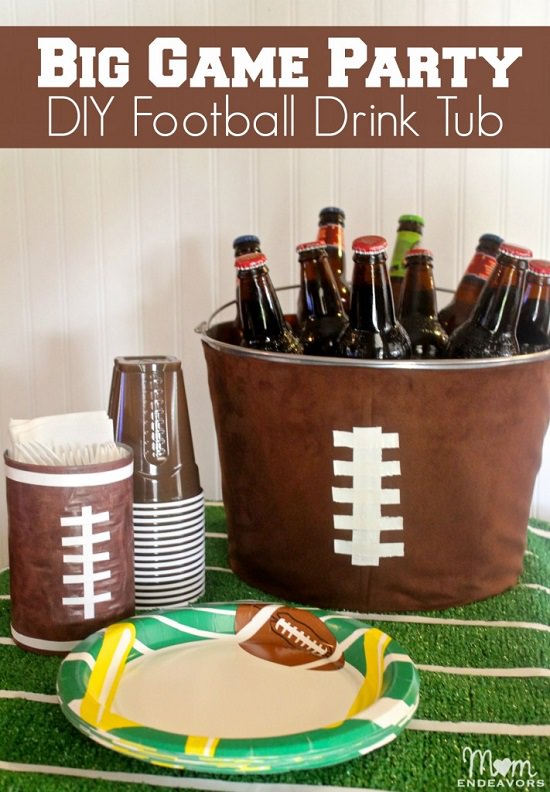 Not just a useful gift, this drink bucket is perfect is you're planning a game night. Learn how to make this here.
3. For His Man Cave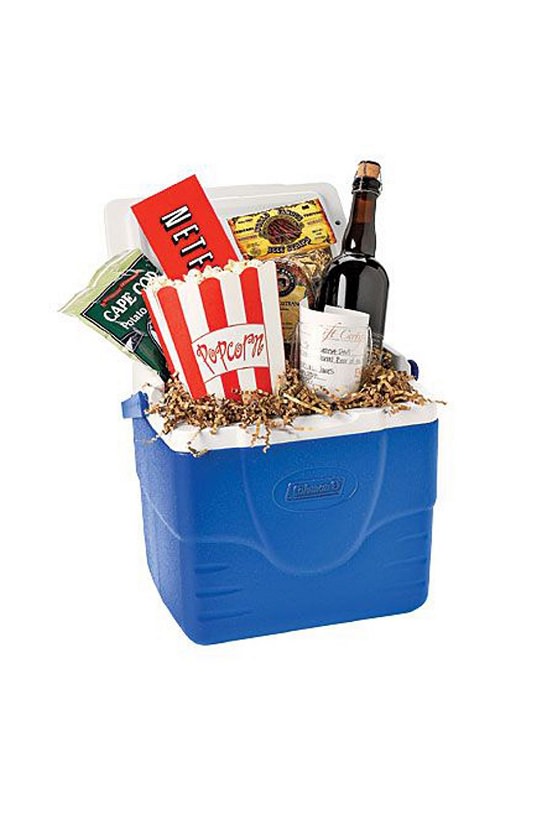 What is a game night without snacks and brews? Ideal for his man cave, this gift basket screams leisure! Make this basket with a cooler box, potato chips, popcorns, and beer making kit. You can add more items like beer tumblers and other food items.
4. Homemade Football Gift Basket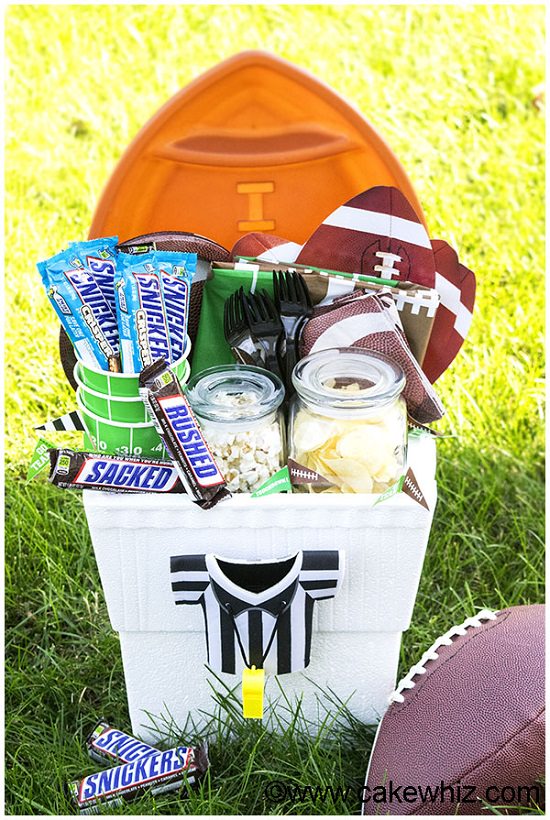 When it comes to making a customized football basket, you can make a compact party essential kit like this! Check out the supplies you'll need and the directions to make this basket on cakewhiz.
5. Football Helmet Basket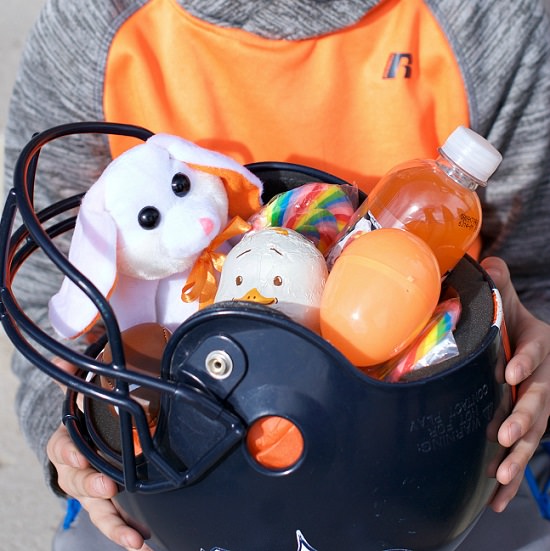 Are you looking for a unique football basket for your little one? Try this football helmet basket full of yummy treats and goodies.
6. Sports-Inspired Birthday Gift Basket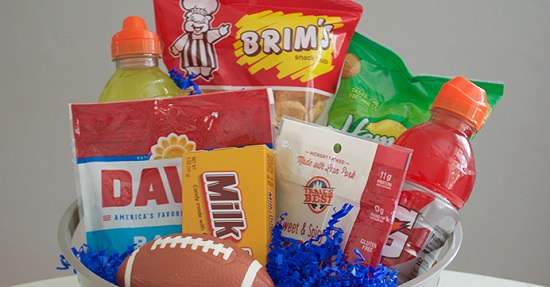 Try something different for a birthday gift this year! Bring together a sports gift basket that will surely stand out. Get the directions of making this basket here.
7. Football Tailgating Gift Basket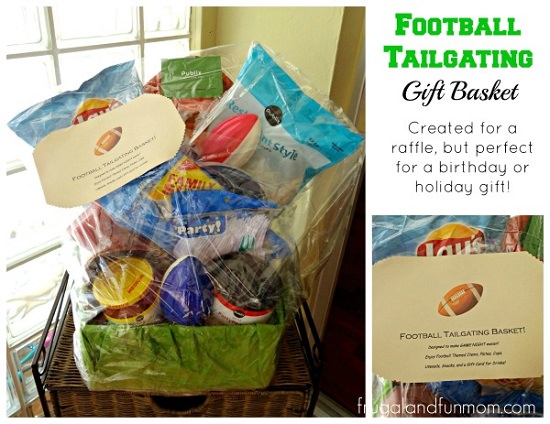 A simple yet fantastic gift for a sports lover is perfect for any occasion, know how to make this game night gift basket that has everything you'll need for a fun night.
8. Football Chocolate Candy Bar Bouquet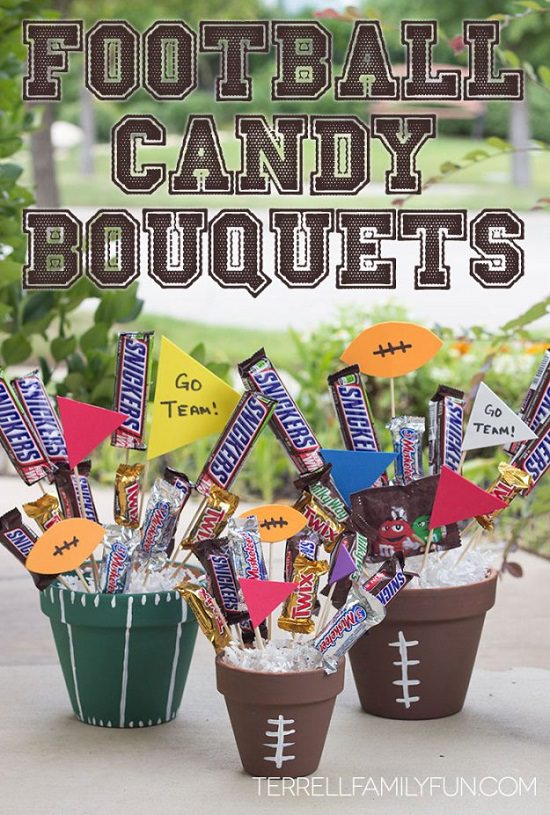 If you know a gardener who loves football, this might be an ideal plant to gift them for a game night. This DIYcandy bouquet is a win-win for any person with a sweet tooth.
9. Hostess Gift for Football Gatherings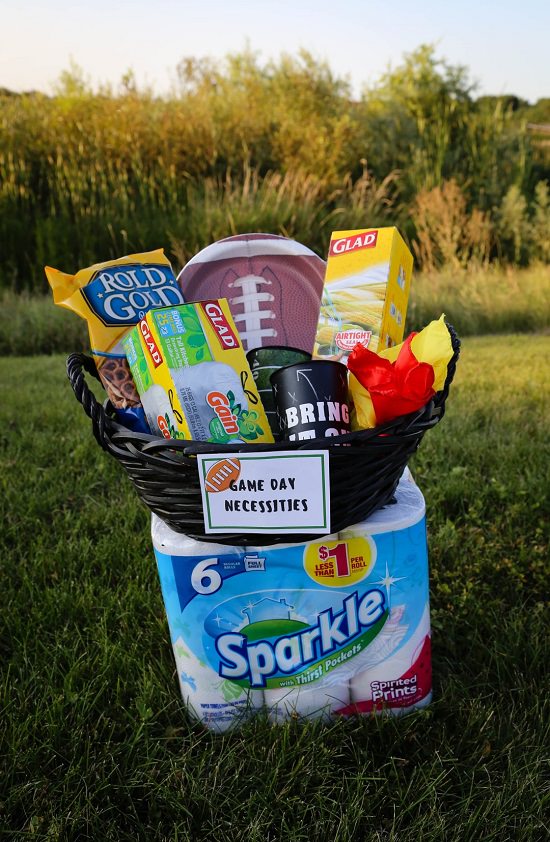 Be the ultimate hostess by taking this gift basket to the next game party. Check your list of the basket necessities here.
10. Easter Basket for Football Fan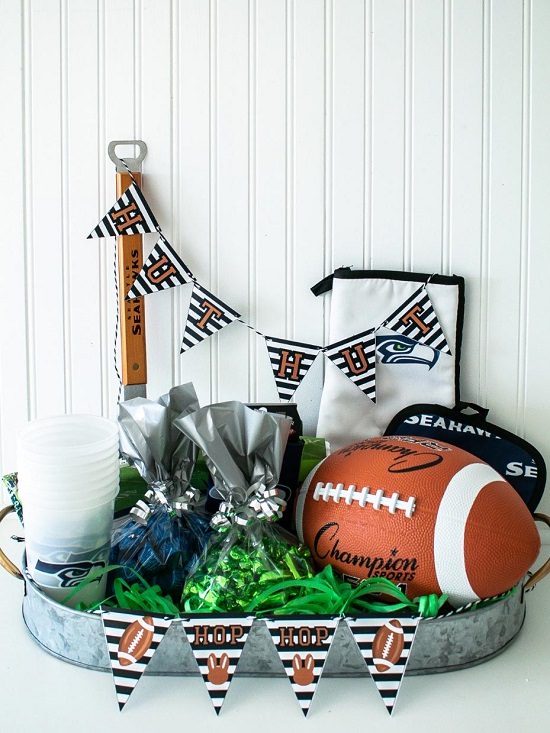 Extending the winning gift ideas to other festivals, make this easter gift basket with NFL team items and a fun banner. See the basket condiments and banner design here.
11. Football Match Buddie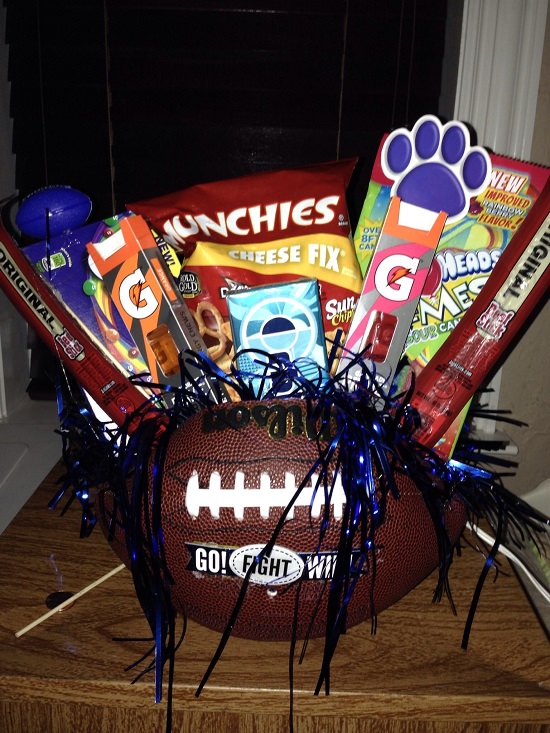 Cut an old football and DIY this food basket with goodies that everyone loves. Your gift would be well appreciated and devoured in no time.
12. DIY Football Lovers Gift Basket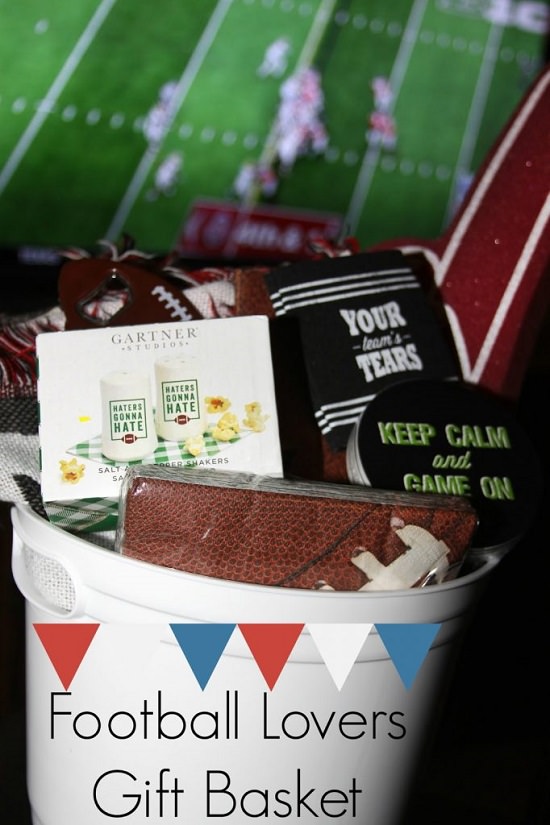 A game souvenir basket that comes with themed blankets, foam fingers, team ice buckets, and more makes an ideal game lovers basket. Here's the tutorial.
13. DIY Football Helmet Snack Bowl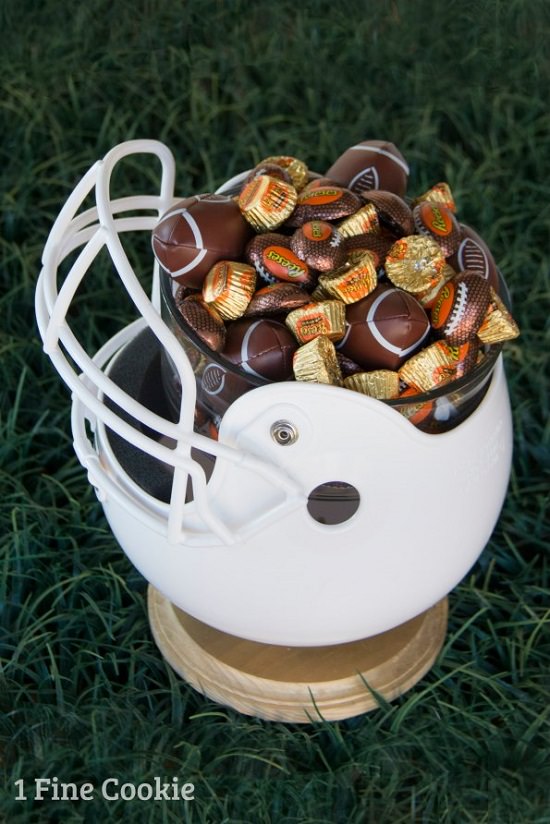 A sophisticated and delicious treat trophy, make a helmet treat basket for your loved ones. Get a step to step tutorial for the snack basket on this website.
14. Sports Themed Gift Bucket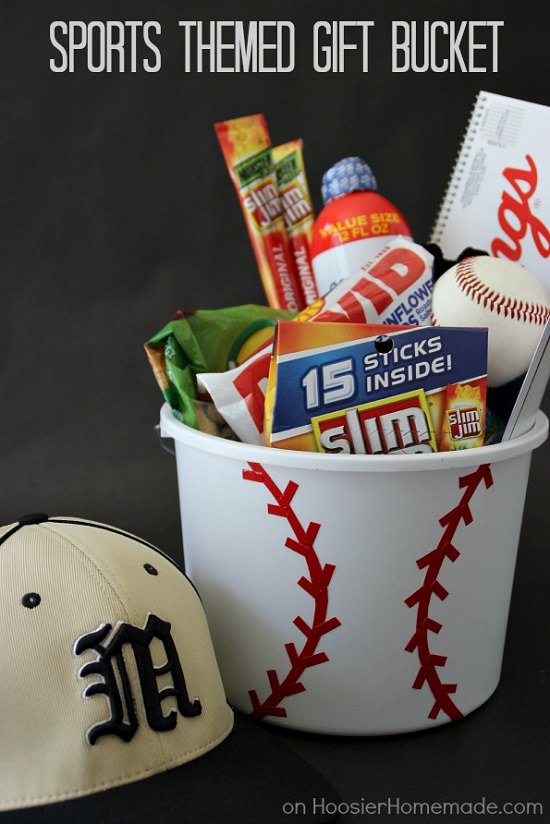 A collection of goodies for a game night, practice session, or any other occasion, a sports treat bucket can be created for any sports lover. DIY a football-themed bucket, taking ideas from this baseball creation.
Which DIY football basket ideas did you find interesting? Or share with us a new idea we missed in the comments below!