Get your Moroccan home decoration ideas list with essential tips in this article! Keep reading to know more about the décor trend.
What is Moroccan Décor?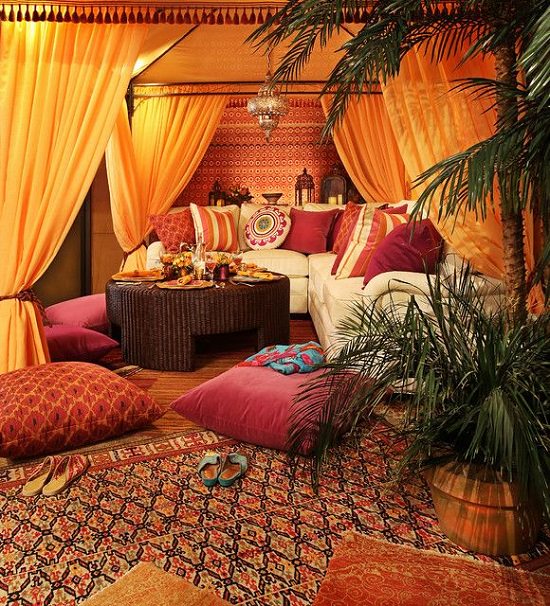 Moroccan art or interior design is inspired by the lush and romantic fantasy, that people often connect with the destination of Morocco. An amalgamation of rich cultural influence and diverse history, Moroccan décor is recognized by intricate patterns, detailed carvings, doors with grand arches (especially horseshoe arches), and vibrant colors. The origin of this interior decoration theme comes from Moorish architecture. Moorish architecture is represented by decorative tiles, domes, arches, and grand courtyards or 'Riads'.
Tips for Moroccan Décor
Now, that we have a brief idea of what is included in Moroccan décor or features, let's see how these lush elements can be incorporated into our homes for a lavish feel. Check out these easy design and décor tips that can help you give a Moroccan feel to your home or office.
1. Add Horseshoe Arches
An easily recognizable feature in Moroccan interiors, horseshoe arches have wide arches on top and narrow doors or panels at the bottom. Adding these arches can add a luxe touch to any home. However, if you are not willing to work for this look, you can simply add wall décor mirrors with a horseshoe arch window look.
2. Vibrant Color Palette
The design theme boasts of opulence and culture, therefore there are a lot of bright and rich colors in Moroccan theme décor. For example, bright hues that take the center stage are adorned with luxe palette golds and silvers. So, add vibrant cushions to your sofa and home accessories that have intricate bold hue prints with gold detailing.
3. Moroccan Furniture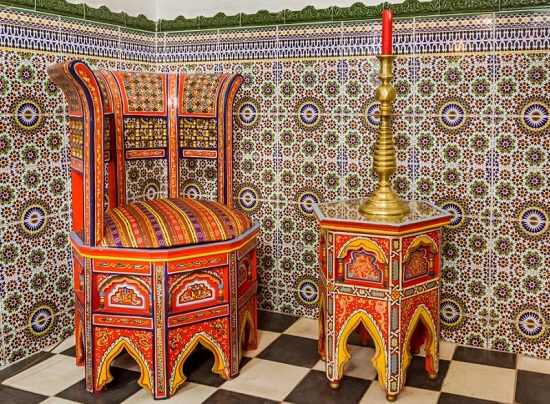 Another easy way to add Moroccan touch to your home decoration, without touching the architectural structure is to add Moroccan influence furniture. Not only does this help add the theme's influence to your home, but it also adds a contemporary twist in terms of décor for your space.
4. Adding Decorative Textile
Adding fabrics that represent the theme is an easy way to bring the theme to your home décor. Choose luxurious textiles in bold colors and add them to your existing pieces. This trick well help you strike the right balance of adding the theme to your interiors without going overboard.
5. Moroccan Lamps
This colorful addition not only lights up your space, but it also provides an exotic touch to your decorations. The dimly lit lamps are beautiful and spruce up any corner with their cut metal, intricate carved wood, or cut-glass details, that are further enhanced by pendant hangings.
6. Moroccan Wall Mirrors
The opulence of the theme can also be introduced in your homes with elaborate wall mirrors. These mirrors reflect the natural light hitting the room and it also adds a depth or layer to the existing décor by multiplying its effect.
7. Moroccan Pattern Rugs
Another easy method to add the influence of the theme to your existing interiors, Moroccan pattern rugs are vibrant, bold, beautiful and yet sophisticated. Add this royal touch to your home decoration. These rugs can be placed anywhere, however, they look best under your coffee tables or at the foot of your bed!
8. Moroccan Metal Work
Add intricate metalwork lamps for a Moroccan influence in your home. These home accents add a regal touch to your space effortlessly.
Moroccan Home Decoration Ideas
1. Moroccan Home Décor Ideas
Learn how to incorporate the Moroccan design influence in your home with this video tutorial. In addition to the inspirational pics, the video gives you tips and ideas to add a Moroccan touch to your home interiors.
2. Moroccan Style Living Room
Know how to turn your living room into a luxe Moroccan lounge space with this video. The video helps you add the opulence of the design theme with luxurious elements. Moreover, it teaches you to strike the right balance of adding the design aesthetic while keeping your interior modern.
3. Traditional Moroccan Decor
Get a glimpse of Moroccan style aesthetics and design elements with this video that explores the traditional way of styling your home. From vibrant colors to patterns or designs– know how to add a touch of authentic Moroccan style to your décor with this video.
4. Inspiring Moroccan Home Decoration Ideas
This video is ideal for people looking to add a Moroccan design influence to their homes, especially if they want to balance it out with minimalism. Learn how to incorporate the Moorish architectural details to your home with a Scandinavian touch in this video.
5. Minimalist Moroccan House
Another design tutorial that will help you decorate your space with the perfect balance of Moroccan influence and minimalism. Learn how to bring the design aesthetics of this theme into your simple home interiors with this video.
6. Exotic Moroccan Details for Home Decoration
Go through these amazing inspirational Moroccan details that can liven up your living rooms effortlessly. Get inspired and incorporate them to your home design today!
7. Moroccan Accents
Get inspired by this subtle yet elegant Moroccan accessory addition for a bedroom. These patterned cushions are the perfect example of adding subtle details of the design theme for a major makeover. You can also add cushions like these to your lounge area or drawing-room.
8. Indoor Plants
Check how indoor plants can add an outdoor-indoor Moroccan feel to your home decoration with this inspiring décor setting. Besides being simple, this décor theme explores how accents like patterns, doors, and plants can add a design theme to your interiors.
9. Moroccan Furniture
Get your inspiration for adding Moroccan furniture to your interior with this beautiful coffee table. In addition to being luxurious, this functional table is also a fine example of a subtle variation to Moroccan design style and aesthetics.
10. Moroccan Pattern Play
View this post on Instagram
Learn how to play with Moroccan patterns and designed tiles with this stylish kitchen inspiration. The tiles complement the vibrant kitchen hue in the cupboards and create a chaotic harmony of colors and patterns.
11. Minimal Moroccan Plant Décor
View this post on Instagram
This Moroccan inspired space is a perfect example of balance between minimalism and design. This inspiration highlights the beauty of the plants and adds a subtle charm with Moroccan design aesthetics.
12. Modern Moroccan Designer Home
From bold hues to inspired furniture and plants, this vibrant space adds a modern touch to the Moroccan theme. The elements add subtle touches of the design theme to this living area.