Try out these amazing and practical tool cart organization ideas to store your tool cart in the right place and in an effective way!
1. Use Small Boxes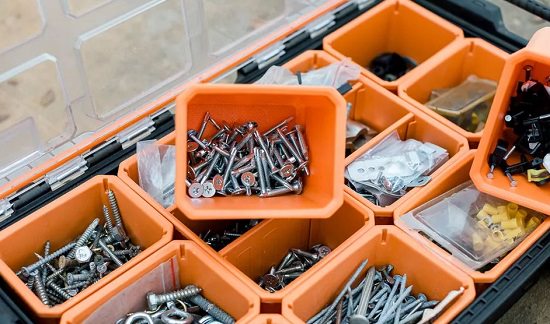 Using small boxes is one of the best and most feasible tool cart organization ideas that you can do without having to do anything. Collect and arrange small boxes in your tool cart and keep the tools in front of your eyes at the designated place. This idea not just organizes your tool cart, it offers plenty of room for everything to fit in!
2. Different Slots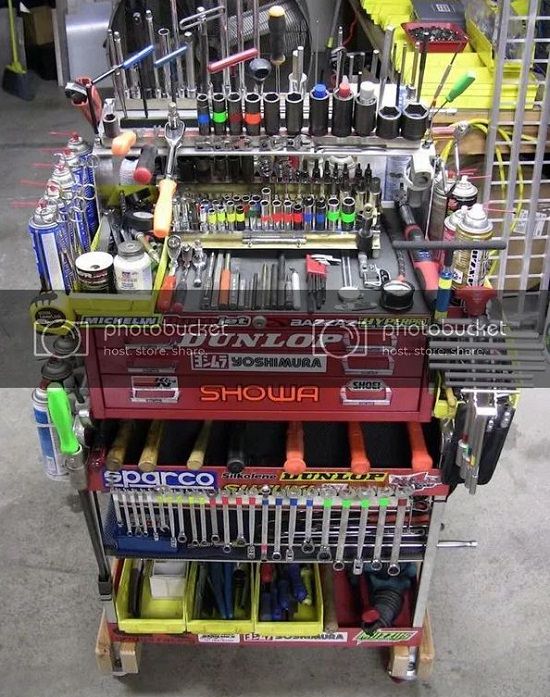 When you work with a variety of tools, it can get difficult to keep them organized. But with this organizer's inspiration, you can categorize your tools and place them according to their functionality in distinguished slots, which make it easy to take out the tools whenever required.
3. Detailed Guide on How to Organize your Tool Boxes
The main idea is to balance the space and make it one of the most efficient ways of storing your toolboxes. With all the different types of tools and toolboxes, a proper and sturdy tool chest is the ideal option. It comes with 3-4 drawers that have a large work surface and can be easily kept in piles to view all the different tools. Those who have a huge number of tools with them should definitely go for a tool chest to cater to their needs. Learn how to keep your tools in place with this video tutorial.
4. Hacks to Upgrade your Tool Cart
Watch this video tutorial to learn interesting hacks to upgrade your tool cart. There are about 3 tool cart hacks that you can use to upgrade and enhance your tool storage. Wheels usually easily get stuck on in your garages and in order to upgrade that you should remove the existing wheels and exchange them with ones that are sturdier and come with the same bolt pattern. Also, you can buy socket organizers for your drawers and fix them in the tool chest to make for efficient usage of the tools. Lastly, you can weld some stuff on top of your tool chest to use the heavy-duty tools whenever required. Know more in this video.
5. How to Organize Drawers
This one comes with a secret drawer that can include all your favorite tools and can be done all by yourself, cutting and creating the space for different tools with certain molds. The wires and leads are also well hidden, making it to be one of the most neatly designed tool storage carts ever. Know how to organize your tool drawers better with this detailed video tutorial.
6. INSANELY ORGANISED Toolbox Inspiration
Finding all the tools spread in your drawers can waste a lot of time and effort. Learn how to organize your drawers in an efficient manner with this video.
7. How to Organize Sockets
Buy a socket case or use the one that comes with your tools and start with using the most common ones. You could make use of metal rail systems that can easily hold the sockets together in an organized manner or use plastic trays for organizing them. Learn more tricks and tips to organize your sockets in this video!
8. Tips and Hacks to Organize Tool Cart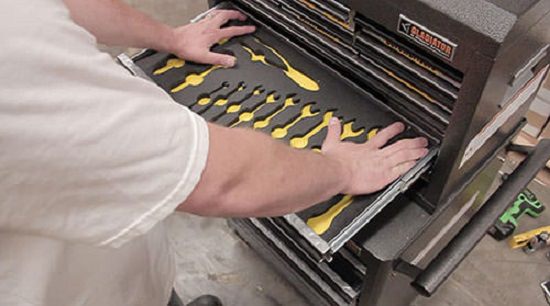 Learn different hacks to organize your tool cart in an efficient manner. By creating a layout before cutting foam, you can properly cut the dimensions of the tools and not waste any space so that all your tools are fitted properly. Another idea could be to create a shadow tool with toolbox foam and arrange it like a shadow board to make sure nothing is missing. Read more of these tips and hacks here.
9. Use Vertical Space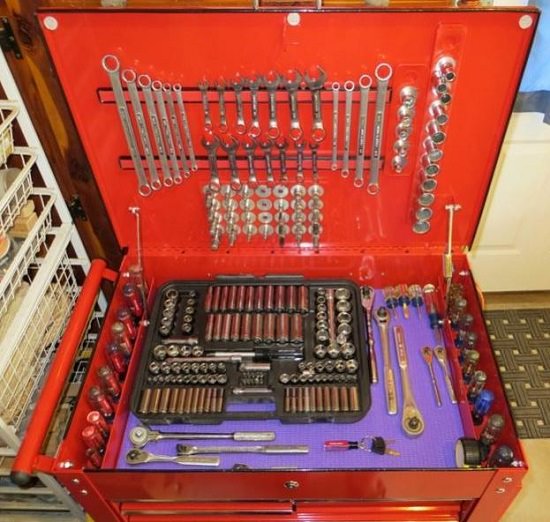 Get your inspiration from this idea and organize your tools in a clean and concise manner. Buy small toolboxes and place them in a big tool case. Add some foam to the exact dimensions of the tools and place them below the toolbox. Add a few rails on the sides and the top to fit in the longer tools resulting in a well-organized kit for keeping all your tools safe and maintained.
10. Budget Tool Cart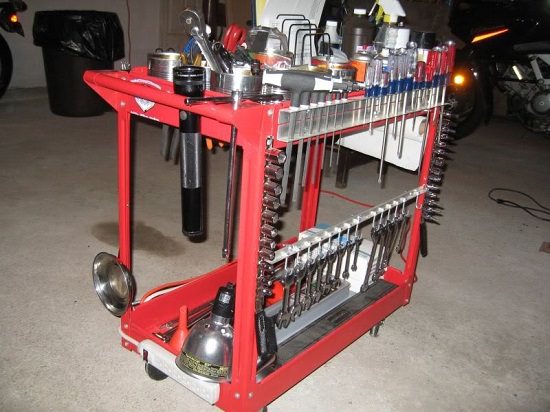 Don't spend too much and simply buy a piece of aluminum angle stock that should be cut into two and placed together with the help of screw drives and T-handle hex wrenches. This DIY would help you in saving a lot of money and create your very own designed toolkit. So, learn to make your own budget tool cart in this DIY tutorial.
11. Wooden Tool Cart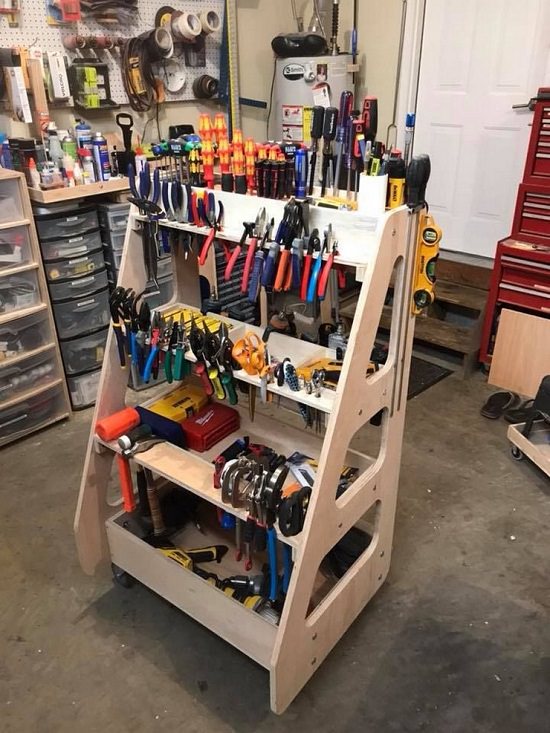 Get a wooden tool cart and put in all your tools with precision. Hang them on to the cabinets and organize them inside clear plastic totes. You could create shelves and place these boxes on top and label each of them to make sure you don't waste time finding the appropriate ones. Take your inspiration from this organized cart.