Create all or any of these DIY nail polish strips to showcase your prettied nails among your friends, family, or colleagues!
1. Mixed Nail Polish Strip
If nail art is not your cup of tea, try using this easy to make nail polish strip. This tutorial shows how you can create a trendy set of nails by mixing different shades of nail color on a white coat and paste it on your nails using some glue and clear nail enamel. It does not create a mess on your hands and can be made according to any unique look you are going for.
2. Matte Nail Strips
If you are going for a modish look without being extravagant you can use these monochrome matte nail color strips of different shades on different nails. Take some time out and give yourself an at-home manicure before applying nail colors for a more clean look.
3. Funky Nail Stickers
Show off your different personalities or the characters you like on your nails using ideas from this tutorial. It shows an easy way to create nail polish strips on sticker sheets. Go crazy with ideas and make yourself some trendy DIY nail polish strips.
4. Basic Nail Paint Strip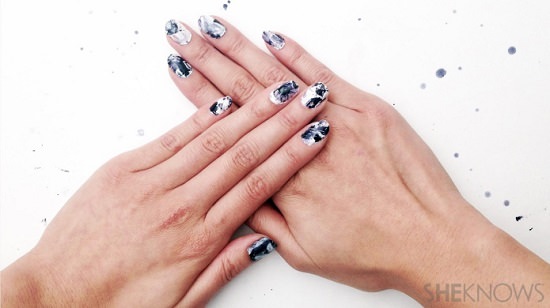 Another easy way to get those sassy nails is by creating your nail art on plastic and just placing it over a wet base coat. Seal it with another coat of clear nail paint and you are good to go. You can have fun with designs and can mix-match different nail appliques. Click here.
5. Nail Polish Stickers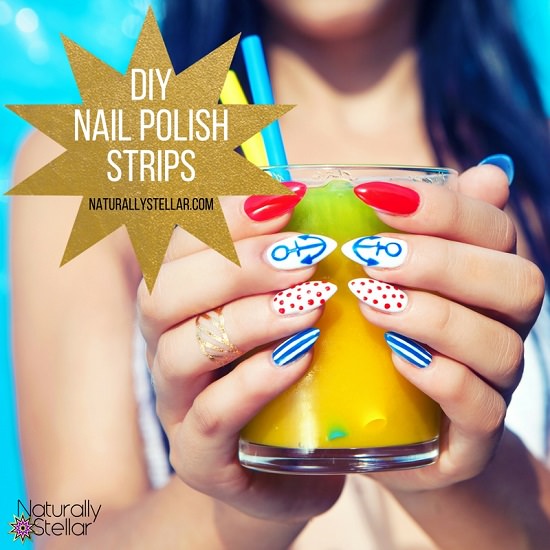 Instead of creating a whole nail strip, you can make a few lively stickers such as stars or cut-out patterns to apply over a base coat of your choice. These add that extra vibe you are looking for. Find the tutorial here.
6. Water Marble Nail Strips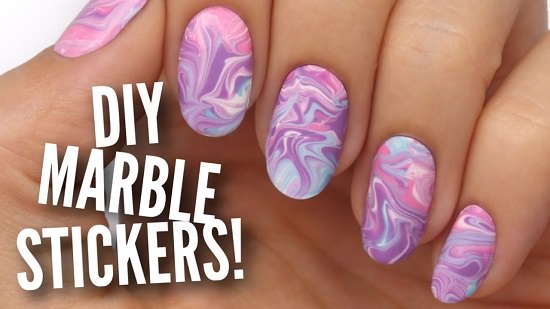 Want to make a statement with your perfectly manicured nails? Make water marble effect nail strips using your favorite combination of nail colors by following this easy tutorial. This effect is very popular among nail artists as it gives an instant appeal to the nails.
7. Stamping Stickers Strips
Using stamping stickers is a unique way to get those beautiful patterns without spending too much money in a nail studio. Stamping stickers have a whole range of patterns which can be used every time you want to change the way your nails look.
8. Quick Nail Polish Strips
As an alternative to using plastic as a base for creating the stickers, you can use parchment paper for a non-sticky surface. It dries up quickly on parchment paper as compared to plastic and is easy to peel off. Create your nail design on the parchment paper and stick it over a coat of base color followed by another coat. Make sure you take care of the edges.
9. Dainty Nail Strip
For creating more delicate designs on your nails that are difficult to paint using nail brushes, you can replicate those on a design application. Create nail shape and size designs and print them over a sticker sheet. It is extremely easy to customize this type of DIY sticker tutorial if you want to go for complicated patterns, images, or for just a photo you liked.
10. Nail Strip using Nail Polish Pens
You might have bought some expensive nail manicure sets but not able to use them. It can be very difficult to paint with them and keep the hand steady without leaving a mess and spilled patterns. This tutorial shows how you can use these nail paint pens and make stickers to directly place them over your nails. This can save you from multiple attempts to create a perfect design on your nails.